Guilin, located in northeast of Guangxi Zhuang Autonomous Region, is a small city with population of 700,000. The city has been the political, economic and cultural center of Guangxi since the Northern Song Dynasty (960-1127).
There is a saying "East or West, Guilin Landscape is the Best!" Guilin was firstly open to tourists in 1973, while started to be known in western countries in recently 20 years.
Every scenic spot in Guilin has a myth. Visitors come here only for the landscape, but also for the myths. The Li River is the cradle of Guilin tourism. Lots of celebrities have cruised along the river after the foundation of People's Republic of China, such as Zhou Enlai, former Prime Minister of China, Bill Gates, former CEO of Microsoft and Bill Clinton, former US President. The karst landform was listed as World Natural Heritage by UNESCO in 2014.
Best Time to Visit Guilin
TEMPERATURE °C
March to June is the best time to visit Guilin. The weather is neither too hot nor too cold. The Li River is full of water. It is very poetic to cruise the river in tender rain. The river might be too dry to cruise between December and February. Other tourist attractions are available all year round.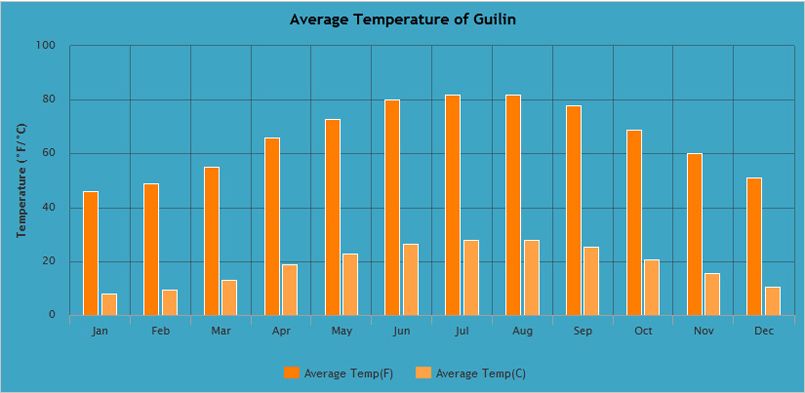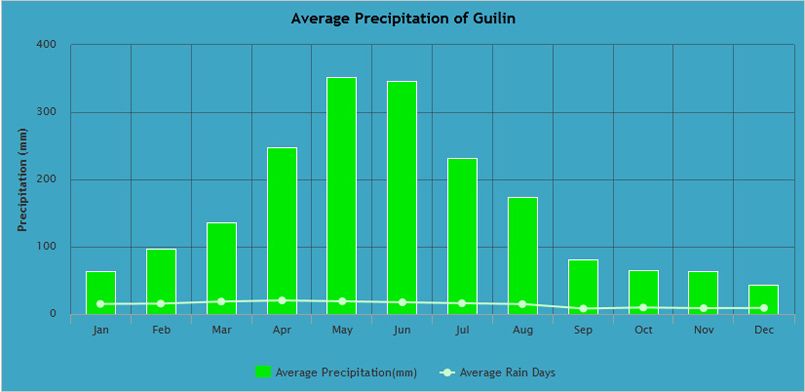 Must-Sees in Guilin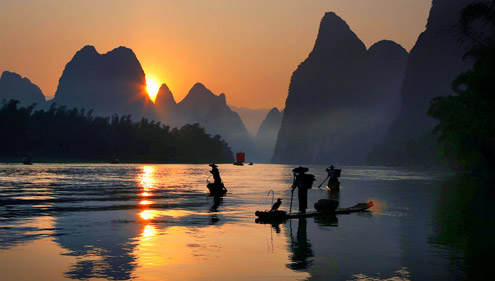 Li River Morning Scenery
Li River – Both cruising the Li River and hiking along the river are good ways to enjoy the beauty of the river. Hikers think they can see much more during the hiking. The hills and scenery along the river never bores you. The view of the river varies in different season and weather. Nature-lovers spend lots of time indulging themselves in the beauty of the river...more about the Li River.
Reed Flute Cave – The cave is the most renowned one in Guilin. The stalactites and stalagmites in the cave show tourists an incredible painting. Due to the colorful neon lights, tourists may feel they arrive in another world when they only move a few meters.
Yangshuo – There is a Chinese saying "The landscape in Guilin the most beautiful in China, and the landscape in Yangshuo is the most beautiful in Guilin". Yangshuo is a small county near Guilin and the ending piont of Li River cruise. The most popular way to enjoy its beuaty is biking. Spending half a day biking around the surrounding villages enables you to see all the highlights in Yangshuo.
Other Tourist Attractions in Guilin
How Far Is Guilin from Major Cities
Guilin is one of the most well-known tourist destinations in China. It is convenient to travel to Guilin by air and high-speed train from major cities in China.
| Cities | Distance from Guilin (km) | By Air to Guilin(hour) | By High-Speed Railway to Guilin(hour) |
| --- | --- | --- | --- |
| Beijing | 2135 | 3 | 11 |
| Shanghai | 1602 | 2 | 9.4 |
| Guangzhou | 575 | 1 | 2.8 |
| Shenzhen | 620 | 1.2 | 3.3 |
| Hong Kong | 670 | 1.3 | No direct train |
| Hangzhou | 1335 | 1.8 | 8.2 |
| Nanjing | 1415 | 2 | 9.5 |
What to Eat in Guilin
Guilin Local Food and dessert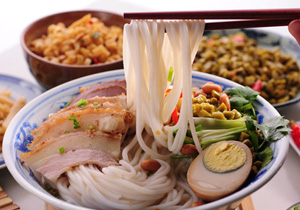 Local food - Rice Noodles
Guilin Rice Noodles
Different from rice noodles from other parts of China, rice noodles in Guilin is a little bit wet before being boiled in hot water, which makes Guilin rice noodles softer than others. The sauce is the most important factor. Normally, the sauce for noodles is the soy sauce boiled with beef. Furthermore, fried peanuts or soy bean, spring onion, pepper, pickled bamboo shoot and rib soup are also indispensable for Guilin rice noodles.
Majority locals eat rice noodles for breakfast. We never are tired of it. Rice noodles restaurants can be found on every street in Guilin.
Water Chestnut Pudding
Water Chestnut Pudding is made of water chestnut powder, sugar, coconut milk and cocoa powder. It is a steamed in a small bamboo bowl. It is old and full of memory for local residents.
Beer Fish
It is normal to see Chinese cook with wine, but they seldom cook with beer. Carps from Li River, green and red pepper, soy sauce, garlic are stir-fried to make the delicious Beer Fish. It is a little bit spicy and maybe salty for some of you, but represents authentic local flavor.
Recommended Guilin Restaurants
Yilu
Located besides the Chuanshan Bridge, Yilu serves both Chinese and western foods. The Roast Leg of Lamb is the most-ordered cuisine. German Sausage and some local Guilin foods are also worth a try, such as Fried Beef with Vegetable.
Rosemary Café
Located on the Yiren Road, next to Zhengyang Pedestrian Street, the Rosemary Café is the most popular western restaurant in town. The western-style food is less involved with Chinese flavor comparing with other western restaurants. Mexican Chicken Burrito, Spaghetti, Potato Mash and Garlic Bread are the must try.
Zengsan Restaurant
Zengsan is a very popular local restaurant if you want to try some authentic Guilin style food. Four branches respectively locate on the Zhishan Road, Ludi Road, Xinyi Road and Dongan Road. The most Guilin cuisine can be found in the Zengsan Restaurant. Pork tripe stew chicken is the most popular and must try. The Fried Rice is tasty and popular too.
Where to Stay in Guilin
Category
Hotel Name
Hotel Class
Why Recommend
Ranking on TA
Address
Location
International Chain
Shangri-La Hotel Guilin
5 star
Best international chain hotel on side of Li River
#1
No.111 Huancheng North Second Road, Diecai District
Birds and Flowers Market (15 min walk)
Yushan Park (20 min walk)
Sheraton Guilin Hotel
5 star
International chain hotel facing Li River in city center
#7
No.15 Binjiang Road, Xiufeng District,
Pedestrian shopping street (2 min walk)
City Square (5 min walk)
NikoNiko Do Plaza (15 min walk)
Boutique
Guilinyi Royal Palace
5 star
Boutique hotel with traditional Chinese decoration and setting
Top class facilities
#2
No.117 Huancheng West First Road, Xiangshan District
Guilin Heishan Botanical Garden (0 min walk)
Too Mall for shopping& dinning (10 min walk)
Heishan Food Market (15 min walk)
Jing Guan Ming Lou Holiday Hotel
/
Museum style, quiet, good location
#5
No.9 Ronghu South Road,Xiangshan District
Ronghu Lake (2 min walk)
Guilin Department Store (10 min walk)
Zhongshan Road (10 min walk)

Best Value
Lijiang Waterfall Hotel
4 star
Best value hotel with perfect location
#8
No.1 North Shanhu Road, Xiufeng District
Pedestrian shopping street (5 min walk)
Fir Tree Lake (5 min walk)
City Square (5 min walk)
Starbucks (10 min walk)
NikoNiko Do Plaza (15 min walk)
Standard
Universal Guilin Hotel
3 star
Best 3 star hotel available with good location
#40
No.1 Jiefang East Road, Xiufeng District
Pedestrian shopping street (10 min walk)
Seven Star Park (15 min walk)
Shopping in Guilin
The most popular local products and best choice of souvenirs:
Osmanthus Tea
The name of the city, Guilin, literally means the forest of Osmanthus trees. The tea, made of Osmanthus blossom and green tea, is the most recommended gift to bring home.
Sanhua Liquor
The Sanhua Liquor is brewed with alcohol, rice and water in the Li River. The liquor barrels are stored in the karst caves in Guilin. It is no exaggeration that the Sanhua Liquor collects the essence of the hills and rivers of Guilin
Local Handcrafts
There are thousands of local handcrafts made in wood, bamboo or hard paper in Guilin. Most of them are mini tourist attractions in Guilin.
Nightlife in Guilin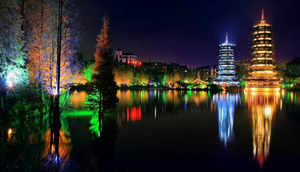 Shanhu Lake
Walking on the streets and seeing the tourist attractions decorated by colorful lights are the best way to spend night in Guilin. However, bars can also be found in Guilin. Max club, Baidu Bar, Yese Bar and Yemao Bar are very popular in Guilin.
Most people like to go to bars in Yangshuo as they can meet people from all over the world. The top 5 bars listed below are all located on the West Street.
Top 3 Bars in Yangshuo
Primitive Man
The beef with smashed potato is very delicious in the bar. Many local people go the bar only for this dish. The atmosphere in the bar is always pleasant. Actually people would rather call Primitive Man restaurant due to its delicacies. One special thing – the owner of the bar can tattoo his guest by himself.
Marco Polo
It is a Rome-style bar with excellent Pole dancing. DJ is so enthusiastic that almost every guest can not help dancing. The singers in the bar are also often commended by guests. Beefsteak and salad are most ordered foods in the bar.
Café Bar under the Moon
It is one of the oldest bars in Yangshuo, but it is still lots of foreigners' favorite. The second floor of the bar is the best place to enjoy the night view of the West Street.