"East or West, Guilin Landscape is the Best!"
Located to the northeast of Guangxi Zhuang Autonomous Region, Guilin has been the political, economic and cultural center of Guangxi since the Northern Song Dynasty (960-1127). It's not only the landscape that attracts tons of visitors from home and abroad, but also the unique customs of the minority tribes. The Li River, no doubt, is the highlight of Guilin. Lots of celebrities have cruised along the River, including Zhou Enlai, former Prime Minister of China, Bill Gates, former CEO of Microsoft, and Bill Clinton, former US President. Guilin's landscape is listed as the World Natural Heritage by UNESCO.
Guilin Facts
English name: Guilin
Chinese name: 桂林 guì lín
Location: Southwest China
Population (city): about 5,406,000
Language: Mandarin
Zip code: 541000
Tel code: +86 (0773)
Time zone: China standard (UTC+8)
International Airports: Guilin Liangjiang International Airport (KWL)
Railway Stations: Guilin Railway Station, Guilinbei Railway Station, Guilinxi Railway Station
Best Time to Visit Guilin
Guilin is suitable to visit all year round. April to June is more ideal for the comfortable temperature. It rains for some days, when it is poetic and romantic to cruise the Li River with abundant water. Farmers start planting rice in the rice terraces for the new season. It is also a better season for outdoor activities in Yangshuo. For photographers, March, September and October are the best months, when there is less rain and a clearer sky, and there are good chances to photograph the sunrise and sunset over the mountains. Know more about How is the weather in Guilin?
Things to do in Guilin
1. Experience the Nightlife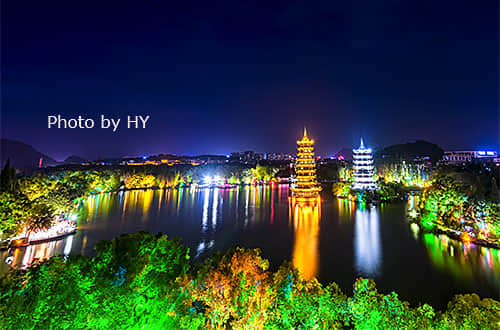 The illuminated Shan Lake
There are many interesting things to do at night in Guilin. The illuminated Two Rivers and Four Lakes is remarkable at night, either by walking or cruising. Xichenglu Pedestrian Street is a place to find different kinds of handicrafts, souvenirs, local specialties, and snacks, while the local teenagers prefer to hang out in Zhengyang Pedestrian Street and East West Street. Cinemas, all-night bars, and a theater are also available in Guilin city.
2. Admire its Breathtaking Karst Scenery
Rolling jagged-peaked limestone, crystal clear water, and ancient Karst caves make Guilin an excellent base to explore. There are lots of named limestone peaks in the city; the most famous ones are Elephant Trunk Hill, Fubo Hill, Folded Brocade Hill (Diecai Hill), and Chuanshan Hill. Standing on the top, you will see the Li River meandering through the city center and countless little peaks in a row in the distance.The representative of undergroundKarst landformsin townis Reed Flute Cave, where you can appreciate lots of vividly-shaped limestone formations.Taking a boat-ride from Guilin to Yangshuo along the Li River is the most popular way to enjoy the natural beauty of this Karst landscape.
3. Guilin Photography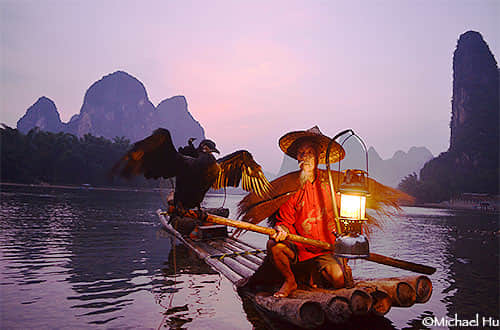 Cormorant Fishermen Photography
With numerous image gathering opportunities, Guilin is one of the hit destinations for photography. The Karst feature of unique shaped peaks and the rivers are definitely rated number one on your shooting list. This is especially so when the sun goes down and rises up, enhancing the light reflection. The scenery varies on each top of the mountain peaks. Besides that, the Guilin urban view, ancient towns, spectacular rice terraced fields, tribal villages; idyllic scenery will fill up your camera's storage card. Click here to know more about Guilin Photography Tour.
4. Learn Chinese
The language institute designs various courses suitable for different levels of Chinese learners. The class schedule can be half day in the morning or afternoon, or a whole day class, depending on your travel itinerary.
5. Visit Chinese Medicinal Market
It is a small local market hidden in Guilin, selling many kinds of fresh herbs. How magical those herbs are, and the proper dosage and formulation have a particular curative effect. You can also see the ancient cupping therapy in the street.
See more on Top 10 Things to Do in Guilin.
Must-Sees in Guilin
The Li River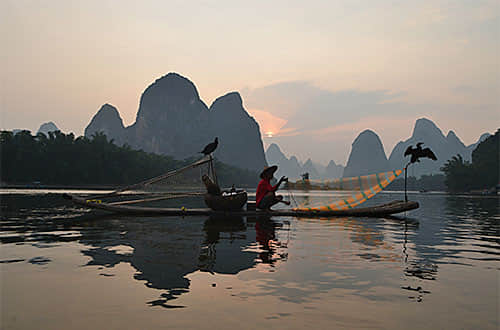 The Li River
Both cruising and hiking along the Li River are good ways to enjoy the beauty of the river and hills. Hikers will experience and see much more during the hiking, while cruising down the river is more relaxing. The view of the river varies in different seasons. Nature-lovers spend lots of time indulging themselves in the beauty of the river.
Reed Flute Cave
The cave is full of natural wonders. The stalactites and stalagmites in the cave started to form 360 million years ago. Now the whole cave is decorated with colorful neon lights, which presents an incredible painting and a merry land to visitors. Read more on Reed Flute Cave
Longji Rice Terrace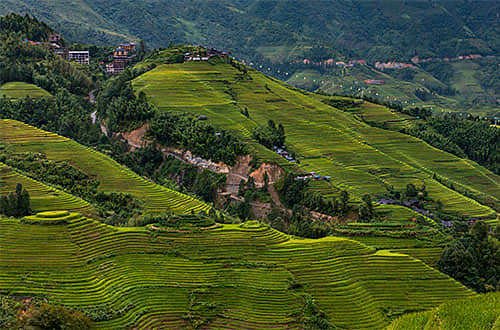 Longji Rice Terrace
The scenery is the result of the harmonious coexistence of human civilization and nature. The ancestors of the Zhuang and Yao minority people planted rice in this mountainous area for a living about a thousand years ago. Hiking along the rice terraces from village to village is a remarkable experience as you will not only enjoy the scenery but also interact with locals to learn about their life style. September to October is the period when you will see the rice fields as a changing marvelous expanse of color from green to yellow.
Elephant Trunk Hill
It is the symbol of the Guilin landscape, situated in the main town. You need a good imagination to see a giant elephant drinking water from the river. Taking a bamboo raft along the river is another way to see the Elephant Trunk Hill and also take in the views of the surrounding karst landscape. It has been standing there for more than thousands of years and carries the history in the Tang and the Song Dynasties.
Other Tourist Attractions in Guilin
Top Things to do in Yangshuo
There is a Chinese saying "Guilin landscape tops those elsewhere, and Yangshuo landscape tops that of Guilin". Yangshuo is a small county near Guilin and the end point of the Li River cruise. There are plenty of things to do, either outdoor adventure or cultural activities.
Cycling around the Countryside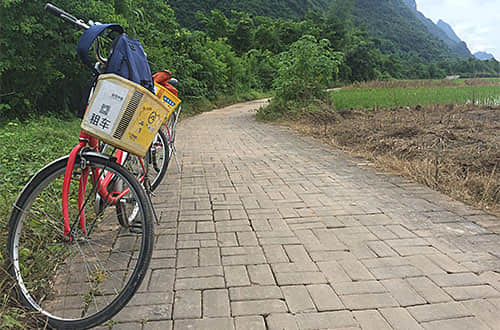 Cycling along the Countryside Road
The most popular way is cycling to enjoy the idyllic beauty. Spending half a day cycling around the surrounding villages enables you to see the distinctive views of karst formation in Yangshuo. Get closer to the mountains and river.
Local Family Visit
It is easy to access many villages with different ethnic cultural features by bike. You can stop by one of the families and pay a visit to see the structure of their house. Communicate with the locals and participate in some of their daily routines if possible.
Cooking Class
Some of the restaurants provide a cooking class. Visiting the morning local market helps you get to know about general cooking ingredients and what the daily life is like in Yangshuo. Follow the instructions of the chef and make your own Chinese dishes. Usually you will cook four dishes, such as Gongbao Chicken, Steamed Pork Dumplings, Steamed Stuffed Mushroom with Minced Pork, and Braised Eggplant with Garlic and Chili Sauce.
Bamboo Rafting in Yulong River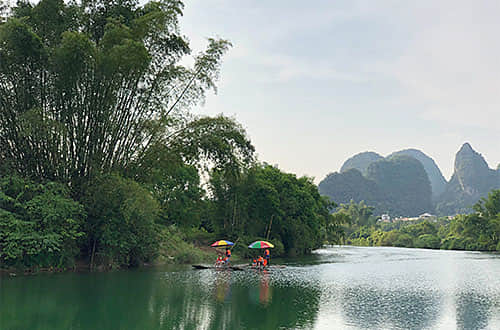 Bamboo Rafting in Yulong River
Yulong River is so quiet and limpid. Sitting on the bamboo chair of the raft, the only sound you can hear is the boatman slowly rowing. Enjoy your peaceful and joyful afternoon on the river and absorb the essence along the waterway. The reflection of the sunset is so amazing.
Guilin vs. Yangshuo for a first-timer
Briefing
As one of China's first historical cultural cities, Guilin is well known worldwide and has been developed as the important transportation hub of Guangxi. Stay one or two nights for transfer and sightseeing. Because the breathtaking Karst scenery is mainly located in Yangshuo area, which is about 65km to the south of Guilin, most visitors choose to cruise down the Li River from Guilin to Yangshuo and stay in Yangshuo for a few days to enjoy the countryside and peaceful lifestyle.
Transportation
It is very easy to access Guilin city via one international airport or three railway stations, linking up with home and abroad. In 2016, as a junction station of speed trains between Guiyang and Guangzhou, Yangshuo railway station was officially put into use, being 35 km away from the center of the county. There is also a bus station operating long distance buses to the major cities of Guangxi and Guangdong Province.
Travel Style
Guilin is a nice little town to discover at leisure. Reed Flute Cave, Elephant Trunk Hill, Fubo Hill Park, night markets, and the Two Rivers and Four Lakes Scenic Area are recommended to explore. Strolling in the parks, shopping streets, and admiring some of the stone carvings along the hill side, you will be immersed in the local life and learn some history stories about old Guilin.

Yangshuo is a place for various outdoor adventures with difficulty ranges for both beginners and professionals. Choose some of them from playing Tai Chi, a cooking class, cycling, hiking, via ferrata (protected climbing route), rock climbing and cave exploration to fit your interest and physical capacity. If you yearn for an idyllic country life, you can spend more time there.

Hotels
Guilin city provides star-rated hotels, and boutique ones with theme-features to choose from. Dining is convenient in town. Yangshuo county is so popular with foreigners that you will find lots of western restaurants and bars around the West street. Accommodation choices in Yangshuo are from hostels to small boutiques transformed from local farmers' houses, as well as high-end boutique hotels with a price range RMB100 to RMB3000 per night.
Recommended Hotels
Destinations
Hotel Name
Hotel Class
Why Recommended
Guilin City Area
Shangri-La Hotel Guilin
5 star

Best international chain hotel
Gorgeous views of the Li River
The most spacious accommodations among Guilin Hotels

Guilin Bravo Hotel
4 Star

Near the Ronghu Lake
An outdoor swimming pool
In an area of calm and free of traffic

Hotel Universal Guilin
3 Star

Best valuable 3-star hotel
Accessible to the walkway along the Li River
Clean rooms and good restaurant

Yangshuo
Banyan Tree Yangshuo
Luxury 5 Star

Far from the hustle and bustle of the city
Surrounded by Karst Mountains and Li River
Great hotel service and facilities

Green Lotus Hotel
5 Star

Short walking distance to Li River, West Street and Liu Sanjie Venue
Easy check-in and check-out
Good restaurants for Western and Chinese cuisine

Yangshuo Mountain Retreat
4 Star

Along Yulong River
Unique and spacious rooms with a great balcony
Dine at the riverside

Longji Scenic Area
Longsheng Li An Lodge
Guest House

Overlook the magnificent Longji rice terraces
Each room has a distinct theme featuring Chinese folk art and culture
Excellent service and food

Longji Ping An Hotel
Guest House

An idyllic style hotel
Set in the hill with rice paddies around
Charming rooms with walls of wood or bamboo
Guilin Transportation
City Bus
This is the most economical way to travel around Guilin city. Each bus route usually charges 2 RMB with air-conditioning. All buses are self-service ticketing. Some of the popular routes are equipped with double decker buses. Please pay attention to the operating times of the buses you will take.
Taxi
Taxis are affordable in Guilin since it is a small city. It costs 9 RMB for the first 2 km and a surcharge of RMB 1.9 per km after that. During nighttime (23:00 – 06:00) the first 2 km is 11 RMB. Please make sure to have the correct Chinese name of your destination as the taxi drivers cannot speak English. Or you can call the hotel reception and let the staff talk with the driver.
Transportation to Scenic Areas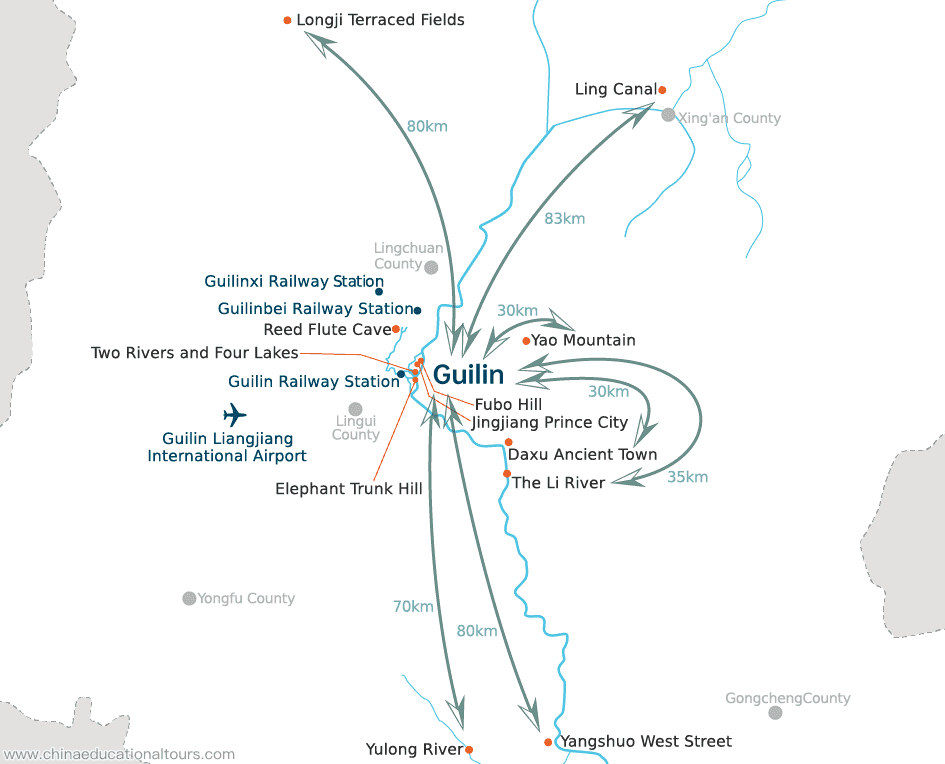 Long-Distance Bus to the Scenic Areas outside Guilin City
To Yangshuo: take bus at Guilin South Passenger Station or Qintan Passenger Station; at around 1.5 – 2 hours and 22 – 28 RMB.
To Longsheng: direct buses only arrive at Jinkeng Dazhai Parking Lot departing from Guilin Hong Kong Hotel, Guilin North Railway Station, and Guilin West Railway Station; at around 2 – 2.5 hours and 50 – 70 RMB. Otherwise, you need to make a transfer at Longsheng County from Guilin Qintan Bus Station to get to Ping'an Parking Lot (around 2 – 2.5 hours and 60 RMB) or Longji Ancient Zhuang Village Parking Lot (around 1 hours 40 mins – 2 hours 10 mins and 60 RMB).
How Far is Guilin from Major Cities
Guilin is one of the most well-known tourist destinations in China. It is convenient to travel to Guilin by air and high-speed train from major cities in China.
| Cities | Distance from Guilin (km) | By Air to Guilin | By High-Speed Railway to Guilin |
| --- | --- | --- | --- |
| Beijing | 2135 | 3hrs | 11hrs |
| Shanghai | 1602 | 2hrs | 9hrs |
| Guangzhou | 575 | 1hrs | 2.5hrs |
| Shenzhen | 620 | 1hrs 20m | 3hrs |
| Hong Kong | 670 | 1.5hrs | 3hrs 20m |
| Hangzhou | 1335 | 1.5hrs | 8hrs |
| Nanjing | 1415 | 2hrs | 9hrs |
How Long to Stay in Guilin? At least 4 days recommended.
Normally it takes at least 4 days to really be immersed in the peaceful and self-contented vibe there, including essential experiences like outdoor activities in Yangshuo and hiking at Longji Rice terraces. For those who have specific purposes such as photography, a family holiday, or outdoor adventures, your stay time can be extended to 5 – 7 days.
A classical Guilin tour in 4 days for your reference:
Day 1: Guilin City Arrival
Day 2: One Day Round-trip to Longji Terraced Fields
Day 3: Guilin to Yangshuo via Li River Cruise, Spend the Night in Yangshuo
Day 4: Cooking Class or learning Tai Chi in Yangshuo and Departure
For more ideas of Guilin tours, please check the following tour samples:
What to Eat in Guilin
1. Guilin Rice Noodles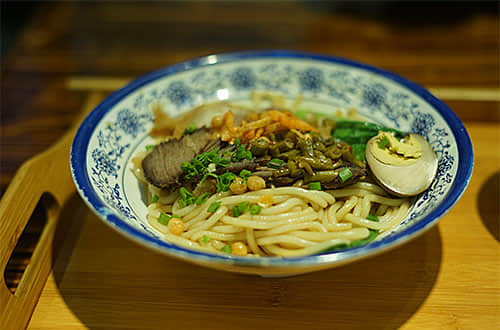 Guilin Rice Noodles
Guilin Rice Noodles (Guilin Mifen) is a traditional historical snack which dates back to the Qin Dynasty. The emperor of Qin sent an army to march south for the unification of China. The soldiers were unaccustomed to the climate and diet of the south and got sick. Thus, the cook made the rice into a shape of noodles and the herbalist made a decoction using the local herbal medicine, both of which were good for healing homesickness physically and mentally. Now the decoction has evolved into broth for the noodles. The broth is the quintessence of Guilin rice noodles and each shop has their own unique recipe. Besides, various side materials are added into the noodles, such as fried peanuts or soybeans and thin slides of different kinds of meat (beef, horse meat, and pork). Some special condiments (chili, pickled beans, sour bamboo shoots, and pickled white radish in chili sauce etc.) can be added as well, depending on your own flavor.
2. Lipu Taro Looped Meat
Lipu Taro Looped Meat has always been a famous dish in family banquets or wedding banquets in Guilin. It is made of the famous taro cultivated in Lipu city and streaky pork. Lipu city, located 104 km south of Guilin, has the unique natural and soil conditions and abundant water resources to grow taro with high yield and good quality. Firstly, the taro and streaky pork need to be deep-fried into a golden color. Slightly marinate the streaky pork with the seasonings like salt, soy sauce, sugar, Guilin fermented bean curd, and pepper. Place the skin side of the streaky pork down, with the slices of taro one by one between the slices of meat, and steam in a bowl. It comes out a special flavor through the perfect match of meat and vegetable.
3. Beer Fish
Beer fish is a famous local specialty in Yangshuo. The authentic taste depends on the local materials which have to be the fresh live carp from the Li River, water of the Li River, and Guilin Liquan beer. The cooker is also very special. Instead of putting the cooking pot directly on the fire, there is a basin with some water, placed between the fire and the flat plate with fish. In this way, the fish can be heated evenly but is not easily burnt. When you have your first bite, you will be amazed by the crispy fish skin. The fish tastes fresh and tender, which you will never forget.
4. Oil Tea (You Cha)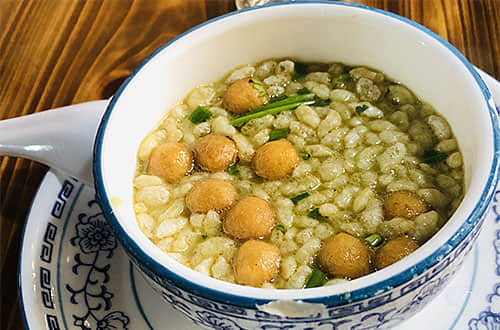 Oil Tea
Oil tea is a kind of distinctive food in the north of Guangxi Zhuang Autonomous Region. The outstanding area is Gongcheng county, where the Yao people live. It is said that the secret of longevity in this county is drinking oil tea often. Just as its name implies, the two main ingredients of oil tea are oil and tea, which are fried with garlic and ginger. Then, mash them and boil with water until it smells good. Pour the tea water into a bowl with a bamboo funnel, sprinkle chopped green onion or coriander, and serve with crisp rice, crisp peanuts, and fried beans. The tea leaves have to be the ones picked during the period of Qingming and Grain rain. The Yao people who have lived in the mountainous areas for generations invented this health drink according to the humid and miasmatic geographical environment.
Shopping in Guilin
The most popular local products and best choice of souvenirs:
Osmanthus Tea
The name of the city, Guilin, literally means the forest of Osmanthus trees. The tea, made of Osmanthus blossom and green tea, is the most recommended gift to bring home.
Guilin Three Treasures
Fermented Bean Curd, Sanhua Wine and Chili Sauce are considered the Guilin Three Treasures. Each of them has a long history, especially Fermented Bean Curd and Sanhua Wine which existed in the Song Dynasty.
Local Handcrafts
There are thousands of local handcrafts made in wood, bamboo or hard paper in Guilin. Most of them are mini tourist attractions in Guilin.
Embroidered Ball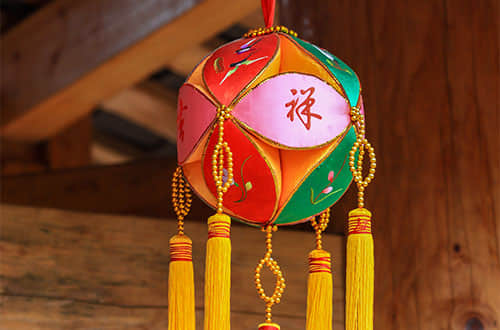 Embroidered Ball
Embroidered ball, a love token between young men and women of the Zhuang nationality, is one of the tourism handicrafts with special features in Guangxi. There was a custom that the unmarried Zhuang girls would throw an embroidery ball to the suitors. Whoever caught the ball would marry the girl.
Siraitia Grosvenorii
Siraitia Grosvenorii is a rare local specialty in Guilin. It is also one of the first approved dual-use materials for medicine and food. Its main effect is to relieve a cough and reduce phlegm.