With a height of only 63 meters, the whole of Fubo Hill is actually a huge rock standing beside Lijiang River. Folklore has it that the hill got its name from when Fubo General Ma Yuan of the Han Dynasty once shot arrows here to beat back his enemies and tested his sword by cutting rocks. On the top of the hill, you can enjoy a bird's-eye view of the city. The Sword-Testing Stone is one of the most famous scenic spots.
Quick Facts
Chinese name: 伏波山 Fū Bō Shān
Duration: 1 hour
Entrance Fee: RMB 30
Opening hours: 6:30-18:30
Best time to visit: All year round
How to get there: Take Bus No.2, Bus No.203 or Bus No.206 to Fubo Hill.
Address: Binjiang Road, Diecai District, Guilin
Highlights of Fubo Hill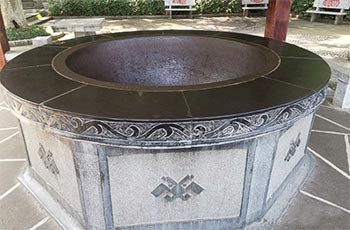 Qianren Pot
1. Iron Bell and Qianren Pot
Entering the gate of Fubo Hill Park, you can see the Iron Bell weighing over 2500 kg (about 5511.6 pounds) and the Qianren Pot (thousand people pot), both of which have been left from the Dingyue Temple in the Qing Dynasty. They are still intact with clear and recognizable ornamentation and inscriptions.
2. Riverside Pavilion
You can feast your eyes on the scenery of Linjiang river when you are in the pavilion. In summer, the river below Riverside Pavilion becomes the largest natural swimming pool in Guilin.
3. Cave of the Returned Pearls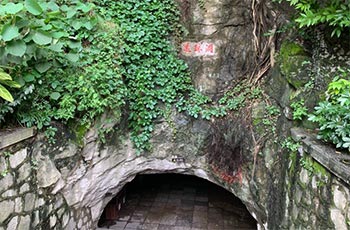 Cave of the Returned Pearls
Inside the cave there is a self-portrait of Mi Fu engraved on the stone wall. He was one of the four greatest calligraphers in the Northern Song Dynasty (960AD-1127AD). The portrait is as tall as 1.2 meters, showing a calm and relaxed appearance. Mi Fu was the first person to paint the Guilin landscape. His work, Landscape of Yangshuo, dates back to 1074 when he first came to Guilin.
The Thousand Buddha Rock is also located in the cave. Here you can see three stories of fine and delicate cliff inscriptions and Buddhist statues of the Tang and Song Dynasties.
You can also find the Sword-Testing Stone in the cave that hangs down from the ceiling of the cave and abruptly stops a few inches off the ground. According to a legend, it is the result of General Fu Bo testing his sword. The Sword-Testing Stone is also known as the Number One Scholar Stone for the reason that there have been two Number One Scholars in Guilin, namely Zhao Guanwen of the Tang Dynasty and Wang Shize of the Song Dynasty. It is said that the one who can put their fist into the gap to seamlessly connect the ground with stone will be the Number One Scholar. Tourists still touch the stone and pray for good luck even if they can't put their fists in.