Jingjiang Prince City scenic spot consists of Solitary Beauty Peak and Jingjiang Prince City. As a complex of resplendent and large-scale buildings, Jingjiang Prince City is the palace of a vassal king who had kept his status for the longest time among all vassal kings in the Ming Dynasty. Behind the palace is the Solitary Beauty Peak. The most famous phrase "Guilin's scenery is the best in the world" comes from the stone inscription of the Solitary Beauty Peak.
Quick Facts
Chinese name: 王城景区 Wáng Chéng Jǐng Qū
Duration: 1-2 hours
Entrance Fee: RMB 120
Opening hours: 8: 00-18: 00
Best time to visit: All year round
Address: No.1 Prince city, Guilin
How to get there: Take Bus NO. 1, 2, 9, 10, 11, 14, 18, 100206 or 24 to Cross Street Station
Highlights of Jingjiang Prince City
Jingjiang Prince City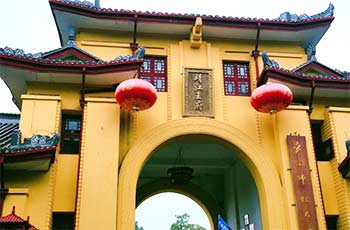 Jingjiang Prince City was bestowed by Zhu Yuanzhang, the Ming Dynasty's founding emperor, to his grandnephew, and has a history of over 600 years. It is the best-preserved prince city from the Ming Dynasty and is praised as a "key cultural relics site under the state protection". It took Zhu Shouqian 20 years to finish the construction of the palace after the fifth year of Hongwu in the Ming Dynasty (1372). The entire prince city covers an area of 18.7ha, equivalent to 283 Mu.
It is enclosed by 3 miles of solid walls made of square bluestones. Jingjiang Prince City has been home to 14 Jingjiang princes of 11 generations and later become Dingnan Prince City when it was occupied by Kong Youde, Dingnan prince in the Qing Dynasty.
Examination Office in the Qing Dynasty
During the Shunzhi years of the Qing Dynasty, the imperial court established the Guangxi Examination Office so that Bagui scholars would take part in the imperial examination and serve the country. There were over 5000 school rooms in its heyday. We can see great importance had been attached to education although Guangxi is remote. In the Qing Dynasty 100 examinations were held which produced over 590 scholars (298 from Guilin) and 4 Number One Scholars (all from Guilin). The number of Number One Scholars from Guilin ranks fifth in China. One of the Number One Scholars was Chen Jichang, who was the last winner of "graduates of three governmental examinations" in the history of imperial examinations.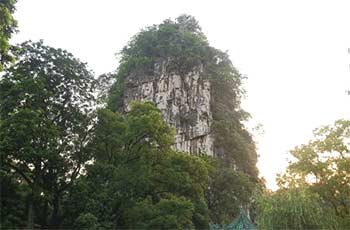 Solitary Beauty Peak
Solitary Beauty Peak
Solitary Beauty Peak is called the first peak of Guilin, which is a natural prop in the back garden of Jingjiang Prince City. You can reach the peak by climbing the 306 stone stairs. It is the best observation platform to have a bird's eye view of Guilin. There are lots of cliff inscriptions on the walls of the peak. The well-known verse "Guilin's scenery is the best in the world" is engraved at foot of the peak.