Located in a hill beside Peach Blossom River, Reed Flute Cave is like a magnificent underground palace with a large number of exquisite stalagmites, stalactites, stele, stone curtains and stone flowers. The famous TV series Journey to the West was shot in the Crystal Palace, the most beautiful site inside the cave.
Lots of celebrities have visited the cave. The wife of President Nixon praised the cave as "spectacular, just like a palace". Anna Haselbach, an Austrian politician, and one-time president of the Federal Council, wrote the message: "It's just a fairy tale world. Thanks very much for this memorable experience". Hence Reed Flute Cave has also become known as "State Guest Cave".
Quick Facts
Chinese name: 芦笛岩 Lú Dí Yán
Duration: 1-2 hours
Entrance Fee: RMB 120
Opening hours: April to December 07:30-18:00; December to March. 08:00-17:30
Best time to visit: All year round
Address: Ludi Road, Xiufeng District, Guilin
How to get there: Take Bus No. 3, No. 213 or 4A Special Bus
Highlights of Reed Flute Cave
1. Appreciate the rock formations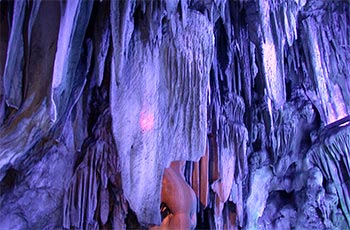 Stalactite
Naturally formed stalactites are densely distributed in the cave. Gorgeous, smooth lines create all sorts of artistic impressions under the light. Well-proportioned steles, stalagmites, stalactites, stone flags and stone curtains resemble artworks, giving people copious opportunities for imagination and artistic enjoyment. The whole cave is just like an art palace for wonderful nature.
The most famous attractions: Crystal Palace, Double-Column, Boxwood Carving, Harvest and Dome Tent
2. A Bike Ride to watch flowers behind the Cave
There are large fields behind the hill where the cave is located. Spring is the best season to observe the abundance of flowers in the fields. Having a leisurely bike ride is the best way to appreciate the yellow Cole flower (or Canola) and the Galsang flower in the countryside.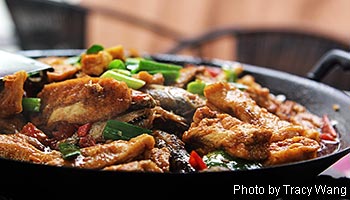 Tofu Fish
3. Eating Tofu Fish in Lu Jia Village
Lu Jia Village is a classic Chinese village near the Cave. The houses here have specific characteristics – pitched roofs, grey tiles, lattice windows, white walls and green slab-stones – which integrate the traditional architectural elements of folk houses in northern Guangxi. Tofu making has been a traditional handicraft in this village for centuries. You can see the old-fashioned bean curd grinding process. The best seller of local farmers restaurants is Tofu Fish, stewed carp cooked with deep-fried Tofu mixed with tomatoes and green peppers. It is so tasty that it has attracted many visitors from all over the country.