Guilin is home to many ethnic minorities. Different ethnic lifestyles and cuisines have blended here to create a unique food culture. Local Guilin dishes are known for their simplicity, natural flavor, rich taste, and their use of both sweetness and sourness. The foods here have a strong rustic feel. While Guilin dishes combine the sour and spicy Hunan cuisine with light-flavored Cantonese cuisine, most of the home dishes are influenced by Hunan cuisine. People eat sour and spicy foods for almost every meal.
1. Beer Fish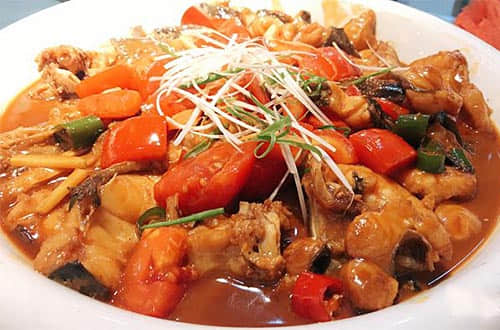 A local specialty in Yangshuo, Guilin, the fame of the beer fish lies in its exquisite ingredients: the main component is a fresh carp caught from the Li River, fried in raw camellia oil produced in the mountainous areas north of Guilin, then braised in superior beer brewed locally in Guilin. Finally, add fresh tomatoes and green pepper into the dish to release the unique green pepper flavor.
Characteristics: Fresh, light, and tender flesh
Recommendation: "Love Eating Fish" Mitang Music Restaurant
Address: No.118 Rock Yard, Yitian West Sreet, Yangshuo County (near a Starbucks)
2. Gingko Stewed with Old Duck
Gingko Stewed with Old Duck, which often appears on family dining tables in the summer time, is a traditional nourishing soup in Guilin. Only two cooking ingredients are required: gingko (Guilin specialty) and old duck. Boil the old duck, with ginger and green onion in the water to remove the smell of duck, then put the boiled duck, gingko, ginger, green onion, and a small piece of orange peel together into a casserole. Add appropriate water and salt, and simmer for four hours after the water is boiling. Slices of ham can make the flavor of the soup richer if you like. This dish is good for the human body in moistening the lungs, nourishing the five internal organs, and tonifying Qi.
Characteristics: tender and fragrant duck, crispy gingko and rich soup
Recommendation: Jin Long Zhai (Wenming Branch)
Address: No. 8 Wenming Road, Xiangshan District, Guilin
3. The 18 Stuffed Dishes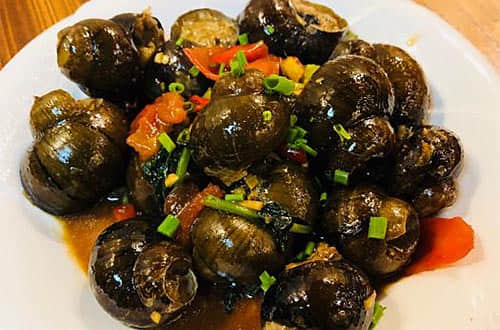 "Stuffed" is a unique way of cooking in Guilin. It means adding all sorts of seasoning and condiments into chopped meat, and then stuffing the meat into hollowed vegetables to be steamed or braised. The 18 stuffed dishes include: stuffed snails, stuffed tofu, stuffed shaddock peel, stuffed bamboo shoots, stuffed fungus, stuffed mushrooms, stuffed pumpkin flower, stuffed egg, stuffed bitter gourd, stuffed eggplant, stuffed pepper, stuffed wax gourd, stuffed taro, stuffed garlic, stuffed tomato, stuffed bean sprout, stuffed deep fried tofu, and stuffed vegetable bagging.
Characteristics: Novel cooking method and unique flavors
Recommendation: Guihuapiao Farmhouse Restaurant
Address: Li Villige beside the 321 National Highway, Yangshuo County (diagonally opposite the Ruisheng International Resort)
4. Duck with Blood and Vinegar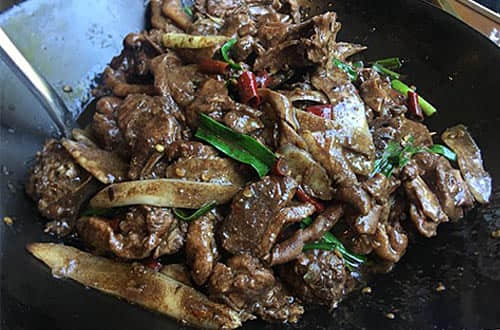 This is a famous dish in Quanzhou county, Guilin. For this dish, Guilin people will choose a baby duck, together with duck blood and sour vinegar, to be fried with condiments like peanut and sesame powder, pepper, and garlic in the wok, then serve it with some fresh vegetables chosen by the customer.
Characteristics: The flesh is tasty, tender, and juicy; but not too oily
Recommendation: Quanzhou Duck with Blood and Vinegar
Address: The cross section of Bali 4th Road and Chuandong 3rd Road, Diecai District, Guilin (near the European Town)
5. Stir-fried Li River Shrimp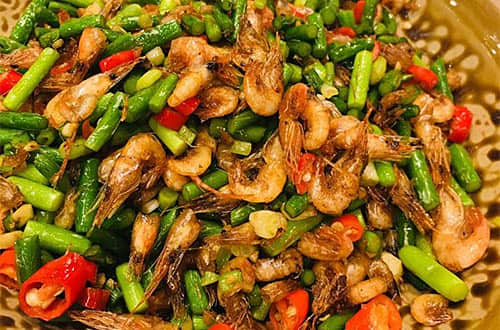 A typical Guilin flavor dish, it chooses river shrimps grown in the Li River, stir-fried in Guilin Sanhua liquor. Because the water of the Li River is clear and fresh, the shrimps have fine and exquisite flesh texture and a natural taste. You can savor the purity and sweetness of the Li River in the shrimps.
Characteristics: Crisp skin and tender flesh; light and fresh
Recommendation: Guike Restaurant (near the Guilin Porridge City, Binjiang Road Branch)
Address: 1st floor, No.2 Jiefang East Road (Boli Business Hotel), Xiufeng District, Guilin (near the Jiefang Bridge)
6. Hehua (Rice Flower) Fish
Hehua fish is a sort of black carp living in rice fields in Quanzhou, Guilin. As the fish live in rice fields, they often eat the rice flowers which have fallen into the water, thus they gradually obtain the fragrance of rice flowers, earning them the name of Hehua (rice flower) fish. In Quanzhou, Guilin, Hehua fish is first boiled in sour and salty water, then dried over a stove, then served with fermented soy beans, garlic, ginger, and pepper powder. It is salty, spicy, and extremely fresh, deserving the name of "a must-try in Guangxi".
Characteristics: Brown and crisp skin; fresh and tender flesh
Recommendation: "Love Eating Fish" Mitang Music Restaurant
Address: No.118 Rock Yard, Yitian West Sreet, Yangshuo County (near a Starbucks)
7. Taro Root with Pork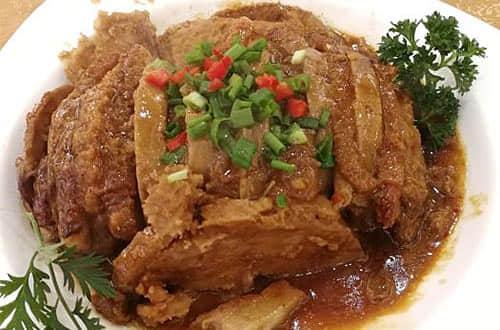 Taro Root Pork uses Guilin Lipu taro, streaky pork with skin, Guilin fermented bean curd, and various condiments as ingredients. The diced streaky pork and taro are deep fried in oil until they turn golden in color, then the pork is put in a bowl with the skin on the bottom, and the taro cubes looped in between the meat slices. The taro meat is then steamed, and finally turned upside down into another tray to be served.
Characteristics: Golden in color, the taro and the meat are soft, creamy, and tasty, rich in fragrance and flavor
Recommendation: Xiaonanguo Restaurant (Wenming Branch)
Address: No.3 Wenming Road
8. Caramelized Taro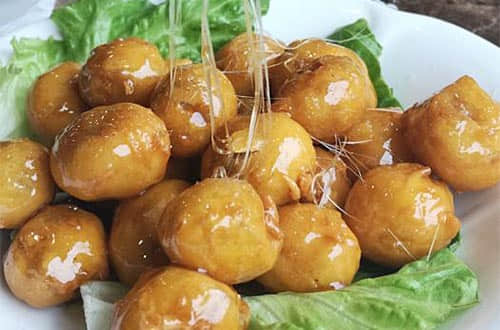 Guilin is near Lipu, which abounds in taro. Caramelized Taro is sweet, soft, and glutinous. It is a quite popular dish in Guilin. When the taro is served, eat it while the sugar coat is still soft. Take one cube and there will be threads of sugar trailing behind the taro. Put the taro in cool water and the threads will break off. It is both delicious and fun to play with.
Characteristics: The sugar coat is crisp and delicious; the taro is sweet, tasty, and soft
Recommendation: Chun Ji Roast Goose (Zhongshan Branch)
Address: Near No.2 Zhongshan Middle Road, Zhongshan Grand Hotel
9. Water Chestnut Steamed with Pork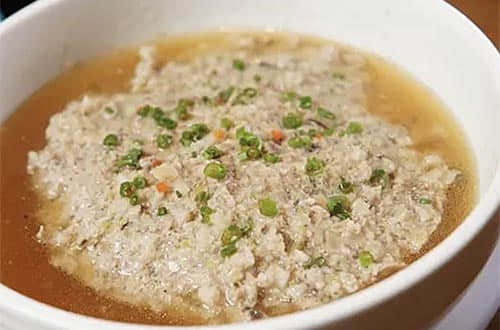 Water Chestnut Steamed with Pork, made with water chestnuts, lean meat and salt, is a traditional dish in Guilin. It is a popular dish that the locals of all ages would enjoy. The cooking process is simple. Chop both the lean meat and water chestnuts, and mix them together in a bowl. Add appropriate shredded ginger-soaked water, starch, light soy sauce, and salt, stirring evenly. Steam it for around 10 mins. In summer, this dish helps with clearing heat and resolving thirst, stimulating appetite as well.
Characteristics: tastes fresh and crisp, tender
Recommendation: Xiao nan guo Restaurant (Yangshuo West Street Branch)
Address: Shop 201, Building A, Yitian West Street, Diecui Road, Yangshuo County