Guilin features both intoxicating scenery and exquisite foods. Searching for delicacies is one of the goals for tourists. Among the cuisines in South China, Guilin people prefer sour and spicy foods. Some people would describe the taste as robust. Although Guilin Cuisine can be described as sour and spicy, it also includes a variety of other tastes.
Salty and spicy delicacies:
1. Guilin Rice Noodles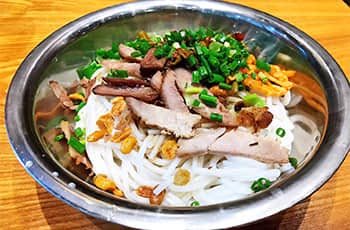 Guilin Rice Noodle is the most popular local delicacy. Its main ingredients are rice noodle, brine, vegetables, peanuts, and chopped green onion. A serving of Guilin rice noodle has to go through fastidious manufacture processes before it is presented to the customer: first, grind prime rice into rice pulp, then put the pulp in a bag, waiting for it to drain, and mould the dried rice powder into a rice ball. The rice ball, after thorough boiling, will be squeezed or pressed into round threads or thin slices. The rice noodle is known for its white color, tender texture, its softness, smoothness, and refreshing feeling. The noodle is usually served with brine made from beef, pork, pig tube bone, Chinese red pepper, liquorice, fennel, and Siraitia Grosvenor.
Characteristics: Refreshing, fragrant, and tasty
Recommendation: Laodongjiang Rice Noodle
Address: No.3 Shijia Yuan (near the Longyin Bridge)
2. Gongcheng Oil-tea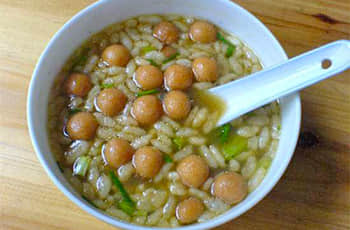 The old Guiliners eat oil-tea everyday. In different parts of Guilin, the oil-tea also has different tastes, among them the most famous one is Gongcheng Oil-tea. Now some local restaurants are also offering oil-tea as a free starter. Making oil-tea is rather complicated, the soup is usually made from pork oil or pork rib soup, with chive, fried rice, deep-fried dough, peanuts, fried soybean added into the soup before served. The oil-tea has a unique flavor.
Characteristics: Sweet, aromatic, and rich in taste
Recommendation: Tianfulou Vegetarian Club
Address: Buliding No.1 in Mulong Lake Area, No.1 Dongzhen Road
3. Sticky Rice
Sticky rice can be seen everywhere in Guilin. Many people eat it for breakfast because it will make you easily feel full. Its main ingredient is sticky rice, with sour bean, bean mash, crackers, and sausage granules to add flavor. Then the rice will be shaped into a ball and put into a small bag, turning into a perfect serving of stick rice.
Characteristics: Sticky and tasty, with sourness, spiciness, sweetness, and saltiness mixed together
Recommendation: Nuo Xiang Yi Zhan Restaurant
Address: Shijia Yuan Road (near the Laodongjiang Rice Noodle)
4. Escargot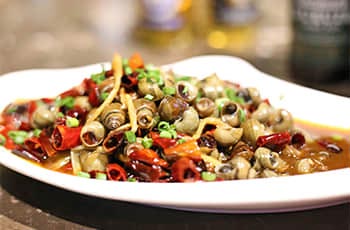 Escargot is a special local delicacy. Escargot is stir-fried with a kind of sour pepper only found in Guilin, as well as green onion, ginger, and Guilin Sanhua liquor. This dish is sour, refreshing, spicy, and appetizing. Lift the top lid of the escargot, and suck the meat into your mouth, then drink the sauce. The taste is both spicy and refreshing.
Characteristics: Sour, spicy, tasty, and refreshing
Recommendation: Guike Restaurant (near the Guilin Porridge City, Binjiang Road Branch)
Address: 1st floor, No.2 Jiefang East Road (Boli Business Hotel), Xiufeng District, Guilin (near the Jiefang Bridge)
Sweet Snacks
1. Sponge Cake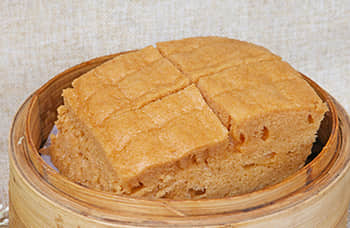 The cake is made of sticky rice and yellow sugar, sometimes with Lipu taro cubes to add flavor. In Guilin, sponge cakes are usually given as a gift at festive occasions, such as birthday parties, parties celebrating the birth of a baby or the acquisition of a new home.
Characteristics: Soft, sweet and refreshing
Recommendation: Guilin Mong Kok Food Court
Address: No.26 Zhoangshan Middle Road (opposite the north side of the Bagui Building)
2. Water chestnut Cake
The main ingredient of the cake is rice powder. Put the powder in the horse-hoof-shaped wooden mold, and place some brown sugar, water chestnut powder, sesame powder in it, then steam the snack over heat. In a minute the hot water chestnut cake will be ready! As the cake is easy to prepare, vendors peddling freshly-made cakes are usually seen along the streets. The pedestrians can buy one when they want to. It's quite convenient.
Characteristics: Soft, spongy, sweet, and fragrant
Recommendation: Horse-Hoof Shaped Cake (Underground Street Branch)
Address: Near Exit No.3, the underground passage of the Shizi (Cross) Street, Xiufeng District, Guilin
3. Osmanthus Bean Jelly
The bean jelly is a must-have for Guilin summer. It is made of vegetable jelly glue, served with mint and brown sugar syrup. Sometimes people also eat it with some tortoise herbal jelly. It is a tasty and refreshing summer-relieving delicacy.
Characteristics: Tender, smooth, crystal clear, and refreshing
Recommendation: On some streets around the Zhengyang Pedestrian Street
4. Osmanthus Rice Cake
Osmanthus rice cakes have a history of more than 300 years. They are made of glutinous rice powder, sugar, and honey-soaked Osmanthus. It is a Chinese delicacy that has a long history. It is both delicious and easy to make. The cake can come in many varieties, satisfying people's needs for different flavors. The enchanting historical legends have also added to the historical value of Osmanthus cakes.
Characteristics: The cake has velvety texture and delicate fragrance; sweet but not sickly
Recommendation: Jinshunchang Guilin Osmanthus Souvenir (Zhengyang No.1 Branch)
Address: Near the central gate of the Sports Stadium on the Zhengyang Pedestrian Street
5. Sticky Rice Cake (Ciba) with White Sugar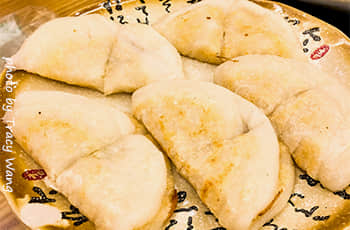 Sticky rice cake with white sugar is an easy dessert popularized in local families. Ciba is a pancake made of glutinous rice flour. White sugar powder placed on when Ciba is being pan-fried. And then it will be folded up till the bottom side of the paste become a little crispy. It is soft texture and sweet teeth-sticky rice cake.
Recommendation: Guoji Oil Tea
Address: No.4, Wumei Road