Top 10 Things to Do in Guilin
How much you know about Guilin? The Karst Mountains, the Terraced Fields, the minority tribes, the Elephant Trunk Hill…and much more. Do you want to experience something different, in-depth, more authentic and immersive? Here we recommend the list of top must-dos in the Guilin region.
1. Admire the Natural Mountain Peaks
The Karst landscape in Guilin and Yangshuo area is famed as the most picturesque scenery under the heavens. Most of the mountains are located along Li River from Guilin to Yangshuo and Yulong River in Yangshuo.The mountains, and the local fishermen and their cormorants compose a Chinese traditional water-color painting. The best way to appreciate the breathtaking view is to get really close to them. You can choose from a leisurely Li River cruise, diverting bamboo rafting, or challenging hiking along the rivers. No matter which type of tour you like, you can always find the best one.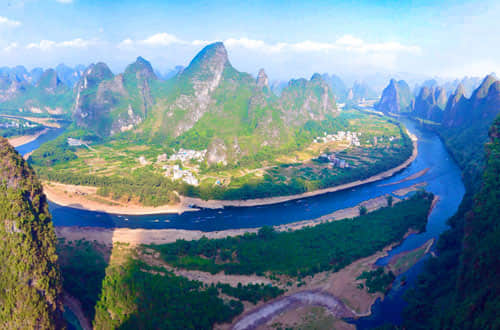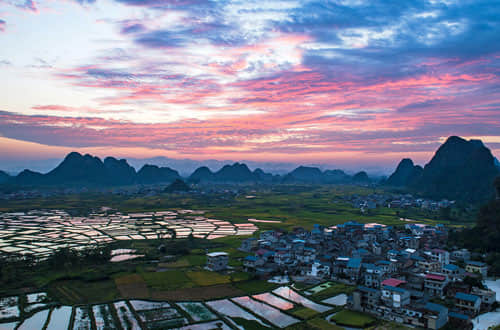 2. Bike Ride in Yangshuo Countryside
Yangshuo has the most beautiful Karst landscape with countryside scenery. Cycling on a small country road with rice paddies and local villages along the sides, and the Karst peaks as a background, no doubt people say this is the most recommended for out-door fans. Old villages in Jima and Jiuxian, Yulong River and the old bridges, Moon Hill, water-buffalos ploughing in rice fields, all these are what you will see while cycling along. You can rent a bike anywhere in Yangshuo town or from your hotel concierge. If cycling is not your thing but you still want to see these amazing things, you can rent a motor-scooter, or your private driver will be happy to show you around.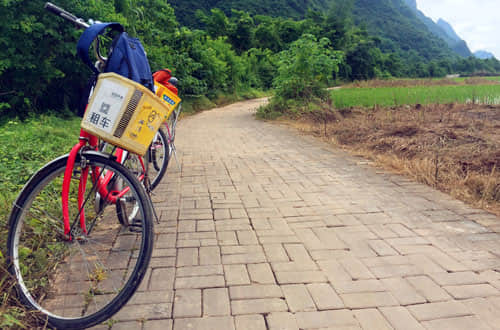 3. Hike at Longji Rice Terraces
The rice terraces in Longji (Dragon's backbone) are one of the most beautiful of its kind around the world. It is on the top favorite list for both photographers and hikers. Hike along the hillside with rice terraces, walk through the local Zhuang and Yao villages, talk to them and take photos of them. The scenery is breathtaking; the local people are friendly and shy; the food is mouth-watering; the villages are primitive. You can hike at Ping'an Village for 1-2 hours, or from Ancient Zhuang Village to Ping'an Village for 2.5 hours, or from Ping'an Village to Dazhai for 5-6 hours, or 2-4 hours just at Dazhai. We can tailor-make the hiking routes to meet your physical condition. If you will stay an overnight on top of the terraces, you can shoot some great pictures of sunset and sunrise.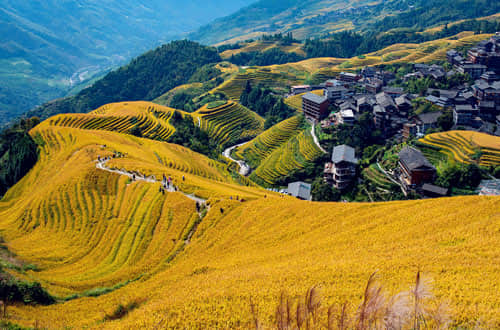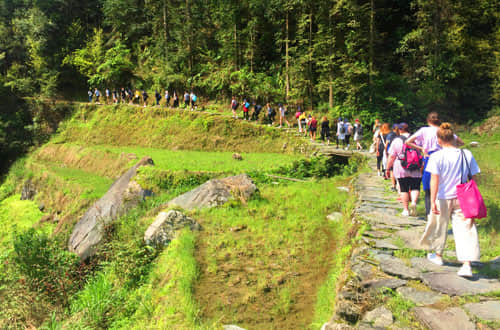 4. Eat a Bowl of Rice Noodles
Rice noodles are local delicacy in Guilin. Different from regular noodles, they are made of rice flour instead of wheat. With the savory gravy and more than 10 types of toppings and ingredients, a bowl of rice noodles is the perfect way to be immersed in local life. Sitting in a small rice noodle store and eating with locals around you, you will understand the local culture a lot better. Rice noodle stores can be found at every corner on each street. Your guide can recommend a few favorite ones. Want to learn more about this local delicacy? Please check HERE.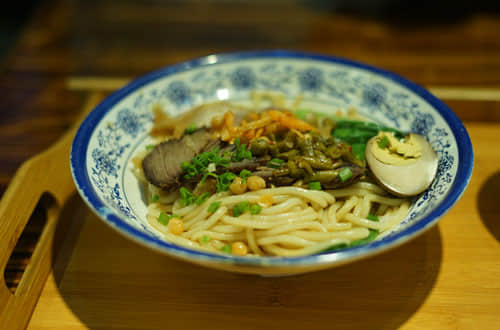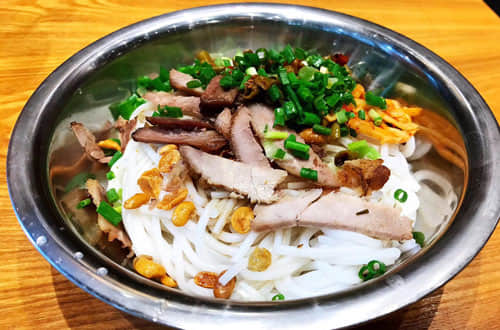 5. Join an Immersive Activity
There are a lot of hands-on activities to participate in besides sightseeing, something you wouldn't do in your own normal daily life. In a small village in Yangshuo, you can try to plant rice seedlings in spring (April-May), harvest rice plants in autumn (end of September to early October), make sticky rice cakes, and make Tofu in any season. With talking to the villagers, you will learn their life style. Every single grain of rice means hardship. You can join a small class of Taichi to learn this mysterious part of Chinese Kungfu. If you are artistic, you can spend a half day to learn Guqin, an old and elegant Chinese music instrument, and tea culture with our Guqin Master. Chinese calligraphy and painting classes are available too.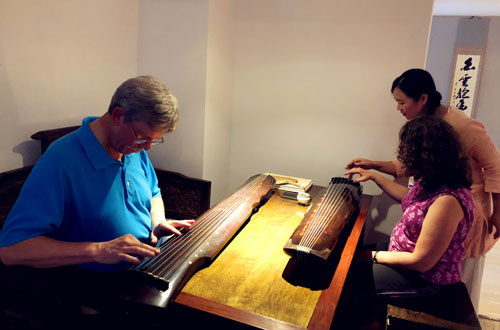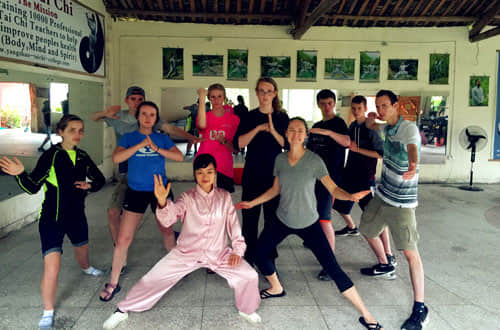 6. Barter in a Local Market
There are all types of markets in Guilin. You can spend hours in each one even without buying anything. There is the local food market for daily groceries, the night market for night snacks and souvenirs, shopping malls for higher-end goods, and small food stands for instant take-away food. If your time is limited, a local food market is highly recommended. It is the place local people buy their daily groceries, food ingredients, and well-cooked food. If you are looking for souvenirs to take home, West Street in Yangshuo is the place to go.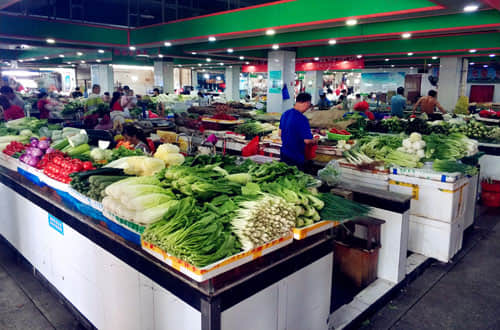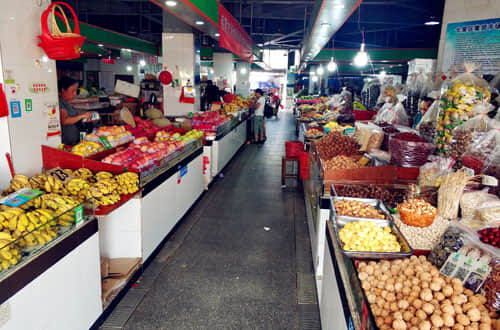 7. Take a Night-time Stroll in Guilin or Yangshuo
Night life never vanishes in Chinese cities, the same as in Guilin and Yangshuo. Some local people even work hard at night to make a living, and some celebrate their night time after a full day of working hard. To have an authentic experience of local night life, you can stroll along a night market, wonder around the parks, walk into a disco bar, or join in the exciting time with youngsters in a night club. You will take home not only souvenirs but also the long-lasting memories. The recommended places are: Night market at Xicheng Road, Ronghu Scenic Area, and Zhengyang Pedestrian Street in Guilin; West Street and Romance Park in Yangshuo.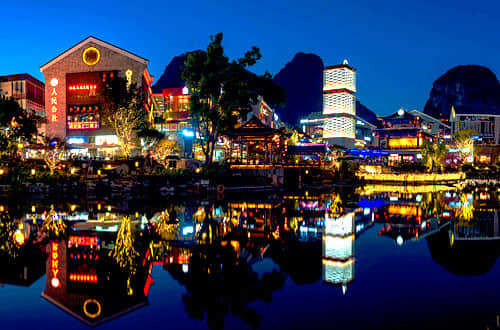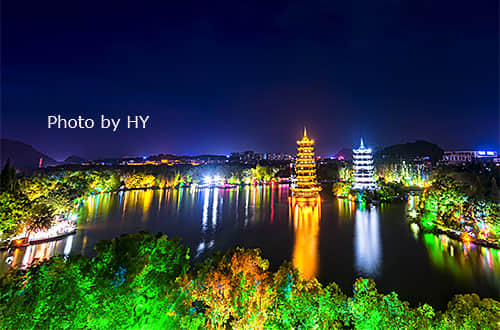 8. Sunrise and Sunset Photography
Guilin area, including Yangshuo and Longji, are always on the top of the list for photographers. The sun rises from clouds on top of the mountains and rice terraces, and goes down at the skyline connecting to the edge of the rivers and mountains. The rice terraces have different colors in different seasons. The fisherman poles his bamboo raft on the river with his cormorants at dawn and dusk. The Karst Mountains reflect in the crystal river; water buffalos eating water grass; mountain goats climbing along mountain cliffs; local villagers washing clothes in the river… All of these compose a vivid and lively picture.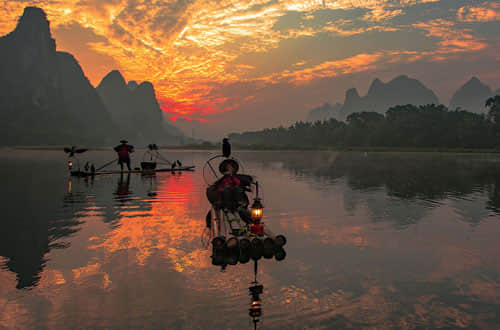 9. Explore a Cave
There are thousands of caves in the Karst mountains around Guilin. A famous saying describes Guilin caverns: "Each mountain has caves and each cave is magnificent." To explore a cave is one of the must-do activities when visiting Guilin. Some of the caves are discovered and open to visitors. Reed Flute Cave is about 7km to the northeast of Guilin downtown. The limestone formation inside is vividly shaped, hence famed as the most beautiful cave. Silver Cave, about 26km from Yangshuo Town, has the very crystal white stones. Gold Water Cave in the mountain in Moon Hill Village is the right one for the adventurous as you can't walk through it, you will have to climb, crawl and bend over in some of the sections. You can also try the popular mud bath in the pond inside the cave.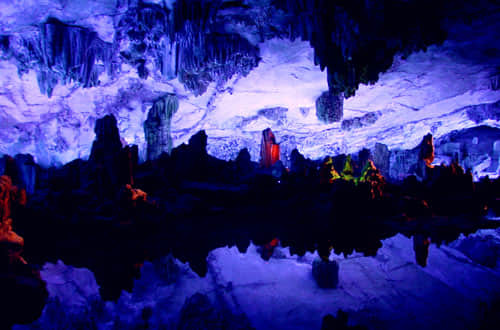 10. Experience the Adventures
Yangshuo is a paradise for lovers of the outdoors. All kinds of adventure activities can be found here. The most popular ones are kayaking, rock climbing, Via Ferrata, Water Mat, and spelunking. Kayaking on a branch of Li River is a great way to experience the phenomenal Li River scenery. Rock climbing has different levels for both beginners and professionals. Via Ferrata is the new trend, which combines rock climbing and zip lining. It requires less physical power but with a lot of fun. Water mat is a great choice for summer time. The key is to stay on the mat but it is actually more interesting to fall into the crystal clear water. Paragliders and helicopters are available to have a bird-eye view of the Karst Mountains, rivers and farmlands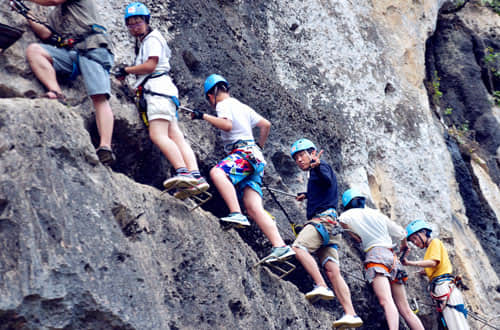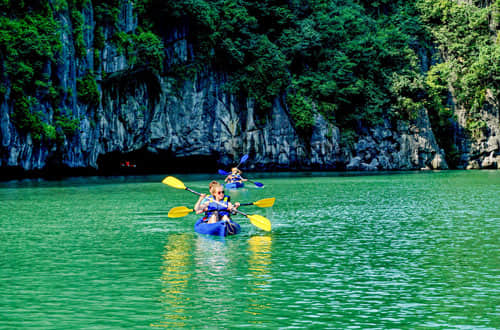 There are a lot more interesting and appealing things to do in Guilin. Contact one of our local experts to tailor a tour that fits your needs.
Have a question?
OR
Are you eager to begin your Chinese cultural journey?
Drop us a line and we will promptly connect you with our leading China expert!