Located in downtown Guilin, Elephant Trunk Hill is the most famous landmark of the city. Resembling an elephant that sticks out its trunk to drink the water from Lijiang River, the hill is thus named Elephant Trunk Hill. Like the Elephant Trunk Hill in Normandy, France, visitors love it very much and want to take a panoramic picture of it. The Elephant Trunk Hill Scenic Area is praised as a miracle of nature and one of the top five most beautiful peaks in China by Chinese National Geography-Scenic Splendor of China. It is a branch venue of CCTV Spring Festival Gala in 2017.
Quick Facts
Chinese name: 象鼻山 Xiàng Bí Shān
Duration: 1 hour
Entrance Fee: RMB 70
Opening hours: April to October 6: 30—19: 00; November to March:7: 00- 18: 30
Best time to visit: All year round
Address: No.1, Binjiang Road, Guilin
How to get there: Take Bus No.2, No.23 or No.16
Highlights of Elephant Trunk Hill
As well as Elephant Trunk Hill, there are Water Moon Cave, Love Island, Samantabhadra Pagoda, Sanhua Cellar and other scenic spots in the area.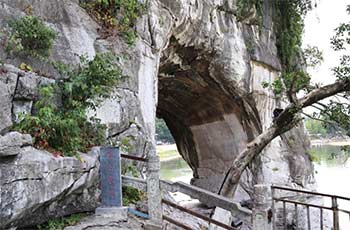 Water Moon Cave
Located between the trunk and the body of Elephant Trunk Hill, Water Moon Cave has preserved over 50 cliff inscriptions and is the Key cultural relics protection site of Guangxi. The famous verse of Han Yu, poet of the Tang Dynasty, "The river is like blue ribbons, and the mountain, a jade hairpin" is carved on the wall of the cave. In September 2013, it won the title of "the most beautiful place for appreciating the full moon" awarded by CCTV news channel network. There is a Sanhua cellar in the Elephant Trunk Hill where thousands of tons of liquor, known as Guilin Sanhua Liquor, which is very famous, are kept. Local people often buy liquor here as gifts or to reserve for a drink on festivals.
A solid pagoda of lama style – Samantabhadra Pagoda, built in early Ming Dynasty – stands on the Elephant Trunk Hill, and, when looking from afar, is appears like a precious vase on the back of the elephant. The Elephant carrying the precious vase on its back is considered a sign of auspiciousness and good luck in China.
Located on the north of Elephant Trunk Hill, Love Island is a viewing point to appreciate the panoramic view of Elephant Trunk Hill. With the beautiful scenery around, the island made a perfect dating place in 1970s, and that's why it is called the Love Island. Today people come here to hold their weddings or take their wedding photos.