Top 7 Places to Visit in May in China

Is May a good time to visit China?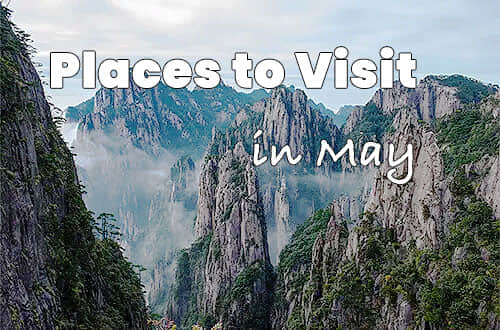 May is one of best months to visit China, as temperatures are warm but not yet into the sticky heat of the summer. In some regions this is the peak month for flowers to bloom; particularly the rhododendron, which covers the mountain slopes. The peonies in Luoyang are also in full bloom. They have large, showy blooms, heady aromas, and loads of personality. In Chinese culture, the peony is a symbol of wealth, power and class; therefore it is an often-seen theme in traditional painting, silk embroidery, national clothes and decorations. The month of May also comes with a special event, the Huangyaguan Great Wall Marathon which has been held on the Great Wall in the middle of May ever since 1999.
Avoid the first week of May if possible, as it is our Labor Day holiday which lasts for 3 to 5 days.
China Weather in May
As the weather heats up, it is a good time to visit most parts of China. The average temperature in China in May is 20°C (68°F).The countryside is green and festooned with spring flowers, and May brings a preponderance of sunshine everywhere north of the Yangtze. Further south the rainy season sets in, and humidity levels rise.
Where to Go and What to Do
1. Chengdu – Alpine Azaleas on Mt. Emei
Location: Sichuan Province, Southwestern China
Average Temperature in May: 18~28°C (64.4°F ~82.4°F)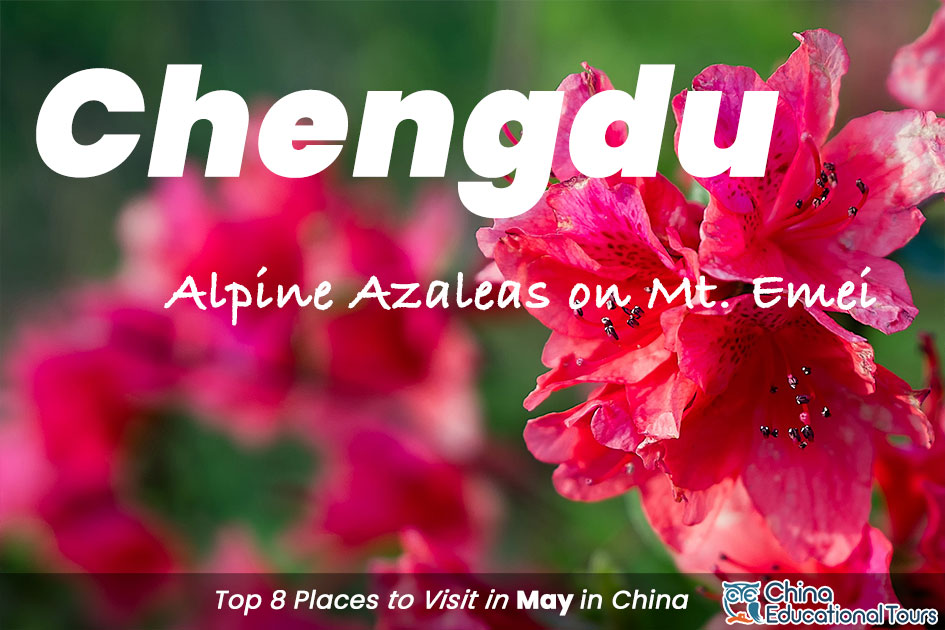 Why Chengdu and Things to do
With more than 2000 year's history and a population of 16 million, Chengdu entertains many kinds of travelers. The Sanxingdui Ruins, Jinsha Museum and Wuhou Temple can keep history buffs occupied for days. The Chengdu Panda Research Base waits for animal lovers to explore it. Lovers of food can taste numerous dishes in its 150,000 restaurants. For wildflower aficionados, Mt. Emei cannot be missed. It is a sacred Buddhist mountain about 150km (93 miles) from Chengdu. It was listed in the world natural and cultural heritage by UNESCO in 1996. In late spring and early summer every year, Mt. Emei becomes a sea of azaleas. It is covered in different colored blooms as far as the eye can see! It's incredibly beautiful, and is home to 30 species of azalea. The R. hanceanum and R. hemsleyanum are endemic to Mt. Emei. You can spot them from Hongchunping to Xixin Temple at an elevation of 1000-1600 meters. The Leshan Giant Buddha is only 50 km away from Mt. Emei. It is good to have two day tours to visit both places from Chengdu.
Highlight Spots: Chengdu Panda Research Base, Jinli Ancient Street, Wenshu Temple, Sanxingdui Ruins, Qing Cheng Mountain, Emei Shan (Mt. Emei) and Leshan Giant Buddha
Recommended Chengdu Tours in May
2. Luoyang – See China's National Flower
Location: Henan Province, Central China
Average Temperature in May: 11~21°C (51.8°F ~69.8°F)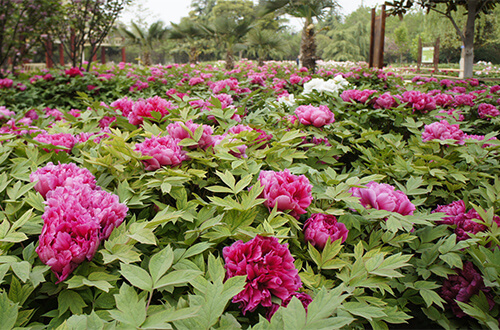 Things to Do in Luoyang in May
Luoyang was an important city in history as it served as capital city for 13 dynasties including the Xia Dynasty (21st-16th century BCE) in the 21st century BCE, Han Dynasty (206BCE-220CE), Sui (581-618) and Tang (618-907) dynasties. That's the reason for its rich historical and cultural sites. The Longmen Grottoes are one of China's three most precious treasure houses of stone sculptures and inscriptions. The White Horse Temple was the first Buddhist temple and is honored as the 'Cradle of Buddhism in China'. The Shaolin Temple is the place of origin for Chinese Zen Buddhism and the cradle of Chinese Martial Art.
The benefit of visiting Luoyang in May is the Luoyang Peony Festival, held annual from early April to the middle of May. Native to China, the peony has a history of more than 4,000 years. The flower is seen as a symbol of harmony and prosperity, and was the national flower during the Tang Dynasty (618-907). Check out the Luoyang National Peony Garden which covers over 47 hectares and contains about 500,000 peonies in 9 colors.
Highlight Spots: Longmen Grottoes, White Horse Temple and Shaolin Temple
Recommended Luoyang Travel Tour in May
3. Beijing – Run Great Wall Marathon
Location: Northern China
Average Temperature in May: 9~19°C (48.2°F ~66.2°F)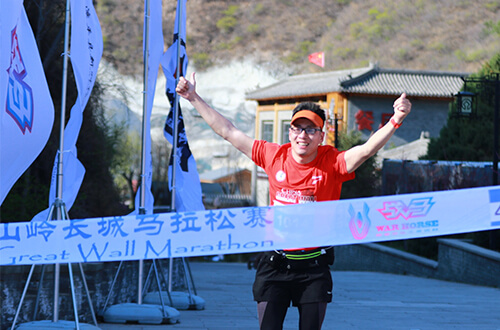 Visiting Beijing in May
The best times to visit Beijing are from March to May and from September to October. These seasons bring temperate weather and colorful scenery, contrasting against the sweltering heat of summer and potential for snow in winter. Warm weather, moderate crowds, and special events on the Great Wall make May one of the best times to visit Beijing. The Huangyaguan Great Wall Marathon, which has been held on the third Saturday in May annually since 1999, is actually run on the Great Wall. It offers you both a fun event and a view of a renowned cultural structure. This demanding course includes 5164 steps on the Great Wall at Huangyaguan, including steep up and down portions. Over 6 kilometers of the full marathon are run on the Wall. All other races are on the wall for about 3km. You can easily do a one day tour to different sections of the Great Wall near Beijing.
Highlight Spots: Great Wall, Forbidden City, Summer Palace, Temple of Heaven and Tiananmen Square
Recommended Tours in Beijing
4. Guilin – Prepare Terrace Fields for Rice Planting
Location: Guangxi Zhuang Autonomous Region, Southern China
Average Temperature in May: 18~25°C (64.4°F ~77°F)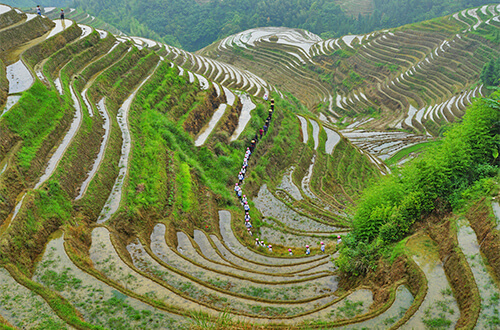 Things to Do in Guilin & Longji
The beautiful landscape of Guilin, which often appears in Chinese scroll paintings, is what captivates many visitors to this place. Guilin is famous for its karst peaks and the scenery of its hills and peaks fascinates many travelers as well as inspiring Chinese poets.
Longji terraced rice fields are about 90km (56miles) out of Guilin city, they are something special to observe while in Guilin. The most spectacular views can be captured during the middle of May, when all of the terraces are deliberately flooded, allowing water buffalo to plow the fields. The flooded terraced fields are just like thousands of mirrors. That is the prelude of the elaborate process of rice planting, which often happens in early June. Most of the work is done by humans, as some of the terraces are too narrow for a horse or a buffalo to get through. Minority culture is another big highlight besides the spectacular terraces and unique traditional houses in Longji Terraced Fields.
The area is inhabited by Yao and Zhuang Minority nationalities. Yao women are well known for their colorful traditional dresses decorated with bright embroidery. They use wooden looms to weave their clothes, and it can take up to three months to finish a traditional costume.
Highlight Spots: Li River, Reed Flute Cave, Elephant Trunk Hill, Longji Terraced Rice Fields
Recommended Guilin Tours in May
5. Lijiang – Visit the Kingdom of Girls
Location: Yunnan Province, Western China
Average Temperature in May: 9~21°C (48.2°F ~69.8°F)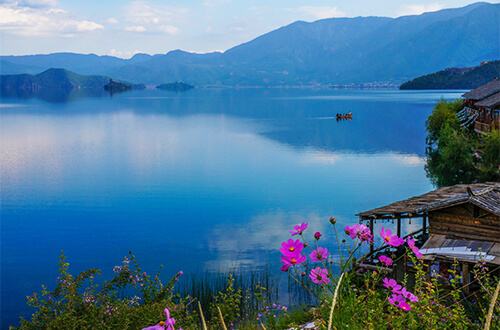 Why Visiting Lijiang in May
With charming cobblestone streets and beautiful canals running through the town, this UNESCO World Heritage Site is a true marvel. Enjoy old architecture and a sense of walking through history in what was the fascinating old Naxi Kingdom. May is known as one of the best months to visit Lijiang. You'll enjoy blue sky and an average 7 hours' sunshine daily in May. Another highlight is the wildflowers, the stunning and rare azalea (R. laojunshanense) is in full bloom on Laojun Mountain, offering visitors unparalleled access to the shrub that is native to only a few mountains in Yunnan area. The delicate white blossoms typically appear in early May. There are more than 60 species of azaleas on the mountain.
Lijiang is also the main access point for Lugu Lake – a place known as the Kingdom of Girls. Here you'll find the 40,000-strong Mosuo, one of the world's best known matriarchal societies; a culture with no word for 'father' or 'husband', as Mosuo women do not marry. Property is handed down through the female line and there's no stigma in not knowing who a child's father is. The Mosuo people are practicing a custom called "walking marriage", by which the men visit their beloved ones in their private bedrooms at night and return to their own mother-clan´s houses in the morning.
Highlight Spots: Lijiang Old Town, Tiger Leaping Gorge, Yulong(Jade Dragon) Snow Mountain and Lugu Lake
Recommended Lijiang Tours
6. Huangshan – Beautiful Mountains and Ancient Villages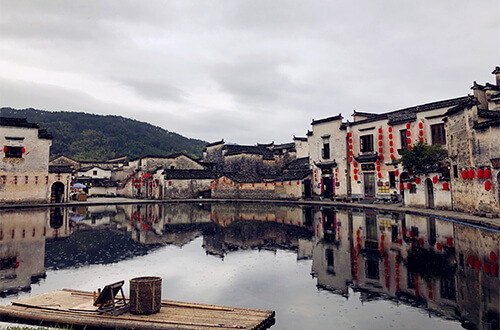 Location: Anhui Province, Eastern China
Average Temperature in May: 14~23°C (57.2°F ~73.4°F)
Explore areas of Huangshan in May
With striking natural sculpture of towering stone pillars, uniquely-shaped pines, crystal clear lakes, and a blanket of clouds, the Yellow Mountains (Huangshan) are considered to be the most beautiful mountains in China and have been listed as World Heritage by UNESCO since 1990 as a natural and cultural site. They have been immortalized in the art and literature of both ancient and contemporary China as a masterpiece of nature.
The Huangshan region is also home to several ancient architectural jewels, which includes the picturesque villages of Xidi and Hongcun, UNESCO World Heritage Sites. The vernacular architecture of these villages, built under the guidance of Fengshui theory, has survived well since their construction during the Ming and Qing dynasties from 1368 to 1911. In a large part, they have managed to keep their architectural quality and lifestyle intact through the centuries.
Highlight Spots: Yellow Mountain Scenic Area, Hongcun Village, Xidi Ancient Village
Recommended Huangshan Activities in May
7.Xi'an – Walk on the World's Most Adventurous Trails
Location: Sha'anxi Province, Northwestern China
Average Temperature in May: 11~21°C (51.8°F ~69.8°F)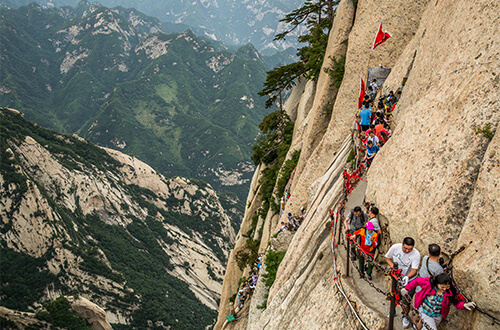 What to do in Xi'an
Xi'an is the most ancient city in China. History buff or not, you will be amazed and overwhelmed by the 5000 years' history it has to offer. It is home to the internationally famed Terracotta Warriors.
Xi'an was the eastern starting point of the ancient Silk Road and retains the Muslim community that came through the Silk Road from the Middle East during the Tang Dynasty. The mix of cultures resulted in some delicious and mouthwatering street food where you can find local Chinese dishes served with nuts and traditional flavors from the Middle East. The Muslim Quarter in the city center is the best place to taste the snacks that Xi'an has to offer. If you are into outdoor activities; you can go to Mount Hua which is just 120km (75 miles) away from the city. Its south peak plank walk is one of the world's most adventurous trails.
Highlight Spots: Terracotta Warriors, Mount Hua, Shaanxi History Museum, Xi'an Ancient Wall and Muslim Quarters
Recommended Xi'an Tours in May
---
China is vast country and offers visitors many choices. If you are looking for more options, please contact us and tell us your interests, we will tailor-make a tour plan for you.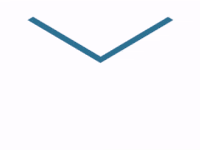 Have a question?
OR
Are you eager to begin your Chinese cultural journey?
Drop us a line and we will promptly connect you with our leading China expert!