China's Top 8 Places to Visit in March

March is a vibrant and comfortable time to visit most parts of China. Temperatures quickly rise into the 50s, 60s and 70s as trees burst into bloom.
March is the month of flowers; you can see canola flowers in Luoping, magnolia flowers in Beijing, peach blossoms in Shanghai and cherry blossoms all over China. March is not peak season, which means it is wallet friendly to travel during the month; you can always get a good deal on hotels and flights. March also has fewer crowds as there is no national holiday in China during the month.
China Weather in March
The weather varies wildly across the regions in China due to the massive size of the country. In March, northern China finally starts to warm up with an average increase of 11 degrees Fahrenheit from February. Beijing will still feel cold but relatively dry. Meanwhile, Central China is still going to feel chilly and very damp. Expect a lot of rainy days in Southern China in late March. It is good to travel to the eastern part of China; the temperature is from 40 to 60 degrees Fahrenheit (4.5 – 15.5 °C).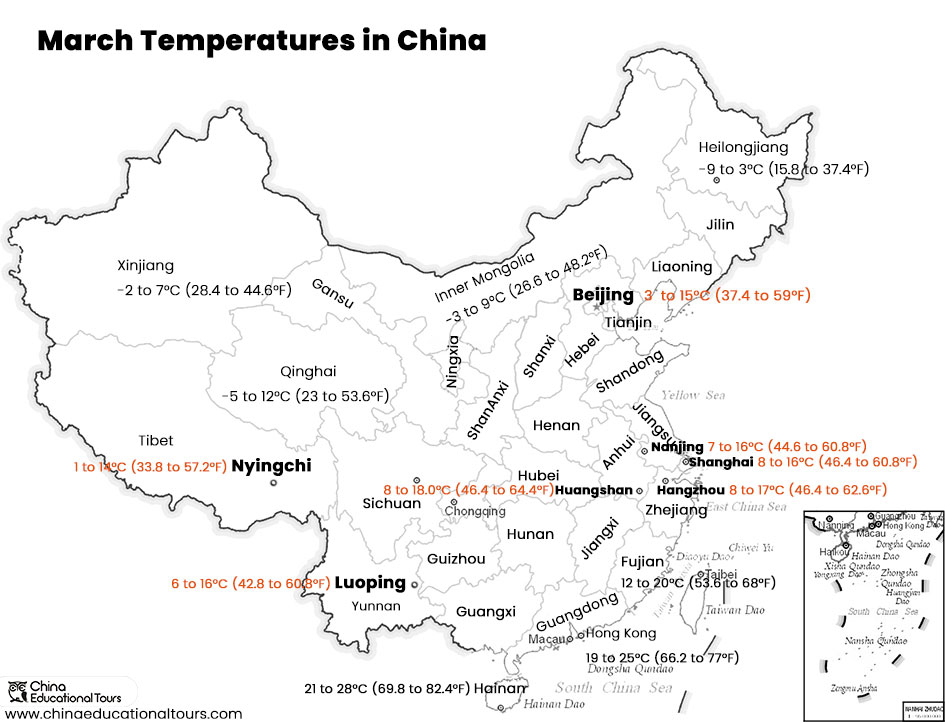 Where to Go and What to Do
1. Luoping – Canola Flowers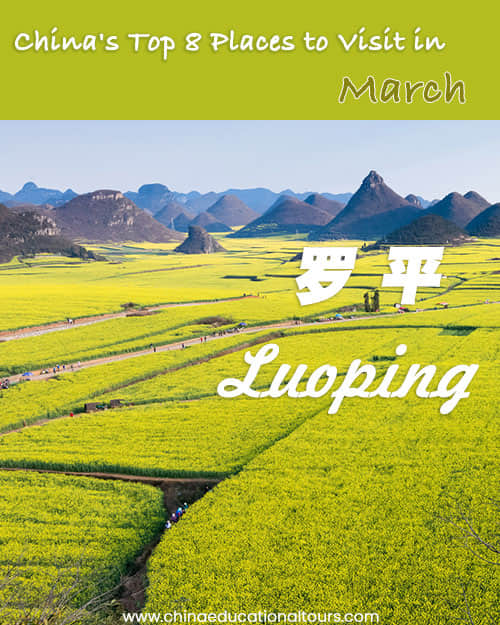 Location: Luoping County, Yunnan province, western China
Average Temperature in March: 6 to 16°C (42.8 to 60.8°F)
Things to Do:
Luoping is a county located about 230 km (143 miles) east of the provincial capital of Kunming. It's on the border where Yunnan meets both Guizhou and Guangxi. Luoping County is home to one of the largest plantations of canola (rapeseed) flowers in southwestern China. They are typically in full bloom around February-March, creating a sea of yellow between the majestic karst mountain peaks. Looking into the distance, you just see golden and yellow colors stretching to the horizon like you are standing in a huge natural garden. Luoping has been inhabited by many nationalities, including Yi, Zhuang, Miao, Hui, Yao, Buyi and Shui people. When you are there you should try the local dishes made of fresh canola plants like stir-fry canola bud or flower soup and multi-colored sticky rice.
Another highlight in the area is Nine Dragon Waterfall which is a ten-tier waterfall, located within an hour's drive from Luoping and known as one of China's biggest and most beautiful waterfalls.
Highlight Spots: Canola Flower Field, Nine Dragon Waterfall
2. Beijing – Cherry and Magnolia Blossom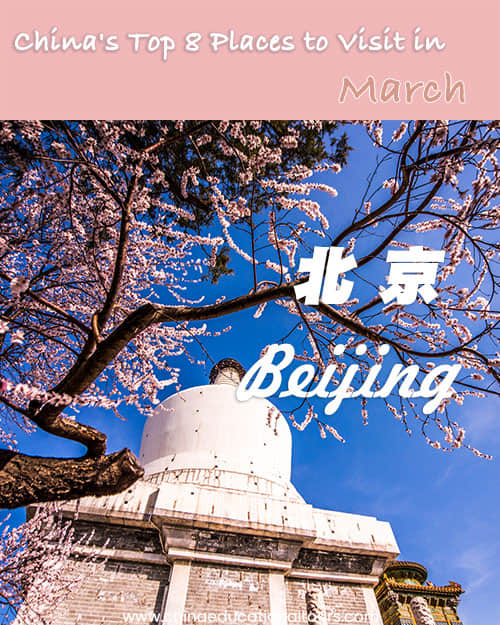 Location: Northern China
Average Temperature in March: 3 to 15°C (37.4 to 59°F)
Things to Do:
It is still cold in Beijing, but spring is around the corner. You can visit Yuyuantan Park which has one of the biggest cherry gardens in northern China. Its cherry garden covers 25 hectares, with more than 2,000 cherry trees. In late March, you can see magnolia in the Summer Palace and Tanzhe Temple. It is good time to visit the Great Wall; flowers around the wall will have all come out. The peach blossoms and apricot blossoms are in full bloom at Mutianyu Great Wall. The Beijing Railway Line S2, also known as the "train bound for spring," is a popular scenic spot for travelers as it passes through the sea of flowers near the Juyongguan Great Wall.
Highlight Spots: Yuyuantan Park, Summer Palace, Tanzhe Temple, Forbidden City, Great Wall and Temple of Heaven
3. Shanghai – Peach Blossom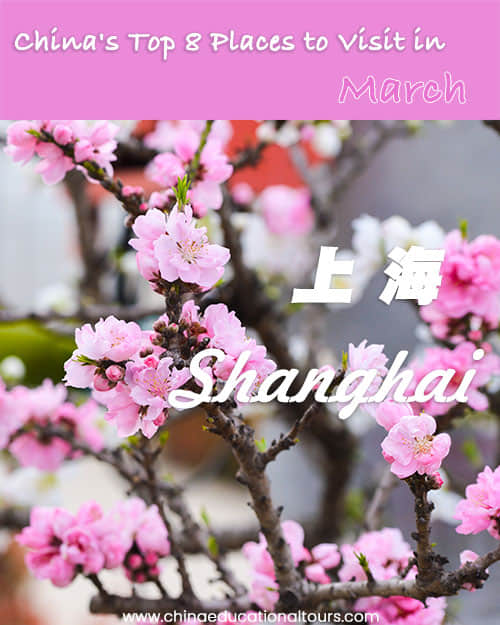 Location: Eastern China
Average Temperature in March: 8 to 16°C (46.4 to 60.8°F)
Things to Do:
In Chinese culture, peach blossoms are regarded as the sign of spring because they appear before the leaves sprout. They are also often associated with love and marriage, because spring is traditionally regarded as a season of romance. From late March through mid-April, the Shanghai Peach Blossom Festival will be held at five towns of Pudong New Area. The festival has been celebrating blossoming trees and the arrival of spring since 1991. Visitors will enjoy food, music, and decorated orchards all honoring the fuzzy fruit and beautiful blossoms. Besides peach blossoms, March is also a good time to see cherry blossoms in Shanghai. Gucun Park, Shanghai Botanical Garden and Luxun Park are all good places for cherry blossoms.
Highlight Spots: Bund, Yuyuan Garden, Zhujiajiao Ancient Town, Shanghai Museum, Shanghai Urban Planning Exhibition Hall, Old French Concession and Shanghai Tower
4. Yellow Mountains (Huangshan) – Canola Flowers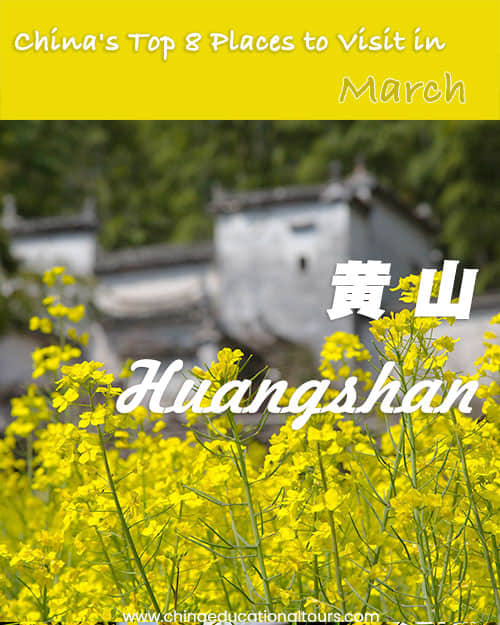 Location: Anhui Province , Eastern China
Average Temperature in March: 8 to 18.0°C (46.4 to 64.4°F)
Things to Do:
The Yellow Mountains were considered to be one of the most beautiful mountainous areas in the country. They inspired most Chinese paintings. The Yellow Mountains are great for all types of tourists. Whether you're a keen hiker, a family with young children or an elderly person looking for some fresh air and relaxation, Huangshan has it all. The Yellow Mountains are home to many flowers unique to the mountains, such as orchids and the Huangshan magnolias. You can find magnolia blossoms in March.
Another highlight of Huangshan area is the ancient villages dotted around the mountain. The most famous two are Hongcun Ancient village and Xidi ancient Village. In the spring, as the canola flowers bloom, the white walls and black tiles of the village with yellow flowers make the landscape a beautiful picture.
Highlight Spots: Yellow Mountains, Hongcun Ancient village, Xidi ancient Village and Tunxi Old street.
5. Wuxi – Cherry Blossoms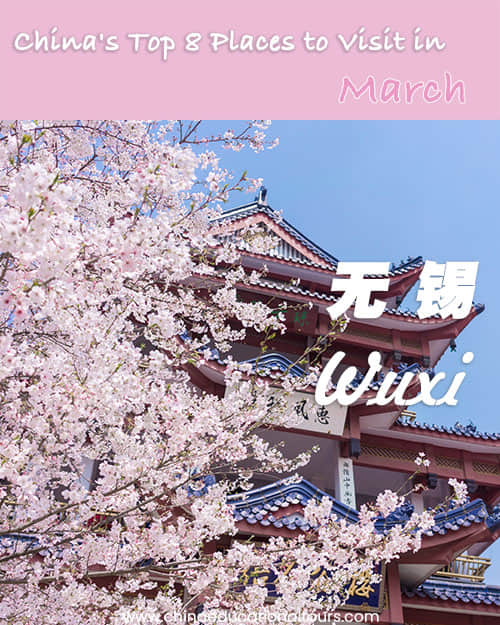 Location: Jiangsu Province, eastern China
Average Temperature in March: 7 to 16°C (44.6 to 60.8°F)
Things to Do:
Situated on the shores of Taihu Lake, Wuxi is a hidden gem for international tourists. It offers a great blend of natural beauty and city attractions. In March, Yuantouzhu Island (Turtle Head Island) on Taihu Lake is where more than 30,000 cherry trees dot the verdant island and turn it into a pink wonderland! The park is a gift endowed by nature, and you may enjoy the beauty and magnificence of Taihu Lake. You can take a walk on the tranquil path under these cherry blossom trees. Take a traditional boat on Taihu Lake; or climb up to Luding Hill to have a panoramic view of the pink and white flowers.
If you enjoy ancient gardens (like the ones in Suzhou), you will love Jichang Garden located in Xihui Park. It is a masterpiece of classic Chinese gardens and it was a favorite of Qing Emperor Qianlong. The Xiequ Garden (Garden of Harmonious Interests) in the Summer Palace in Beijing is replica of Jichang garden.
Highlight Spots: Jichang Garden, Lingshan Buddhist Scenic Spot, Taihu Yuantouzhu Scenic Spot and Xihui Park
6.Nanjing – Plum Blossom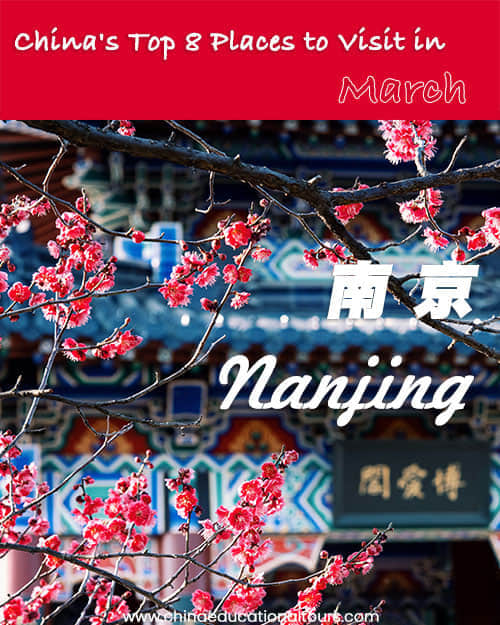 Location: Jiangsu Province, eastern China
Average Temperature in March: 7 to 16°C (44.6 to 60.8°F)
Things to Do:
Nanjing is a fascinating city that has played an important role in Chinese history. It served as national capital for 6 dynasties from early 3rd century to late 6th century and as an auxiliary capital city for the Ming Dynasty from 1368 to 1644. The extant 15.5 miles Ming Dynasty City Wall is the longest city wall in the world. The Plum Blossom is the city flower of Nanjing. In March, these plum blossoms come out in full bloom. This has been promoted as the Plum Blossom Festival since 1996. The best viewing areas are Plum Blossom Mountain and Plum Blossom Valley of Zijin Mountain. Plum Blossom Mountain is a hill covering 400 acres with 18 kinds of flowers and 15,000 flowers. In Chinese culture, plum blossoms symbolize noble and modest qualities and are known as one of the "Four Gentlemen of flora" along with bamboo, chrysanthemum, and orchid.
Opened in 2015, Nanjing Niushoushan Cultural Park is a new highlight of Nanjing. The centerpiece of the park is an ornate and intricate Buddhist palace, spanning six floors underground, built into the side of the mountain. Visitors can also explore the Pagoda of Hongjue Temple and the nine-story Usnisa Pagoda, as well as Usnisa Temple, and have a meal at the vegetarian restaurant.
Highlight Spots: The Memorial hall of the Nanjing Massacre, Sun Yat-sen Mausoleum (Zhongshan Ling), Nanjing City Wall (Ming City Wall), Purple Mountain (Zijin Shan), Nanjing Museum (Nanjing Bowuyuan) and Nanjing Niushoushan Cultural Park
7. Hangzhou – Tea Picking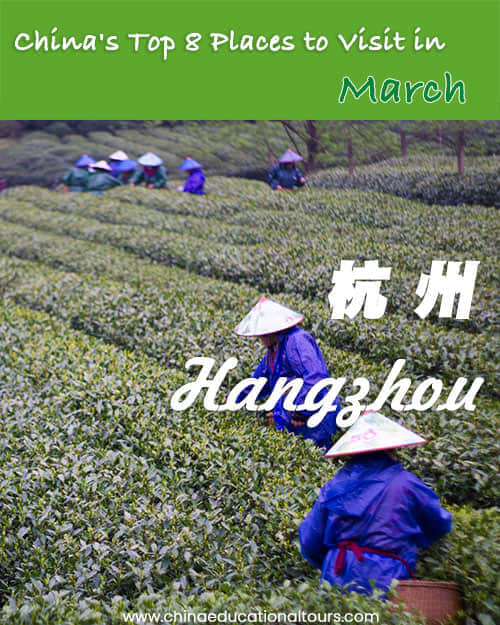 Location: Zhejiang Province, eastern China
Average Temperature in March: 8 to 17°C (46.4 to 62.6°F)
Things to Do:
Just as Beijing likes to boast about Peking Duck, Hangzhou is famed for its West Lake and Longjing tea (aka Dragon Well Tea). Longjing tea, also called Xihu Longjing tea, is native to a village called Longjing that is located in the southwest of West Lake (Xihu). The quality of the Longjing tea is highly affected by time. Qingming Festival, the 15th day after the spring equinox, normally falls on 4th or 5th April. The best tea (Mingqian Tea) is usually plucked and prepared before the Qingming Festival. The picking of Longjing tea will commence after the middle of March. You can join the tea farmers for the picking and learn a lot about the preparation process.
March is also a good time to visit West Lake, the verdant weeping willows and lush green hills that surround the lake add a wondrous beauty to the famous scene. Spring Dawn at Su causeway tops the list of 10 Scenes of Hangzhou West Lake. As you stroll across the long bridge over the lake, observe the many shades of nature with peach blossoms and weeping willow catkins accompanying you in each and every footstep.
Highlight Spots: Meijiawu Tea Fields, West Lake, Linying Temple, Xixi Wetland and the Archaeological Ruins of Liangzhu City
8. Nyingchi - The Peach Blossom Festival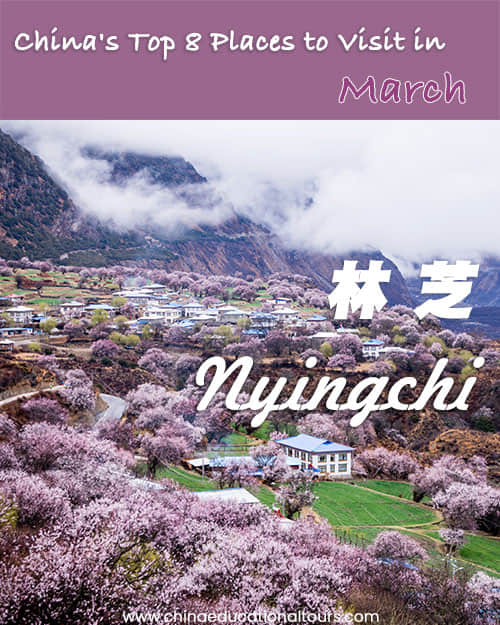 Location: Southeast of Tibet, Northern China
Average Temperature in March: 1 to 14°C (33.8 to 57.2°F)
Things to Do:
Since 2002, Nyingchi has hosted the annual Peach Blossom Festival on March 26. The best place to watch the flowers is Bome Peach Blossom Valley which covers nearly 155 square kilometers. It is home to 200,000 100-year-old peach trees. The best time is from late march to middle April. Together with the Peach Blossom Festival, there are traditional Tibetan dance shows and gourmet festivals.
Most hotels based in Bayi Town, which is the seat of the local government. There are hostels and 5 star hotels; you have a lot of options.
You can fly to Nyingchi Airport (LZY-Nyingchi Mainling) from Chengdu, Chongqing, Xi'an, Shenzhen and Lanzhou. You can also fly to Lhasa then take bullet train to Nyingchi.
Highlight Spots: Nyingchi Peach Blossom Festival
If you are looking for more options, please contact us and tell us your interests, we will tailor-make a great holiday for you.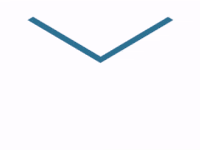 Have a question?
OR
Are you eager to begin your Chinese cultural journey?
Drop us a line and we will promptly connect you with our leading China expert!