Top 6 Places to Visit in January in China

January is the coldest month in China. The northern part of the country will be covered by heavy snow; the central part is freezing cold; the southern part is also cold with warmer weather only on the southern tip. Kunming in Yunnan Province is known as Spring City, so it is a good place to visit in winter. The best reason to visit China in January is that there will be much less visitors in all of the scenic spots. You can enjoy the winter scenery and ski resorts in the north as well as sunny beaches further south.
China Weather in January
Due to the vastness of the land, the temperature in January varies from region to region. In the far northern part of China, such as Inner-Mongolia, Beijing, and Harbin, it is freezing cold. The lowest temperature will descend to -30°C (-22°F) and the highest is about 3°C (37°F). While in the central and the eastern part, such as Wuhan, Chengdu, Shanghai and Hangzhou, it is a bit warmer, but still cold with an average temperature of 1-7°C (33-45°F).
Where to Go and What to Do
1. Beijing – best time to avoid crowds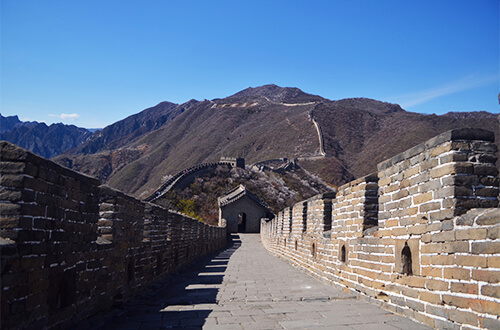 Location: The capital city, northern China
Average Temperature in January: -6~3°C (21~37°F)
Things to Do in Beijing in January
As the ancient capital city for 6 Dynasties and the present capital city of PRC, there is a lot to discover, from ancient cultural sites to modern museums and art spots. You can easily spend a whole week in Beijing to explore the Forbidden City, tranquil Great Wall, Hutong Alleys, as well as the advanced ski resorts nearby.
Highlight spots: The Forbidden City, Summer Palace, Great Wall, Temple of Heaven, Nanshan Ski Resort
Recommended Tours in Beijing
2. Harbin – The World of Snow and Ice
Location: Heilongjiang Province, northern China
Average Temperature in January: -24 – -13°C (-11– 9°F)
Things to do
Despite the scary low temperature, Harbin is now one of the most popular cities for winter traveling. The spectacular ice sculptures and winter scenery are attractive to visitors who seldom see snow or ice from other parts of China. It has China's best ski resorts, well-preserved snow villages, and interesting winter swimming games. Please note to avoid the Spring Festival holiday which is the peak traveling season in Harbin.
Highlight spots: Ice and Snow World, Saint Sophia Cathedral, Snow Village, Yabuli Ski Resort
Recommended Harbin Tours in January
3. Kunming – Spend a Warmer Winter in the "Spring City"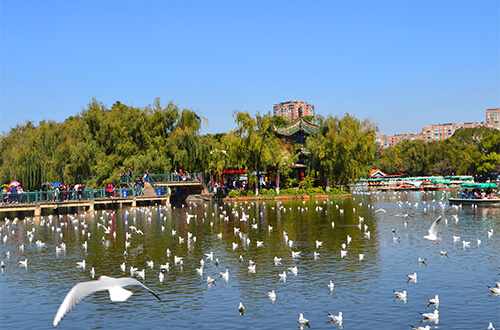 Location: Capital city of Yunnan Province
Average Temperature in January: 2 – 15°C (35.6– 59°F)
Things to do
Kunming is known as "Spring City" in China, for its mild weather. It doesn't get extremely hot in summer, nor freezing cold in winter. Traveling to Kunming in winter can avoid the cold. It is low traveling season, when you can enjoy the popular spots without too many tourists. You can spend a day taking photos at Dianchi Lake; explore the famous Stone Forest, and the West Hill. With a few extra days, you can take a high speed train to Dali to visit the Old Town of Dali, Erhai Lake and Shuanglang Old Town. There is a lot to discover in Kunming and Yunnan Province.
Highlight spots: Stone Forest, Dianchi Lake, West Hill, and Flower Market
Recommended Yunnan Tours including Kunming
4. Sanya – Enjoy a Sunny Winter on the Beach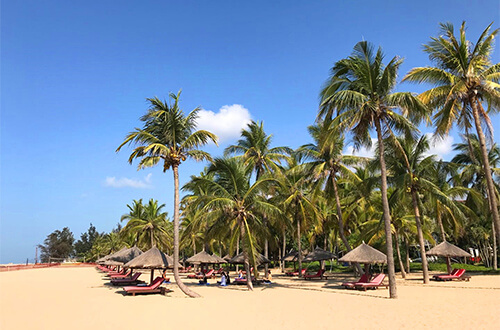 Location: Hainan Province at southernmost China
Average Temperature in January: 20~27°C (68~80.6°F)
Things to do
Sanya, by the South China Sea, has the most beautiful coastline and beaches in China. It is the most popular destination for winter vacations. You can spend a few days in the holiday resorts along the coast, explore the small islands nearby, and try snorkeling, diving, and surfing. The colorful marine creatures will warmly welcome you. It is a paradise for foodies too. Seafood and varieties of local snacks no doubt should be on your list to visit Sanya.
Highlight spots: Yalongwan Beach, Sanyawan Beach, Wuzhizhou Island and Seafood Market
5. Chengdu – Pandas, Glacier and Hot Pot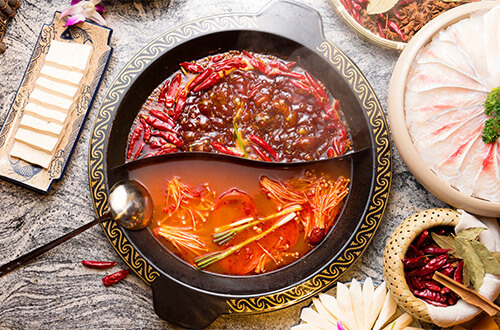 Location: Capital City of Sichuan Province in central western China
Average Temperature in January: 3~11°C (37.4~51.8°F)
Things to do
There are abundant tourism resources near Chengdu, such as the natural landscape of Snow Mountains, national forest parks, cultural spots of Buddhism temples, adorable Giant Pandas and mouth-watering food. Jiuzhaigou Valley to the north of Chengdu has gorgeous forests and alpine lakes. Hailuogou Valley in the south of Chengdu has the biggest frozen waterfall in China. Mt. Emei is the sacred place for Buddhism. You can have a close encounter with the pandas by visiting the reserve center or be a panda keeper for a day. Hot pot, which originated from Sichuan, is an indispensable winter feast to ward off the cold.
Highlight spots: Chengdu Panda Breeding Center, Jiuzhaigou Valley, Hailuogou Valley, Mt. Emei, Kuanzhai Lane, and People's Park
Recommended Chengdu Tours
6. Xiamen – the Hometown of Mulan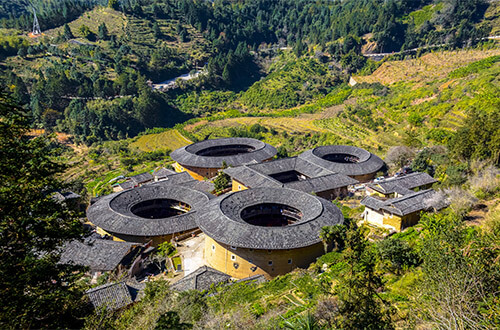 Location: Fujian Province in Eastern China
Average Temperature in January: 11–18°C (52–64°F)
Things to do
The coastal city, also known as "Amoy", has now become a popular tourism destination for winter vacations for its mild temperature. Gulangyu Island, a 5 minute ferry ride from the city center, is the best place for a leisurely walk, photo taking and sightseeing. The Piano Museum on the Island collects all types of pianos from all over the world. You can spend some time exploring Xiamen University, one of China's most beautiful universities. Taking a day trip to visit Fujian Tulou (Hakka Earth Building) is highly recommended. It is the home of the 'Mulan' Movie. The most famous ones are in Yongding, Hua'an and Nanjing. Trying some local snacks at Bashi and the Taiwan Night Market will make your trip more memorable.
Highlight spots: Gulangyu Island, Huandao Road, Fujian Tulou, Mt. Wuyi, Xiamen University
Recommended Xiamen Tours
---
If you are looking for more options, please contact us and tell us your interests, we will tailor-make a great winter holiday for you. For more about China winter, you may check HERE.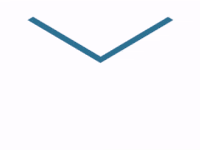 Have a question?
OR
Are you eager to begin your Chinese cultural journey?
Drop us a line and we will promptly connect you with our leading China expert!