Best Places to Visit in September in China

September is the beginning of "golden autumn". As the extremely hot weather fades away, the temperature becomes cooler and the crops start to ripen. It is one of the best months to visit China. The mid-autumn festival usually falls in September, and if you travel during this time, you will be lucky to see the most beautiful moonlight on your travels.
What is the weather like in September in China?
Temperatures are mild and there is less rainfall. In most areas of North China, it is a little dry. Visitors need to wear long-sleeves. But in South China, the days are still a little hot and rainy, so short-sleeved shirts are necessary.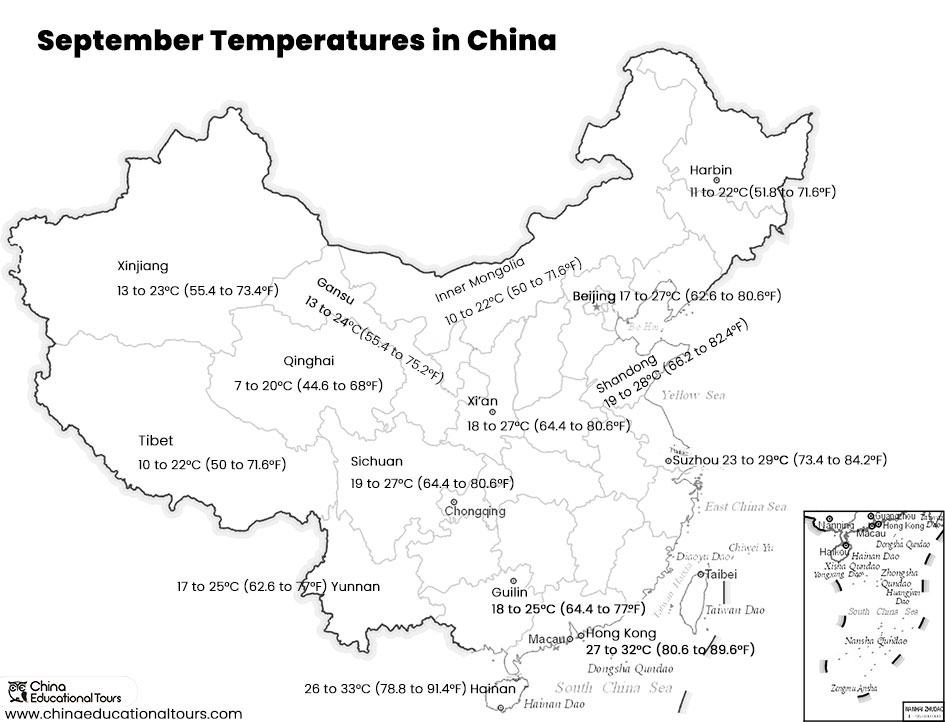 Crowds: September is a beautiful and romantic season to travel. During the Mid-autumn Festival places tend to be more crowded, but in other times of this month, visitors don't need to be worried about it.
Where to Go and What to Do in September
1. Xi'an
Temperature: 18 – 27 ℃ (64 – 80°F)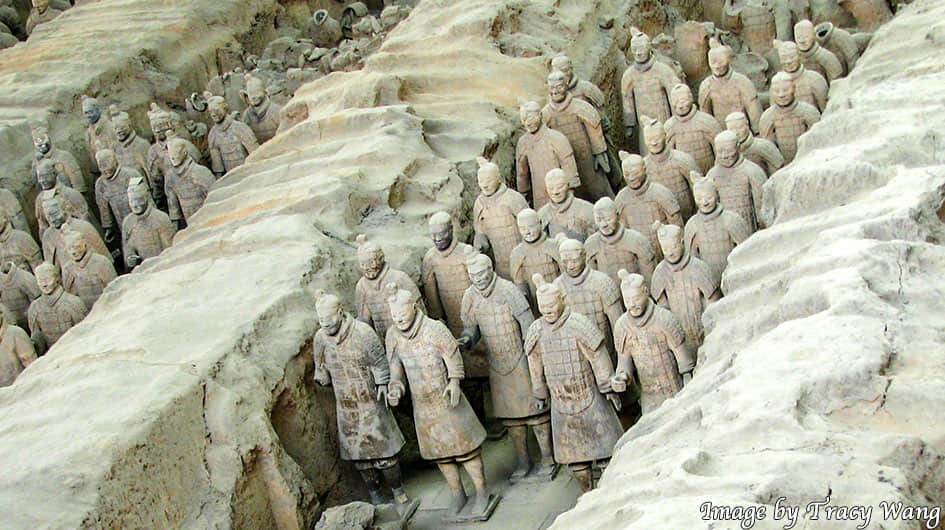 Xi'an is home to thousands of years of history and culture, and more than 70 ancient emperors ruled China here. This is the reason why there are so many historical sites, ruins, museums and ancient relics.
Besides the Terracotta Warriors being the 8th wonder of the world, Xi'an Muslim Quarter is a delightful place to enjoy local food, and the Bell and Drum Towers show off the colorful and fascinating evening scenery. You can also wander in the Tang Paradise, which is a large theme park which imitates the imperial palace of the Tang Dynasty. If you encounter the time of the Mid-Autumn festival, you can the experience the ancient ritual of worshiping the moon. When the bright, round moon is hanging in the sky, visitors wander in this historical city and touch the antique city wall, and it's just like going back through time to the Tang Dynasty.
Recommended Xi'an Tour Packages
2. Longji Rice Terraces, Guilin
Temperature: 21 – 28 ℃ (70 – 82°F)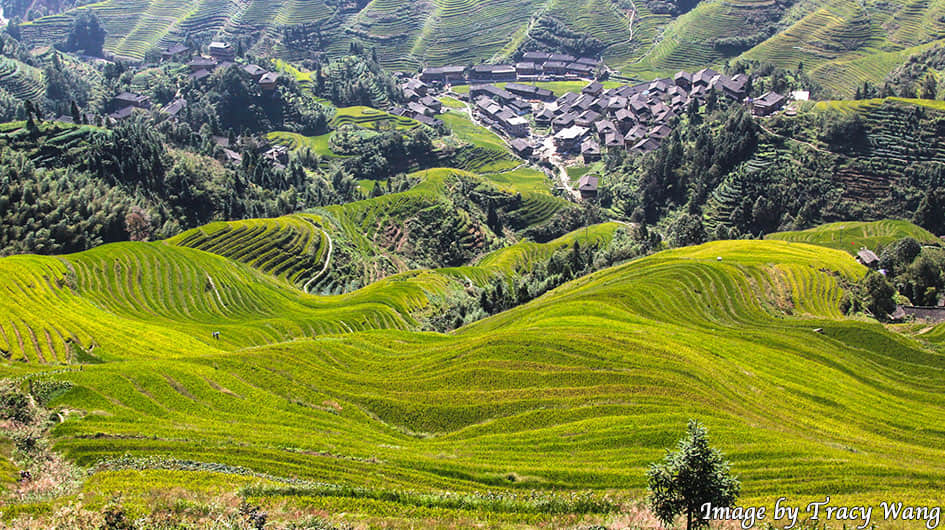 The Longji Rice Terraces are composed of Longji Zhuang Rice Terraces, Ping'an Zhuang Rice Terraces, and Jinkeng Rice Terraces.
Longji means the "dragon spine", because the lines of terraces coil across the rolling mountains and divide the mountains into layers, resembling the backbone and scales of a dragon.
During early September, part of the rice in Longji is golden while some is still green, and then in mid-September, most of the rice in Longji is decorated with golden color thanks to the ripe crops. You can take a cable car to admire the Zhuang Rice Terraces, and you can also hike through this incredible landscape to explore the old stilted buildings and local customs. If time allows, visitors can join in local ethnic minorities' life and appreciate their culture, and even stay there as a neighborhood family.
Recommended Guilin Tours
3. Wuyuan – autumn harvest brings a colorful village
Temperature: 21 – 31 ℃ (70 – 88°F)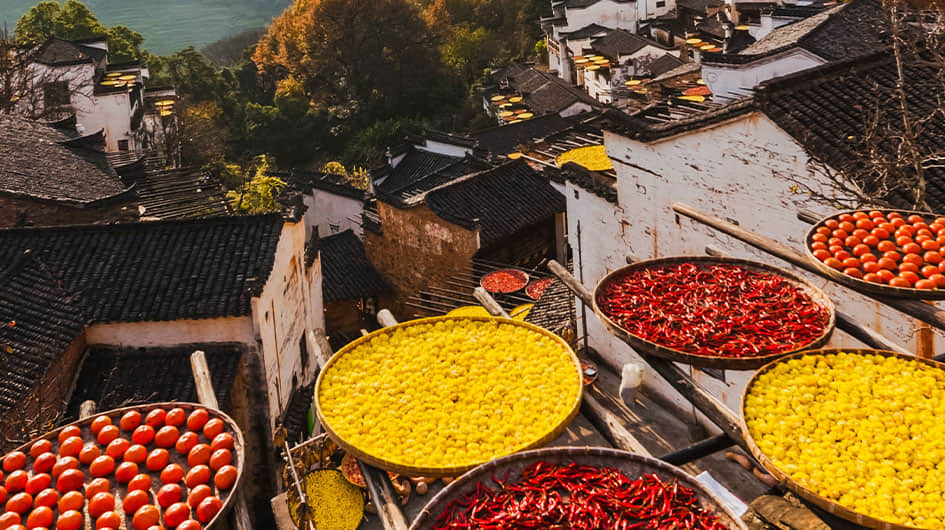 Wuyuan County lies in Shangrao, Jiangxi Province. When autumn comes, the maple trees grow in the foreground with the white walls and black tiles as the background. Local people always put their autumn harvest out, the agricultural produce like red chilis, white kidney beans, wheat, and corn on the ground or on drying racks and roofs, which attracts a lot of photographers and shutterbugs here for the stunning scenery. Known as the "most beautiful countryside in China," visitors can enjoy delicate ancient architectural complexes, rural scenery, and bridges, as well as the tranquil lifestyle. There are some small villages around to visit, and Huangling Village is a good place to enjoy the autumn view.

4. Xinjiang
Temperature: 13 – 23℃ (55 – 73°F)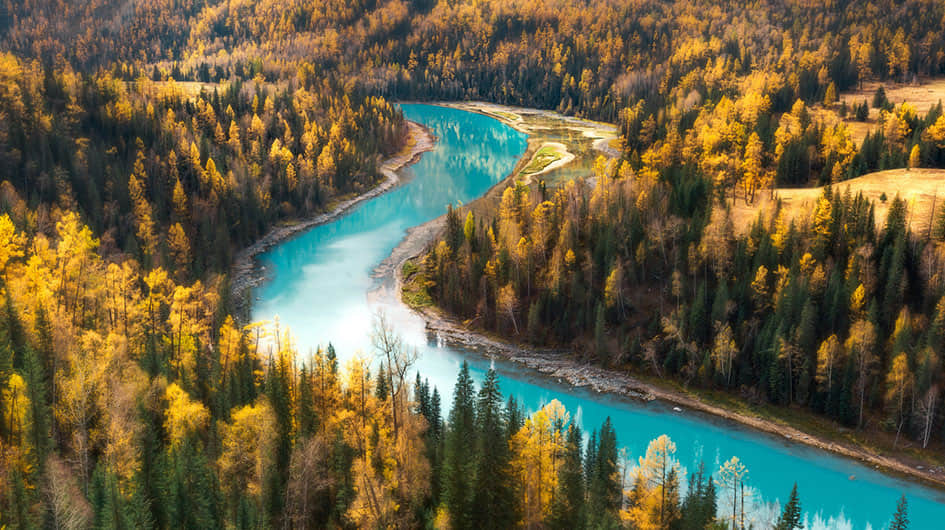 Xinjiang has such dramatic landscapes that it has become a popular hiking destination. Xinjiang in autumn presents a dazzling appearance. Kanas Lake is famous for its mysterious local legend and kaleidoscope of colors. Try to spend two or three days hiking in the Kanas Nature Reserve. Moreover, you can also experience the customs of Xinjiang.
Kashgar City Bazaar is a lively scenario, so if you want to find a bustling place, it is a good spot that you should not miss. On every Sunday, farmers and artisans come here from all the villages and remote nomad camps. Here you may meet bullock cart drivers and riders, and the stalls abound with lots of Uyghur traditional snacks. There are a great variety of items and you can find truly unique pieces of original culture of the Uyghur and other local nationalities, such as carpet stalls made by Uyghur mistresses, silk stalls with national dresses dazzling with their bright colors, products of wood and metal painted by skilled Uyghur craftsmen, arts and crafts, weapons, utensils, musical instruments, and jade figurines. Bartering is almost a rule of etiquette and you need to be ready to negotiate a good price for everything you want to buy. Enjoy bartering and have fun.
Recommended Xinjiang Tour Packages
5. Jiuzhaigou
Temperature: 15 – 24℃ (59 – 75°F)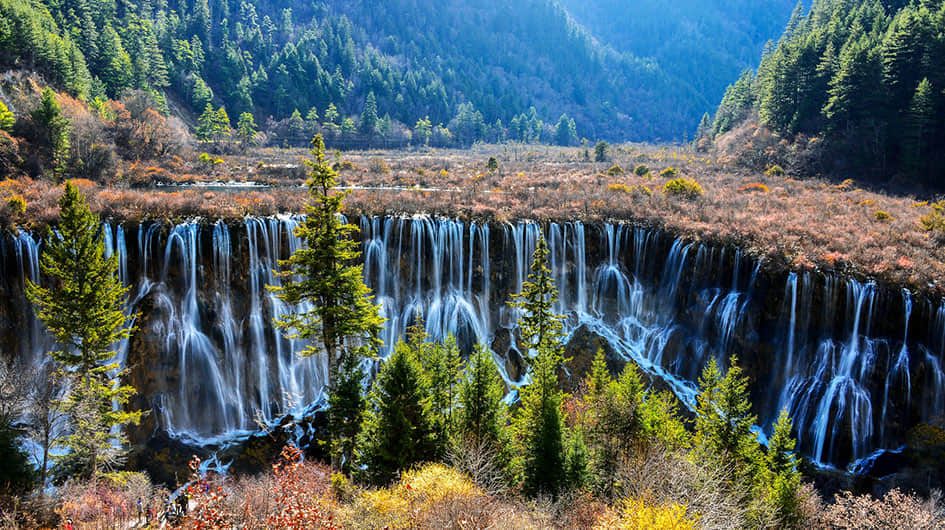 Jiuzhaigou is a nature reserve located in the northern Sichuan Province of southwestern China, around 480km to the north of Chengdu.
This dreamy place, with its waterfalls, emerald lakes, abundance of endangered flora and fauna, colorful leaves and fluttering Tibetan prayer flags, brings you into a mesmerizing dreamland. As you trek the Jiuzhaigou Valley, you are surrounded by majestic snow-capped mountains with luxuriant pristine forests and waterfalls. Visitors can enjoy its most beautiful autumn views. By the way, the difference in temperature between day and night is quite great; take a thick coat for keeping warm.
Enjoy special local tastes while admiring wonderful landscapes. The mainly local food is smoked meat with barley wine, oil tea, yak meat, and blood sausage. Challenge your taste to try some dishes in Sichuan style.
Recommended Jiuzhaigou Tours
6. Gansu Zhangye
Temperature: 10 – 25℃ (50 – 77°F)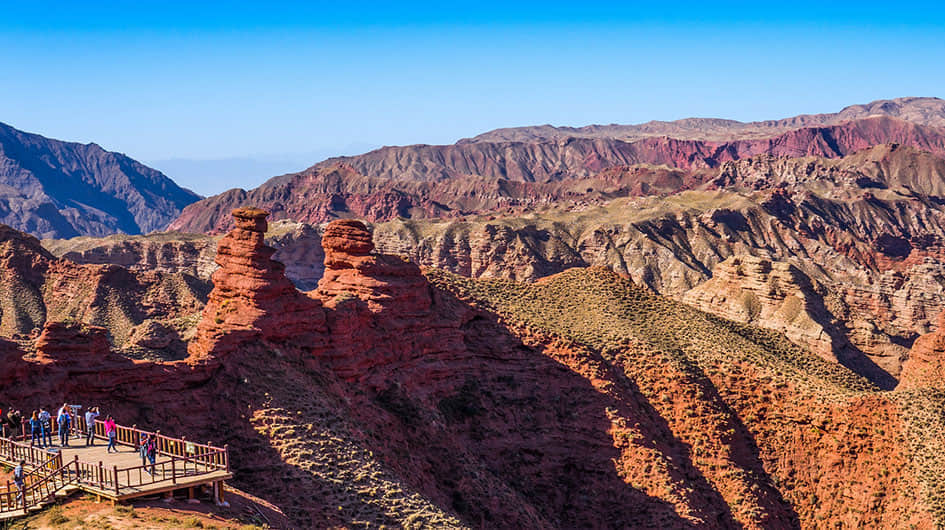 Zhangye, an important city along China's ancient Silk Road, is the heartland of the Hexi Corridor. Renowned as Golden Zhangye for its fertile land and rich products, local cuisine prefers wheat, mutton, chicken and beef; noodles in Gansu province have more complex and stronger flavors.
The spectacular scenery is very diverse, and not only includes the Danxia rainbow mountains formed from red sandstone, but also the snowy Qilian mountains, vast desert, grasslands, ancient town, and Heihe wetlands. The wide open spaces and rural culture will make you have a peaceful mind. In September, the sunrise and sunset present an intensely vivid landscape.
Recommended Gansu Zhangye Tours
7. Suzhou – admire the elegant gardens
Temperature: 23 – 29℃ (73– 84°F)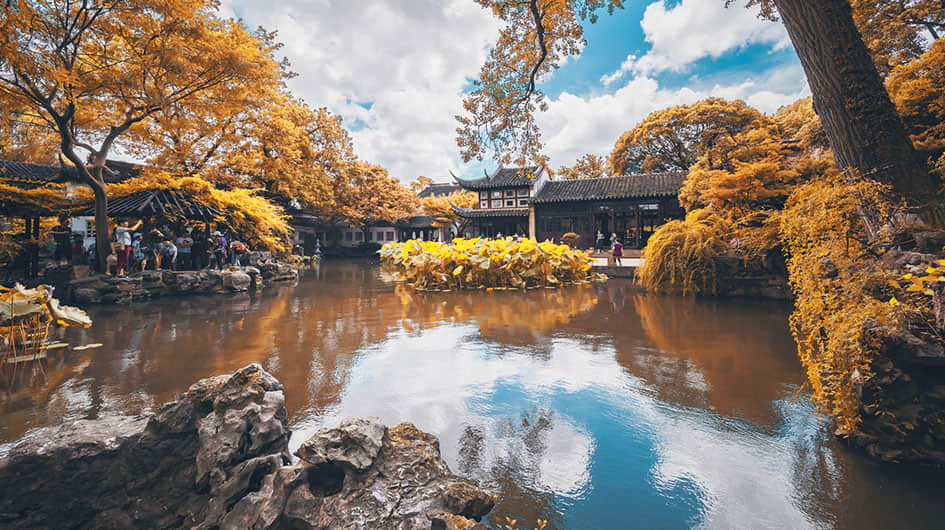 Suzhou has China's most elegant ancient private gardens. In September, you will understand the local people's elegance and wisdom by visiting these gardens in a delightful day. The Humble Administrators Garden, the Lingering Garden and the Lion Grove are the best among the many famous gardens. No matter how the weather is, you can totally appreciate and understand the oriental aesthetics. On sunny days, you can admire the wonderful, artistic space with light and shadow. On rainy days, the gentle breeze in the antique wooden garden will give you a misty poetic feeling. You also can take a sculling boat to pass through this "Oriental Venice", or stay in a tea house to listen to the melodious Kunqu opera.
Suzhou cuisine cannot be missed, with stir-fried river shrimps with Longjing tea leaves, sweet red bean porridge, pan-fried buns, and crabs; those are seasons, freshness and methods of picking dishes.
Recommended Suzhou Tours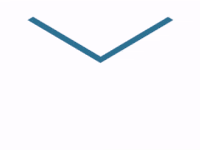 Have a question?
OR
Are you eager to begin your Chinese cultural journey?
Drop us a line and we will promptly connect you with our leading China expert!