Food culture is an important part of China culture. Chinese people use their diet to express their attitude towards life. Xi'an boasts luscious foods as well as an intriguing history and culture. It could take more than a year if you were to taste every type of cuisine to be found in the living 'food museum' that is the streets and alleys of Xi'an's old town. Explore the rich cuisines of Xi'an as you follow our professional local guide. This is a cultural journey that begins with the awakening of your taste buds.
Day 1
Culture, Banquet and Local Family (L,D)
Most of the traditional foods in Xi'an have been preserved intact, and many of them existed during the Qin Dynasty. Those foods represent the culture of ancient Xi'an.
In the morning, after driving about 1 hour from your downtown hotel, you will get to the Terracotta Warriors and Horse Museum, which is famous as "The Eighth Wonder of the World".
The remains of the Qin Dynasty on show here are bound to impress you. Then you have a chance to experience a Banquet of the Qin Dynasty during lunch time.
In the afternoon, we will visit the local special residence – a cave dwelling. The host will warmly welcome you and show you around this special residence. There are fewer and fewer people still living in the cave dwellings now, so we are lucky to have the opportunity to visit then.
The evening is our highlight which is when you will explore YongXingFang Food Street in Xi'an, where you can taste a variety of traditional snacks and food. Try to find Biangbiang noodle, which is a specialty in Xi'an. You will definitely have a pleasant dinner here.
Banquet of the Qin Dynasty: A Qin culture theme restaurant. The staff in traditional costumes will serve you. You will experience the Qin Dynasty banquet, starting with correct dining etiquette. After that you can taste more than 10 kinds of Xi'an cuisine. It is also an opportunity for cultural learning, and you will learn the story of each dish while satisfying your appetite.
Cave Dwelling: This wonderful building has a history of more than 4,000 years. It is a cave that people dug into the mountain and made into a residence. The special design makes it warm in winter and cool in summer.
YongXingFang Food Street: This street is an ancient food street, a commercial district offering a variety of intangible cultural heritage food. You will find steamed cold noodles, meat burgers, Glutinous rice and date cakes, Flatbread in mutton soup, and other famous foods here. If you are lucky, you can also see folk performances.
Biangbiang noodle: This is a kind of hand-made, thick, wide noodle. It usually eaten with a special variety of noodle sauce, with a fragrant and alluring aroma. This kind of noodle is very common in Xi'an. But what's fun is that people know how to say "biangbiang" but often can't write it down. The Chinese characters for "biang" are the original Chinese characters for Xi'an. This word is not included in the dictionary.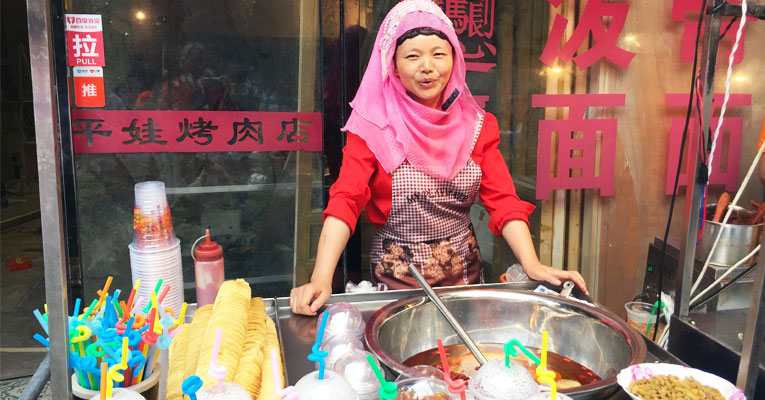 Xi'an Food Street
Day 2
Ancient city, Marketplace and Dumpling DIY (B,L,D)
This will be a special morning. We get up early to gather, but not for the scenic area. Follow the early arrivals into the local food market to do some interesting things. Here you can pretend that you are a local person who buys daily food. A "soup with pepper" or simply "Soybean milk and fritters" is popular for breakfast. Sit down at the roadside stall and have a chat. You will feel the charm of the market.
After exploring the market, you will go to a family with the staple you bought in the market and have a DIY activity: make your own dumplings! It is a magical experience to feel how the ingredient turns into tasty cuisine. I'm sure your hand-made dumplings can become an impressive lunch.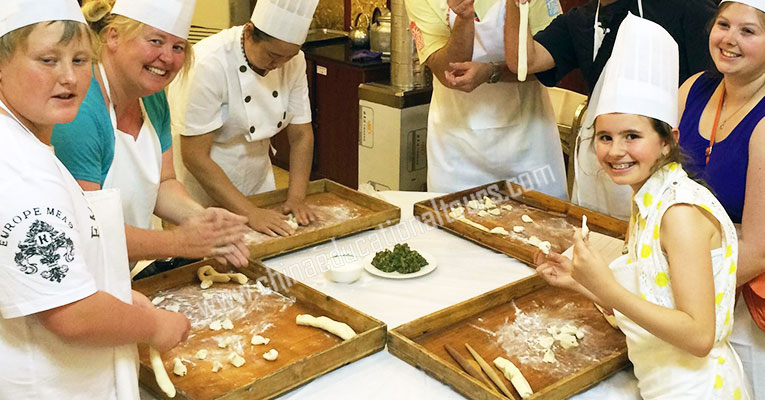 Xian Dumpling DIY
You will have a whole afternoon to visit the living museum – the old city of Xi'an. First, we will enjoy some sightseeing at the Small Wild Goose Pagoda. And then you can rent a bicycle to ride around the city wall of Xi'an. See how the sunset decorates the city.
The main event of dinner consists of "HiDiLao Hot Pot" – one of the most famous hot pot chains in China. Delicious hot pot and excellent service will give our journey a perfect end.
Local Market: This is the place that is closest to the lives of local people. You can see the rich daily diet of the locals. The open kitchen can satisfy your curiosity to know how the foods are cooked.
Dumpling DIY: You will learn how to make dumplings from the first step. It is an enjoyable process to spend time with a local family, cooking and chatting. Finally, enjoy the fruits of your labor.
HiDiLao Hot Pot: HiDiLao is a legendary chain of hot pot restaurants. Because of the intimate service and delicious food, there are currently more than a hundred branches, which are loved by people all over China. Here you may be able to understand why the Chinese like hot pot so much.
Some delicacies you may taste on this tour:
Flatbread in mutton soup / Hemp flowers / soup dumplings / Pan-Fried Bun Stuffed / soup with pepper / steamed cold noodles / meat burger / Glutinous rice and date cake / Biangbiang noodle / Kabob / Steamed beef and wheat powder / Pomegranate juice / Soybean milk / fritters/ different kinds of dumplings