Top 8 Places to Visit in August in China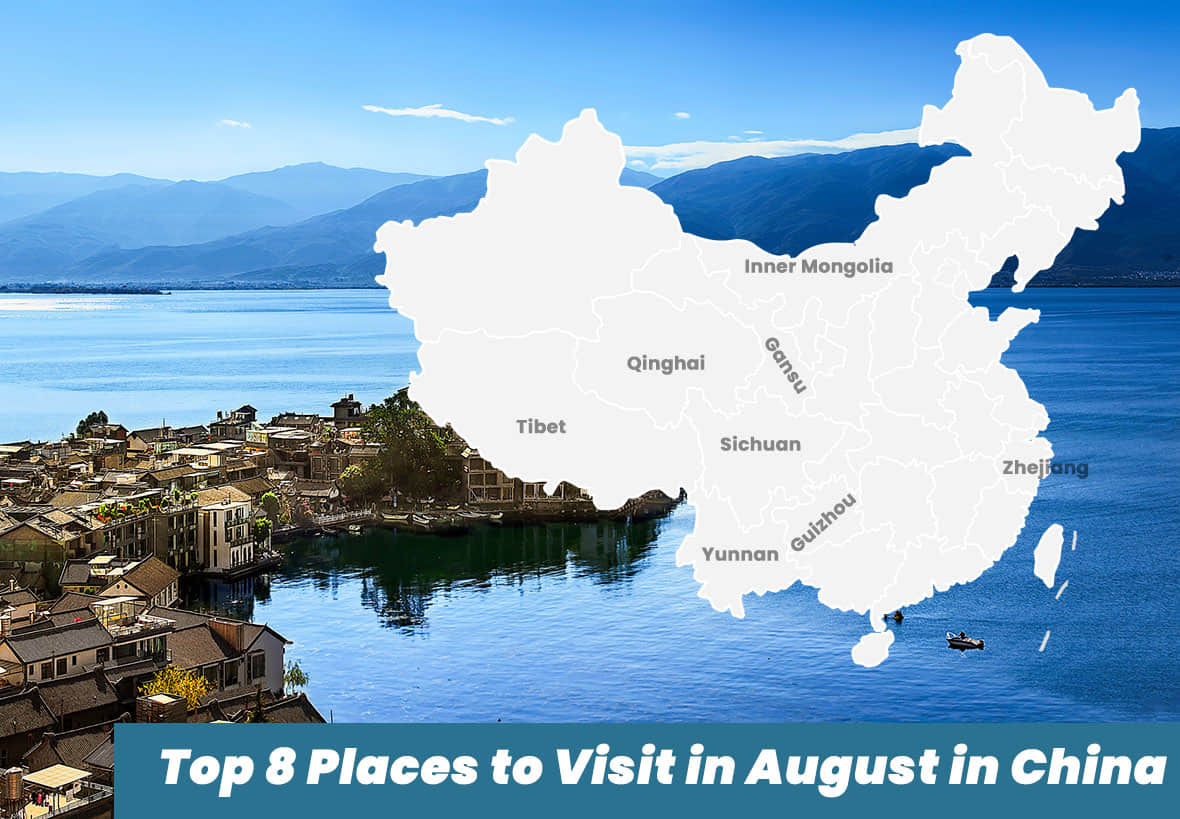 July and August are the hottest months in China. Even though it is nearly the end of summer by the end of August, temperatures are still high in most parts of the country, except in the northeast and western plateau areas. It is also a busy month for tourism for the school summer holiday. What can you do if you can only visit China in this month? You can still find some cooler and pleasant places to go and fun things to do. Here we list the best places to visit for your summer vacation. Each of them is unique with its own features.
Weather in August: The high temperature will exceed 35°C (95°F) in most regions in eastern and southern China, such as Shanghai, Xi'an, Chongqing, Guilin and Guangzhou. In late August, most parts of western China will see temperatures gradually drop to an average of 20°C (68°F). Cool places in the forest and by water are the ideal options.
Where to go and What to do
The Best August Destinations for Nature and Ideal Weather in China
1. Yunnan Province — Escape from the Heatwave
Location: South-western China
Average Temperature in August: 18~26°C (65~79°F)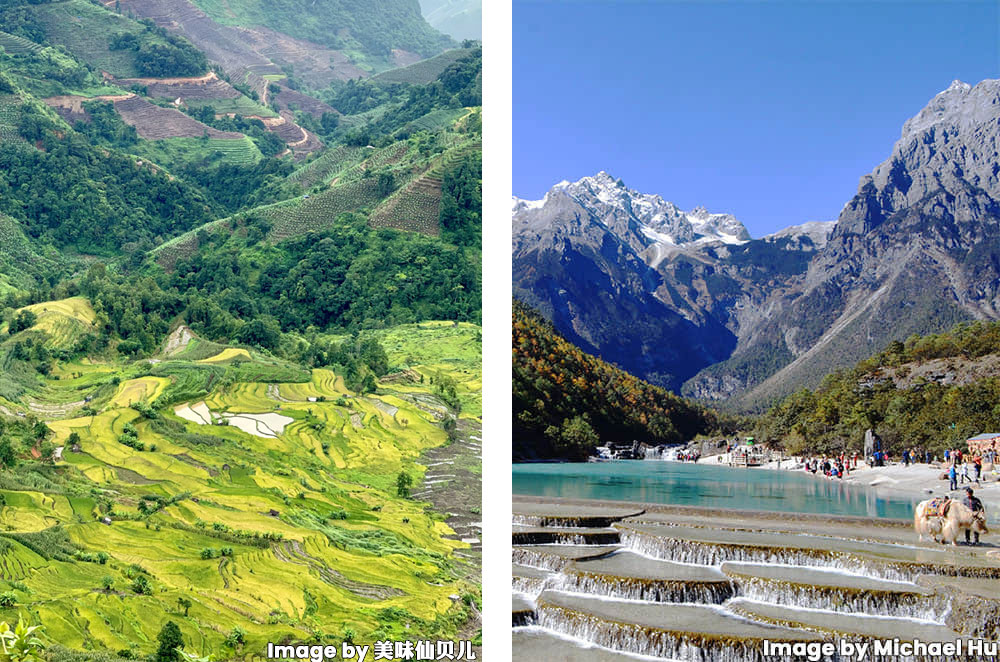 Yunnan is the place where you will never be disappointed. There are diverse natural landscapes of the high plateaus, snowy mountains, the Jinsha River, and the rich cultural customs of different minority nationalities. There are modern cities as well as ancient towns along the Ancient Tea-Horse Road. There is also mouth-watering food, such as crossing-bridge noodles, and steam pot chicken.
Highlight spots: Stone Forest in Kunming, Erhai Lake in Dali, Lijiang Ancient Town, Shaxi Ancient Town, Tiger Leaping Gorge, Jade Dragon Snow Mountain, Songzanlin Lamasery and Pudacuo National Park.
Recommended Yunnan tours:
2. Guizhou Province — Discover Miao (Hmongb) Culture
Location: Inner land of south-western China
Average Temperature in August: 25~28°C (77~82°F)
Due to the humid subtropical monsoon climate, summer in Guizhou is not so agonizing. It is an ideal summer escape spot. Not only the mountain landscape but also diverse minority cultures will not let you down. Most Miao (Hmongb) people inhabit southern Guizhou. It is best to visit the large Miao villages and learn about their cultures and disappearing traditional crafts.
Highlight spots: Mt. Fanjing, Huangguoshu Waterfall, Libo Daxiao Hole Scenic Resort, Xijiang Thousand Miao Villages
Recommended Guizhou Tour Packages:
3. Tibet — Sacred Monasteries, Holy Mountains and Lakes
Location: Western China
Average Temperature in August: 12~23°C (54~73°F)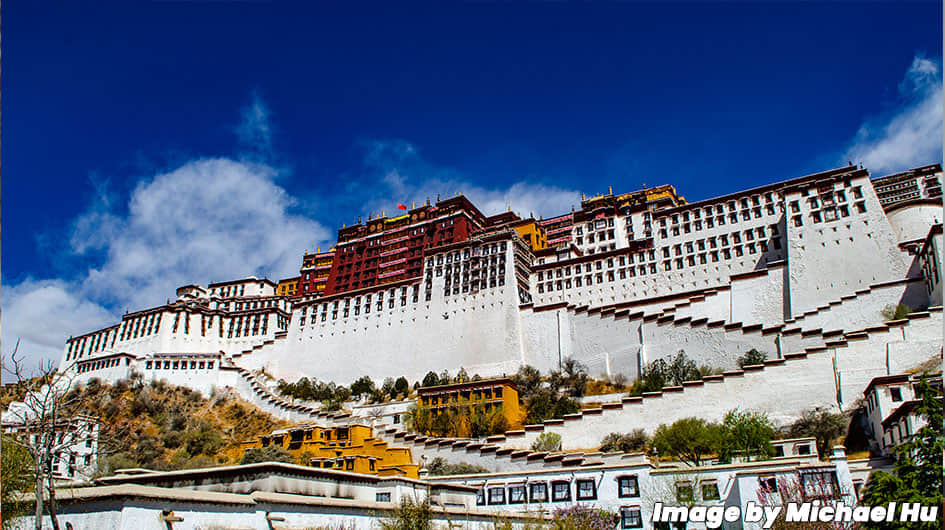 August is one of the best months to visit Tibet. Thanks to its high altitude, the temperature in August is very comfortable. Appealing traditional festivals come one after another in August, such as Shoton Festival, Nagqu Horse Racing Festival, and Ganden Thangka Festival. It is also the best season for Mount Kailash yatra and kora.
Highlight spots: Potala Palace, Jokhang Temple, Barkhor Street, Mount Everest, Namtso, Sera Monastery, YamdrokTso, Drepung Monastery.
Recommended Tibet Tours:
4. Inner Mongolia — Grassland Scenery
Location: North of China
Average Temperature in August: 18~28°C (64~82°F)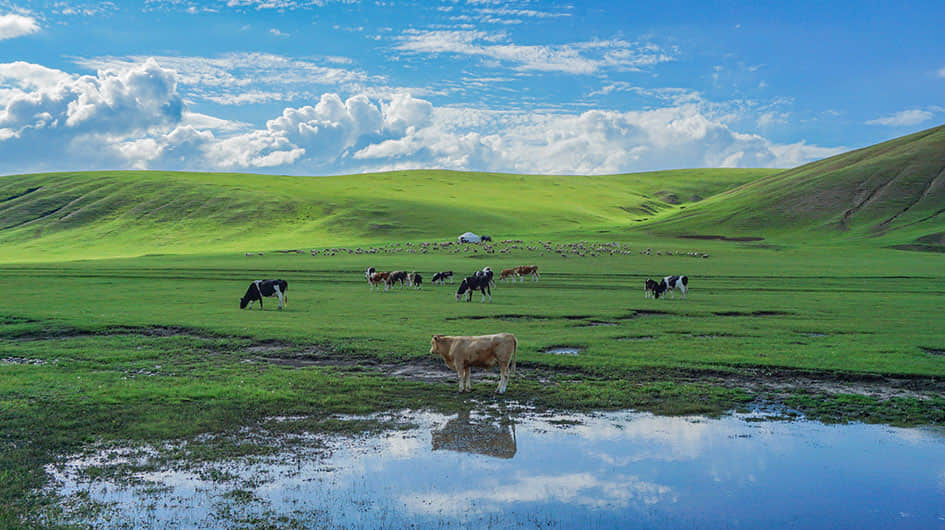 Inner Mongolia is where you can enjoy endless grasslands stretching far to the skyline, along with deserts, lakes and forests. It is the best place to experience Mongolian cultures and traditional festivals. Summer is the time to visit for the highest grass and entertaining Naadam Fair. Naadam is the most important event for Mongolians. Horse racing, wrestling, and archery are the essential skills every Mongolian man should learn. There will be contests of the three skills, folk dances, costume show, and food exhibition.
Highlight spots: Xilamuren Grassland, Huitengxile Grassland, Naadam Festival, Dazhao Temple, Gobi Desert, Tengger Desert, Resonant Sand Bay (Xiangsha Wan)
Recommended Inner Mongolia Tours
5. Qinghai Lake — Gorgeous Nature
Location: Xining Province, Northern China
Average Temperature in August: 12~25°C (54~77°F)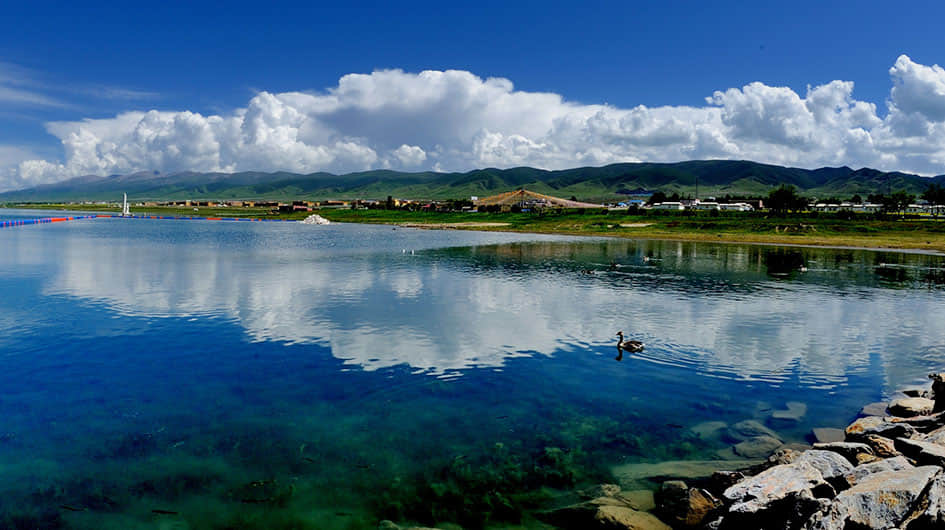 It is the largest inland lake in China. Due to the high altitude of 3,196m (10,485ft), the weather doesn't get too hot, even in summer time, which makes it the ideal destination for summer traveling. Taking a leisurely walk in the town or having a bike ride along the lake is highly recommended. You will also appreciate the Tibetan culture and local delicacies of northwestern China.
Highlight spots: Qinghai Lake, Bird Island, The Animal Sanctuary
6. Northern and Southern Sichuan — Gorgeous Landscape with Colorful Tibetan Cultures
Location: Sichuan Province of Central China
Average Temperature in August: 23~32°C (73~90°F)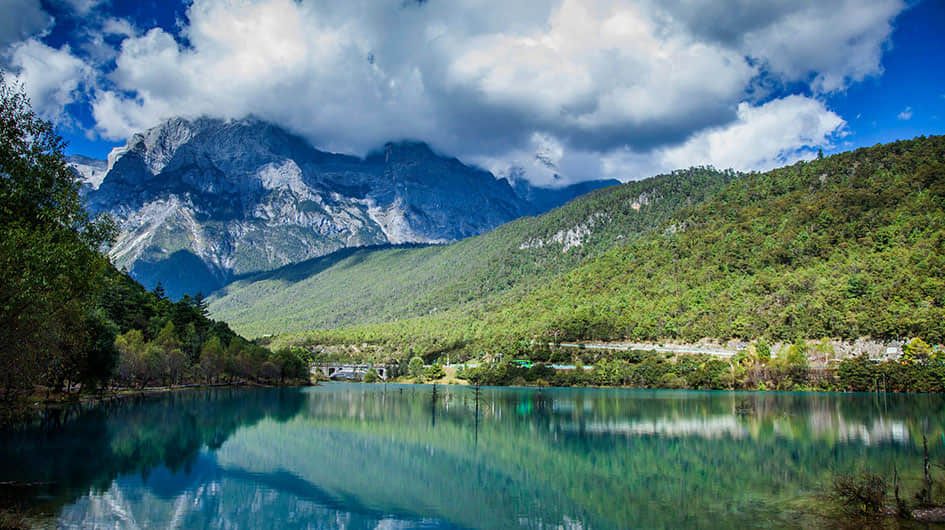 There is a lot to discover in Sichuan Province. Northern Sichuan is much cooler for the higher altitude and forest parks. Hence, an ideal destination to escape from summer heat. There are popular destinations such as Daocheng Yading Scenic Spot, Jiuzhaigou National Forest Park, Huanglong Scenic Area, less-known national Nuoergai Wetland Nature Reserve, tranquil Songpan ancient town of Tibetan style, and Tibetan monasteries. With the gorgeous landscape of snowy mountains, alpine lakes, national forests, and Tibetan customs, there are a lot to choose from to make a wonderful summer trip.
Highlight spots: Hiking at Daocheng Yading, Jiuzhaigou National Forest Park, Nuoergai Wetland Nature Reserve, Langyi Monastery
Recommended Sichuan Tours
7. Mogan Mountain Scenic Area
Location: Hangzhou, Zhejiang Province, Eastern China
Average Temperature in August: 25~32°C (77~90°F)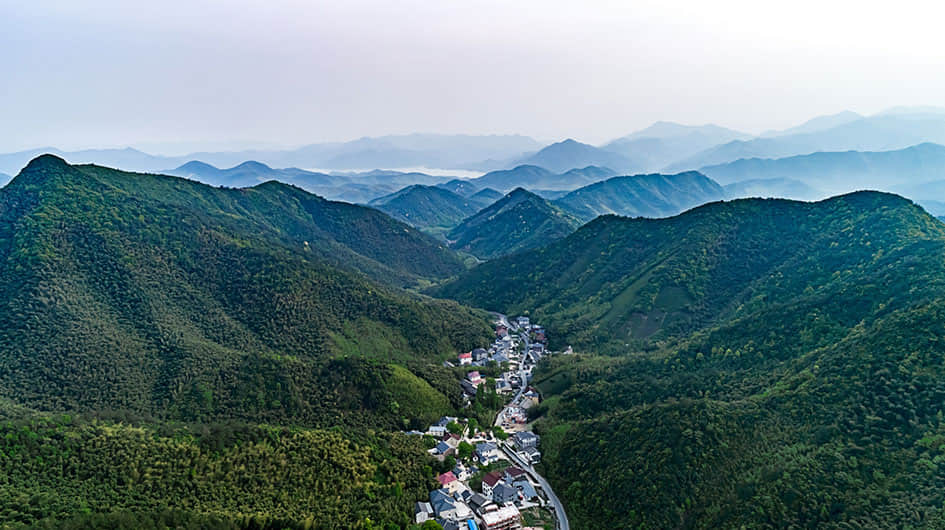 Mogan Mountain Scenic Area consists of several mountain peaks, lush forests, ponds and streams, and European style villas and guesthouses. It is the perfect spot to escape the summer heat. The fresh air and convenient transportation makes it a popular spot for families traveling with kids. You can make a short weekend trip from nearby cities like Shanghai and Hangzhou. If you are doing a complex China trip, this can be added as a bonus. You can do some hiking, climbing, and resting here to enjoy the fresh air in the bamboo forest.
Highlight spots: Moganshan National Forest Park, Villa of Chiang Kai-shek, leisurely hiking routes
8. Gansu Province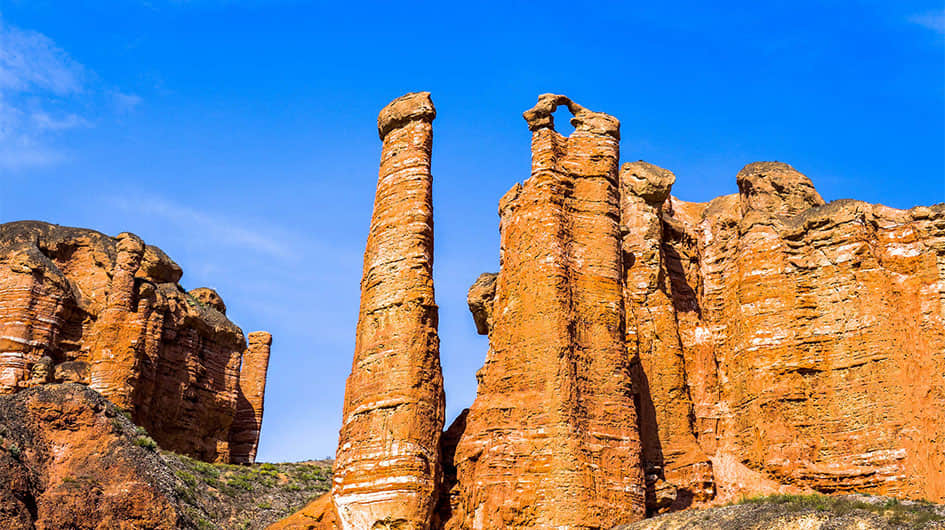 Location: Northwestern China
Average Temperature in August: 16~28°C (60~82°F)
Gansu Province, northwestern China, was an important part of the Ancient Silk Road. The drier weather and mild temperature make it a perfect summer escape. The diverse culture and customs of different ethnic groups, including Tibetan, Mongolian, Kazak, and etc. are interesting to be discovered. Tibetan style monasteries, deserts, Danxia Landforms, and Mogao Grottoes are the highlight attractions. You can ride camels, taste all types of wheaten food, and enjoy western China scenery, which will be totally different from the large cities.
Highlight spots: Zhangye Danxia National Geological Park, Mogao Grottoes, Jiayuguan Fort, Labrang Monastery, Echo Sand Mountain & Crescent Moon Lake, Yadan National Geological Park, Yulin Grottoes. If you are looking for more options to do in August, you can contact and tell us what you what, we will tailor-make a summer trip for you.
Have a question?
OR
Are you eager to begin your Chinese cultural journey?
Drop us a line and we will promptly connect you with our leading China expert!