Home »
China Guide »
How To Plan A Tour To Guizhou
Briefing:
Guiyang, the capital of Guizhou Province, is located in the southwest of China. If you want to see a lot of very different ethnic groups on a short tour, Guiyang is definitely the ideal place to go. Guiyang is a city inhabited by multi-ethnic groups; Miao, Buyi, Dong and Tujia people have lived here harmoniously for hundreds of years. Come with China Educational Tours to learn more about the ethnic cultures of Guizhou!
Best Time to Go
TEMPERATURE °C
Guiyang is situated on the east of the Yunnan-Guizhou Plateau, with an elevation of 1,100 meters, and the climate is ideal for sightseeing all year round. It rarely snows in winter and it is cool in summer. Come to Guiyang if you want to avoid the heat in summer.
What to See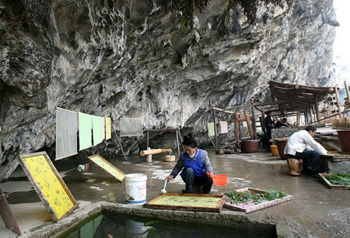 Shiqiao Paper Making - Shiqiao Village is well known for its traditional way of making paper, which can be traced back to the Tang Dynasty. Of approximately 250 households, more than 40 households earn a living from making paper.
Qingman Miao Village - Qingman Miao Village is built in the mountains; wooden hanging houses sit on terraces like waves. When stepping into a local family home, you will be able to see Miao costumes being made.
Matanggejia Miao Village - Matanggejia Village is the closest Miao village to Kaili city, and there are more than 300 people living in the Village. Gejia people excel at making traditional batik; their costumes are unique with a sun-shooting image.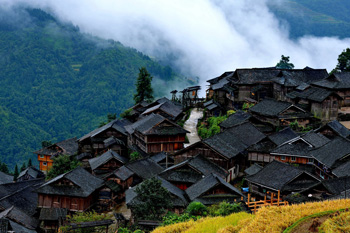 Jidao Miao Village - Situated by the Bala River, Jidao Miao Village has a lot of stories to tell. The Hundred-year-old path, the Hundred-year-old Barn and the Hundred-year-old tree, all witnessed the history of the village.
Datang Miao Village - Different from the Hundred-year-old barn in Jidao Miao Village; the old barns in Datang Miao Village were amazingly built over water. Datang Miao people also have a nickname of Miniskirt Miao, in the olden days women wore miniskirts so they could work faster in the fields, and boost men to work faster as well. Traditionally miniskirts are worn only during big traditional festivals.
How to get there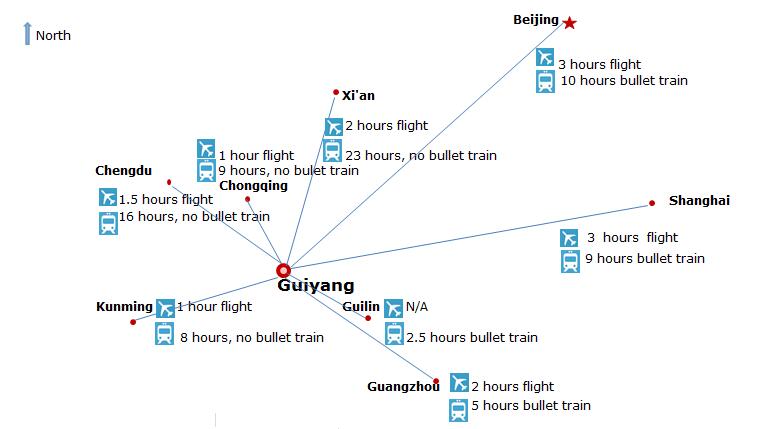 Recommended Tour (4 Days)
Day 1, Your private guide is ready to pick you up at the airport, in a comfortable A/C vehicle, and you will be transferred to the hotel for a good rest.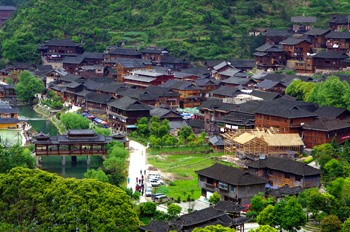 Day 2, Start the day with a big buffet breakfast, drive to Kaili city in 3 hours. Kaili is home to many ethnic groups and the biggest Miao Village. Also the widest and longest Wind & Rain Bridge in the world is located in Kaili. Qingman Miao Village is the first stop, so be ready to be surrounded by Miao people in colorful Miao costumes. After lunch, drive half an hour to Shiqiao Village and learn how local people made paper in the ancient way. Proceed to the route to get to Matanggejia Village, whose residents are the ancestors of Houyi, a mythological Chinese archer. A fulfilling day comes to an end and you can have a good night's sleep.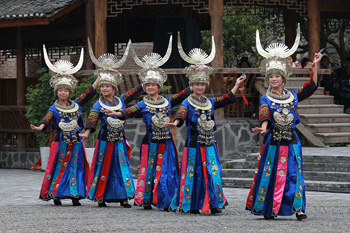 Day 3, Another full day awaits you, so make sure you have enough for breakfast. Drive 30 minutes to Jidao Miao Village, admire the hundred-year-old barn. Lunch will be served in the village, then take another 30 minute ride to Shuidian Miao Village, the starting point of your 40 minutes of hiking towards Paika Miao Village. On route you will pass by numerous Miao buildings and Miao people working in the fields. Say Hi to them and they will say it back to you. Paika Miao people are the only ones to make Lusheng, a reed-pipe wind instrument, in the Leishan area. You will visit a workshop and see how Lusheng are being made. Before going back to Guiyang, stop over at Datang Miao Village to stroll in the ancient village and find the barn above water. Head back to Guiyang hotel, and take a nap on the 4-hour ride.
Day 4, With all the ethnic group knowledge in mind, wave goodbye to Guiyang. Your tour guide will make sure you get to the airport on time to fly to your next destination.
Recommended Hotels in Guizhou
Category
Hotel Name
Hotel Class
Why Recommend
Ranking on Trip Advisor
International Chain
Renaissance Guiyang Hotel
5-star
√ Rooms are spacious with about 450 sq ft and of modern design
√ Internet is free and worked flawlessly
√ Breakfast buffet is richly garnished with Western and Asian food
4
Kempinski Hotel Guiyang
5-star
√ Walking distance allot of shops and restaurants, bars and clubs
√ Buffet breakfast is extensive and with a good selection
√ Tallest building in the city and expect great views from rooms
2
Sheraton Guiyang Hotel
5-star
√ Located right in the very heart of Guiyang city
√ Hotel facilities are top notch with well-equipped GYM, health center and nice pool
√ Staff are courteous & attentive to customers' request
5
Best Value
Pullman Hotel
5-star
√ Close to train station and airport, also near the shopping centre and snack streets
√ Rooms are spacious and comfortable,bathrooms are quite large and even have a bathtub
√ An excellent hotel for a very reasonable price
3
Hotel Novotel Guiyang Downtown
4-star
√ Right in the middle of Guiyang's buzz, with shops and eateries all around
√ Friendly and helpful staff speak good English
√ Clean, comfortable, well-appointed, and has most of the typical amenities found in up-scale urban hotels
8
Shaoxing Hotel
3-star
√ Good location in the downtown area
√ Good, spacious and modern rooms
√ Rooms are very quiet if you ask for one on the backside of the building
123
Boutique
Shangshe Boutique Hotel Guizhou Mudanting
4-star
√ Beautiful traditional Chinese decorations using lanterns and wood furniture
√ Hotel staff are nice and kind, ready to help in all ways
√ Prepare small little gifts on special holidays
11
Recommended Hotels in Kaili
Category
Hotel Name
Hotel Class
Why Recommend
Ranking on Trip Advisor
Best Value
Grand Metropark Heaven-sent Resort
5-star
√ Rooms are clean and spacious
√ Great value for money
√ Newly opened in 2014
N/A
Grand Dragon Hotel (Teng Long Kai Yue)
4-star
√ Located in a central location and a couple of minutes from the square where you are provided with free entertainment every night and morning
√ Staff were all extremely polite and friendly and always spoke to you in the lifts and public places
√ Two cartons of fresh milk delivered to the room in a small basket together with a small card on which is the next day's weather forecast
31
Zongheng Hotel
4-star
√ Rooms are enormous with an excellent shower, beds are large and comfortable
√ New hotel very centrally located with many facilities close to hand
√ 5 minutes walking to the Minorities Prefecture museum
1
Jintaiyuan Hotel
3-star
√ Stable WIFI in rooms
√ Good and clean rooms
√ Restaurants are within walking distance
N/A