Welcome to Guizhou
Guizhou Province is located in the hinterland of southwestern China. It borders Sichuan Province and Chongqing in the north, Hunan Province in the east, Guangxi Zhuang Autonomous Region in the south and Yunnan Province in the west. The provincial capital city is Guiyang.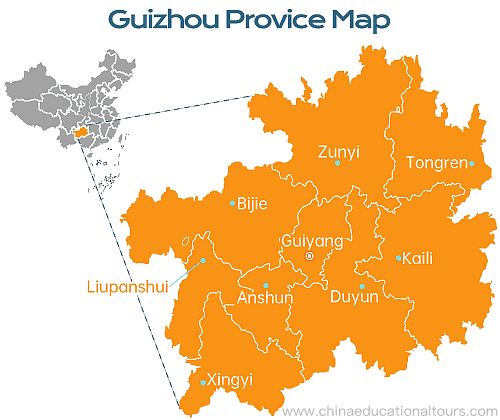 There are 6 major cities and 3 minority autonomous prefectures in the province. Guizhou Province is a transportation hub in southwestern China and an important part of the Yangtze River Economic Belt.
Located on the Yunnan-Guizhou Plateau, 92.5% of the landscapes in the province are hills and mountains. Guizhou has a typical Karst (limestone) landform with a wide range of Karst distribution and complete morphological types. Underground caves and rivers are widely distributed in the province.
Moreover, about 39% of the population in Guizhou is ethnic minority people. There are 17 indigenous minorities in the province and they have been living in Guizhou for thousands of years. Minorities' villages and culture are important human resources for Guizhou Province.
The weather is pleasant in Guizhou Province, it belongs to the Subtropical Monsoon Climate. There is no severe cold in winter nor severe heat in summer. The average annual temperature in the province is about 15°C. Guizhou has more rainy days and less sunshine due to the mountain landscapes, and the perennial humidity is above 70%.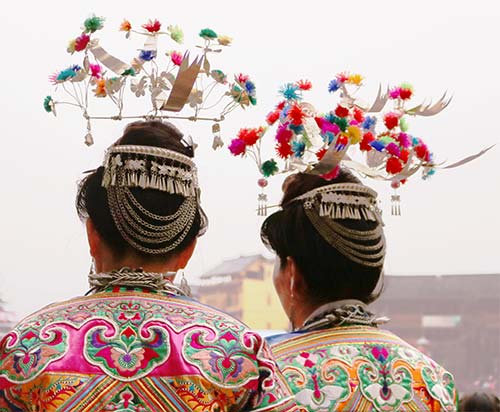 Guizhou is a multi-minority province
Guizhou Facts
English Name: Guizhou
Chinese Name: 贵州 (guì zhōu)
Government: province
Area: 176167km2
Location: Southwest of China (24° 37' – 29° 13' N, 103° 36' – 109° 35' E)
Area Code: 0851-0859
Zip Code: 550000-563000
Airports: Guiyang Longdongbao International Airport (KWE), Zunyi Xinzhou Airport (ZYI), Tongren Fenghuang Airport (TEN), Anshun Huangguoshu Airport (AVA), Xingyi Wanfenglin Airport (ACX), Liping Airport (HZH)
Major Railway Stations: Guiyang North Railway Station, Anshun West Railway Station, Zunyi Railway Station, Kaili South Railway Station, Congjiang Railway Station, Liupanshui Railway Station, Bijie Railway Station
Major Cities: Guiyang, Zunyi, Liupanshui, Anshun, Bijie, Tongren, Kaili (Qiandongnan Miao and Dong Autonomous Prefecture), Duyun (Qiannan Buyi and Miao Autonomous Prefecture), Xingyi (Southwest Guizhou Autonomous Prefecture)
Population: about 36.23 million (until 2019)

Best Time to Visit Guizhou
The best time to visit Guizhou Province is from March to October. Although there are some rainy days during spring, the weather is mostly sunny and the air is fresh in summer and autumn. The hottest time is in July, but the average temperature is only around 22-25°C/71.6-77°F, which makes it very comfortable for a holiday to Guizhou even in summer. The coldest time is in January, when the average temperature is 3-6°C/37.4-42.8°F. Some parts of the mountain roads can be frozen in winter.
What to See
1. Huangguoshu Waterfall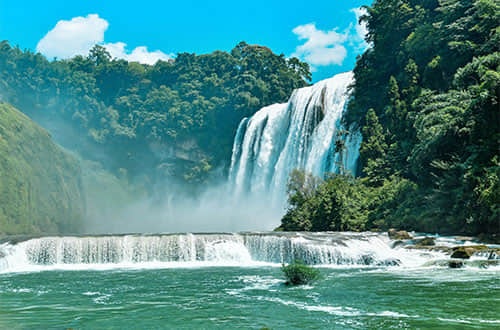 Huangguoshu Waterfall
Huangguoshu Waterfall is located at Anshun City, Guizhou Province. It is one of the most popular natural attractions in Guizhou Province, and is about 45km away from Anshun and 150km from Guiyang. The waterfall is 77.8 meters high and 101 meters wide. The area of Huangguoshu Waterfall is a typical Karst (limestone) landform. There is a 134 meter long path hidden behind the waterfall. Walking though the waterfall will be an interesting experience, and you will feel the magical power of the nature.
2. Zhi Jin Cave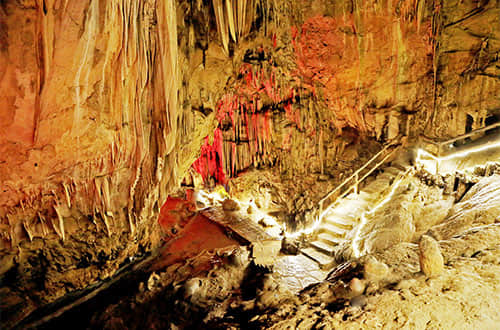 Zhi Jin Cave
Located at Zhijin County, Bijie, Guizhou Province, and 120km from Guiyang, Zhi Jin Cave is known as one of the "Top-10 Most Beautiful Caves" in China.
Since 2015, Zhi Jin Cave has become the first World Geo-park in Guizhou Province. This cave is a multi-layered Karst cave with a length of 6.6 kilometers. The developed area of the cave is about 350,000 square meters. The maximum width is 175 meters and there is a relative height difference of 150 meters. The cave has three layers and is filled with more than 40 kinds of cave sediment, including stalagmites, stone pillars, stalactites, stone curtains and stone flags.
3. Minority Villages in Southeast of Guizhou Province
Besides enjoying the natural resources, exploring some minority villages in Guizhou Province is another important way to see the local life deep in the mountains. Minority Miao and Dong people mainly live in the south and southeast of Guizhou Province. They have a great culture and special lifestyle that you don't see in the metropolis. You will be amazed by their costumes, silver ware, wooden buildings and terraced fields. You may go for a visit to the villages, such as Xijiang Qianhu Miao Village, Zhaoxing Dong Village, Biasha Miao Village, and Huanggang Dong Village, etc.
Recommended Attractions in Guizhou
How to get there
Guizhou Province is very large, and most passengers choose to take a plane or bullet train to Guiyang City first, and then take a bullet train to other places in Guizhou Province. Here we have listed the distance from Guiyang to some major destinations by bullet train in the province.
How far is Guiyang from Major Cities and Counties in Guizhou
| Cities | Distance from Guiyang (km) | By High-Speed Railway to Guiyang |
| --- | --- | --- |
| Zunyi | 141 | 50mins |
| Liupanshui | 240 | 1.5hrs |
| Anshun | 90 | 30mins |
| Bijie | 184 | 50mins |
| Tongren | 326 | 1h 50mins |
| Kaili | 187 | 40mins |
| Duyun | 115 | 40mins |
| Xingyi | 302 | 1h by plane (No bullet train) |
Gourmet Food Recommendations
Fish in Sour Soup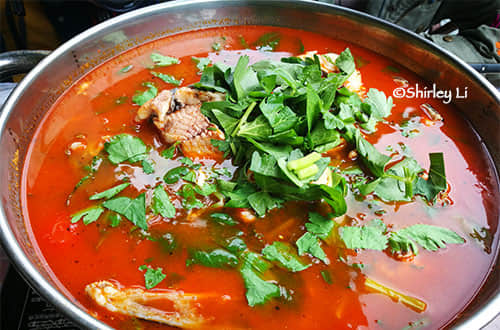 Fish in Sour Soup
Just like people in Sichuan and Hunan Province, Guizhou people also like spicy food very much, but they eat more sour. Fish in Sour Soup is traditional Guizhou cuisine and has a very strong sour and spicy flavor. The traditional sour soup is made by slow fermentation of rice soup in special sour barrel. They choose Grass Carp as the main ingredient. The fish will taste fresh and flavorsome after boiling in the sour soup. Chinese traditional medicine believes that hot and sour food can help to dispel the dampness in the body. So people living in hot and humid areas usually like spicy and sour food.
Mutton Noodles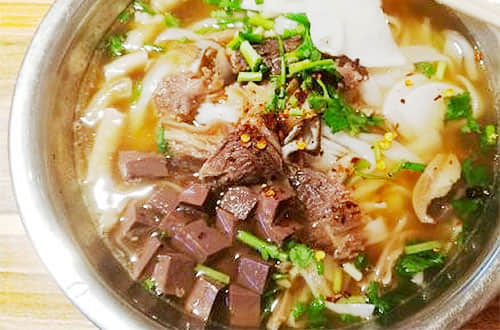 Mutton Rice Noodles
You can see Mutton Noodles Restaurants everywhere in Guizhou. It is the most popular food for breakfast, lunch or dinner for Guizhou people. They like this food very much even though it has a heavy odor of mutton. Fresh rice noodles couple beautifully with deep stewed goat bone soup. Then add some sour cabbage, radish and chili peppers. Mutton Noodles is one of the must-try foods when you are in Guizhou Province.
Crispy Duck
Crispy Duck is a very special food in Guiyang. Some people say they hate it but still can't stop eating this food. The duck is pickled with spices, steamed in a cage until the meat is tender, and then fried. Lastly, it is sprinkled with Chinese prickly ash (pepper). The duck is very tasty and crispy. You can even eat the duck's bones after the deep frying. You will become addicted to this food even though you know that you won't be able feel your tongue (too much pepper) after a few minutes.
Souvenirs and Shopping
Guizhou Maotai Liquor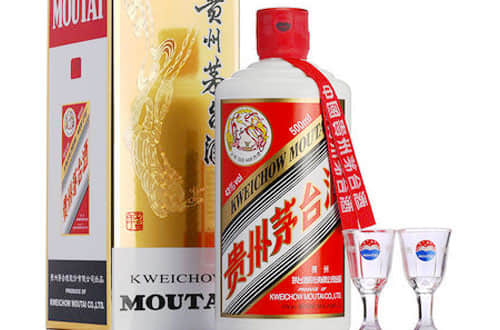 Guizhou Maotai
Guizhou Maotai is the most famous liquor (spirit) in China. Maotai Liquor is produced in Maotai Town, in the west of Zunyi City. High-quality sorghum is used as a raw ingredient, wheat is used to make distiller's yeast, and it is brewed with unique techniques. After adding distiller's yeast 8 times, distilling it 7 times, and fermenting it 9 times, Maotai Liquor is created following long-term storage. With its unique taste, special brewing process, and excellent quality, Maotai has become a high-end liquor brand in China. Read more on Baijiu (Chinese Alcohol) - All You Need to Know.
Duyun Maojian Green Tea
Duyun Maojian Green Tea is known as one of the Top-10 Teas in China. Chairman Mao Zedong gave the name to this tea. "Maojian" means hairy tea buds, which are the freshest part of the tea leaf in spring. It is mainly produced in Duyun City, Guizhou Province. The plucking standard is one tea bud with one tea leaf, and the length should be less than 2cm. It usually takes about 53-56,000 buds to produce 500g of high-grade Duyun Maojian Tea.
Lao Gan Ma Chili Sauce
Lao Gan Ma is one of the most famous private enterprises in Guizhou Province. Established in 1997, Lao Gan Ma Company produced fermented soya bean chili sauce from the beginning. Until now, Lao Gan Ma Company has developed over 20 kinds of products with a daily production capacity of 1.2 million bottles of pepper products. With its special recipe and great taste, the product is widely sold in China and over 30 other countries. It has become the most popular chili sauce brand in Chinese all over the world.