YN-01:

5-day Private Tour to Kunming - Dali - Lijiang

Located near the Southwest border of China, Yunnan Province, is an important region. You will first arrive in Kunming which is also known as the "spring city" due to its comfortable weather all year round. There is an abundance of natural landscape. Next you will go to Dali, which is a Bai Autonomous Prefecture. You can visit the old city and see traditional Bai architecture. At the end, you will finish your tour in Lijiang City. The city is the gate to the Jade Dragon Mountain. Also you can learn about the Dongba Culture.
CET Advantages
Witness the 'First Wonder of the World' – the Stone Forest
Visit Dali Old City to learn about the history
Taste the traditional three-course tea of the Bai people
Be stunned by Spruce Meadow on Jade Snow Mountain
Learn about the heritage of the Naxi people
Walk around the biggest local market in Lijiang old town

Quality
No Shopping Traps

Group Type
Private

Tour Focus
Landscape, Culture, National Minority

Included Meals
Breakfast:4; Lunch:4

Accommodation
Nights:4

Best Season
Spring, Summer, Autumn, Winter
Suitable For: School, Family, Solo, Group, Friends
Map of My Trip
Full Itinerary
Day 1
Kunming Arrival
You will meet your guide at the airport on your arrival and be escorted to your hotel. The guide can help you with hotel check-in. Your time is your own for the rest of the day.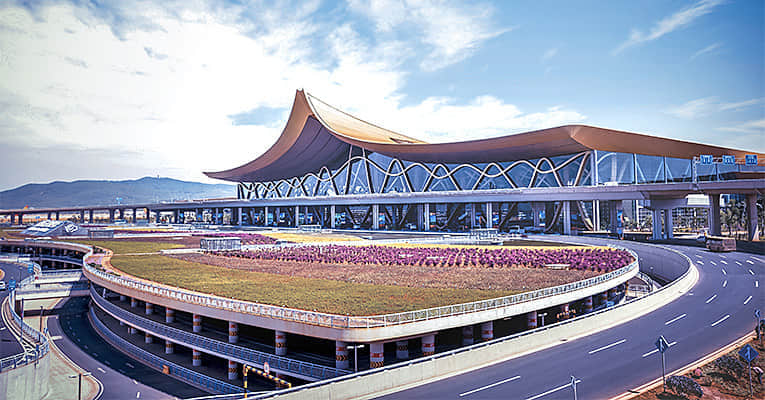 Kunming Changshui International Airport
Day 2
Kunming – Dali by Speed Train: Kunming City Tour (breakfast & lunch)
Morning
After breakfast, your guide will show you the Stone Forest outside the city. It takes just over an hour's drive. Walking through the park, you will marvel at the natural stone masterpieces and be bewitched by the intricate formations. The magnificent, strange, steep landscape creates countless labyrinthine vistas, including: Major Stone Forest, Minor Stone Forest, and Naigu Stone Forest, all of which feature stones in various formations. Have lunch outside the park.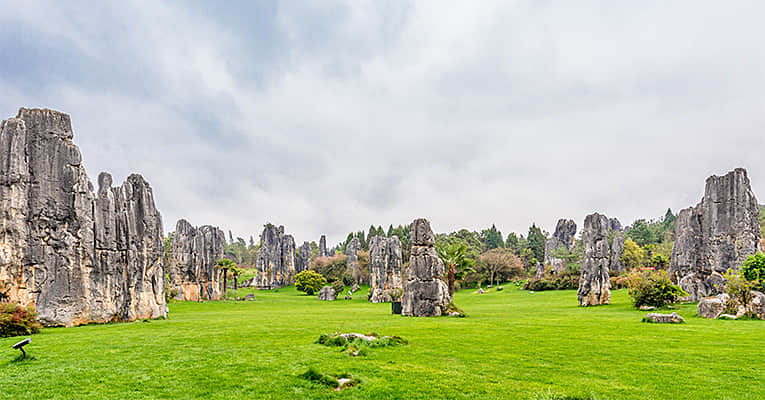 Stone Forest
Afternoon
We will be back to the city center to see Green Lake Park. You can see seagulls flying there and waiting for people to throw biscuits to them. Reflections of pavilions and plants on the mirror-like lake surface are great targets for snapshots. And then you will go to visit the Flowers and Birds Market. It is a traditional market which is free for everyone to go. The handicrafts, the flowers, the animals and insects for sale there will give you genuine insight into the lifestyle of Kunming residents.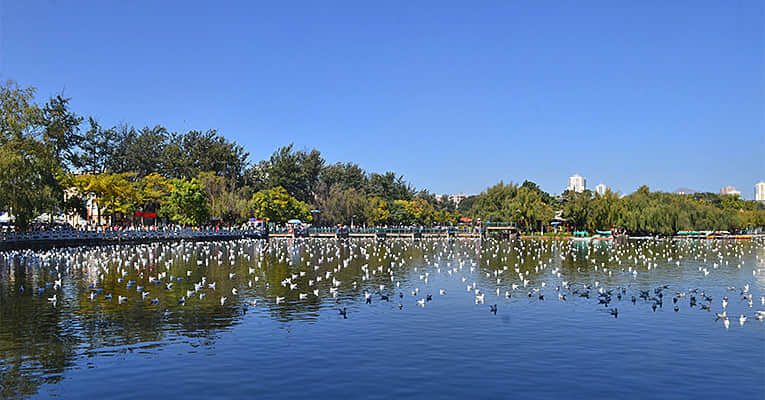 Green Lake
Evening
After a simple dinner on your own, the guide and driver will accompany you to the train station for boarding your speed train to Dali. On your arrival, you will see your Dali guide waiting for you at the exit. The guide will assist you to check in to your hotel.
Day 3
Dali: City Tour (breakfast & lunch)
Morning
Today you will start visiting Dali Old City, which can be dated back to the year 1382and has been listed among the top historical cities of China since 1982.With Erhai Lake to the east, and Cangshan Mountain to the west, its grand city wall, traditional Bai ethnic minority folk houses, and marvelous scenery attract many visitors. Enjoy your lunch at a local restaurant.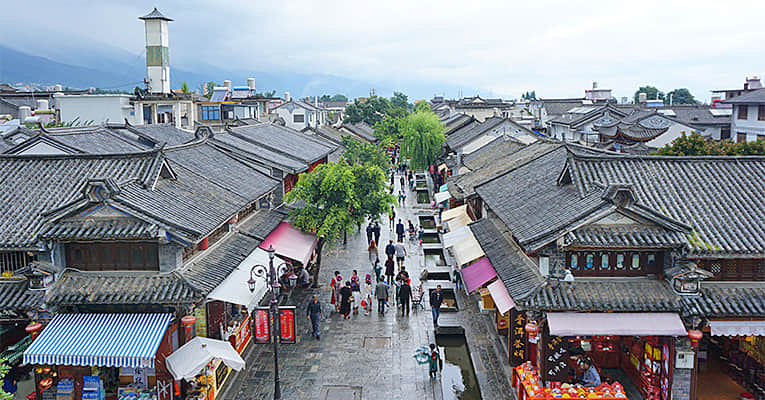 Dali Old City
Afternoon
Located 1.5 kilometers northwest of Dali Old City, the Chongsheng Temple and the Three-Pagoda has a history of over 1,800 years. It is a symbol of the history of Dali City, and a record of the development of Buddhism in the area. Lastly you will head to Xizhou Village, which is one of the birthplaces of Dali culture. As the temporary capital of Nanzhao Kingdom, and also once the commercial center of Dali, there remain lots of nice old courtyards, which were built by the local Bai minority capitalists. You can also have a chance to taste the three-course tea which is a way of drinking tea used when the Bai people entertain honored guests.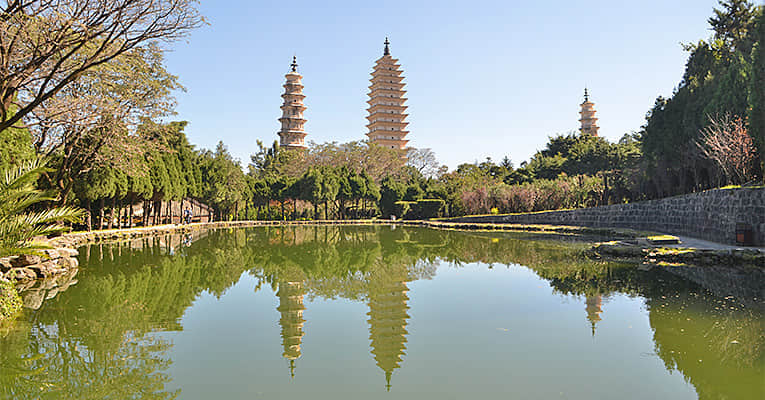 The Three-Pagoda
Day 4
Dali - Lijiang by Road: Spruce Meadow on Jade Dragon Snow Mountain (breakfast & lunch)
Morning
After breakfast, our guide and driver will take you to Lijiang by private vehicle. It takes around 3 hours and you can appreciated the scenery along the way. On arrival, you will have lunch before going to Jade Dragon Snow Mountain.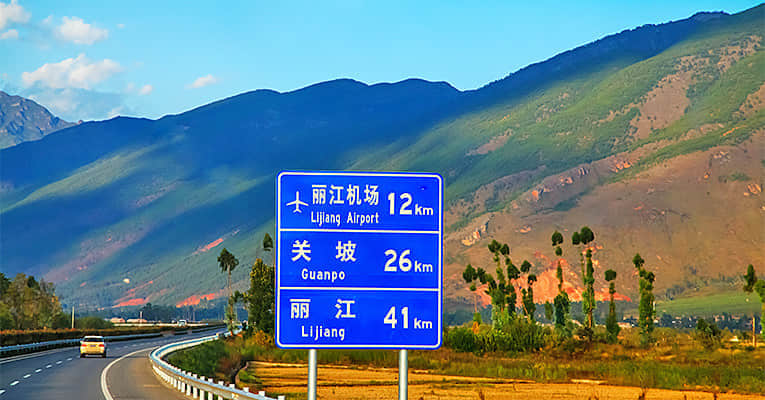 the Expressway to Lijiang
Afternoon
After lunch, we drive you to Ganhaizi visitor center, from where you will change to shuttle bus for the lower part of the ropeway. And then you will need to take the ropeway up to Spruce Meadow. It is half way up Shanzidou with an altitude of 3,240m. The legend of a couple of lovers who died for love certainly colors the area with a hint of romance. It is also a popular spot for photography and local ethnic dancing performances.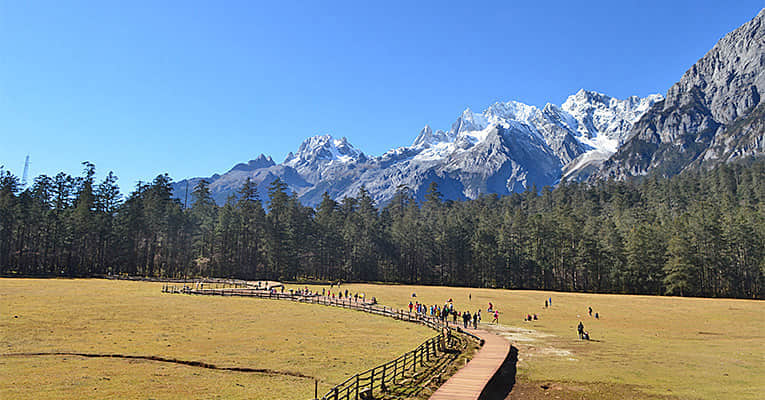 Spruce Meadow
Day 5
Lijiang - Kunming by Speed Train: Lijiang City Tour (breakfast & lunch)
Morning
The Old Town of Lijiang is a well-preserved old city of ethnic minorities with brilliant culture. It is built along mountains and rivers, providing a very precious sample for research into the old-time architecture. The unique geographical location, historical background and multiracial inhabitants make it one of the most special places. You can spend a half day to explore the old town. Before leaving, you definitely do not want to miss Zhongyi Market. It is the only existing farmers' market in Lijiang ancient city, and is the core of people's life. You can find some very local style products and fruits. Walking around the market is a good way to see the villagers' daily life. Have lunch at a local restaurant.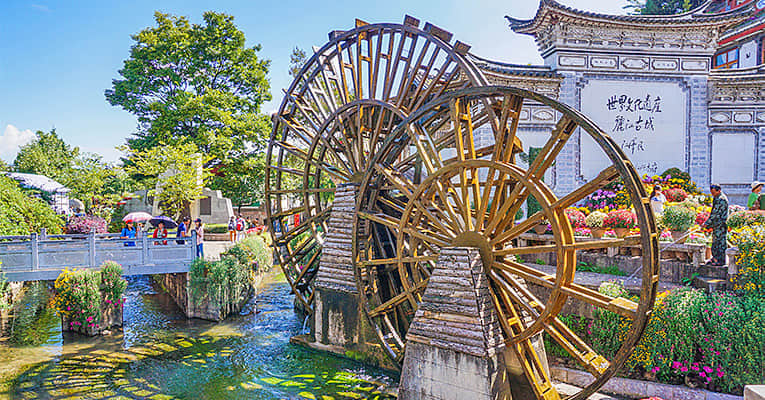 the Old Town of Lijiang
Afternoon
We are going to visit the Museum of Naxi Dongba Culture. It is a fascinating place to learn about the heritage of the Naxi people and their spiritual background. Dongba religion is the primitive religion of Naxi nationality. It is characterized by ancestor worship and nature worship, and they believe that all things have gods. The museum is surrounded by Black Dragon Pond with wonderful layout, beautiful trees and walking paths. It is a quiet oasis with Jade Dragon Snow Mountain as the background. After that, you will take a late afternoon speed train back to Kunming for your flight to your next destination.
Note: you can stay one more night in Lijiang and take the train to Kunming next day.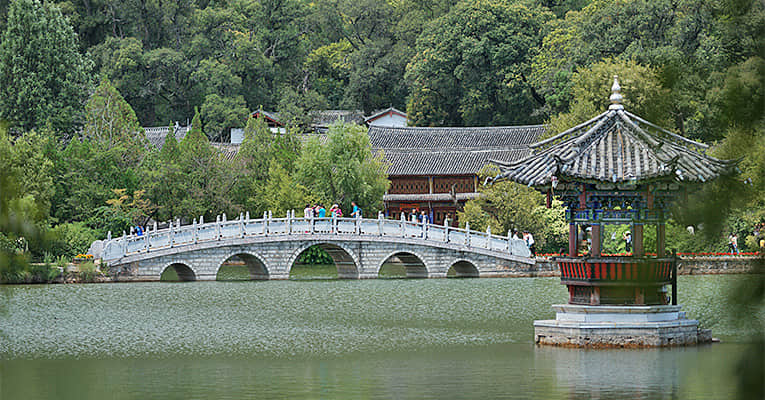 Black Dragon Pond
Featured Hotel
| | Comfortable | Deluxe |
| --- | --- | --- |
| Kunming | New Era Hotel Kunming | Green Lake Hotel Kunming |
| Dali | The Linden Centre Dali | Gurong Hotel Dali |
| Lijiang | Hexi Hotel Lijiang | Hotel Indigo Lijiang Ancient Town |
What's Included
Experienced tour guides
Entrance fee to all spots listed in the itinerary
Well selected hotel accommodation
Meals mentioned in the itinerary
Expert drivers and comfortable vehicles with air-conditioning
Speed train tickets from Kunming to Dali; from Lijiang to Kunming