YN-03:

7 Days Kunming – Jianshui – Yuanyang Tour

This extraordinary journey brings you to explore the Yunnan and deeply experience local life and culture. Marvel at the insight and human effort that went into creating the village of stone-buildings and the Rice Terraces, enjoy the distinctive minority people's costume and real life, and join in their handcraft making and farm work.
Trip Highlights
Make Sani embroidery
Hike the wonder of Yuanyang Rice Terraces
Experience the Confucius culture in Jianshui
Learn cooking and farm work
Take an old-style train to visit Tuanshan Village
Tofu workshop experience
Suitable For: School, Family, Team Building
Full itinerary for Students Tour in South Yunnan
Day 1
Arrive in Kunming
Welcome to Kunming. CET tour guide and driver will escort you to your hotel. The rest of the day is yours to relax.
Day 2
Kunming – Shilin County by bus: Shilin Forest and Nuohei Stone Village (breakfast & lunch)
Morning
After breakfast, take a 1.5-hour drive to the Stone Forest. This forest showcases magnificent vistas of thousands of huge limestone karst formations. And there are plenty of caves, crevices and waterfalls to enjoy as you walk through the splendid landform.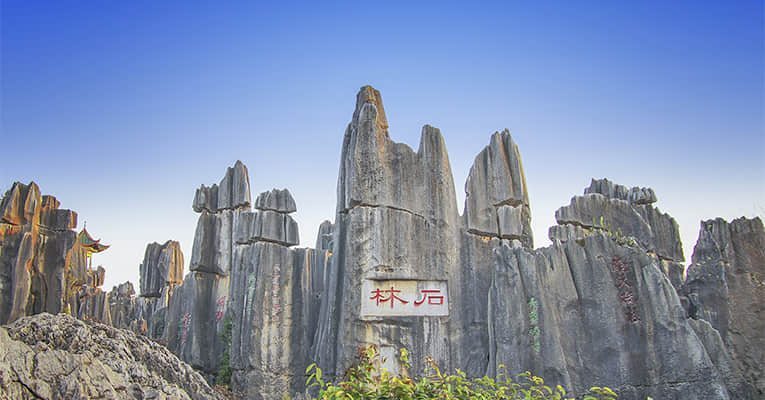 Afternoon
Have lunch to enjoy the local Roast Duck. Then transfer to visit Nuohei Stone Village. It is a village made of stone, with a road paved with polished stones, slate houses, and thin slate roofs. Due to its artistic value, Nuohei is the haunt of many art school students for painting outdoors. Here, you can play Dasanxian, which is a kind of stringed instrument of the ethnic group. And also learn to make exquisite Sani embroidery.
Evening
Taste local cuisine as a dinner, and then transfer to your hotel in Shilin County.
Day 3
Shilin – Yuanyang by bus (breakfast & lunch)
Morning
After breakfast, a 3.5 hour drive takes you to Yuanyang Rice Terraces. Located on the southern slopes of Ailao Mountain in Yuanyang County, Yuanyang Rice Terrace is the masterpiece created by Hani people over generations.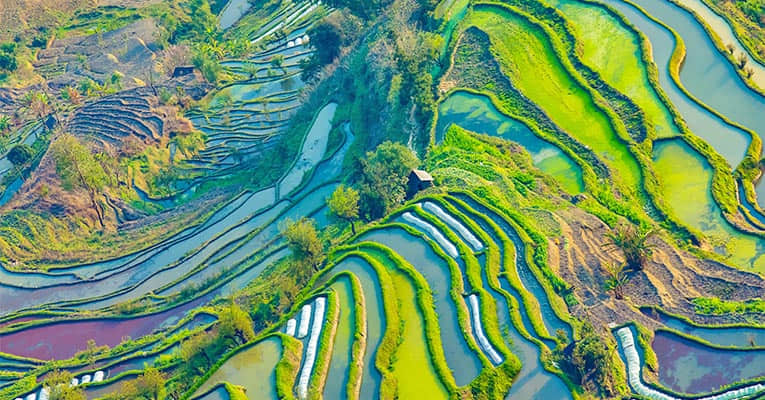 Afternoon
Have a trek to Azheke, where you can pay a visit to some local Hani people in their original mushroom house. You can find how locals are engaged in their traditional work while the kids play around.
Day 4
Yuanyang: learn cooking and farm work (breakfast & lunch)
Morning
Get up in the early morning to see Yuanyang Rice Terraces. You will have a great, spectacular sunrise view of such large scale rice terraces. If the fields are still flooded, they appear in various colors. Then go back to hotel to have breakfast. Or wake up late and have a leisurely morning.
Afternoon
Students will be divided into several groups to visit a local ethnic market and buy some fresh food for preparation for the lunch. Enjoy the pleasure of cooking and eating local cuisine with local people.
After lunch, experience farm work with the indigenous people. This opportunity gives students a real insight into the life of a village. Some students can really help local people to harvest rice, bag the rice and catch fish in the rice fields.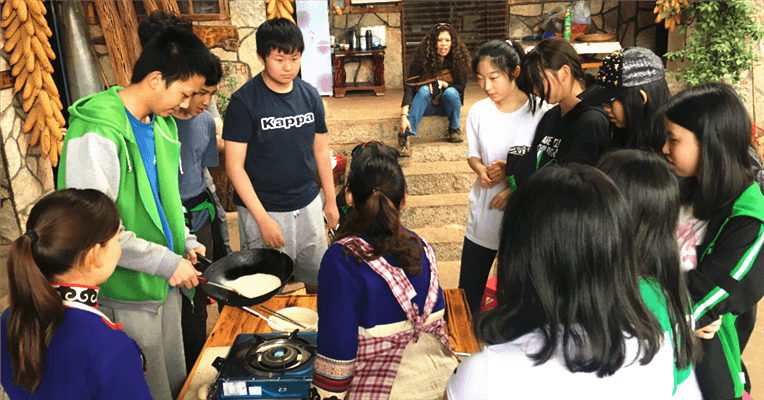 Learning a Cooking class
Day 5
Yuanyang – Jianshui by bus: visit Jianshui Ancient Town, make purple pottery, and take an old-style train to Tuanshan Village (breakfast & lunch)
Morning
After breakfast, about a 3-hour drive takes you to Jianshui County, where Jianshui, an ancient town in Honghe Prefecture of Yunnan Province, has a history of about 1200 years and an abundant distinctive cultural heritage. The Museum of Ancient Buildings and Residential Houses is recommended.
Walk to Wanyao village to make Jianshui Purple Pottery. Wanyao Village has a long history; today the village retains its ancient style with time-honored residences, kilns, temples and opera stages. The pottery made here enjoyed great fame in China in the past.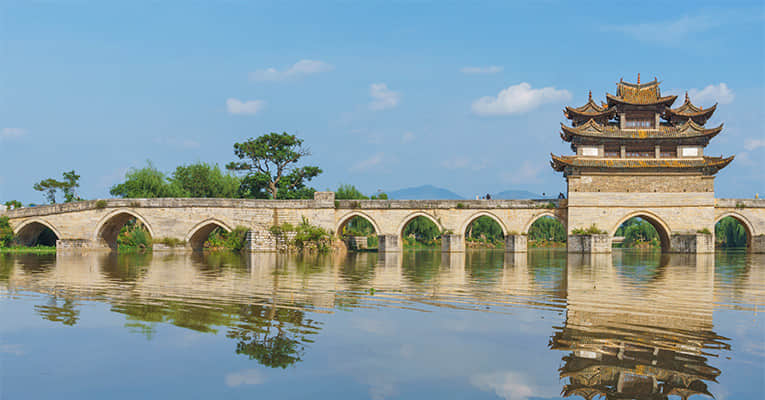 Shuanglong Bridge in Jianshui
Afternoon
After lunch, take a unique Chinese old-style train to Tuanshan Village and enjoy idyllic landscape and a historic village on the hill. You can see the distinctive way people live here and the architectural style of the 19th century. After visiting, return to Jianshui village.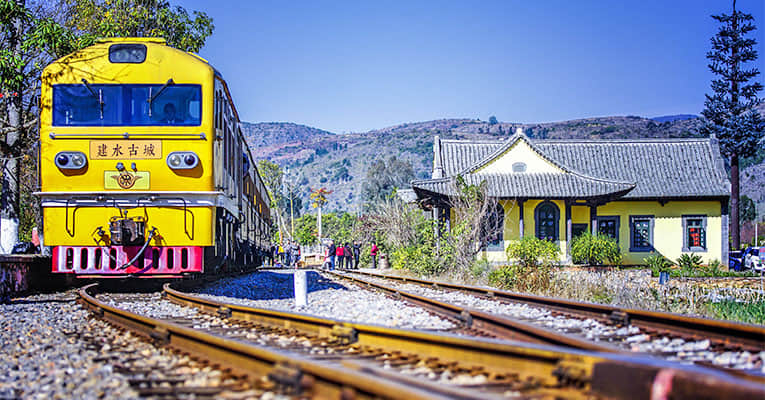 Day 6
Jianshui – Kunming by bus: visit Tofu Workshop (breakfast )
Morning
After breakfast, visit Jianshui Confucius Temple, and then go to visit an Old Well in a local residence. Jianshui tofu is made using the natural and sweet water from the old well, and visitors can have a cup of fresh soybean milk or experience making tofu in a local Tofu workshop.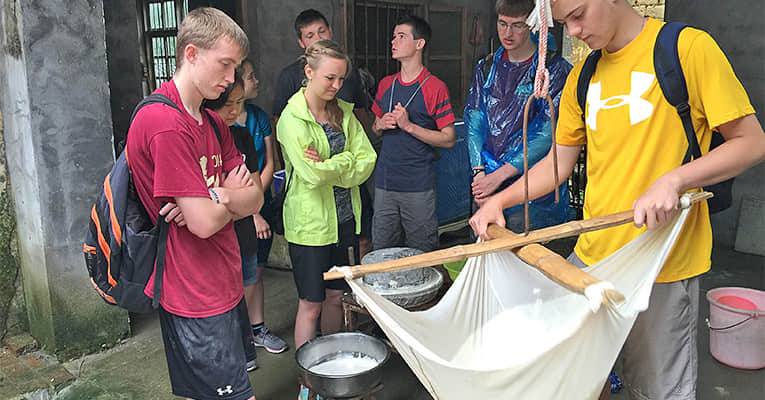 Learning how to make tofu in worshop
Afternoon
Have lunch, and drive back to Kunming for about 3 hours.
Evening
After dinner, transfer to enjoy the evening show "Dynamic Yunnan" (Regular seat), which is a magnificent and original song and dance performance organized by the famous Chinese dancer, Ms. Yang Liping. In the show, different types of dances are performed to show the features of various minority tribes in Yunnan province.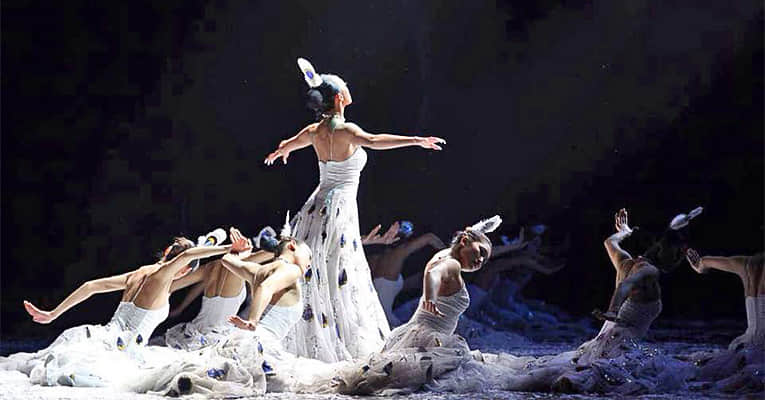 Peacock Dance
Day 7
Kuming Departure (Breakfast & lunch)
Breakfast at your hotel, and explore this city at leisure until being transferred to the airport for your departure flight.
What's Included
Entrance fee to the attractions listed in the itinerary
Meals mentioned in the itinerary
Private land transfer with licensed driver
Private local tour guide service throughout the tour
Expert drivers and comfortable vehicles with air-conditioning
Hotel accommodation with breakfast