YN-02:

7 Days Kunming - Lijiang Tour

Learning about different cultures is key to understanding the world, especially for young students. The earlier they learn about other cultures, the earlier they will build up empathy on cognition. We provide great opportunities in this tour, such as school exchange, interesting culture activities, family visit, and farm work experience. Students will have a new perspective on life and the world after this fantastic Yunnan education tour.
Trip Highlights
Culture exchange with local school
Outdoor game for learning Chinese culture of an ethnic group
Do farm work with local family
Hiking adventure on Tiger Leaping Gorge
Have a Chinese cooking class
Suitable For: School, Family, Team Building
Full itinerary for Student Tour in Kunming and Lijiang
Day 1
Kunming
Welcome to Kunming, your tour guide and driver will wait for your arrival and escort you to your hotel. After check-in, have a good rest on the first day.
Day 2
Kunming: culture exchange with local school and hiking in Western Hill (breakfast & lunch)
Morning
After breakfast, we will visit a Kunming local school and do culture exchange activities with local students, including playing sports and class interaction. It is a great and important opportunity to help students identify their culture and learn about an exotic culture from other teenagers.
Afternoon
After lunch, transfer to Kunming Western Hill. Western Hill is a forest hill that combines with an opportunity to appreciate cultural relics. Have a hike to the top of the mountain to get a birds-eye view of Kunming. En-route you will see the most famous Dragon Gate, Huating Temple, Taihua Temple, and Sanqing Pavilion.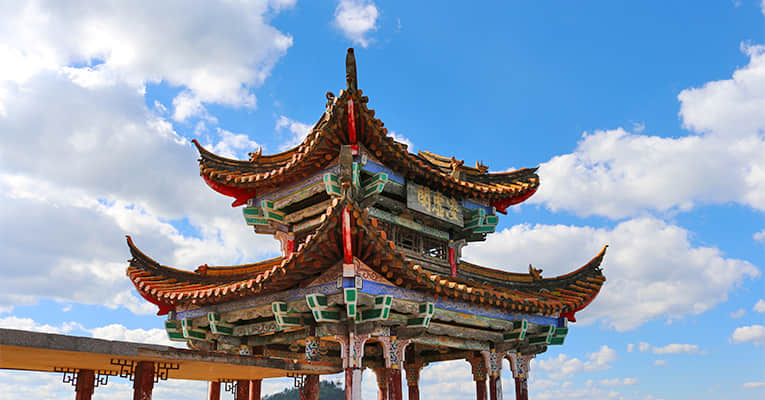 Lingxu Pavillion in Kunming Western Hill Park
Evening
It's about a 30-minute drive to the Dynamic Yunnan Show, and here you can enjoy the cultural diversity of the ethnic minorities in the region. Outstanding dances, music, and a colorful stage will give you a joyful evening.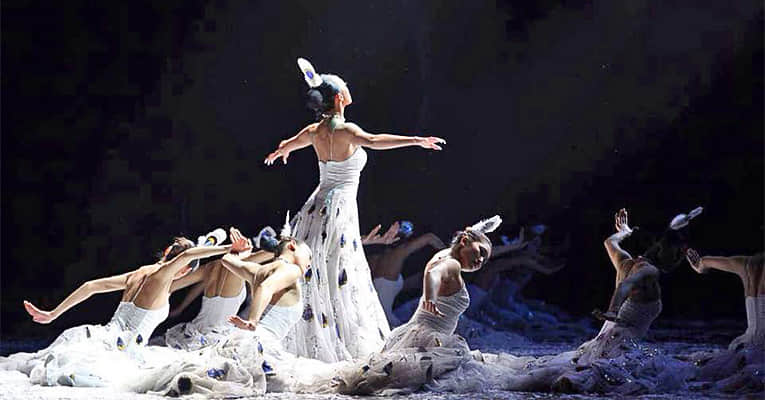 Peacock Dance
Day 3
Kunming: Yunnan Nationalists Village (breakfast & lunch)
Enjoy a day exploring Yunnan Nationalists Village. It is a good place to show visitors the culture and traditions of Yunnan. Doing interesting activities is really recommended, such as interpreting words in hieroglyphics, learning cross-bow shooting, looking for the Totem of an ethnic group, and playing peg-top. Students will gain a good understanding of ethnic culture from playing games.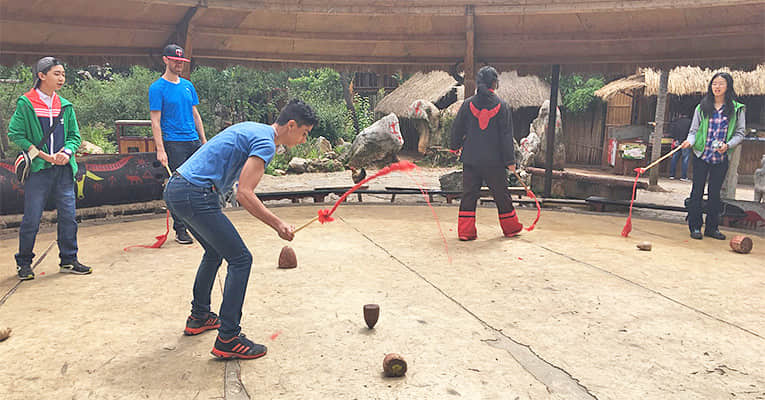 Students playing peg-top
Day 4
Kunming – Lijinag by bullet train: Baisha Old Town and Baisha Embroidery Institute (breakfast)
Morning
After breakfast, take about a 3-hour bullet train from Kunming to Lijiang. Arrive at Lijiang Railway Station, meet your local English speaking tour guide and transfer to your hotel.
Afternoon
Go ahead to Baisha Old Town. This town has a quiet and relaxed atmosphere and amazing views of nearby mountain peaks. Then, admire the famous murals. The Baisha Murals are preserved in Dabaoji Palace, and are esteemed for their elaborate layout, life-like figures, and rich colors.
Next, visit Baisha Embroidery Institute, where you can learn about and make the Naxi Embroidery, and take home what you made as a meaningful souvenir.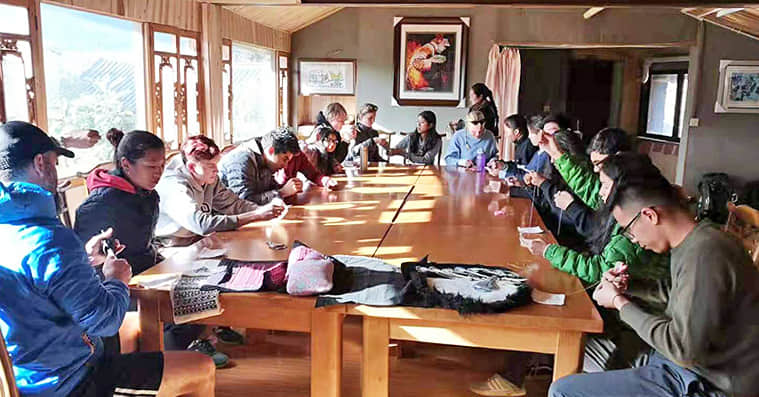 Students Learning how to make the Naxi Embroidery
Evening
Tonight, have a welcome barbecue dinner and Bonfire Party with local Naxi people in Baisha Holiday Resort for your coming to Yunnan. Immerse yourself to the enthusiasm of the local people.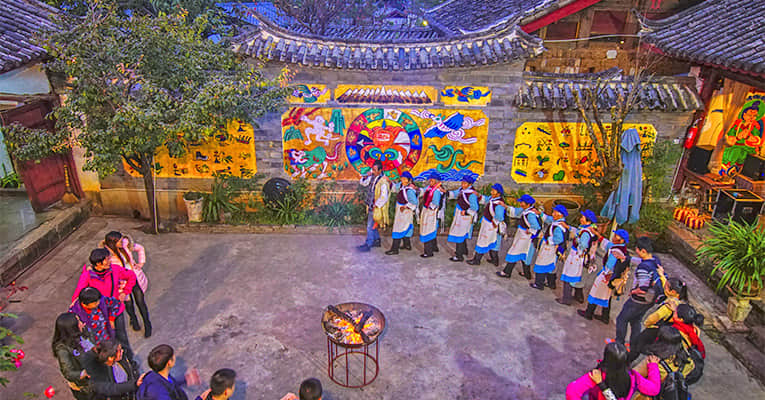 Day 5
Lijiang: experience farm work (breakfast & lunch)
Morning
After breakfast, take a 1.5-hour drive to Wenhai. Spend a half day to experience farm work in Wenhai. Wenhai village of Baisha town is located at the southern foot of Yulong Snow Mountain. Surrounded by forests and snowy mountains, Wenhai village is home to various plants, cattle and sheep. Visit a local family to look for firewood in the mountain, find Chinese herbal medicine and dig up potatoes.
Afternoon
Enjoy your lunch and have a hike to enjoy the scenic landscape, then drive back to downtown Lijiang. Enjoy your leisure time in Lijiang Old Town. This town shines with the Naxi ethnic culture of ubiquitous bridges and canals, elegant wooden houses, and charming inns.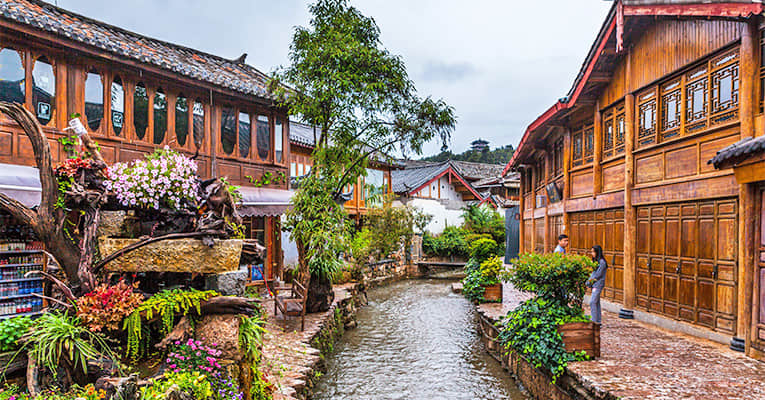 Day 6
Lijiang: Tiger Leaping Gorge Hiking Adventure (breakfast & lunch)
Morning
After breakfast, drive along the road to Middle Tiger Leaping Gorge. We will choose the most wonderful part of Tiger Leaping Gorge for the hiking adventure. Hike about 14km and be extra cautious, watching every step. This quite challenging hike will reward you with a breathtaking view of the spectacular gorge.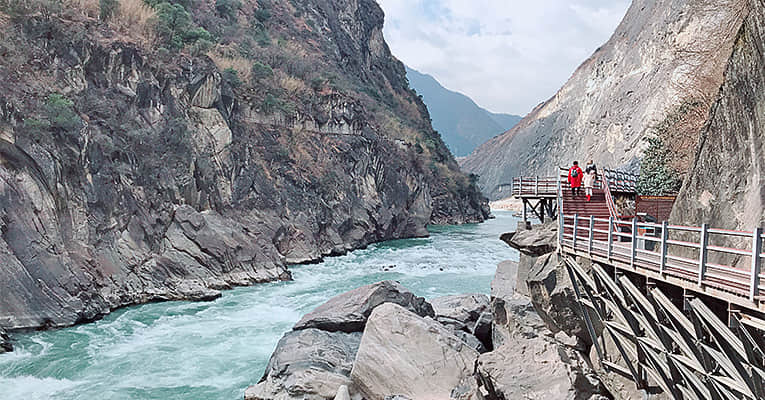 Tiger leaping Gorge
Afternoon
Have lunch in the Half-way Guesthouse where you will have a fantastic view of Jade Dragon Snow Mountain from the balcony of the guesthouse. Next, continue to Yuhu Village to have a cooking class in a local family and cook your unforgettable dinner.
Day 7
Lijiang Departure (breakfast)
Enjoy your breakfast, your tour guide and driver will wait for you to transfer to Lijiang airport. Hope to see you next time.
What's Included
Entrance fee to the attractions listed in the itinerary
Meals mentioned in the itinerary
Private land transfer with licensed driver
Private local tour guide service throughout the tour
Expert drivers and comfortable vehicles with air-conditioning
Hotel accommodation with breakfast