CET-20:

13 Days Private Tour: Xi'an - Lanzhou - Zhangye - Jiayuguan - Dunhuang - Turpan - Urumqi

Zhang Qian, who was an outstanding diplomat in the Han Dynasty, was sent to the western regions, and was considered as a pioneer of the Silk Road. Starting from Chang'an (present Xi'an), he went through Gansu and Xinjiang to central Asia and west Asia, and connected the land routes of Mediterranean countries. Its original function was to transport silk produced in ancient China. You will follow Zhang Qian's steps to tour the northwest Silk Road, the official route of the western regions, which is on the list of World Culture Heritage sites. It starts from Xi'an and ends in Urumqi.
CET Advantages
Visit six World Cultural Heritage sites along the way
See the landscape change from central plains to western regions
Get to know about the history and culture of western regions through museums
Be amazed by the magical Danxia National Geopark (Rainbow mountains)
Appreciate the world's largest underground gallery
Learn about ancient Chinese Buddhist art by visiting grottoes
Visit two significant passes in the history of China
Admire the world's largest, oldest and best-preserved city in soil structure

Quality
No Shopping Traps

Group Type
Private

Tour Focus
Culture, History, Heritage Site, Museum

Accommodation
Nights:12

Best Season
Spring, Summer, Autumn, Winter
Suitable For: History lovers, Adventurers
Map of My Trip
Full Itinerary
Day 1
Xi'an: Arrival
On your arrival, you will meet your guide at the arrival hall. The guide will hold a sign with your name on it. And then you will go to your hotel and check in.
Day 2
Xi'an: Essence Tour (breakfast & lunch)
Morning
Your tour begins with the essential attractions of Xi'an, from where Zhang Qian started the Silk Road. As a former capital for more than 10 dynasties, Xi'an carries abundant relics and sites. The Terracotta Warriors and Horses Tis the most well-known one, and is honored as the eighth wonder of the world. It is located outside of the city for around a 1 hour drive. The warriors and horses are vivid and you can tell the different military appointments by their dress and posture. Have lunch at a local restaurant.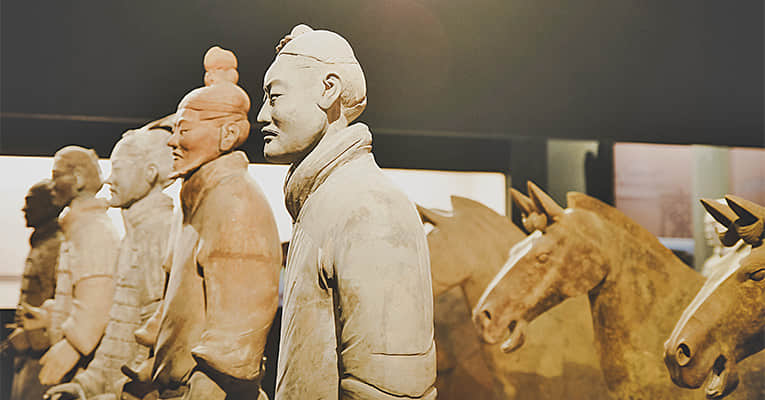 the Terracotta Warriors and Horses
Afternoon
After lunch, we will drive you to visit another World Culture Heritage – the Small Wild Goose Pagoda, which was built in the Tang Dynasty. It preserves the sutras and Buddha statues brought from old India via the Silk Road. And then you will go to Xi'an old town district to see the ancient City Wall. You can even ride a bike on this largest and best preserved ancient city wall in China. At the end of the day, you will be immersed in culture through the traditional snacks of the Muslim Quarter.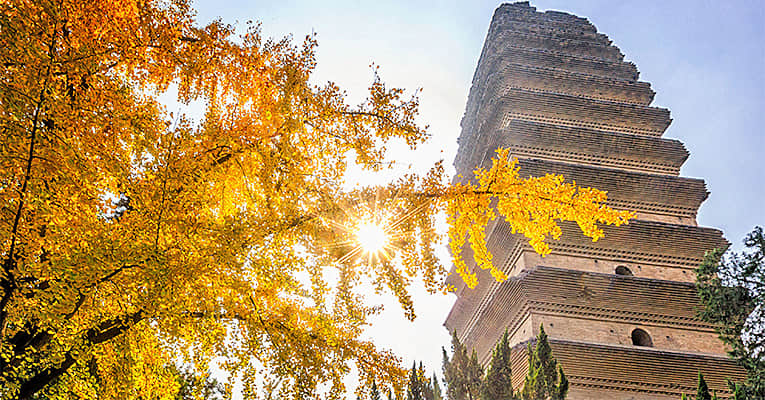 the Small Wild Goose Pagoda
Day 3
Xi'an – Lanzhou by Speed Train: on the Way (breakfast)
Morning
After breakfast, you will be picked up from your hotel lobby and go to the train station. On to your next stop – Lanzhou by a 3-hour train ride.
Note: you can prepare some snacks as your lunch, or buy a boxed-lunch on the train. Or even order dishes in the dining carriage located in the middle of the train.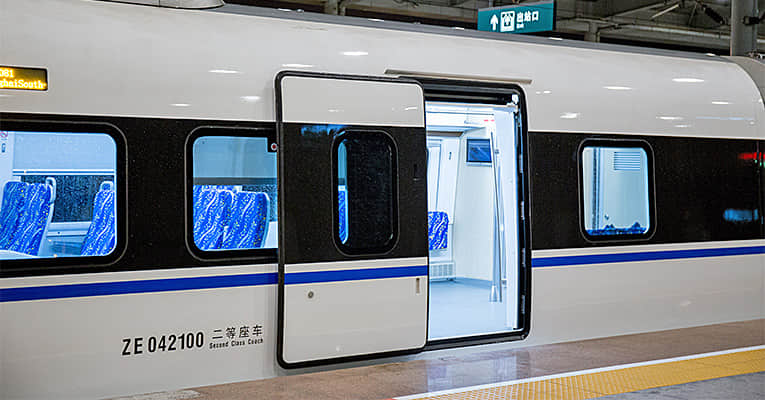 Afternoon
On your arrival in Lanzhou, you will see your guide holding a welcome board with your name on it at the exit. The guide and driver will escort you to your hotel. Have a good rest or wander around the city.
Day 4
Lanzhou:Essence Tour (breakfast & lunch)
Morning
After breakfast, you first will visit the Gansu Provincial Museum (closed on Mondays). This is the best place to learn about the Silk Road history and the culture of Buddhism. Potteries that are 8000 years old, bronze sculptures, and the world famous Gansu flying horse all make this Museum a must-see.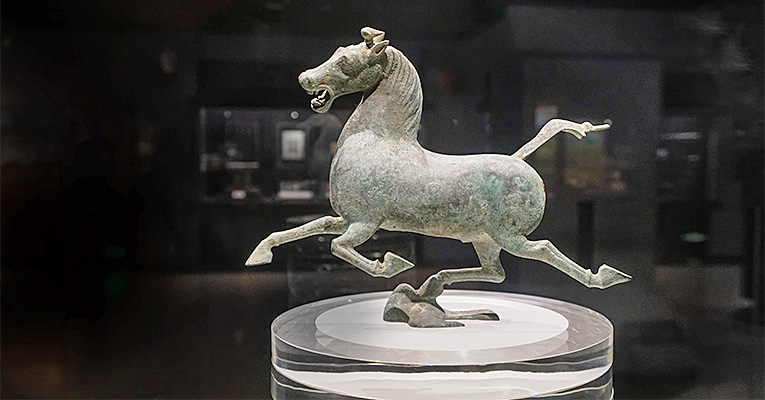 Flying Horse
After that we will head to Bingling Temple Grottoes. It takes around 2 hours to drive from Lanzhou and then 1.5 hours by speed boat to reach the temple. You can have Lanzhou Beef Noodles as lunch on the way.
Afternoon
Located on the bank of Liujiaxia River, Bingling Temple Grottoes was on the main traffic artery in the Longxi section of the Silk Road. Bingling means "thousand Buddhas" in Tibetan language. With elegant postures, flying robes and ribbons, the statues are very life-like. You will be back to Lanzhou for overnight.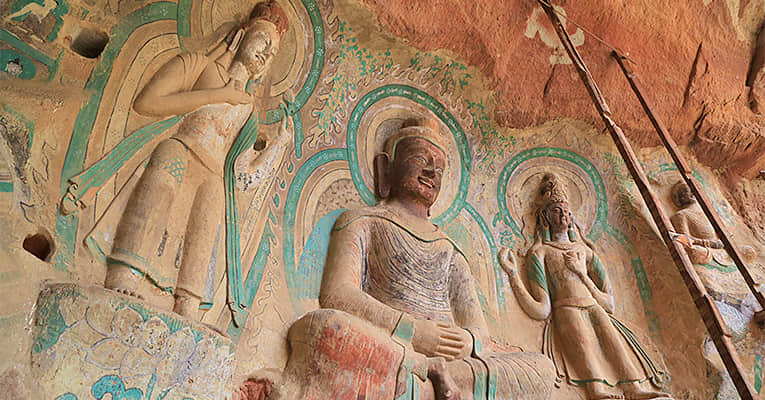 Bingling Temple Grottoes
Day 5
Lanzhou – Zhangye by Speed Train: Rainbow Mountains (breakfast)
Morning
After breakfast, you will depart to Zhangye by a speed train for around 4.5 hours.
Afternoon
You will arrive in Zhangye west railway station and be driven to Danxia National Geological Park. It is a large bright pearl on the Silk Road and is noted for its peaks of seven colors. Especially after the rain, when the color looks even more brilliant.
Danxia Landform
Day 6
Zhangye – Jiayuguan by Road: Historical Sites (breakfast & lunch)
Morning
After breakfast, you will continue heading to the northwest and reach Jiayuguan by private vehicle. It takes around 2.5 hours to drive.
Jiayuguan Pass is the first pass at the west end of the Great Wall of China. Located between two hills, it earned the name "The First and Greatest Pass under Heaven". After that, you will go to Jiayuguan city to have lunch.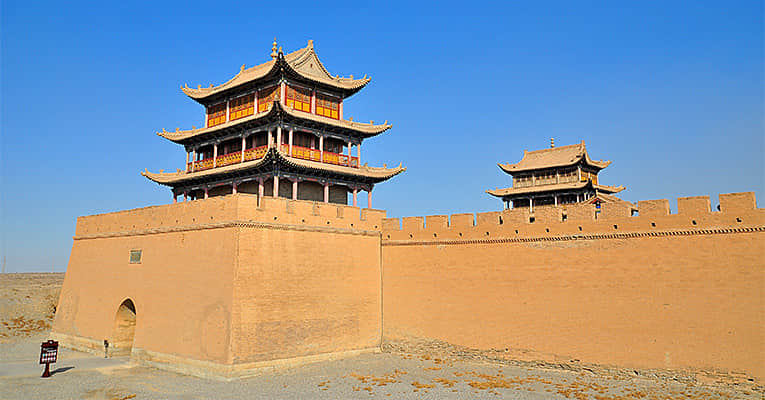 Jiayuguan Pass
Afternoon
After lunch, the guide and driver will take you 20 kilometers northeast of Jiayuguan city. There are more than 1,400 Underground mural brick tombs dating from the Wei and Jin dynasties (220-419CE), called Wei-Jin Tombs. You will visit the most representative one, which has three chambers. It contains beautiful bricks that depict the daily life of the occupants of the tomb.
Day 7
Jiayuguan – Dunhuang by Road: Echo Sand Mountain & Crescent Moon Lake (breakfast & lunch)
Morning
After breakfast, you will go to Dunhuang by road for almost 4 hours. You will have lunch on the way.
Afternoon
Dunhuang city is an oasis surrounded by desert. Located in the south of the city, Echo Sand Mountain is one of the most beautiful sand dune complexes in China and is a must see along the Silk Road. You will be surprised that Crescent Moon Lake has existed in the middle of the sand for centuries. Climb up to the highest sand dune, and you will have a birds-eye view of the sand and the lake.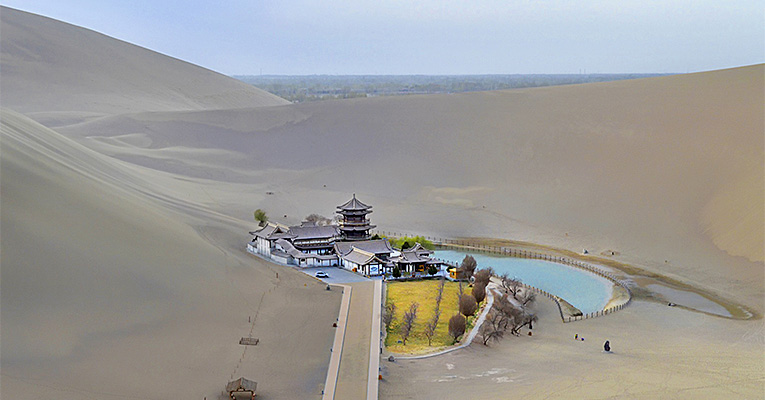 Echo Sand Mountain and Crescent Moon Lake
Day 8
Dunhuang: Historical Sites (breakfast & lunch)
Morning
Today you will start the day with Mogao Grottoes, which is one of the four major grottoes in China. Listed as a World Cultural Heritage site early in 1987, it is one of the most elaborate and exquisite sites in China that you don't want to miss. The Buddhist wall paintings and sculptures (some 75 meters tall) are nothing short of spectacular. And then you will be back to the city center for lunch.
Mogao Grottoes
Afternoon
After lunch, you will go to visit Jade Gate Pass (Yumen Pass), which was the gateway to the western regions in the Han Dynasty. It was also the only route along the Silk Road.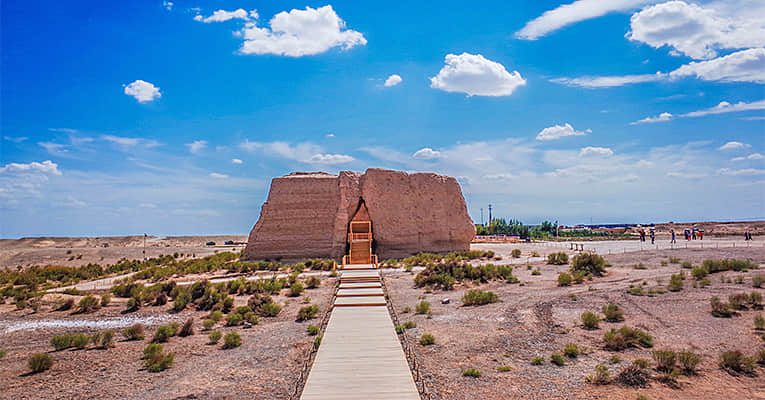 Jade Gate Pass
Step to the west for around 5 km, you will see the site of the Han Great Wall, which is the most well preserved. Due to the lack of loess, it was built of gravel, tamarisks and reeds, mixed with salty groundwater. In this way, despite thousands of years of wind and rain erosion, it is still standing spectacularly.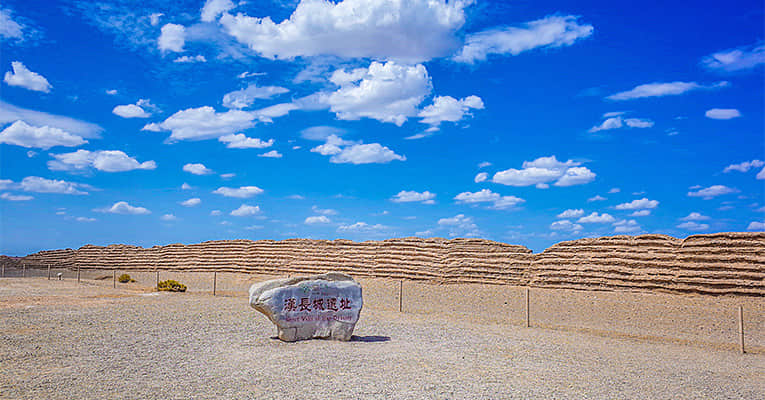 Han Great Wall
Day 9
Dunhuang – Turpan by Speed Train: Dunhuang Museum (breakfast)
Morning
After breakfast, you can spend 1-2 hours at Dunhuang Museum. It serves as a great condensed introduction to the city and its past. Displaying the unearthed cultural relics in chronological order from the Han Dynasty to the Qing Dynasty, the museum shows you the development of Dunhuang in the past.
And then the guide and driver will transfer you to Liuyuan south train station for around 2.5 hours by road. From there you will take a speed train to Turpan.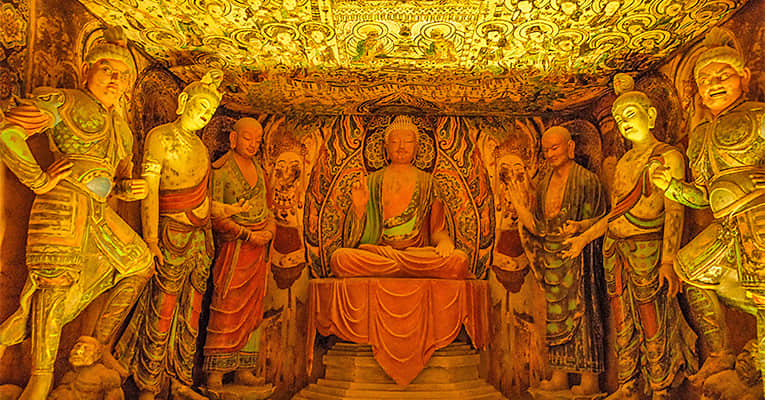 Buddha Statues in Dunhuang Museum
Afternoon
After more than 3 hours on the train, you will arrive at Turpan north train station. Your guide will wait for you at the exit and then escort you to your hotel.Turpan was an important strategic place on the Silk Road.
Day 10
Turpan: City Tour (breakfast & lunch)
Morning
After breakfast, you will visit the Karez Irrigation System which is one kind of structure of ingenious special irrigation system. Channeling melting snow and ice from the mountains to underground, where it was employed for irrigation, can avoid the interruptions to flow caused by sandstorms, wind and huge losses from evaporation. Together with the Great Wall, and the Beijing Hangzhou grand canal, it is one of what are called the three big projects in China of ancient times.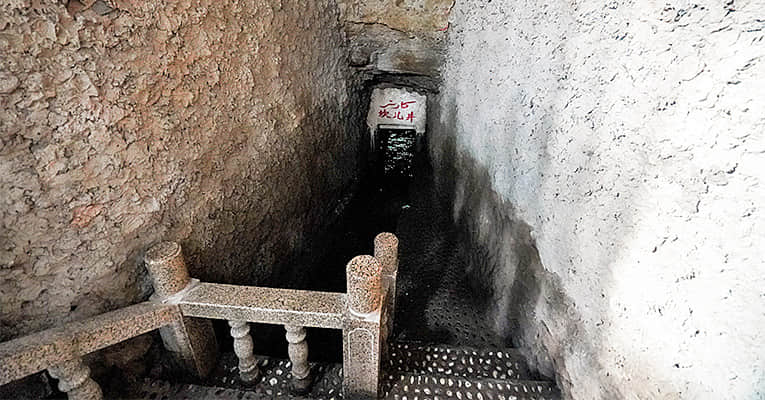 Karez
Go further to the west, and you will arrive at Jiaohe Ancient City which is the most complete urban relic, preserved in China for more than 2000 years. The whole city was built with soil. Thanks to the unique dry and rainless climate, despite wind and rain vicissitudes over thousands of years, the main structure of the architectural layout is still miraculously preserved. After that, you will be back to the city for lunch.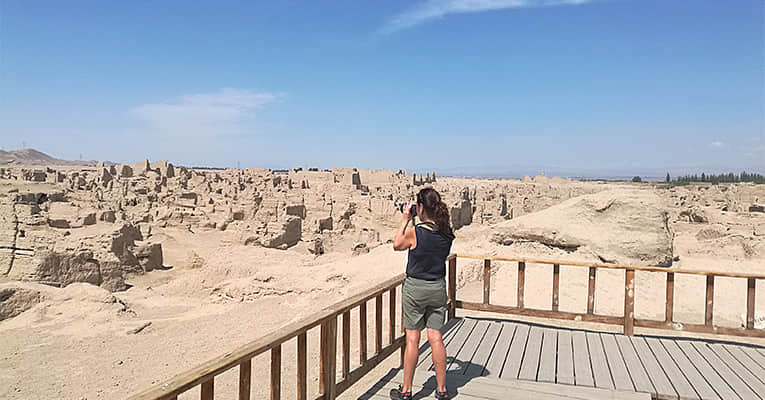 Jiaohe Ancient City
Afternoon
Currencies popular in central Asia, west Asia, and Europe along the Silk Road were found in Turpan. Now they are displayed at Turpan Museum. All these are important evidence of cultural integration and the economic prosperity of the Silk Road. Today's tour is finished at Emin Minaret. It is a magnificent combination of ancient Uighur and Islamic architecture. Instead of one single timber bearing the tower, 72 spiral steps of bricks are used as the central column, which also enables a ladder climbing to reach the top of the tower.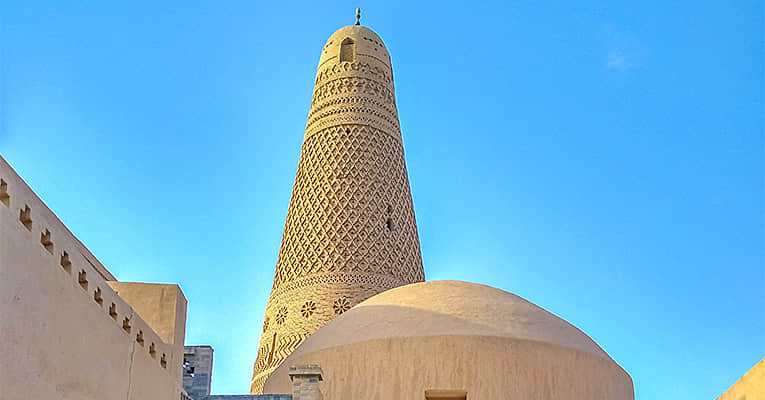 Emin Minaret
Day 11
Turpan – Urumqi by Road: Xinjiang Regional Museum (breakfast & lunch)
Morning
After breakfast, you will head to Urumqi by road for around 3 hours. It is the capital of Xinjiang and was an important hub of the Silk Road. Lunch will be arranged at a local restaurant when you arrive in Urumqi.
Afternoon
After lunch, you will visit Xinjiang Regional Museum. It is the largest collection, preservation, and research center of cultural relics and specimens in Xinjiang. You can see a schematic diagram of the Silk Road in Xinjiang. By using photoelectric display and control technology, the south road, north road and middle road of the Silk Road are dynamically displayed respectively. In addition to this, you can also see other cultural relics representing the culture, history, and customs of Xinjiang. The most shocking is the exhibition of ancient mummies in Xinjiang.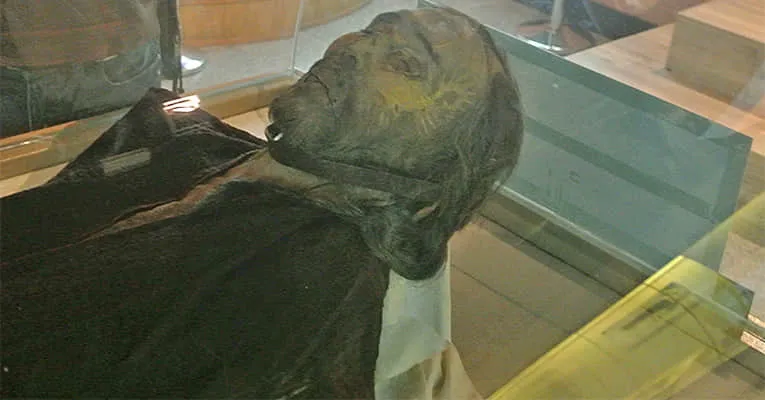 Ancient Mummy
Day 12
Urumqi: Sightseeing (breakfast & lunch)
Morning
After breakfast, you will visit Red Hill which is the symbol of Urumqi at Hongshan park scenic area. There is a nine-story pagoda named Zhen Long Ta at the top of the mountain. As the rocks of the mountain reflect a bright red color, people call it Hong Shan ("Red Mountain" in Chinese).
Later you will head to the Heavenly Lake. It is around 110 km from Urumqi and takes around 3 hours to drive. You will have lunch on the way.
Afternoon
The Heavenly Lake is an alpine drift lake formed in the Quaternary Glacier period at 1,910 meters above sea level. With melted snow as its source, it enjoys crystal clear water. It is also abundant in forest and animal resources. You can take a boat ride on the lake, which is only available from May to October.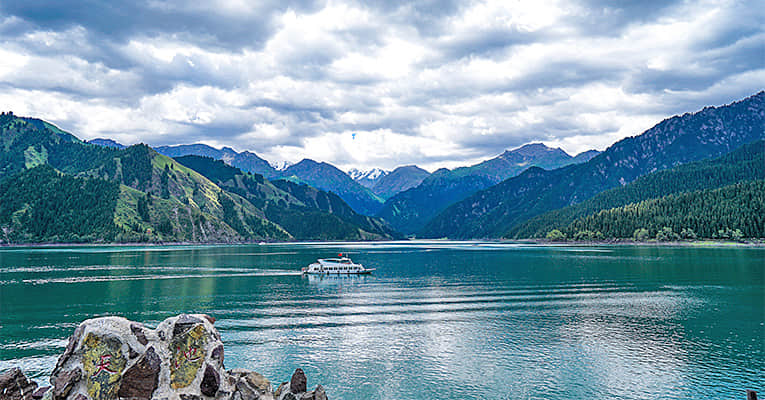 the Heavenly Lake
Day 13
Urumqi Departure (breakfast)
You will end your Silk Road adventure in Urumqi and fly back home.
Featured Hotel
| | Comfortable | Deluxe |
| --- | --- | --- |
| Xi'an | Grand Noble Hotel Xi'an | Wyndham Grand Xian South |
| Lanzhou | Legend Hotel Lanzhou | Crowne Plaza Lanzhou |
| Zhangye | Tianyu International Hotel Zhangye | Zhangye Hotel |
| Jiayuguan | Holiday Plaza Hotel Jiayuguan | Holiday Plaza Hotel Jiayuguan |
| Dunhuang | Dunhuang Fuguo Hotel | The Silk Road Dunhuang Hotel |
| Turpan | Huozhou Hotel | Huozhou Hotel |
| Urumchi | Excemon Xinjiang Yilite Hotel | Grand Mercure Urumqi Hualing |
What's Included
Land transportation fee in each city
Hotel accommodations with daily breakfast
Meals as listed in the itinerary
Entrance to the attractions
Professional English speaking guide
Speed train ticket from Xi'an to Lanzhou; from Lanzhou to Zhangye; from Dunhuang to Turpan