ST-05:

10 Days Beijing - Luoyang - Xi'an - Shanghai Tour

Seven World Heritage Sites in China are included in this tour package. As well as the main cities of Beijing and Xian , you will go to Luoyang, where you can visit the birthplace of Chinese Zen Buddhism and Kungfu. We help you touch and finally understand the charm of these unbelievable crystallizations of ancient Chinese people's wisdom.You will fly home from Shanghai, where the old meets the new harmoniously.
Trip Highlights
7 World Heritage sites in 10 days
30-minute Tai Chi lesson in the Heaven of Temple
Get away from the crowded part of the Great Wall
Learn more about royal life when touring the Forbidden City
Be amazed at the Terracotta Warriors and Horses
Appreciate stone carving art in the Longmen Grottos
Visit the home of Chinese Kungfu – Shaolin Temple
Have a chance to DIY terra-cotta figures
Suitable For: School, Family or Friends, Solo
Full itinerary for China World Heritage Discovery
Day 1
Arrive in Beijing
Your journey to the Far East starts when meeting your personal guide at Beijing International Capital Airport (PEK). China, a country with an ancient civilization, is to be explored by you with our professional team. Your guide will accompany you to your hotel in the city center and help you with check in procedure. The rest of the day is free for you to recover from jet-lag or do some exploration around the hotel.
Remarks: There is a lot to discover near your hotel, shopping street, food market or local neighborhoods. Please feel free to ask your guide for more advices.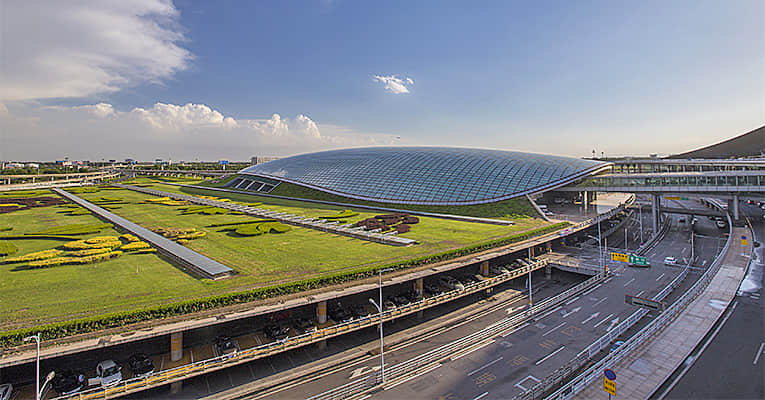 Nihao Beijing
Day 2
Beijing: City Tour (breakfast & lunch)
Morning
Start your day with a leisurely walk along Tiananmen Square, which is the largest city square and China's political center. From there, you will enter the Forbidden City (Imperial Palace) , which makes the highlight of the day. This 600-year-old palace was the political and living center of 24 emperors in the Ming and Qing Dynasties. It is the largest museum with its huge collections of cultural relics and antiques. The houses are yellow-roofed with vivid carvings on the edges. Have lunch at a local courtyard house.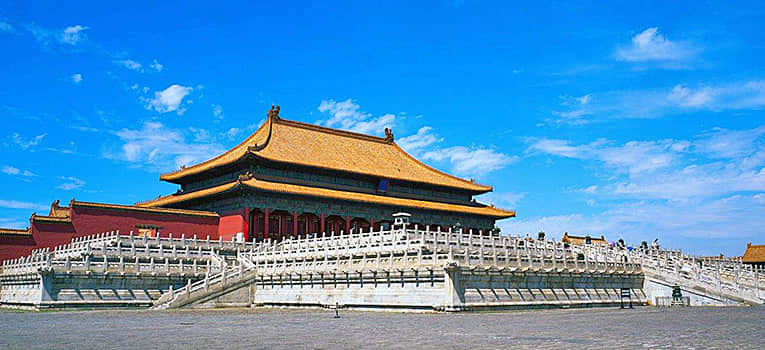 the Forbidden City
Afternoon
The Hutong tour allows you to have a close look at local people's life. The local Beijing residents have lived in Hutongs with their quadrangle courtyards for centuries.
Next, we will visit Jingshan Park , which was an important place for the Emperors in the Ming and Qing Dynasties to worship and remember their ancestors.
Jingshan Park
Evening
Recommended activity:
1. The Legend of Kungfu premiered in 2004. In contrast to the traditional Kungfu show, it demonstrates Kungfu through dramatic stories. The group also tours abroad and has a good reputation.
2. Acrobatics at Chaoyang Theatre was founded in 1984. Their performances have won more than 30 awards at home and abroad. "Blue And White Porcelain" (balancing a stack of bowls on the head), which is one of them, was on the stage of the Spring Festival Gala in 2015.
3. Peking Opera is one of five major operas in China and the quintessence of Chinese culture with a history of nearly 200 years. In the beginning it was seen as entertainment only for the court and then slowly opened to common people as well.
Day 3
Beijing: Two World Heritage Sites(breakfast & lunch)
Morning
After breakfast, we are going to the Temple of Heaven , which was a royal site for sacrificial ceremonies. It is now a park, where local people do morning exercises. You can learn Tai Chi for 30 minutes there with a master.After that, we will drive you to visit another UNESCO-listed site – Mutianyu Great Wall – where you can avoid crowded areas like the Badaling section. Have lunch on the way at a farm.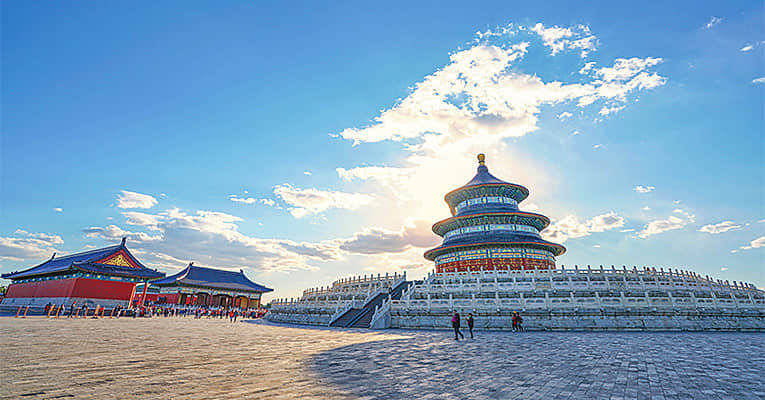 the Temple of Heaven
Afternoon
Mutianyu Section of the Great Wall is the most scenic and best-preserved section. Enjoy your time on the Wall to fully appreciate it and the view in distance. We will drive you back to your hotel at around 17:30.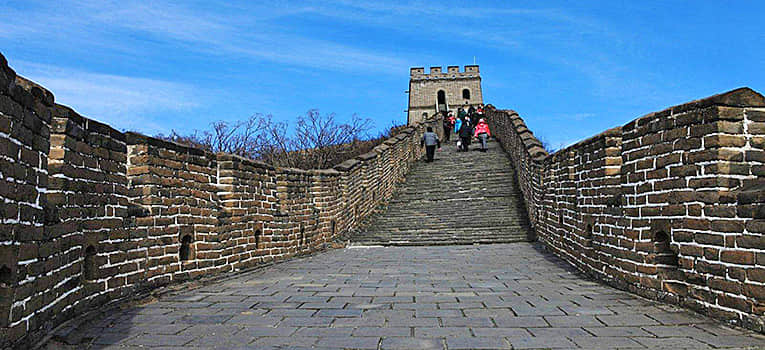 Mutianyu Great Wall
Day 4
Beijing – Luoyang by Speed Train: The Summer Palace (breakfast & lunch)
Morning
The whole morning is for you to explore the largest royal garden, the Summer Palace . It was used as the emperors' summer retreat in olden times, but is still a nice place to escape from the summer heat nowadays. This enormous park contains trees, rockeries, lakes, pavilions and houses. You could spend hours wandering around or just take a short boat ride on Kunming Lake (only available from April to October) to appreciate its beauty. Your guide will choose a local restaurant en-route for you to have lunch.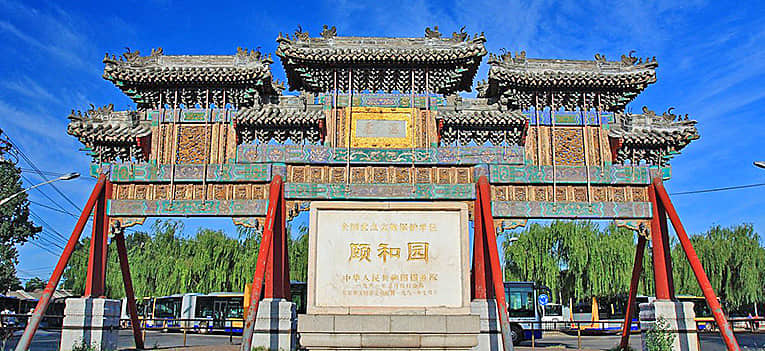 the Summer Palace
Afternoon
A stop at a local grocery store is applicable to buy some food for your dinner today. The train journey lasts around 4 hours with countryside views all the way. Say goodbye to Beijing, you will board the speed train to Luoyang.
Evening
Upon arrival at LuoyangLongmen train station, your private guide will take you to your hotel and help you to check in. Hope you have a good night and be ready for another exciting day.
Day 5
Luoyang – Dengfeng: Shaolin Temple (breakfast & lunch)
Morning
After breakfast, we will go to visit Shaolin Temple , which is located at Songshan Mountain in Dengfeng City, 56km south of Luoyang City, and reputed to be "Number One Temple under Heaven".It is now well known worldwide for its Shaolin Martial Art. Your tour covers all the major places, such as the Hall of Heavenly Kings, the Grand Hall, the Sutra Depository, the Hall of Thousands of Buddhas and the Pagoda Forest. A Kungfu show is also included.Lunch can be arranged as vegetarian style in the temple for a change.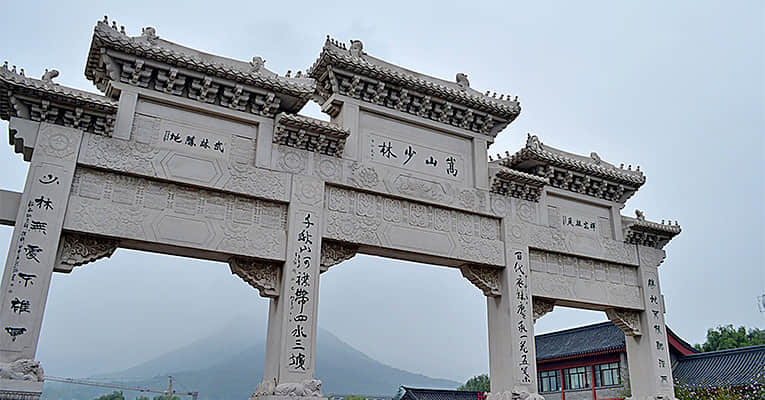 Shaolin Temple
Afternoon
Next we will head to Songyang Academy , which is also listed as a site of World Cultural Heritage. It was a famous institution of higher learning in ancient China and one of the four ancient Chinese academies.It mainly focused on Confucianism and has played an important educational role in spreading traditional Chinese culture and cultivating talent.
Head back to Luoyang after the tour. The rest of the day will be your own.
Day 6
Luoyang – Xi'an by Speed Train: Longmen Grottoes(breakfast & lunch)
Morning
Enjoy a rich breakfast at your hotel. Your morning tour heads to Longmen Grottoes , one of the 3 most valuable Grottoes in China. When looking at the statues and steles carved 1500 years ago, you will be amazed by the fine artwork. Then continue your trip to White Horse Temple , the first Buddhist temple in China. It is honored as the cradle of Chinese Buddhism and became a sacred spot for Buddhists all over the world. Have lunch at a local restaurant.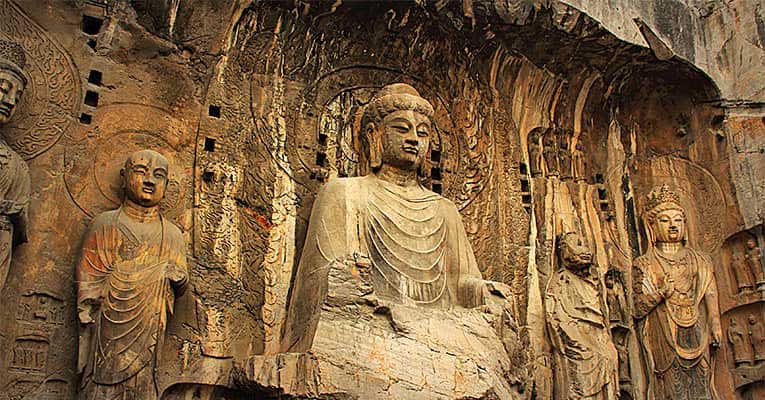 Longmen Grottoes
Afternoon
Your guide will take you to the train station after lunch. After around 1 hour and 40 minutes' train ride, you will arrive at Xi'an North Station and meet your Xi'an guide there. The guide will escort you to your hotel. Have a good night.
Day 7
Xi'an: The Ancient Ruins(breakfast & lunch)
Morning
This is an exciting day for visiting one of the wonders of the world. The Terracotta Warriors and Horses Museum , located 40km northeast of Xi'an City, is the most important discovery in archeological field. The 2000-year-old warriors with their vivid, individual facial appearances are standing right in front of you. You could easily spend 2 hours to visit the 3 different pits displaying thousands of the clay figures. To satisfy your curiosity, your guide will take you to a Pottery Factory to learn the process of making terra-cotta figurines . You have a chance to make one with your own hands. You will have lunch nearby.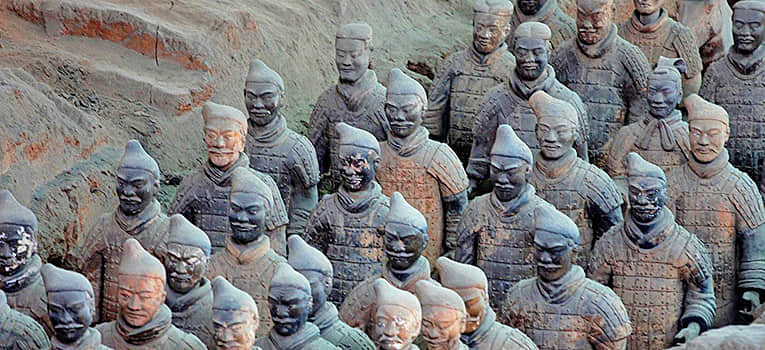 the Terracotta Warriors and Horses Museum
Afternoon
We head back to the city and visit the Ancient City Wall . It is the oldest and best-preserved city wall in China. You will marvel at how wide and well- constructed it is. Strolling, cycling or taking a rickshaw ride are your choices to explore the wall.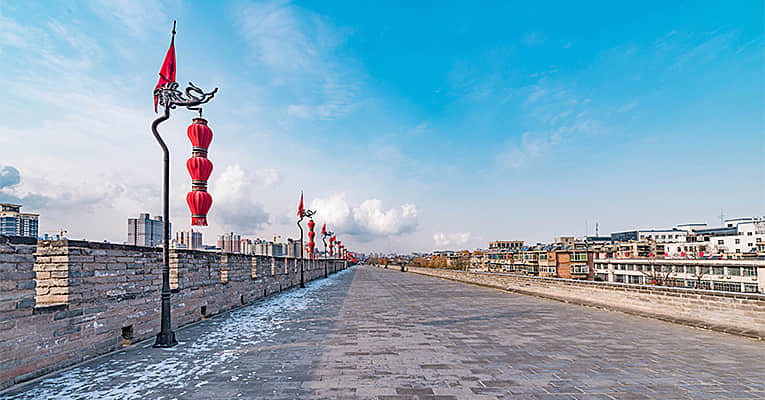 Ancient City Wall
Evening
Recommended activity:
1.The music fountain at the north square of Big Wild Goose Pagoda is free to the public. You can stroll around it after dinner to experience local life.
2. Tang-Dynasty Palace Music and Dances is a performance that was re-created by many famous artists in Shaanxi province, displaying the essence of music, rhythm, and dance art in the Tang Dynasty.
Day 8
Xi'an – Shanghai by Plane: City Exploration(breakfast & lunch)
Morning
Today you could learn more about the long history and rich culture of ancient China by visiting it, along with the Small Wild Goose Pagoda . The pagoda may not be so well-known but it keeps the original architectural style of the early Tang Dynasty.You can stop over at Xi'an Museum if you are interested in the history and development of Ancient Xi'an City. And then you will have a chance to watch a Shadow Puppets Show, which is a kind of folk drama. It tells stories in silhouettes of characters made of animal skins or cardboard. Have lunch at a local restaurant.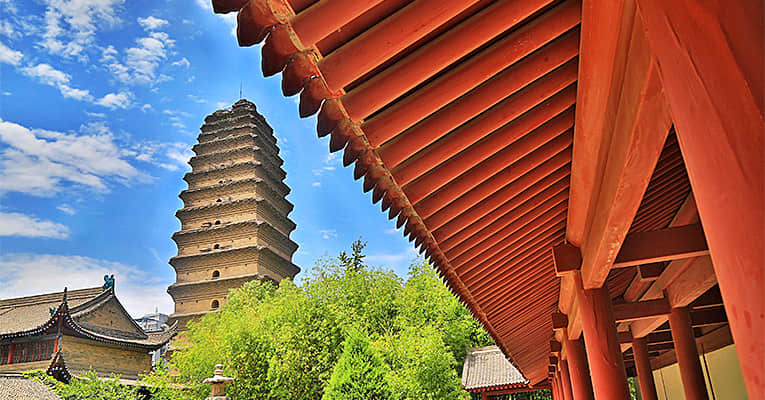 the Small Wild Goose Pagoda
Afternoon
It is time to transfer you to the airport for your flight to Shanghai.
Evening
Upon arrival at Shanghai airport, you will find your Shanghai guide waiting for you outside of the luggage claim area. You will be transferred to your hotel and check in.
Day 9
Shanghai: City Tour (breakfast & lunch)
Morning
Shanghai is a city that will never be forgotten.After having breakfast at your hotel, you will visit Yu Garden , a classical Chinese garden. Lakes, corridors and exquisite houses represent gorgeous architectural skills in olden times. You will step into Yu Market right out of the garden. Souvenirs, snacks, and street artists can be found here. Have lunch at a local restaurant.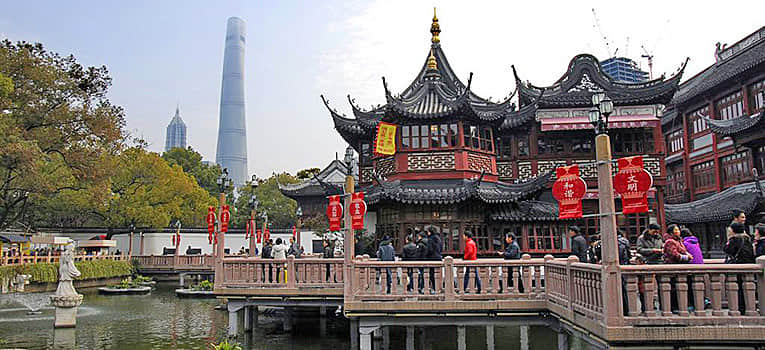 Yu Garden
Afternoon
Pudong is a new developing zone of Shanghai, while original Shanghainese residents mainly live in Puxi area. On the 100th floor of The World Financial Center , you will have a panoramic view of both the Pudong and Puxi sides of Shanghai city. The Bund , Shanghai's symbol, is where to appreciate the international buildings built in the late 18th century. It was the epitome of prosperous old Shanghai. Continue to the Former French Concession to get a bite of Shanghai's old history. Nice restaurants and bars can be easily found here.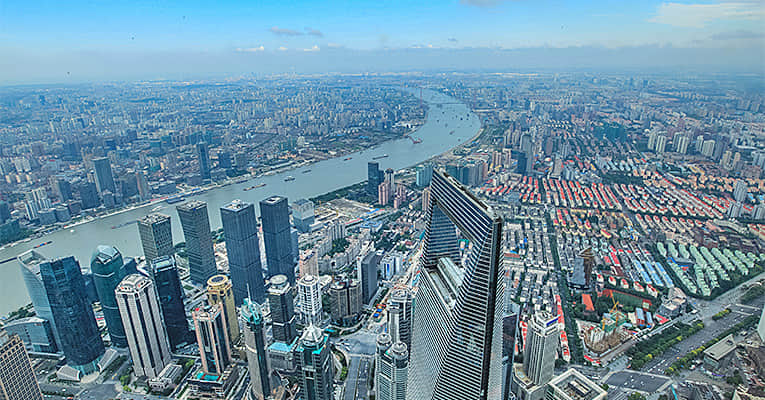 the World Financial Center
Evening
Recommended activity:
1. A live acrobatic show by Shanghai Acrobatic Troupe or another one called 'ERA, Intersection of Time'.
2. Night cruise along Huangpu River to see the beautiful city lights on both sides.
Day 10
Shanghai Depart for Home (breakfast)
Relax and enjoy a leisurely breakfast at your hotel before your guide comes to pick you up. On arrival at the international airport, your guide will help you to check in, and wave goodbye to you at the security home. Service ends.
(Note: you can go shopping at Asia Pacific Plaza which is the biggest fake goods market in Pudong if you have free time in the morning.)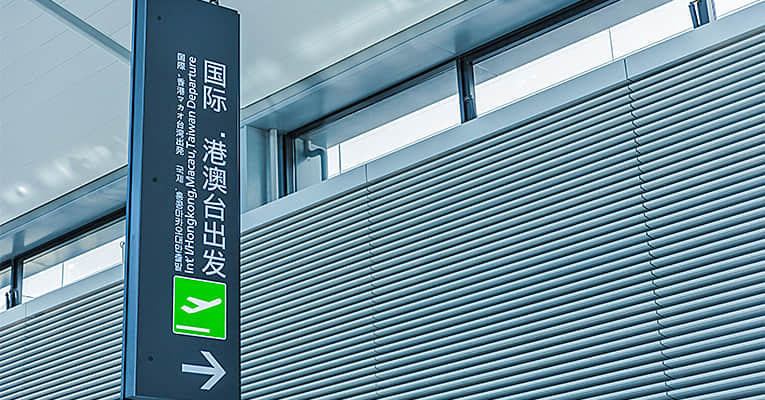 Featured Hotel
| | Comfortable | Deluxe |
| --- | --- | --- |
| Beijing | Penta Hotel Beijing | Regent Beijing |
| Luoyang | Peony Hotel | Hua-Yang Plaza Hotel |
| Xi'an | Grand Noble Hotel Xi'an | Wyndham Grand Xian South |
| Shanghai | Narada Boutique Hotel Shanghai Bund | Radisson Blu Hotel Shanghai New World |
What's Included
Private English-speaking guide and driver
Meals listed in the itinerary
Entrance fee to the listed spots
Accommodation in central-located hotels
Private vehicle with air-conditioning for land transportation
Speed train tickets from Beijing to Luoyang; from Luoyang to Xi'an
Flight ticket from Xi'an to Shanghai
FAQs
1. Will the flight/train tickets be mailed to me?
All air tickets are E-tickets and only passports are required for check-in at airports. While train tickets are issued 1-2 weeks before departure, your tour guide will hand them to you when you arrive in the city.
2. As for the train travel, does anyone help me with the luggage?
Train stations in China have lots of steps and some don't even have a escalator. In this case, you will find it is difficult to deal with heavy bags. We can hire a porter to help you to carry your bags on and off the trains as your guides can't get inside the train station without tickets.