CET-03:

11 Days Beijing - Xi'an - Guilin - Shanghai Tour

This is a trip designed for those who are on their first time in China. You are going to visit the most representative cities located in the east, south, west and north of China. Your first stop is the capital – Beijing – from where you will see the World Cultural Heritage sites and take part in local life. Next you will go to Xi'an which was an ancient capital city for six dynasties. It is famous for the terracotta army and gateway to the Silk Road. And then you will arrive in Guilin. A big difference from Beijing and Xi'an, you will be impressed by the natural landscape and get to know about the culture of the national minority there. Your trip will finish in cosmopolitan Shanghai. It is a reflection of how fast the economic development of China is progressing nowadays. You can also see the multinational complex built in the early 20th century.
Trip Highlights
Visit a local family in the Hutongs of Beijing
Learn Tai Chi at the Temple of Heaven
Jump right into the less crowded section of the Great Wall
Learn dumpling making with a local family of Xi'an
Hike among rice terraces to see the beautiful mountain view
Ride a bike through the countryside near Yangshuo County
Suitable For: School, Family or Friends, Solo, 1st time China Trip
Map of this Trip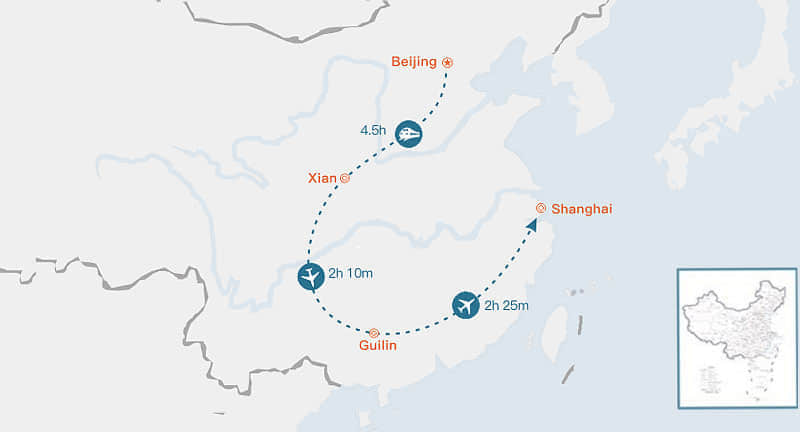 Click to enlarge
Full itinerary for A Classic China Trip from Ancient to Modern
Day 1
Beijing arrival
Welcome to the Far East! You will meet your local guide at Beijing International Airport (PEK) and be transferred to your hotel.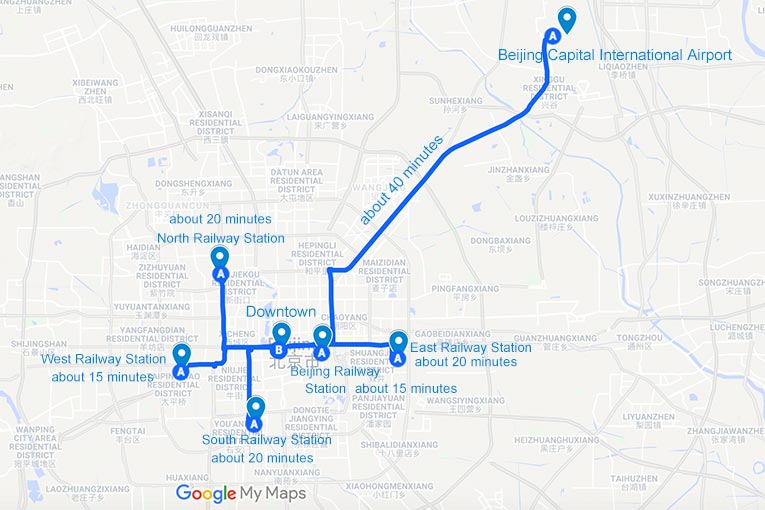 Day 2
Beijing: The Forbidden City and Hutongs (breakfast & lunch)
Morning
After breakfast, our guide will meet you in the hotel lobby. Firstly you will visit Tiananmen Square to take in the history and majestic size of the Chinese government. And then you will get into the famous Forbidden City, which could be the highlight of your day. It is an enormous imperial palace where the royals lived during the Ming and Qing Dynasties, as well as one of the largest and best-preserved ancient wooden structures in the world. You will have lunch at a local restaurant.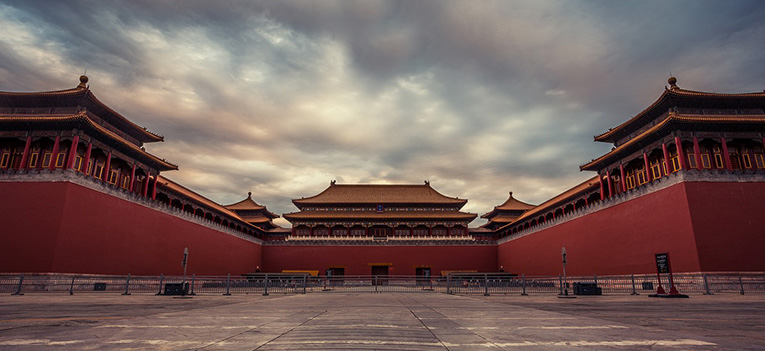 The Forbidden City: a palace complex in central Beijing, China
Afternoon
You are going to visit a local family in the Hutongs to better know the life of old Beijing living in a traditional Chinese courtyard. We will take you back to your hotel after the tour ends.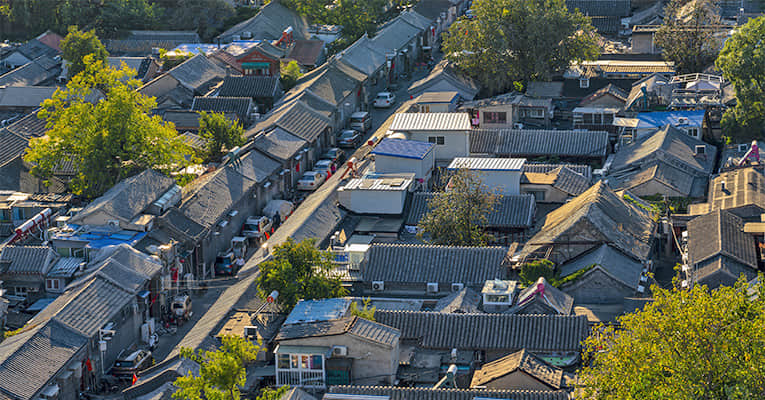 Overlook the Xisi Hutongs in Beijing
Evening
Recommended activity:
1. 'The Legend of Kungfu' premiered in 2004. In contrast to the traditional Kungfu shows, it demonstrates Kungfu through dramatic stories. The group also tours abroad and has a good reputation.
2. 'Acrobatics at Chaoyang Theatre' was founded in 1984. Their performances have won more than 30 awards at home and abroad. "Blue And White Porcelain" (balancing a stack of bowls on the head), which is one of them, was on the stage of the Spring Festival Gala in 2015.
3. Peking Opera is one of five major operas in China and the quintessence of Chinese culture with a history of near 200 years. It was entertainment only for the court in the beginning and then slowly opened to common people as well.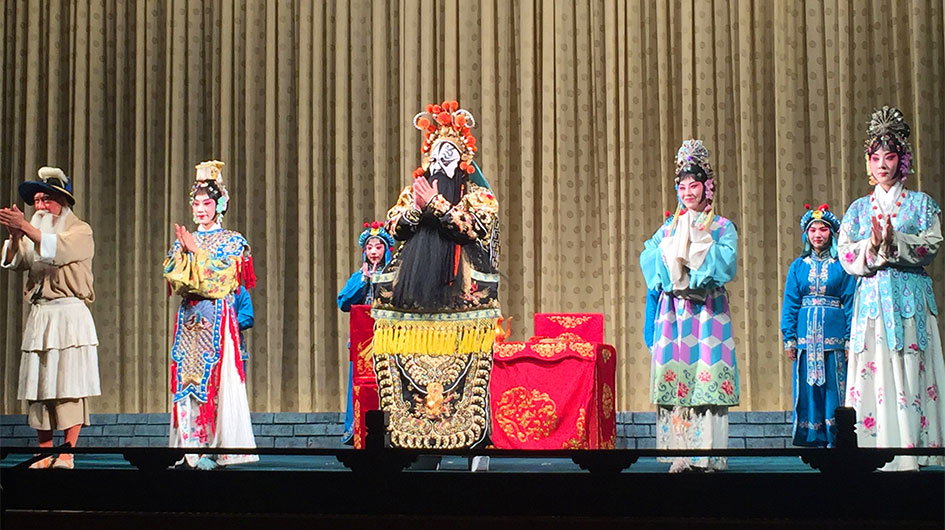 Beijing Opera: Farewell My Concubine
Day 3
Beijing: The Temple of Heaven and The Mutianyu Great Wall (breakfast & lunch)
Morning
Today you will visit the Temple of Heaven after breakfast at your hotel. It was the place where the Emperors of the Ming and Qing dynasties would worship Heaven and pray for bumper crops. Now you will see local people doing morning exercises there and the master will teach you Tai Chi for around 30 minutes. And then you will be transferred to the Mutianyu section of the Great Wall for around a 2 hour drive and have lunch at a farmyard on the way.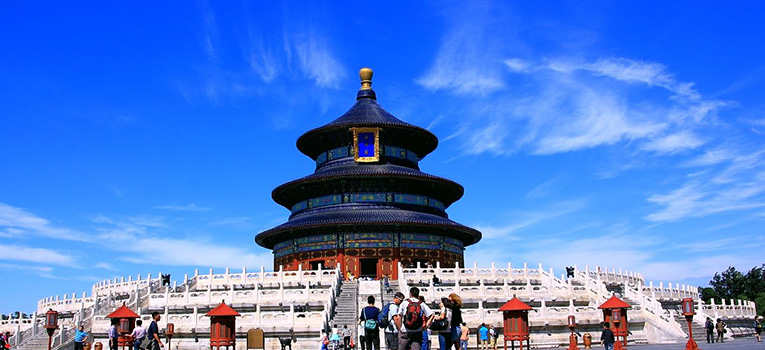 The Hall of Prayer for Good Harvests, Temple of Heaven
Afternoon
Appreciate the spectacular Great Wall. There is a saying that " the long Great Wall, the unique Mutianyu". Standing on the top of the Watch Tower, you can see the wall winding across the ridge and the stunning views in both Inner Mongolia and China proper. You will be back to your hotel at around 17:30.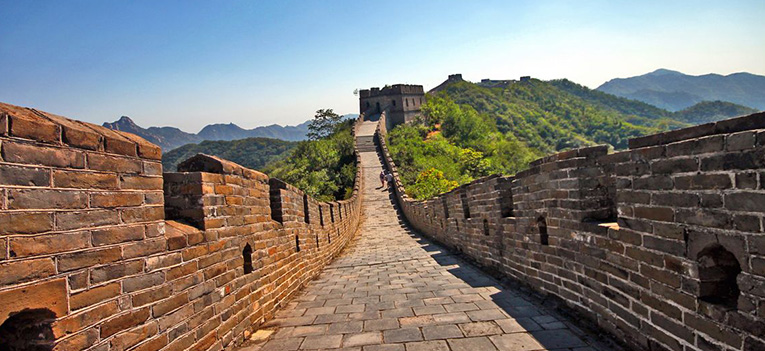 Mutianyu section of the Great Wall
Day 4
Beijing - Xi'an by Bullet Train: Imperial Garden (breakfast & lunch)
Morning
After breakfast, you will go to the Summer Palace, which is one of the outstanding outdoor wonders of imperial China. It retains a liveliness and beauty that stems directly from the shore of the manmade Kunming Lake which you can take a boat ride on from April to October.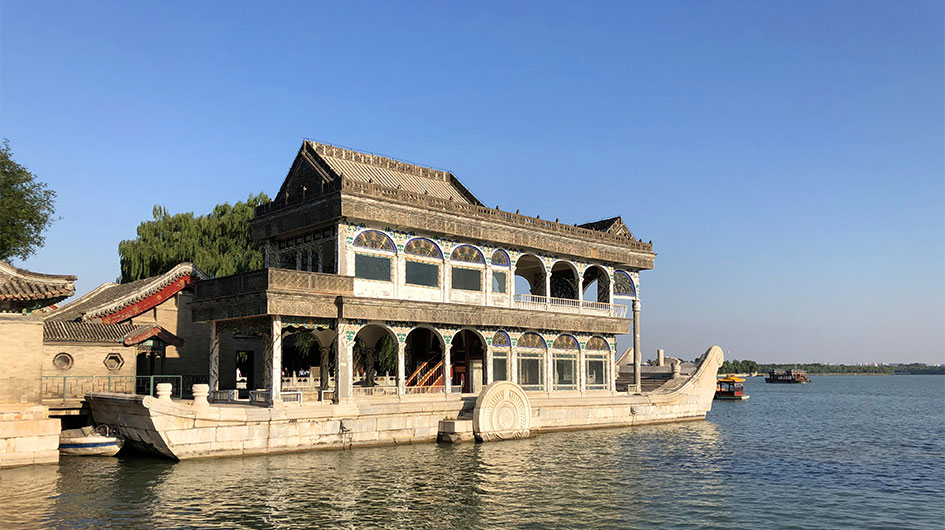 The marble boat in Summer Palace
Afternoon
After lunch at a local restaurant, you will depart for Xi'an by an afternoon bullet train.
Evening
On arrival at Xi'an north railway station, you will meet our guide who will take you to your hotel for checking in. Have a good night.
Day 5
Xi'an: Ancient Relics Tour (breakfast & lunch)
Morning
After breakfast, we will drive you about one hour to see the Terracotta Warriors. More than 8000 soldiers, chariots and horses have been individually carved centuries ago. You will be stunned by this world treasure. Next, you will see a Cave dwelling which is an ancient form of habitation on the loess plateau in northwestern China. It features a harmonious coexistence between humans and nature, as well as being warm in winter and cool in summer. Have lunch nearby.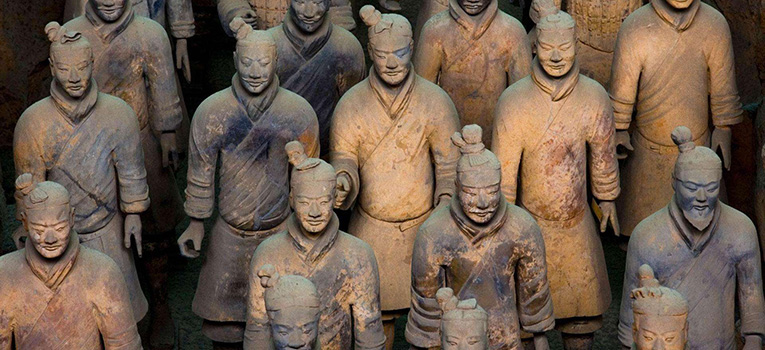 Terracotta Warriors and Horses: Created by China's first emperor, Qin Shi Huang
Afternoon
You will be back in downtown Xi'an to visit the City Wall. It is popular to ride a bike along the wall and see the classic red lanterns that tell you the history of the Wall.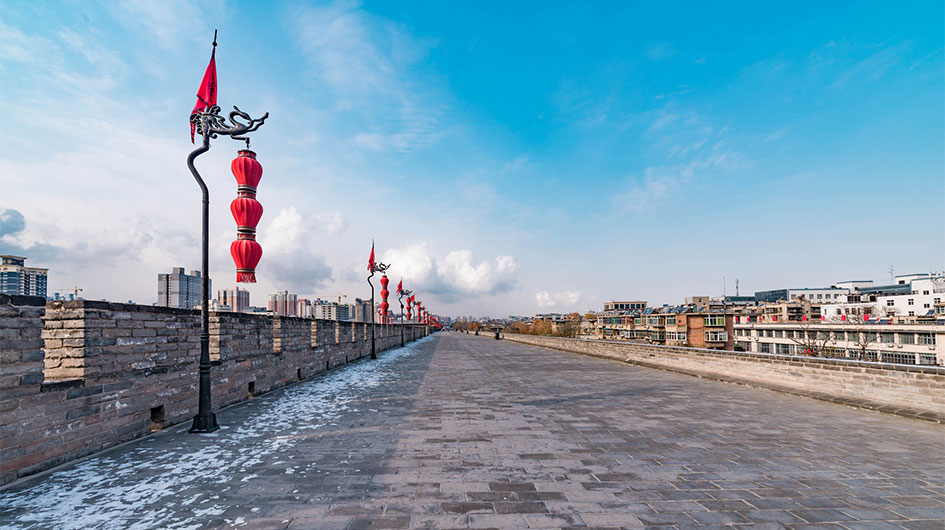 Cycling on the City Wall
Evening
Recommended activity:
1. The music fountain at the north square of Big Wild Goose Pagoda is free to the public. You can stroll around it after dinner to experience local life.
2. 'Tang-Dynasty Palace Music and Dances' is a performance that was re-created by many famous artists in Shaanxi province, displaying the essence of music, rhythm, and dance art in the Tang Dynasty.
Day 6
Xi'an - Guilin by plane: City Tour and Dumpling Making (breakfast & lunch)
Morning
After breakfast, you will go to the Small Wild Goose Pagoda where the Buddhist scriptures brought by the monk Yijing from Tenjiku in the Tang Dynasty are stored. You can stop over at Xi'an Museum if you are interested in the history and development of the Ancient Xi'an City. And then you will have a chance to watch a Shadow Puppets Show, which is a kind of folk drama. It tells stories in silhouettes of characters made of animal skins or cardboard.
The Small Wild Goose Pagoda
Afternoon
You will continue on to visit a local family and learn Dumpling Making. The host will teach you how to make dumplings step by step and you will enjoy eating what you made for lunch.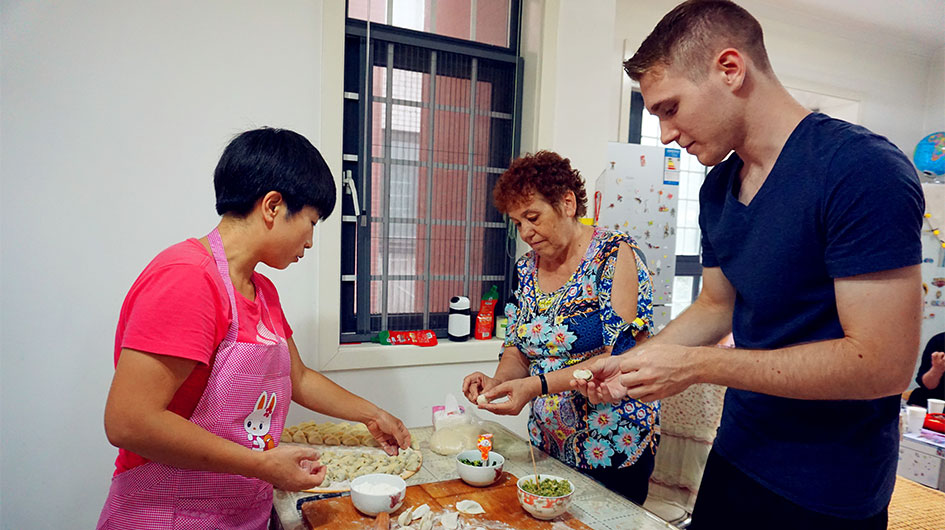 Learn Dumpling Making
All activities end in the afternoon; we will take you to the airport for your late afternoon flight to Guilin.
Evening
Our guide will welcome you at the exit after you arrive at Guilin Liangjiang International Airport. Check in at your hotel and take a good rest.
Day 7
Guilin - Longsheng: Explore Terraced Fields (breakfast & lunch)
Morning
After breakfast, you will go to Longsheng by private vehicle for around 2 hours. Our first stop is Nine Dragons Five Tigers (Jiulongwuhu) which is one of the viewing platforms located on the mountain top of Ping'an Village. From there, you can see a picture of nine dragons and five tigers formed by rice terraces. Go down to Ping'an Village for lunch and take a short break.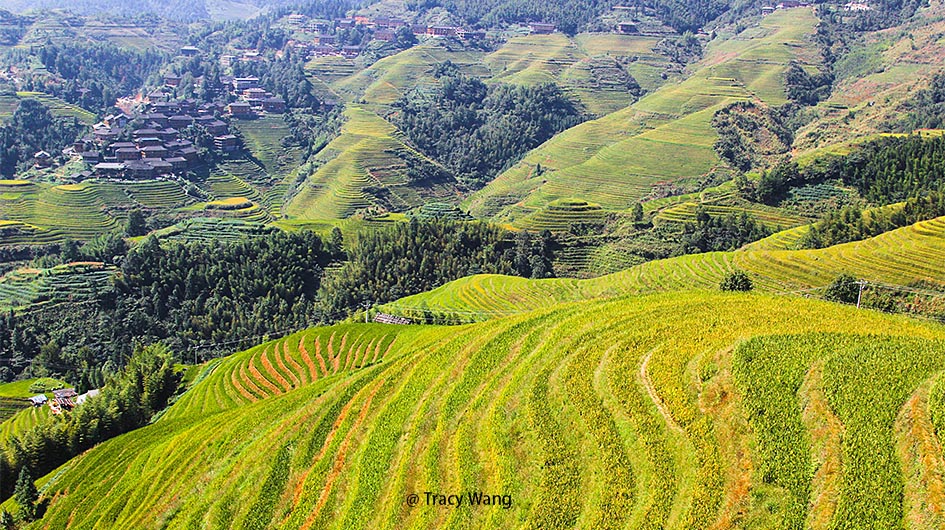 Afternoon
You will climb up to another viewing platform called Seven Stars around the Moon (Qixingbanyue) (20 minutes hiking from Ping'an Village). The picture you will see from this angle is seven stars accompanying a moon. En-route during your hike, you can see the Yao women with their hair grown to spectacular lengths. A woman is willing to show you how long her hair is and how to put her hair into a bun again if you are interested.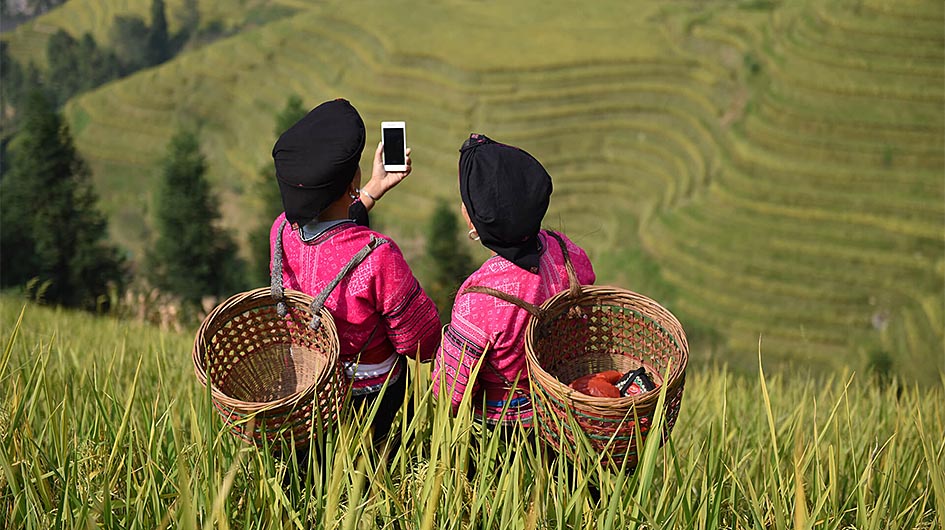 Seven Stars around the Moon in Spring, Longji Rice Terraces
We will drive you back to Guilin in the late afternoon. Dinner is by your own arrangement.
Day 8
Guilin - Yangshuo: Amazing Landscape along Li River and Biking in the Countryside (breakfast & lunch)
Morning
After breakfast, our guide and driver will pick you up at 08:30 and take you to Zhujiang pier for boarding your boat, departing at 09:30. It sails from Guilin down to Yangshuo for around 4 hours. This is a real highlight in Guilin. You are going to see water buffalo, mountain goats, rice paddies, and people fishing and washing their clothes in the river. A simple lunch is served on board.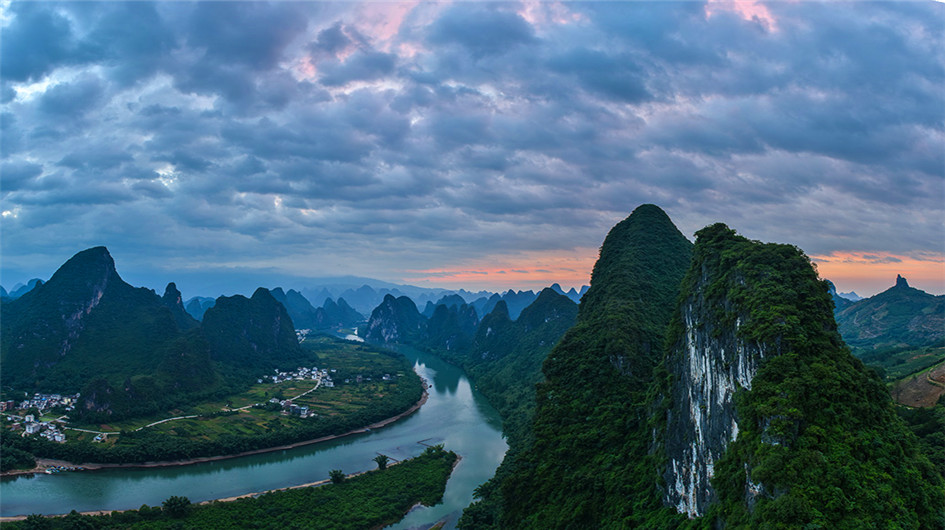 Afternoon
After lunch, you will disembark at Yangshuo and explore the countryside areas by cycling. The roads are surrounded by rice paddies and Karst hills. You can easily get to the places where the cars cannot reach, and stop anywhere you want, talking to the locals, and enjoying the rural scenery at a leisurely pace. (Note: we can also arrange for you to tour around by car slowly if you have physical issues.) Check in at your hotel after you finish the trip.
Evening
Recommended activity:
1. Impression Sanjie Liu Show uses the Li River as the stage and the mountains as the backdrop to give audiences a visual feast performed by more than 600 actors.
2. Yangshuo West Street is the oldest street, with a history of more than 1,400 years, which is attractive to a lot of foreigners. It becomes alive with pubs and clubs open at night.
Day 9
Yanghsuo / Guilin - Shanghai by Plane: Cooking Class (breakfast & lunch)
Morning
Firstly the cooking class begins with visiting a local food market after breakfast. You will have a chance to learn about the local diet. After heading back to the classroom, you start cooking for yourself following the teacher's steps. There are 3 dishes and the recipes will be given to you so that you can make it at home. Enjoy eating what you cooked for lunch.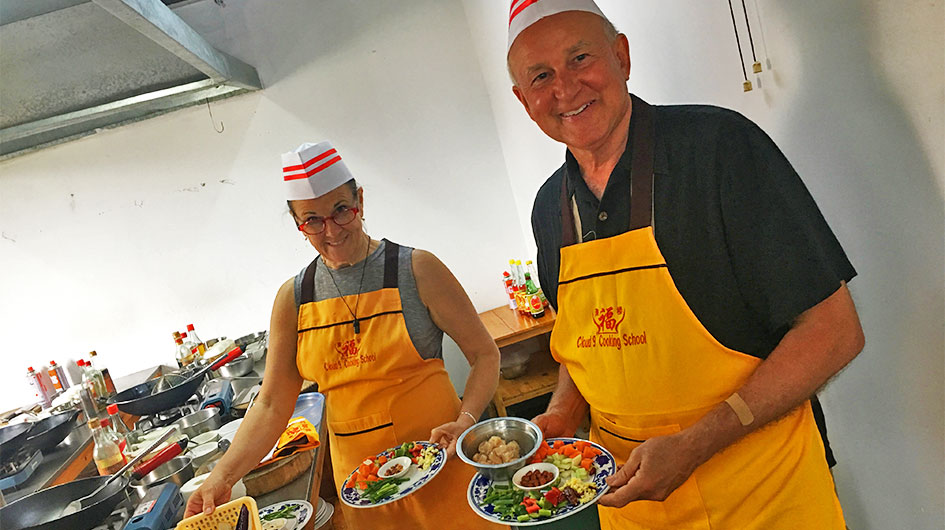 Yangshuo Cooking Class
Afternoon
After lunch, we will transfer you to the airport for your flight to Shanghai. In the later afternoon, our guide and driver will meet you at Shanghai airport. Go to your hotel for checking in.
Day 10
Shanghai: City Tour (breakfast & lunch)
Morning
After breakfast, our guide and driver will pick you up at the hotel lobby. Then we arrive at Yu Garden, which was a private garden in the southern classical style built in the Ming Dynasty. Step outside of Yu Garden, you will see Yuyuan Bazaar, where you can find clothing, snacks, souvenirs, jewelry, gold. After that, we will go to Pudong New Area to view the modern skyscraper complex. Standing on the 100th floor of the World Financial Centre, you will be surprised how fast China has been developed. The bird's-eye view from the sky bridge tells you that the city never ends. Across Huangpu River, you will arrive at the Bund, where the multinational classic buildings complex is. Have lunch at a local restaurant.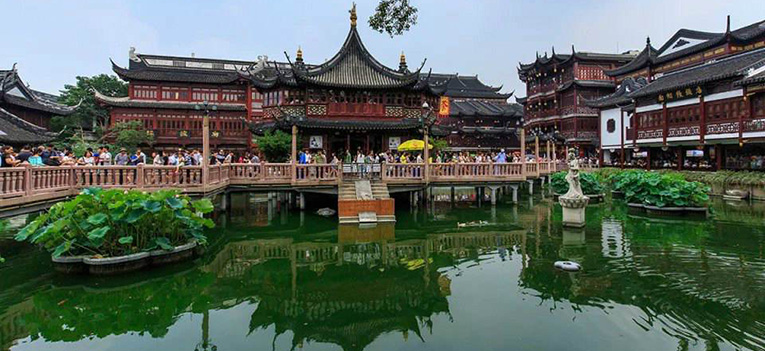 The Yuyuan Garden
Afternoon
We will take you to an interesting place, Xin Tian Di, where there is a combination of Chinese culture and western culture in architectural styles. It is close to the business street of Huaihai Road, which is walking distance to the Old French Concession. You can spend half a day strolling around this area to appreciate a piece of history.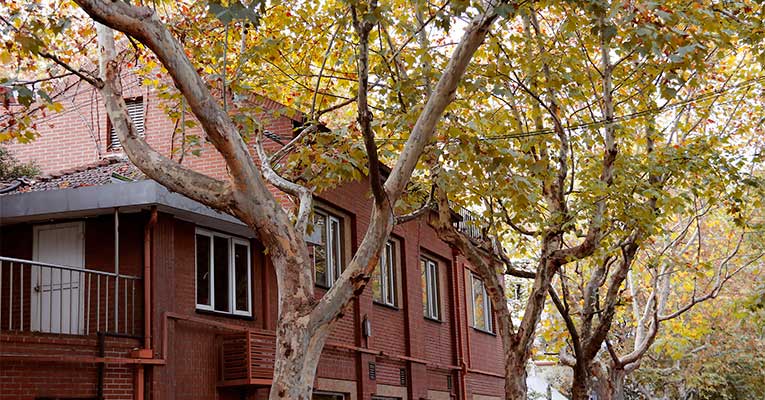 The Old French Concession
Evening
Recommended activity:
1. A live acrobatic show by Shanghai Acrobatic Troupe or another one called 'ERA, Intersection of Time'.
2. Night cruise along Huangpu River to see the beautiful city lights on both sides.
Day 11
Shanghai - Home by Plane (breakfast)
Morning
Your personal guide will meet you at the hotel lobby and take you to the airport at least four hours before your flight departure. Our guide will help you with check-in and see you off at the security check.
(Note: you can go shopping at Asia Pacific Plaza, which is the biggest 'fake' goods market in Pudong, if you have free time in the morning.)
Featured Hotel
| | Comfortable | Deluxe |
| --- | --- | --- |
| Beijing | Penta Hotel Beijing | Regent Beijing |
| Xi'an | Grand Noble Hotel Xi'an | Wyndham Grand Xian South |
| Guilin | Guilin Bravo Hotel | Sheraton Guilin Hotel |
| Yangshuo | Green Lotus Hotel Yangshuo | Yangshuo Resort |
| Shanghai | Narada Boutique Hotel Shanghai Bund | Radisson Blu Hotel Shanghai New World |
What's Included
Airfare from Xi'an to Guilin and Guilin to Shanghai
Bullet train ticket from Beijing to Xi'an
Hotel accommodation located in city central
Sightseeing cruise ticket from Guilin to Yangshuo
Entrance to attractions listed in the itinerary
Meals as included in the itinerary
Private English speaking tour guide
Private vehicle with licensed diver
What Our Customers Say On This Tour
FAQs
1. Is tipping expected and is there a usual amount?
Tipping is not mandatory however the guides and drivers, as in many other countries, will usually expect a tip. Our suggestion would be: 1 person RMB 150-200/day, 2 people in a group RMB100 day/person, 3-5 people in a group: 50-70 RMB /day/person, 6-9 people in a group:40-50 RMB /day/person, ≥10 people in a group: 20-30 RMB /day/person. The driver would be half the amount, and a separate offer to each is best. Of course, only tip if the service has truly satisfied you.
2. Do we get the same guide for the entire trip?
To make sure that your tour guides are the local experts for each destination, you will have a different tour guide in each city. Upon arrival in a city, you will be greeted by your personal tour guide at the airport/train station. He/she will accompany you till your tour is completed in that city by saying goodbye to you at the airport/train station. All our tour guides are well selected and trained based on CET service standard. I will ensure excellent tour guides for you to make your trip worry free.