BJ-04:

4-Day Beijing Royal Highlights with Great Wall

Follow the emperors' footsteps to discover their accommodation, gardens, theater, office and royal life. See how the traditional Chinese culture has influenced Chinese people for hundreds of years.
Trip Highlights
Explore Jinshanling Great Wall, the original and quiet section.
Stroll in the Forbidden City, experience the Emperors' life.
Boat ride on Kunming Lake, wander round the royal garden.
See the Flag- Raising Ceremony in Tiananmen Square
Suitable For: School, Family, Solo
Full itinerary for Beijing Tour with Royal Life Discovery
Day 1
Welcome to Beijing, the Capital city of China
Welcome to Beijing! Your personal tour guide will be waiting for you at the arrival hall of Beijing Capital Airport (PEK). You will meet your guide with a CET sign after you reclaim your luggage. Your tour guide and driver will transfer you to your hotel. You can relax and recover from jet leg for the rest of the day.
Day 2
Royal Life Discovery: Forbidden City, Hutong and Tiananmen Square (B,L)
Your tour guide will meet you at the hotel lobby after breakfast. Mineral water and a city map will be provided by your personal guide. You will have lunch in a local restaurant. You can choose your own dishes with help from the guide's suggestion.
You are going to discover the Emperor's life:
Forbidden City: No visit to Beijing would be complete without a visit to the Forbidden City. This immense site contains hundreds of individual buildings, several dozen courtyards, formal gardens, and a number of exhibits of royal artifacts. It was the home of Chinese Emperors in two dynasties for nearly 500 years, as well as the seat of government. The architecture is stunning, and there are numerous stone carvings, statues, and oddities.
Tiananmen Square: Tiananmen Square is for sure one of the most famous and historical squares in the world. This huge square is a must see. There is the National Museum of China, Mao mausoleum, and the gate to the Forbidden City. All those buildings tell you that here is the heart of China.
Hutong Tour: Walking is a fun way to explore these old traditional neighborhoods. You'll walk through mazes of narrow streets & alleys filled with dwellings of all shapes & sizes, from single story units to multi-family compounds. The tour ends inside the home of the matriarch of a large multi-generation compound. The host will let you wander about the tiny rooms and answer questions about life in a Hutong.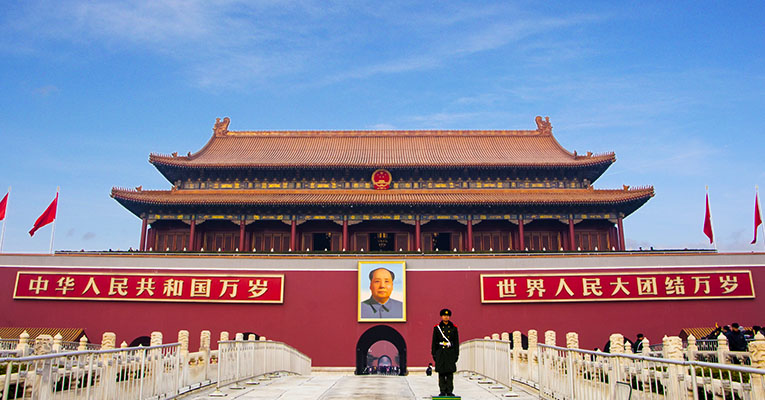 Tiananmen Square
Good to Know:
Peking Roast Duck is the most famous dish in Beijing. You can ask your Travel Specialist to put it into your itinerary. Or your tour guide in Beijing can give you the best suggestions.
To continue the cultural discovery, optional night shows are recommended: Kungfu Show, Peking Opera and Acrobatic Show.
Day 3
Great Wall Adventure (B,L)
Today is a highlight of your Beijing tour. Prepare comfortable shoes, hat, sunglasses and sun cream. It's a long day, your tour guide will meet you around 8AM and you will be back to the hotel around 6PM.
Jinshanling Section of the Wall: Jinshanling Great Wall is about 2.5 hours' drive from the center of Beijing. If you have seen the wall on TV and have been put off by huge crowds, then this is the best part of the wall for you to visit as there is nobody else. It's very quiet, and you only pass other visitors occasionally, but the infrastructure at the entry point suggest that it may not be like this forever. The official route from west to east takes around 3 hours of leisurely walking, though there is quite a bit of ascending and descending, but it is possible to walk beyond these entries and exit points if you want a longer walk.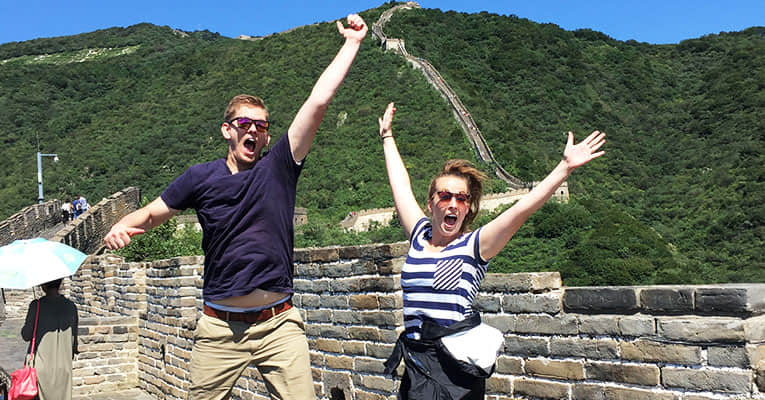 Our Customers in the Great Wall
Why Jinshanling Great Wall?
See what our previous customers said:
'This was the sixth part of the wall that I have visited and the most spectacular and quiet one.'
'We have been to two other spots on the Great Wall, one very commercial and the other mainly reconstructed, so this was the REAL Great Wall, the one I wanted to see.
'This was a bucket list wish and now it's accomplished. We were incredibly lucky as there were so few people. This section of the wall is partly rebuilt so moderate fitness is necessary.
Good to know: If you prefer to do a full day hike, you can take the one day hiking tour from Gubeikou Great Wall to Jinshanling Great Wall. Please ask your Travel Specialist to tailor made this for you.
Add on: Have a stop and take picture of Olympic Park on the way back to your hotel.
Day 4
City Highlights & Departure (B,L)
Today is the highlight of your city tour. You tour guide will pick you up from the hotel in the morning. After the city tour sightseeing and lunch, the guide and driver will transfer you to the airport based on your flight schedule.
Summer Palace: The Summer Palace is a beautiful place to wander through, with lakes, numerous buildings, boat ride, gardens, impromptu music, the longest corridor in the world (listed in the Guinness Book) with thousands of painted frescoes on the ceiling and support beams. There is a lot of history here from the Ming and Qing Dynasties, but you can appreciate it just for its beauty and escape from the city.
Temple of Heaven: The Hall of Prayer for Good Harvests is the principal building in this complex, but the Imperial Vault of Heaven runs a very close second. These are beautiful buildings, brilliantly constructed given the technology available at the time. Throughout the complex there are interesting historical exhibits. This is also the social meeting place for local dwellers to have a chat and meet friends. There are tai-chi classes, with groups of singers, sketchers and people generally enjoying themselves.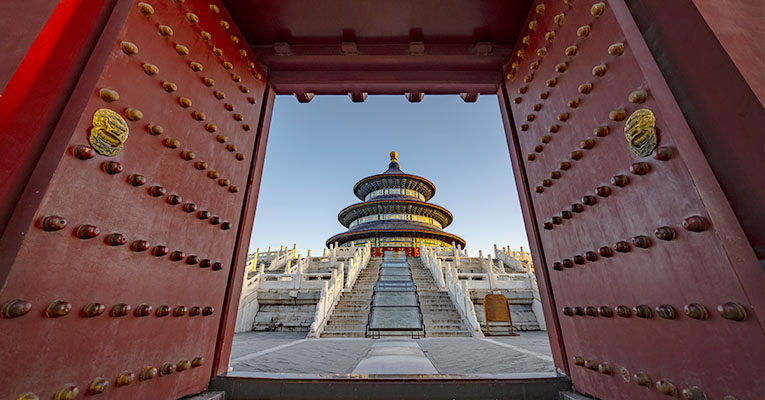 Temple of Heaven
Good to Know:
Do you want to do some big shopping before you leave Beijing? Go to Wangfujing Shopping Mall and Xiushui Silk Market.
What's Included:
Entrance fees to the attractions as listed in the itinerary.
3 night's central located hotel.
Private car and driver.
Mineral Water & City Map
Excellent private English-speaking guide.
China Life Tourist Accident/Casualty Insurance.
Government taxes & fees.
Hotel Options:
Standard Accommodation: King Parkview Hotel
Comfortable Courtyard Accommodation: Beijing Sihe Hotel
Deluxe Accommodation: Beijing Marriot Hotel City Wall
Luxury Accommodation: The Peninsula Beijing