BJ-06:

7-Day Tour to Learn Beijing's Rich Cultures

Visit Beijing from a cultural perspective. Experience China's long history and rich culture by learning language and calligraphy, anticipating tea ceremony, practicing Taichi and making dumplings.
Trip Highlights
Learn Chinese greeting phrases from your personal guide
Study Chinese traditional tea culture
Tai Chi practice in Temple of Heaven
Visit a local Kindergarten and interact with lovely little kids
The top number 1 Chinese university
Make dumplings with local people in Hutong
Experience the most populated subway system
Suitable For: School Students, Chinese Cultural Lovers
Full itinerary for Beijing Educational Tour
Day 1
Beijing Arrival
Upon arrival at Beijing Capital International Airport (PEK), your personal tour guide will be waiting for you outside of the luggage claim area with your name sign. You will be transferred to your hotel by your private car. Have a good rest and be ready for a great tour.
Day 2
Forbidden City Heritage Walk and Hutong (B,L)
Enjoy a leisurely breakfast in your hotel. Your guide will teach you some simple Chinese phrases for greetings on the way to the world-famous Forbidden City. Forbidden City (Imperial Palace or Imperial Museum) is the largest imperial palace in the world. It was built in 1420 and was home to 24 emperors in the Ming (1368–1644) and Qing (1644–1911) Dynasties. Your professional commentator will show you around with a tour that is off the beaten track. He has studied this palace for years. He will take you to some secret areas in the palace and tell you interesting stories about the emperor's life and the background history. It is about a 4-5 hours' walk with several short breaks. This is a small group tour but your personal guide will be waiting for you at the end point and take you to lunch. Order something you have always wanted to try at your first Chinese meal with help from your guide. Visit the neighborhood in Hutong alleys on foot. Interact with people in one of the houses. The local people have been living here for generations and are still living in a very traditional lifestyle. At the end of the tour, make a short stop at a local tea house to learn about this most traditional and popular Chinese drink.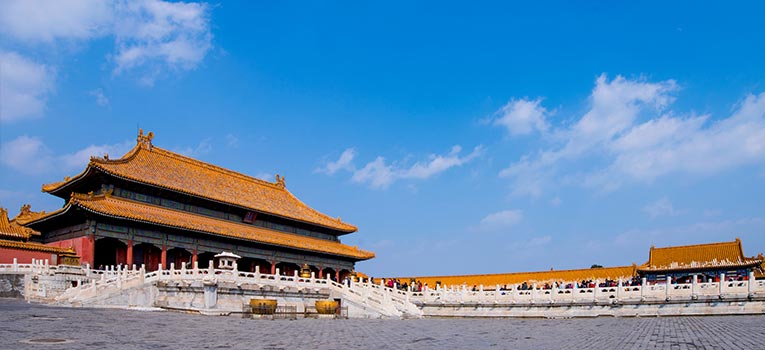 Forbidden City
Free time ideas:
Wangfujing Pedestrian Street, just a few blocks away from your hotel. It is interesting and safe to stroll around the night snacks market.
Kungfu Show in Red Theatre, the most popular evening entertainment. Your guide could help with the reservation.
Day 3
Hiking Great Wall (B,L)
Learn some most-used Chinese phrases from your guide on the way to the Great Wall. After about 1.5 hours' driving, you will arrive at the best-selected Mutianyu Section. It is a better-preserved section with fewer crowds. The Wall winds 1.4 miles through lofty mountains and high ridges. The cable car takes you up to the top and you could then start to hike along the Wall further east or west. You could choose to take the cable car down or slide down by a toboggan ride. Lunch today is served in a garden restaurant owned by local farmers. Feast on fresh meat, vegetables and fruit juice to delight your taste buds. In the afternoon, visit a Cloisonné Factory. Cloisonné handcrafts have always been the most popular decorations for royal families in Chinese history. You will learn the whole process about how it is made.
Mutianyu Great Wall in Autumn
Day 4
Taichi Experience and Chinese Calligraphy (B,L)
After breakfast, your guide and driver will transfer you to the Temple of Heaven. Have a tour around the park to admire this architectural masterpiece. Then meet the Taichi master. You will get a full demonstration of Yang Style Taichi, and have the chance to try every movement. Taiji originates from Taoism philosophy. It concentrates on how to control qi (Consciousness) energy in human body, so as to balance Yin and Yang. The movement is slow but powerful.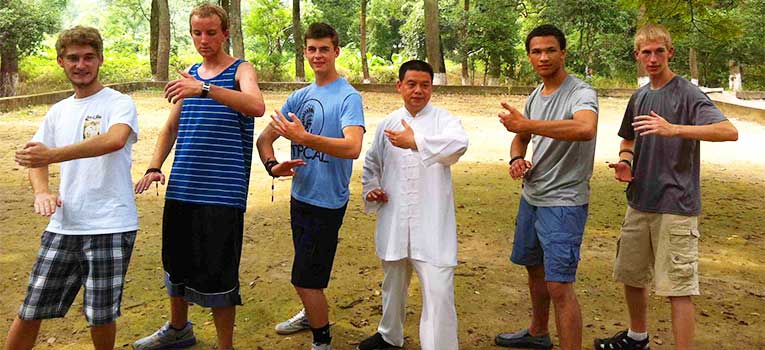 Taiji Learning
The tour continues to visit a local kindergarten in Gaobeidian Village, a 1000-year history but modern Chinese village. Take a look at a Chinese kindergarten, the lovely kids will sing songs and dance to welcome you. Play with them and you will feel like you are back in childhood. Then join an interesting class to learn Chinese calligraphy. Chinese square characters are formed with different strokes of dot, horizontal, vertical, left-falling stroke, right-falling stroke, turning stroke, and hook stroke. You will gain a basic idea of how these are drawn with Chinese painting brush. In the late afternoon, visit 798 Art Zone to appreciate some modern artwork.
Day 5
The Summer Palace and China's top university (B,L)
The Summer Palace is the best-preserved imperial garden. It was first built in 1750 and rebuilt in 1860 and 1900 after being destroyed by invaders. It is a masterpiece as the man-made houses, corridors, gardens and marble boat are in great harmony with natural lakes and hills. Continue your travel to China's TOP university, Peking University. Built in 1898, Peking University was the very first comprehensive university in China. It is the ultimate goal of all Chinese students.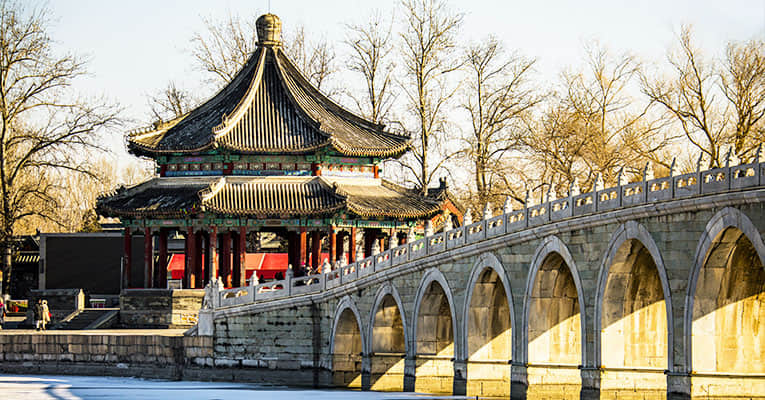 The Summer Palace in Winter
Good to know: We will choose another famous university if Peking University is closed to visitors due to some unexpected reasons beyond our control.
Day 6
Subway Experience (B,L)
Be ready for the most crowded subway in the world. You will travel like a local and gain some fun experience. Your guide has prepared a Subway Day Pass for you when meeting you in your hotel in the morning. The departure time would be after 9:00am to avoid the rush-hour. The first stop is Yonghe Lamasery, a nice and quiet place to walk around. You will learn a lot about Chinese Buddhism theory, especially Tibetan Buddhism. A 55 feet tall wooden Buddha statue is displayed in the main hall. Just across the street from Yonghe Lamasery, you will find The Temple of Confucius and Guozijian Museum. Confucius' Temple was where people worshipped Confucius during the Yuan, Ming and Qing Dynasties. Guozijian Museum (Imperial Academy) was the only university in ancient China. It is located near Hutongs with no crowds. The not-touristy and museum-like rooms give you an insight into Confucius and the old Chinese education system. Take the subway back to your hotel before it gets over crowded.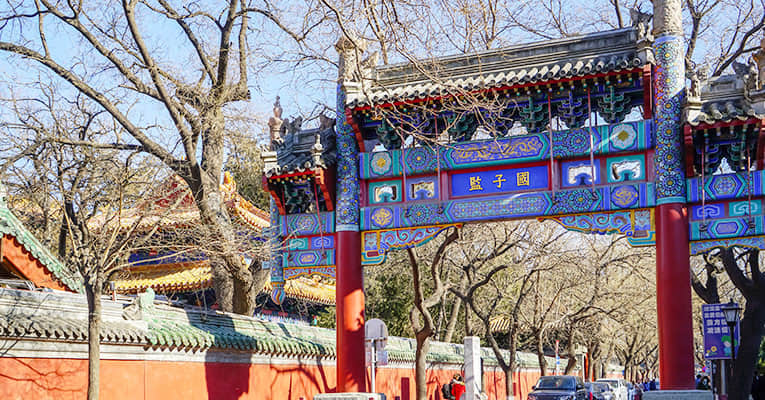 Guozijian Museum
Day 7
Beijing Departure (B)
After breakfast, your guide and driver are ready to transfer you to the airport for your flight to the next destination.
What's Included:
Entrance fee to scenic spots listed
Meals mentioned in itinerary
Private transfers between the airport, attractions, and hotels
Hotel accommodation with breakfast
Experienced tour guide and driver service throughout the trip
Hotel Options:
Standard Accommodation: King Parkview Hotel
Comfortable Accommodation: Beijing Hejing Fu Hotel
Deluxe Accommodation: Shangri-La Hotel Guilin