BJ-07:

6-Day HSK Training and Cultural Tour

HSK (Hanyu Shuiping Kaoshi), known as the Chinese Proficiency Test, is an international standardized test of Chinese language proficiency. It assesses non-native Chinese speakers' abilities in using the Chinese language in their daily, academic and professional lives.

This tour combines Chinese learning, cultural exchange, and visiting historical sites. As they indulging in the learning journey, students will better appreciate the charm of the Chinese language, and experience this remarkable, immense culture as they continue to learn Chinese.
HSK Lessons:
We work with professional training organizations. Each student will do a placement test, and then a feasible study plan will be made based on the result. Chinese essential factors and the laws of language formation are to be illustrated in the course. At the same time, a teacher will summarize the types of questions and exam tips. In this period, students are instructed with comprehensive training, such as words, grammar, oral language, reading, and writing.
This course is scheduled for 9:00 to 11:30 each morning with 2 short breaks. It starts on the second day in the itinerary, making a total of 4 sessions. It can be tailored to be longer or shorter according to your needs.
Trip Highlights
Having an advanced test to make a learning plan for students
Dividing into different classes for personalized training
To explore the fascinating Chinese history in UNESCO World Heritage Sites
Have a picnic on the Great Wall
Enjoying an evening view of the Beijing Olympic Park
Suitable For: School, Organization, Students, Learning Chinese
Full itinerary for Chinese Language Learning Tour in Beijing
Day 1
Land in Beijing, admire the traditional architecture (B, L, D)
A bilingual tour guide and a driver will wait for you at your landing airport to pick you up, and they will drive you to your hotel. After a little rest, visit the Forbidden City including the Treasure Gallery and the Hall of Clocks. Leaving the Palace Museum, you can go straight to Tiananmen Square. Later visit the Hutong area on foot to experience the unique culture of Beijing.
Good to know:
The Forbidden City has jealously protected the royal palace since the Ming and the Qing Dynasty, and it is the best preserved ancient complex of the wooden structure. The various decorative details and the architectural layout vividly display traditional Chinese construction. A lot of priceless antiques are kept there which illustrate the great achievement of artworks.
Tiananmen Square: A city square renowned throughout the world, at its center is the Monument to People's Heroes and Chairman Mao Memorial Hall. The overall effect is magnificent and has a pleasing symmetry.
The Hutong is a system of criss-cross alleys connecting traffic arteries and the residences of Beijing locals. By walking is an easy way to discover the appeal of the Hutong.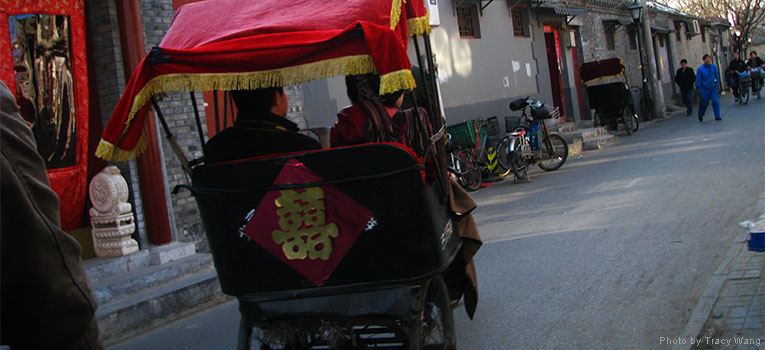 the Hutong area
Day 2
Visit Peking University for a cultural exchange (B, L, D)
After the morning class is finished, we go to Peking University in the afternoon and continue on to a High School to engage in some cultural exchange activities.
Good to know:
Peking University, as one of the world's top universities, has a glorious history and record of achievements. It presents tranquil scenery with academic ambience, such as Weiming Lake, Boya Pagoda, Centennial Lecture Hall and Jingyuan Meadow.
Cultural Exchange: This is a chance to make connections with local high school students. The activities include having a lesson with Chinese students and engaging in a friendly sporting match.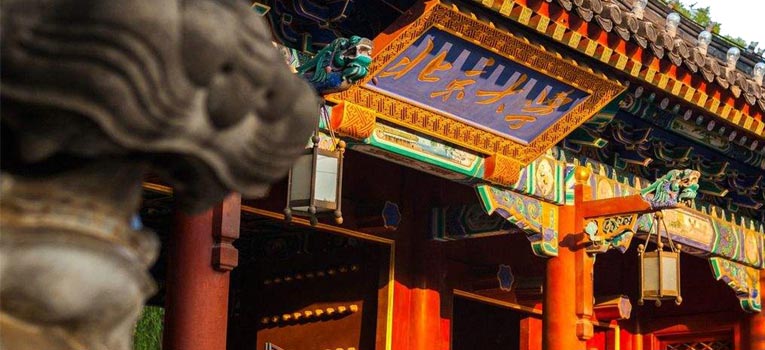 Peking University
Day 3
Explore Beijing Zoo and the Summer Palace (B, L, D)
On this afternoon, you will explore Beijing Zoo to understand more about the precious animals in China. Then, enjoy the idyllic sights of the Summer Palace.
Good to know:
Beijing Zoo, China's biggest zoo in the city, has a more than 100-year history. The zoo has about 500 species, including pandas, golden monkeys, Siberian tigers, moose and the red-crowned crane.
The Summer Palace is listed as a UNESCO World Heritage Site. The historical attraction mixed with picturesque sightseeing help visitors to visualize imperial life in ancient times.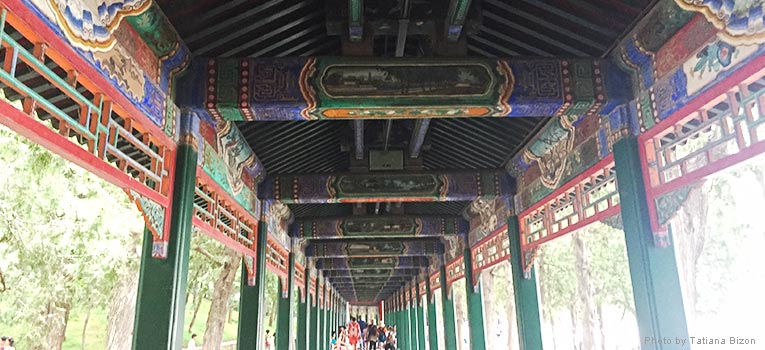 The Summer Palace: Long Corridor
Day 4
Temple of Heaven, then hang around in Houhai (B, L, D)
Drive to the Temple of Heaven and explore, learning things about the traditional culture you might not have known before. As night falls, enjoy an evening walk in Houhai.
Good to know:
Temple of Heaven is an imperial altar, complete with sacrificial building complexes. It has preserved the ceremony of sacrifice for heaven, ritual vessels, and musical dance. It is a historical attraction that integrates ancient ceremony, history, astronomy, and music.
Houhai is a part of Shichahai Scenic Area that features Beijing traditional architecture, such as Nanluoguxiang Alleys and former residences of past celebrities. The attractive area is a great place for leisure and entertainment. If you have a passion for nightlife or music, it is the best place to see the evening sights.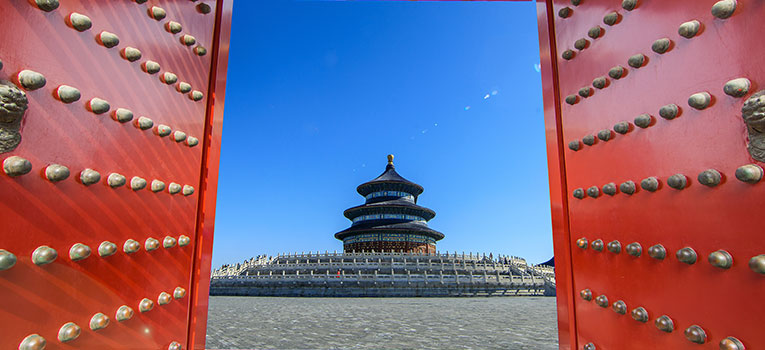 the Temple of Heaven
Day 5
Hike on the Mutianyu Great Wall and walk in the Olympic Green (B, L, D)
Leave for Mutianyu Great Wall, you can go up by cable car, and go down with the slideway, and shuttle buses are available en-route. It is an easy way to admire the natural beauty and splendid culture of Mutianyu Great Wall. Then, we will go to the Beijing Olympic Park. In the sports function area of the park, you can visit the outline of Bird's Nest Olympic Stadium, Water Cube, and Olympic Center Gymnasium.
Good to know:
Mutianyu Great Wall: This section of Great Wall is less crowded than others. It is surrounded by mountains and plants. The outstanding views are varied in different seasons, for example, there are colorful flowers in spring, and a chain of freshly greened mountains in summer.
Tips: Please go to the washroom before entering the scenic area, because it is hard to find one in there.
The Olympic Green: This Park built for Olympic Games of Beijing in 2008 covers an area of 1,159 hectares. The complex of contemporary buildings boast unique architecture. At night, the lights and colors illuminate the whole park, making it a perfect place for an evening walk.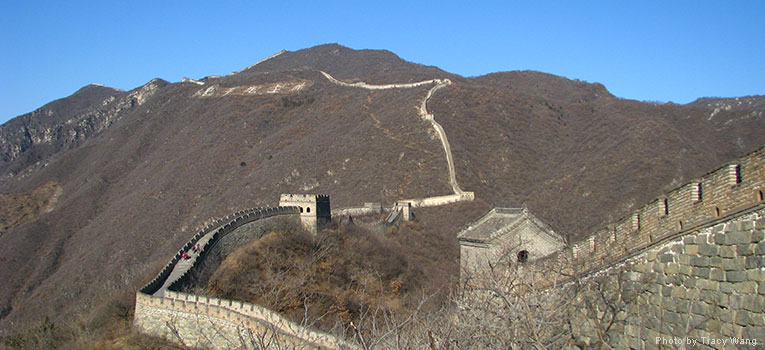 Mutianyu Great Wall in Winter
Day 6
Enjoy your free time, and farewell Beijing
In the morning, you have free time to stroll around. In the afternoon, our tour guide and a driver will wait for you at your hotel in time. Then, they escort you to the airport earlier, in case of traffic jams on the way.
What's Included:
4 HSK training course
Professional bilingual guides
Drivers and air-conditioned vehicles during this trip
Entrance fees listed on the itinerary
Comfortable accommodation arranged or according to your requirements