ST-01:

13 Days Guilin - Sanjiang - Longsheng - Xi'an - Beijing Tour

This trip gives you a close look into the daily life of Chinese people, while addressing some key points of the Chinese language. For the first week, you will complete studies in Mandarin and Chinese Culture at Guilin Chinese Learning Institute. You will also be able to spend time with students in a Sanjiang primary school. During this study period, you will still have time to personally experience the beauty of the Guilin landscape by bamboo rafting and hiking. In the second week you will get a glimpse of the very ancient and attractive Chinese history, as well as the rich culture in what was once the capital - Xi 'an - and the capital in the present - Beijing.
Trip Highlights
Immerse yourself in Chinese learning under the instruction of a professor
Have classes together with a national minority in Sanjiang
Take a bamboo raft along the Li River to admire the essential part
Climb up Longji mountain to enjoy the spectacular rice fields
Take a close look at the thousand-year old Warriors
Hike on the wild Great Wall to see the un-restored scene
Suitable For: Schools, Students, Educational Organizations
Full itinerary for China Culture Exchange and Language Learning Tour for Students
Day 1
Guilin Arrival
Upon arrival at Liangjiang International Airport, you will be met and transferred to your hotel. (Note: If you like, homestay is also available.)
After a short rest, you will participate in a comprehensive orientation program with the CLI (Chinese Learning Institute) Team. It will help you to become familiar with the learning environment and how to maximize your language learning.
Day 2
Guilin: Chinese Learning (breakfast, lunch & dinner)
Morning
After breakfast, you will join a 4-hour small group Chinese class about Chinese Language and Culture, presented by professor Zhan, our full-time CLI instructor. Lunch in the school's dining room. You can communicate with other students during lunch break.
Afternoon
Calligraphy and painting class is given by a classically trained local master. You can learn how to write Chinese characters and draw a picture with a Chinese brush pen. Using a brush pen to write or paint is a big challenge, even for a Chinese person. Welcome dinner at Shui Mofang Restaurant with CLI Team.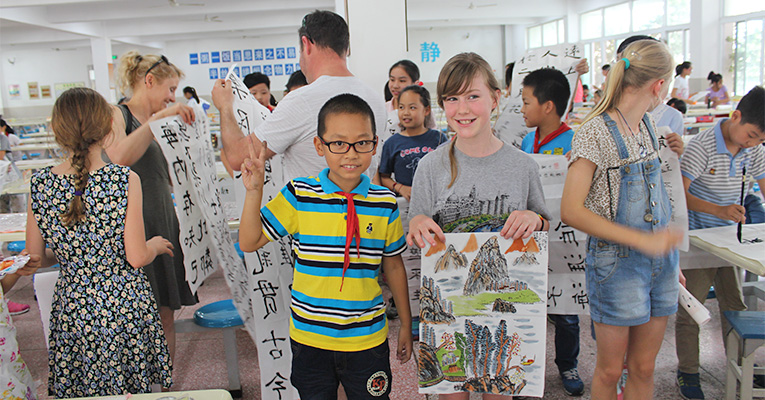 Calligraphy and Painting
Day 3
Guilin: Chinese Learning (breakfast, lunch & dinner)
Morning
Continue your study. This class involves all the skills of reading, writing, speaking, grammar, listening, pronunciation, and vocabulary. Have lunch at school.
Afternoon
You can go out for exploration! We will take you to a traditional Chinese medicine market. You will be surprised by the functionality of these plants. The rest of the day is free on your own. Dinner will be served at a local restaurant.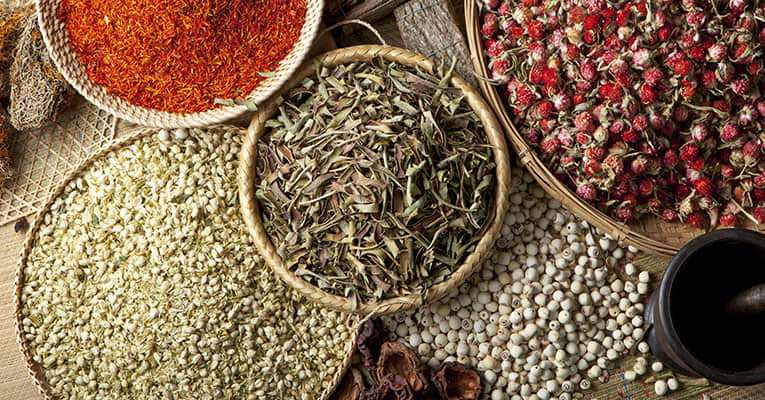 Chinese Medicine in the Market
Day 4
Guilin: Li River (breakfast, lunch & dinner)
Morning
Today is going to be your highlight. The Li River was selected as one of the world's top 10 watery wonders by America's National Geographic magazine, who quoted on their official website: "China's Li River snakes through a fairy-tale landscape of conical limestone peaks, its smooth waters exquisitely mirroring the magical scenery." Firstly we will drive you, for around 1.5 hours, to the dock of Yangdi. Your Bamboo raft tour starts from there and usually takes about 1 hour with some stops at the river bank. Relaxing on the motorized bamboo raft and breathing fresh air are the most pleasant experience. It is a good way to get closer to the river. If you're lucky, you'll see a cormorant fisherman, and water buffalo wading in the shallows.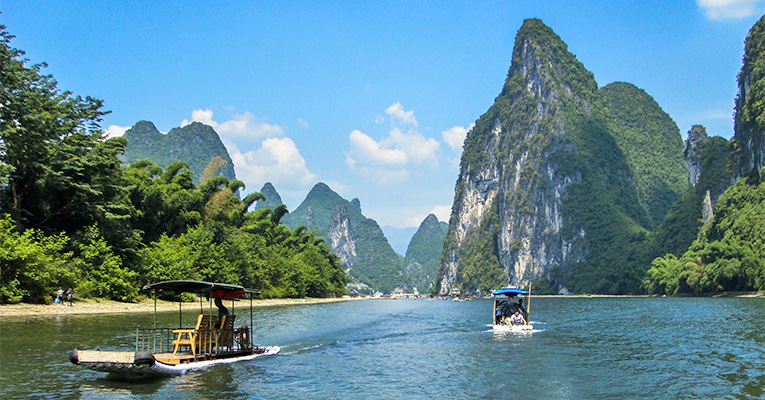 Bamboo Raft on the Li River
Note:
1. Children who are less than 7 years old or below 1.2 meter height, and seniors over 70 years are not allowed to take the bamboo raft.
2. The motorized bamboo rafting is not available during floods along Li River.
After landing on the bank, you will be transferred to Xingping, a thousand year old fishing village. A delicious lunch will be served in a local restaurant.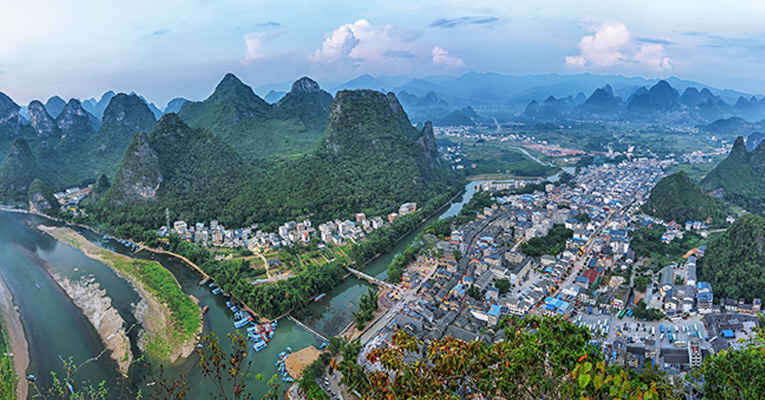 Xingping
Afternoon
After lunch, you can explore this ancient village. Walk along the old stone street which is more than one kilometer long, you will see all kinds of brick and tile structures of the ancient buildings. And there are many fancy coffee shops, restaurants and souvenir stores. We will take you back to Guilin after finishing the tour.
Day 5
Guilin – Sanjiang by Speed Train: Learning Exchange at School (breakfast, lunch & dinner)
Morning
After breakfast, your Guilin tour guide will take a short speed train ride to Sanjiang with you. Sanjiang is a Dong Autonomous County. On arrival, you will visit a primary school, starting with touring the campus. You will have a general idea about the background. Have lunch at school.
Afternoon
You will have a class with local students, and play games as well. The exchange will highlight the educational difference between the east and the west. Dinner will be arranged at a local restaurant.
Day 6
Sanjiang – Guilin by Speed Train: Learning Exchange (breakfast & lunch)
Morning
Today you will continue the learning exchange program. Lunch is at school.
Afternoon
Say goodbye to your friends. You will take a later afternoon speed train back to Guilin.
Day 7
Guilin/Longsheng: Longji Rice Terrace (breakfast & lunch)
Morning
Meet your guide at the hotel lobby, you will start a fresh day touring Longji Mountain. It takes around 2.5 hours by road to reach Longsheng. Firstly you will arrive in Longji Ancient Zhuang Village, which is a well-preserved minority village recently opened to tourists. Around 700 ethnic residents still live by the most traditional customs and in the way of farming. Have a leisurely walk through the village, talk with the local people and visit Zhuang Culture Museum. Have some tasty local food for lunch.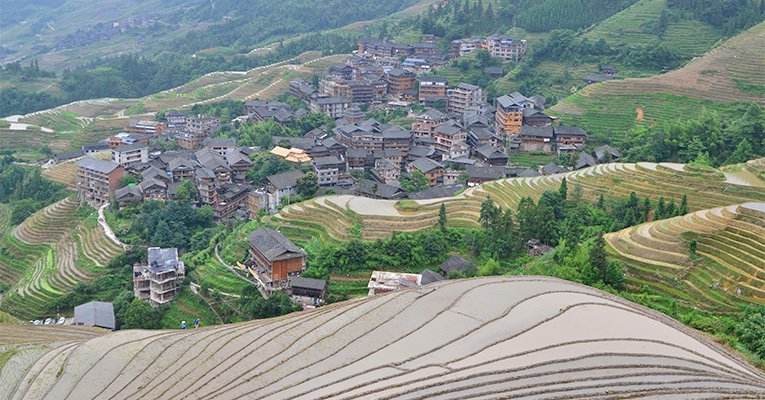 Afternoon
Continue to hike all the way to Ping'an Village for about 2 hours. Mind your step. You could also hike up to the top to have a panoramic view of the famous Dragon Backbone Terraces. Or just sit and relax on the side of the rice terraces. Sleep tight at night and be ready for the next day's longer hiking.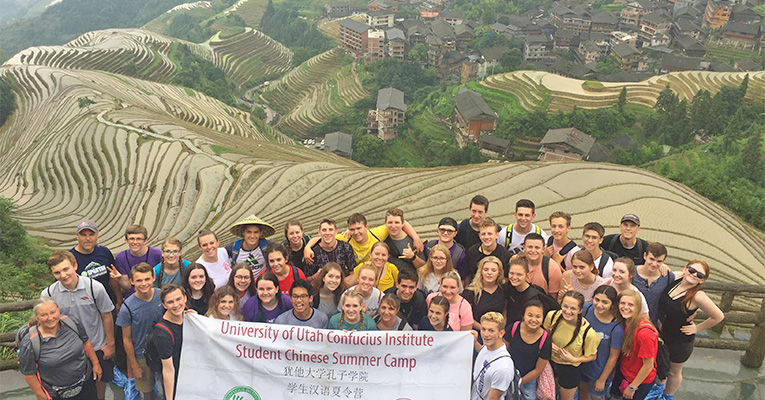 Day 8
Longsheng/Guilin – Xi'an by Plane: Hiking on the Mountain (breakfast & lunch)
Morning
Start the 5-hour hike after breakfast. Your guide leads you all the way from Ping'an Village to Dazhai bypass Zhongliu village. The hiking route has been well explored and most of the roads are paved with stones. The road will take you to different viewing platforms for great panoramic views of the rice terraces. Have a break on the way and have your boxed lunch. You can also talk with the locals.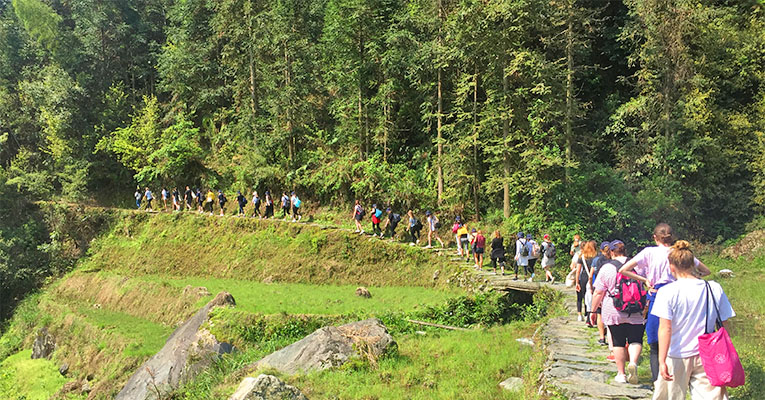 Hiking on the Longji Mountain
Afternoon
Hiking from half way up to the foot of the mountain, you will reach your destination, Dazhai Yao Village. It is different from Zhuang Village in dressing style and local dialect. You may visit one of the locals to see how they make oil tea, a popular healthy tea. A visit to the local primary school is also available if it is school term time. Meet your driver at the parking lot. We will send you to the airport for your late afternoon flight to Xi'an.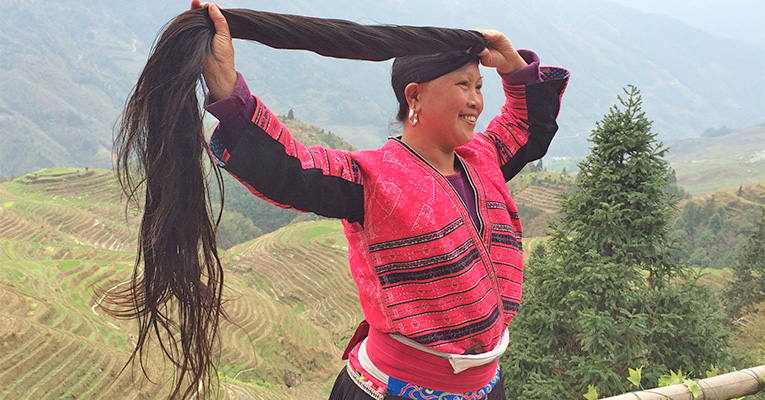 Yao Woman with Her Long Hair
Evening
After arrival in Xi'an airport, you will meet your tour guide and be escorted to your hotel. Have a good rest after checking in.
Day 9
Xi'an: City Highlights (breakfast & lunch)
Morning
After breakfast, you will head to Lintong, about 35 km from Xi'an city, to visit the world-wide famous Museum of Terracotta Warriors and Horses. Pit 1 is the largest with more than 6,000 full-scale terra cotta warriors and horses. The facial expressions of the warriors can be very clearly seen, even though they have been buried for more than 2,000 years, and each one is individual. After that, you will go to visit a Cave Dwelling. They only exit in the loess plateau of northern China, which has hard, sticky soil suitable for building the caves against the mountains or under the ground. It is warm in winter and cool in summer. There are still around 40 million people living in this type of house today. You can try authentic north Shaanxi flavored food for lunch.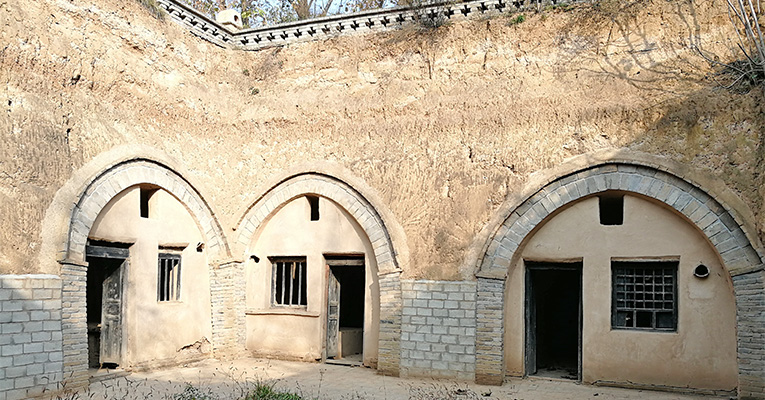 Cave Dwelling
Afternoon
You will be back to the city where the Muslim Quarter is located. It is the hub of the Muslim community in Xi'an City. The Muslim food and souvenir markets are the main features of this area. Walking along the streets provides an authentic experience of local people's life style. In the heart of the quarter, there is the Great Mosque which is one of the largest Islamic mosques in China. Remarkable for the combination of Chinese architecture with Islamic practice, the courtyards align from east to west facing Mecca. This is an active place of worship for the Hui descendants of Silk Road traders and travelers.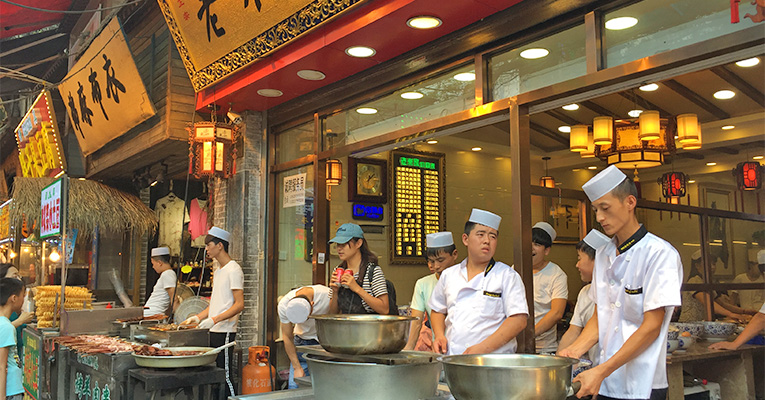 Stalls in Muslim Quarter
Evening
Recommended activity:
1. The music fountain at the north square of the Big Wild Goose Pagoda is free to the public. You can stroll around it after dinner to experience local life.
2.Tang-Dynasty Palace Music and Dances is a performance that was re-created by many famous artists in Shaanxi province, displaying the essence of music, rhythm, and dance art in the Tang Dynasty.
Day 10
Xi'an – Beijing by Speed Train: the Ancient City Wall(breakfast & lunch)
Morning
Cycling on the Ancient City Wall to start the day. This is the best preserved ancient city wall in China, as well as being one of the largest ancient military defensive systems in the world. It was built initially during Tang Dynasty (618 - 907) and enlarged by Zhu Yuanzhang, the first emperor of the Ming Dynasty (1368-1644).You will have early lunch today to catch the speed train departure at 13:30.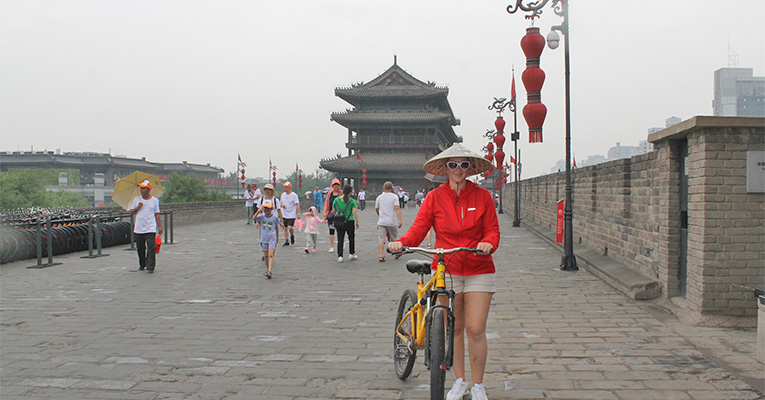 Cycling on the Ancient City Wall
Afternoon
China's rail system has been developed with the very latest technology. High speed trains make people's life more convenient as it shortens traveling time. Today you will experience China's most advanced trains. It takes 4 hours and 25 minutes to travel around 1100 kilometers. On arrival at Beijing West Railway Station, you will meet your tour guide holding a welcome sign with your name on it. The guide and driver will take you to your hotel.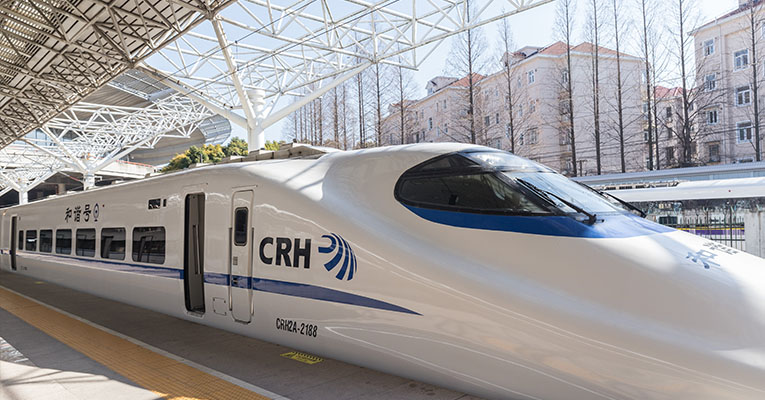 HEXIEHAO High Speed Train
Day 11
Beijing: the Wild Great Wall Hiking (breakfast & lunch)
Morning
After breakfast, you will be picked up at your hotel at 8:30 am and drive to Jinshanling Great Wall. It is located about 130 km from downtown Beijing. Hike from the east section of Jinshanling Great Wall to the General Tower, which is quiet, picturesque, and natural. The un-restored section is original as it was. It is a nice place to explore the Great Wall in Beijing. The trip hike is about 6 km and takes about 3 hours. Each tower has its unique features and appearance. Have a picnic lunch.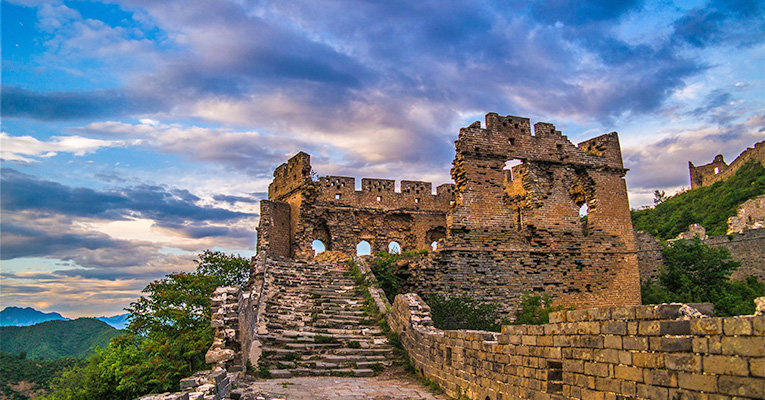 Afternoon
Continue hiking on the wall before returning to your hotel. It is suggested that you bring some snacks due to the late lunch. Our experienced hiking guides spend 200 days per year hiking on the Great Wall. They promise you a memorable experience that will last a life time.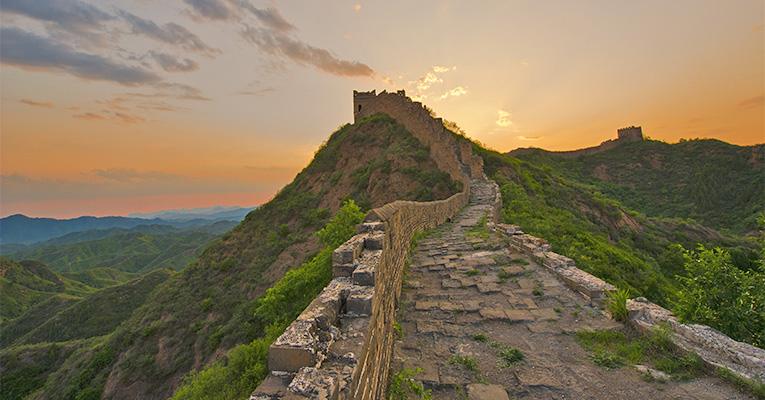 Day 12
Beijing: City Highlights (breakfast & lunch)
Morning
Today's tour starts from the world's largest urban city square, Tiananmen Square. It has witnessed many historical and celebratory events. From there, you will enter the best-preserved imperial palace, the Forbidden City. It was firstly built in the Ming Dynasty and took 14 years to construct. It was the palace for twenty-four emperors through the Ming and Qing Dynasties. The bricks on the floor were made of sticky rice and pig's blood. The huge wooden pillars in the halls were transported from the far west. It is a tour that represents imperial life. Your lunch will be served in a local noodle restaurant and you will try the most popular food among northern Chinese, noodles with minced meat sauce.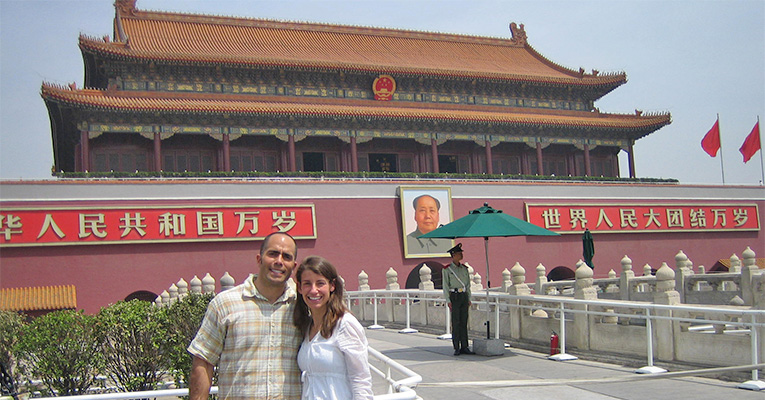 Tiananmen
Afternoon
It is a leisurely trip to visit the Summer Palace, which is the largest imperial gardens in China. With its perfect layout, magnificent buildings and enchanting landscape, the Summer Palace is also reputed to be the most splendid classical garden in China. It has greatly influenced Chinese horticulture and landscaping. All the privately owned gardens in eastern China have copied its design and layout.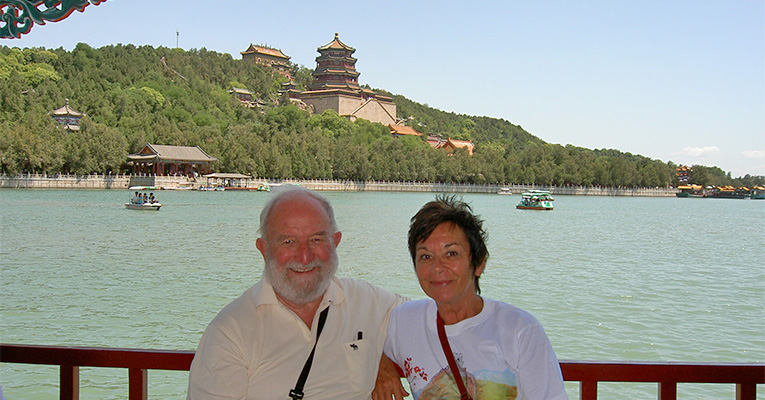 the Summer Palace
Evening
Recommended activity:
1. The Legend of Kungfu premiered in 2004. In contrast to the traditional Kungfu show, it demonstrates Kungfu through dramatic stories. The group also tours abroad and has a good reputation.
2. Acrobatics at Chaoyang Theatre was founded in 1984. Their performances have won more than 30 awards at home and abroad. "Blue And White Porcelain" (balancing a stack of bowls on the head), which is one of them, was on the stage of the Spring Festival Gala in 2015.
3. Peking Opera is one of five major operas in China and the quintessence of Chinese culture with a history of nearly 200 years. In the beginning it was seen as entertainment only for the court and then slowly opened to common people as well.
Day 13
Beijing Departure (breakfast)
Be packed, ready for home and bring back lots of good memories. Your personal guide will pick you up from your hotel lobby and take you to Beijing Capital Airport (PEK) 3 hours in advance, based on your flight's schedule.
Featured Hotel
| | Comfortable | Deluxe |
| --- | --- | --- |
| Guilin | Guilin Bravo Hotel | Sheraton Guilin Hotel |
| Sanjiang | Home stay Sanjiang | Home stay Sanjiang |
| Longsheng | Longji Ping An Hotel | Longsheng Li An Lodge |
| Xi'an | Grand Noble Hotel Xi'an | Wyndham Grand Xian South |
| Beijing | Penta Hotel Beijing | Regent Beijing |
What's Included
Chinese learning courses in Guilin
School activities with local students in Sanjiang
Accommodation with daily breakfast
Speed train tickets from Guilin to Sanjiang; from Sanjiang to Guilin; from Xi'an to Beijing
Flight ticket from Guilin to Xi'an
Authentic Chinese food listed in the itinerary
Professional private English speaking guide
Overall ground transportation with air-conditioned private vehicle
All entrance tickets listed in the itinerary
What Our Customers Say On This Tour
- Murray Cameron Mayoral Management Ltd. New Zealand