CD-04:

5-Day Chengdu and Mt. Emei

Sichuan has so much to offer: hot pot, mahjong, pandas, Shu culture and also important Buddhist sites. The Leshan Giant Buddha is one of them, Mt. Emei with many temples is another. Check them out on this amazing 5-day tour!
Trip Highlights
Relaxing stroll in small lanes
Learn about the life of the Giant Panda
Boat ride to admire the Giant Buddha
Buddhism tour at Mt. Emei
Suitable For: School, Family or Friends, Solo
Full itinerary for Discovery from Chengdu to Mt. Emei
Day 1
Arriving in Chengdu
After claiming your luggage, meet your private guide at the arrival hall of the airport. The 30-minute ride in a private vehicle will take you to the hotel. Your guide will help you with check-in and ensure the room is the right one for you.
Day 2
Wuhou Temple, Dufu Cottage, Panda Breeding Center, Local Tea House
Chengdu in a nutshell. Expect an early rise to watch the pandas have breakfast at the Panda Breeding Center which is about 30 minutes away from the city center. More than 100 pandas live here in the ecological park, more are bred here. Head back to the city for lunch, then visit the city highlights Wuhou Temple and Dufu Cottage. These attractions reflect the people and events of Sanguo, or "The Three Kingdoms", and the Tang Dynasty, which are important periods in China's history. The day is not complete without a cup of hot tea at a local tea house. Do as the locals do to enjoy a leisurely break.
Wuhou Temple
Day 3
Leshan Giant Buddha (with a 15-minute boat cruise), Mt. Emei (including Baoguo Temple)
Pack a small bag for an overnight stay in Mt. Emei. Spend the morning at the Leshan Giant Buddha, which is about 2 hours away from Chengdu, to appreciate the hard yet skillful work done by the monks of the Tang Dynasty. It took 90 years to finish this 233-feet tall stone statue of Maitreya in the hopeful belief that it would calm the three rivers meeting here. A short boat cruise is included to view the Giant Buddha as a whole and from a different angle. After lunch in a nearby restaurant, head westwards for an hour to get to Mt. Emei Scenic Area. Baoguo Temple sits at the foot of Mt. Emei, is the largest of its kind in the Scenic Area, and attracts lots of believers praying for good fortune. Sleep the night at the foot of Mt. Emei.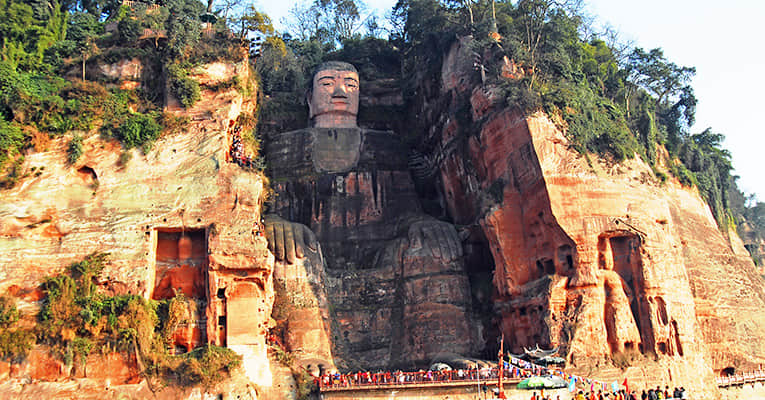 Leshan Giant Buddha
Day 4
Wannian Temple
After a big breakfast, take the public shuttle bus for about 30 minutes to get to Wannian Temple which is located on the waist of Mt. Emei. An easy and convenient cable car will take you up to Wannian Temple, the most ancient temple at Mt. Emei where Samantabhadra is worshipped. Chinese traditional temples and an Indian style temple imitating Thermal Temple can be found as well as plenty of stone inscriptions. Take a light trek from Wannian Temple to Wuxiangang parking lot, passing Qingyin Pavilion, Yixiantian and the Monkey Eco Area. You may not want to mess with monkeys here as they regard themselves as the masters of the Mountain. Do not feed them nor open your bags to avoid attacks for food. A vegetarian lunch can be served in Wannian Temple or a standard lunch down the Mountain. After lunch proceed to the route to get back to your hotel in Chengdu.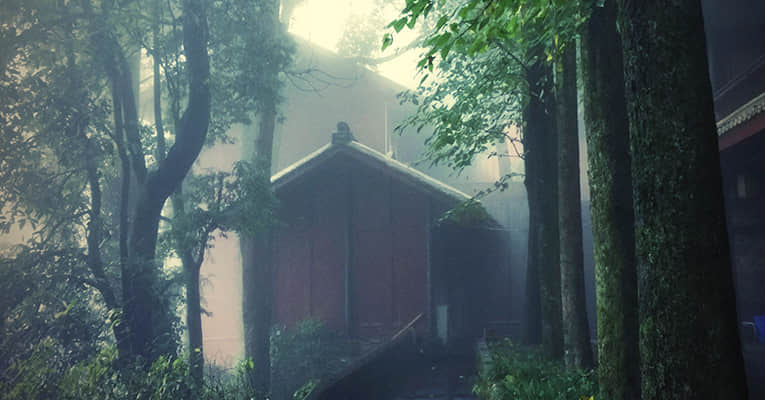 A Corner of Wannian Temple
Day 5
Leaving Chengdu
Pack up your suitcases for your flight out of Chengdu. Your tour guide and driver will ensure a safe ride to the airport and see you off there.
Hotel Options:
| City | Comfortable | Deluxe |
| --- | --- | --- |
| Chengdu | Tianfu Sunshine Hotel | Tibet Hotel Chengdu |
| Mt. Emei | Emeishan Grand Hotel (Block 3) | Hongzhushan Hotel (Block 8) |
What's Included
4 nights selected hotel accommodation
All sightseeing & entrance fees as described in the itinerary
Local English speaking tour guide
Overland transfer with private driver
Cable car as described in the itinerary
Meals as listed in the itinerary
China Life Tourist Accident/Casualty Insurance