Beijing Weather in September
Apart from when there might be a sudden temperature rebound, the temperature becomes more moderate and the rainfall abates in September. The air gradually becomes drier.
| | | | | |
| --- | --- | --- | --- | --- |
| | Average Maximum | Average Minimum | Highest Maximum | Lowest Minimum |
| ℃ | 30 | 22 | 39 | 16 |
| ℉ | 86 | 71.6 | 102 | 60.8 |
Sunny Days: 15 Days
Cloudy Days: 10 Days
Rainy Days: 5 Days
What to wear and bring?
In early September: Summer temperatures sometimes suddenly return in September, and sunblock cream is still necessary in the strong sunshine. Cotton, linen and chiffon dresses, jackets, shirts and pants are suitable at this time.
In mid-September: Bring moisturizers as the air becomes drier.
In late September: As the temperature fluctuates, clothing with long sleeves such as light jackets might save people from catching a cold.
Tips: Weather during the Mid-Autumn Festival: The Mid-Autumn Festival usually falls in September when autumn starts. It is hot in the day time and cool at night.
Historical Beijing Weather in September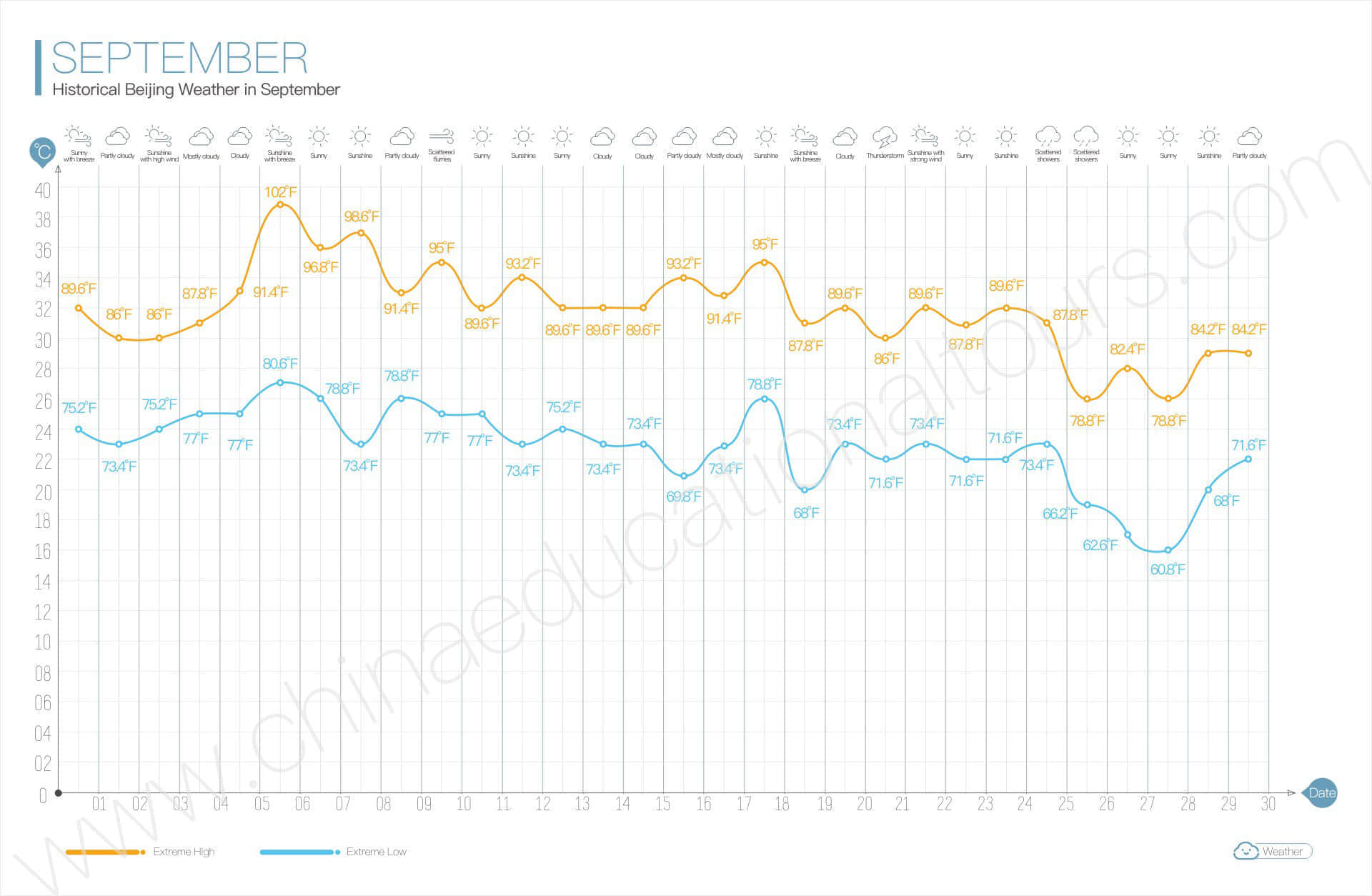 click here to enlarge
Beijing AQI(Air Quality Index) in September
According to the historical Beijing AQI data in 2018
The average AQI for Beijing in September is 54.9, which is a good level. 17 days were evaluated as 'excellent', 10 days were 'good', and 3 days were 'lightly polluted'. The fresh air allows you to have worry-free outdoor exercise.

Where to Go and Travel Tips
Avoiding the peak time for tourism in July and August, and with the fresh air, the suitable temperature, and less rainy days, September is undoubtedly a good time to visit Beijing. September is a month when you can encounter the richest colors in Beijing. With the joy of grain harvest, maple leaf red, ginkgo gold and Osmanthus fragrance, it is a lovely season in late summer and early autumn.
To catch the early Autumn Scenery in Beijing, Fragrant Hill Park and Jinshan Park are the first choices as the maple forest turns red on the hill. Another highly recommended activity is Great Wall Hiking. The Great Wall is colorful in autumn, and the cool temperatures and fresh air make walking more comfortable. With the grain harvest and the Mid-Autumn festival approaching, this month is a good time to enjoy traditional Beijing pastries and foods. Mooncakes are the perfect "Mid-Autumn festival only" souvenir.
Tour Recommended:

2-Day Yummy Beijing Food Tour Yummy

Select the historical sites listed in UNESCO World Heritage and exploring the hidden corners and secret recipes. After hiking the Great Wall, treat yourself with a sumptuous meal!
September Events, Holidays & Festivals
Mid-Autumn Festival
This special day falls on the 15th of September in China's lunar calendar. In the Lunar Calendar that is the middle of autumn, which is how it gets its name. It starts with a delicious meal together with family members, and then a time to admire the bright moon and eat moon cakes. There are many fascinating legends about the festival full of eastern romance. Enjoying the moon and eating moon cakes in beautiful places, and spending this wonderful time with family members is what this festival brings to modern Chinese people. See Top 5 destinations in China to Celebrate the Mid-Autumn Festival
Teacher's Day
September 10 is Teacher's Day in China. It is a Chinese tradition to respect teachers and treat them with respect. On this day, children will give their teachers elaborate gifts, which may be a greeting card, a picture drawn by themselves or flowers. In addition to showing respect for teachers, this festival also teaches students about gratitude.
Beijing Chrysanthemum Cultural Festival
Chrysanthemum, a symbol of hermit and noble personality in China, has been loved in China since ancient times. Beijing Chrysanthemum Cultural Festival uses the combination of indoor scenery and outdoor exhibition and collects millions of Chrysanthemums with more than 500 breeds.
Have a question?
OR
Are you eager to begin your Chinese cultural journey?
Drop us a line and we will promptly connect you with our leading China expert!