Beijing Weather in December
The weather is basically clear in December in Beijing, but the air is very cold and dry.
| | | | | |
| --- | --- | --- | --- | --- |
| | Average Maximum | Average Minimum | Highest Maximum | Lowest Minimum |
| ℃ | 5 | -2 | 10 | -5 |
| ℉ | 41 | 28.4 | 50 | 23 |
What to wear and bring?
In early December:
In the harshness of winter, wearing clothes that are too tight may slow down blood circulation in the limbs and skin. You are better off wearing loose, warm clothes.
In mid-December:
It is very dry in winter in North China. Moisturizing cream may protect dry skin. Soft and snug-fitting cotton clothes may help avoid static electricity shocks.
In late December:
Replenishing water is as important as keeping warm in winter when the weather is very dry.
Tips:The temperature during Christmas stays between -6℃ and -3℃. It is usually quite clear.
Historical Beijing Weather in December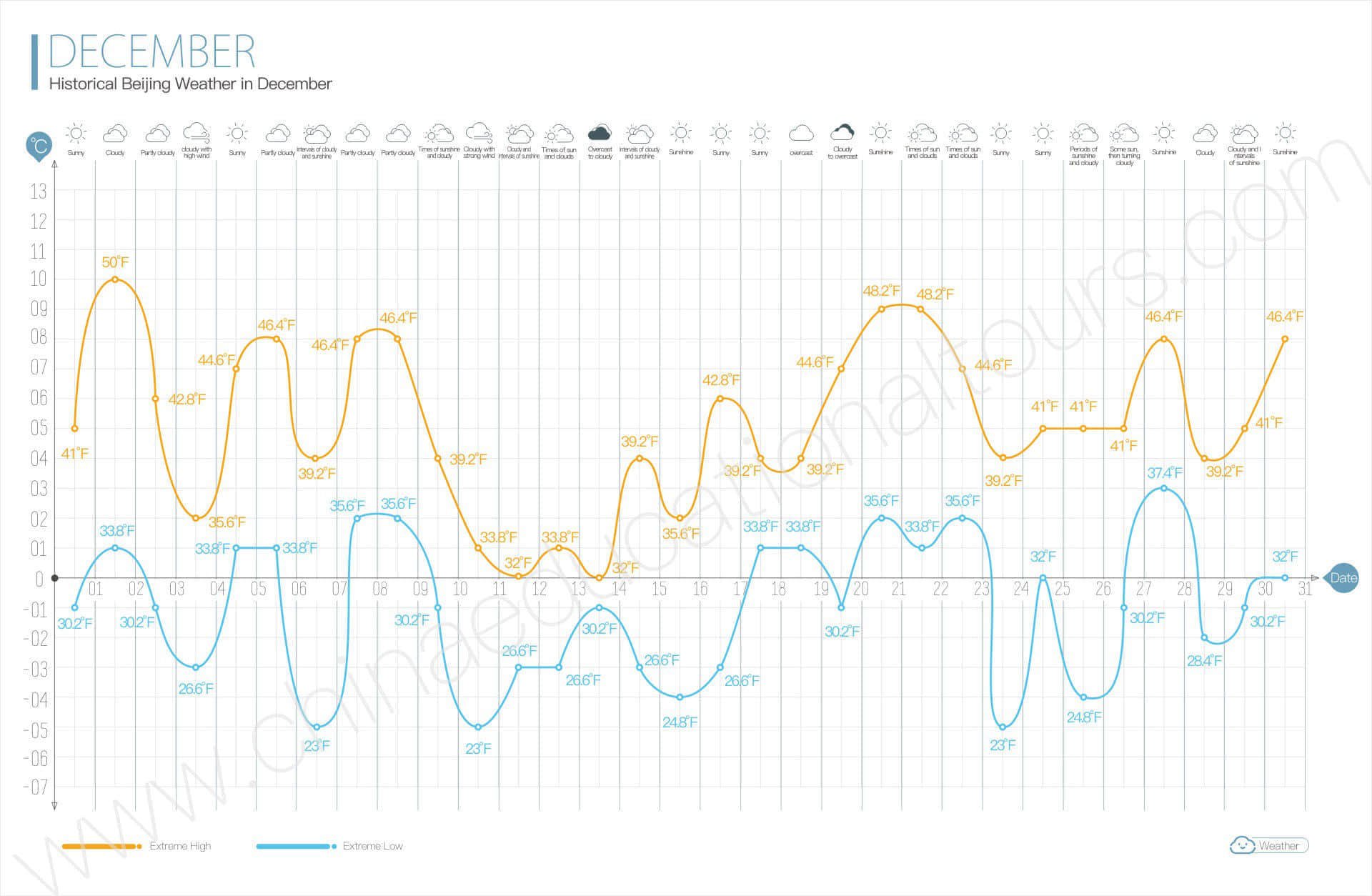 click here to enlarge
Beijing AQI(Air Quality Index) in December
According to the historical Beijing AQI data in 2018
The average AQI for Beijing in December is 72.8, which is good. 11 days were evaluated as 'excellent', 14 days were 'good', 5 days were 'lightly polluted' and 1 day was 'moderately polluted'. The air quality is good for outdoor exercise this month.

Where to Go and Travel Tips
December in Beijing has advanced completely into winter, and this is a snowy month. Snowy Beijing has a special beauty, different from other seasons. Pack enough clothes and pay attention to the weather forecast in advance, and you will be addicted. Snow in the Forbidden City is one of the highlights of the month. Red palace walls and glazed tiles covered with white snow, quiet and dignified. If you are brave enough, the challenge of hiking the Great Wall will make you feel extraordinary. The silent ancient military buildings make you imagine the perseverance and brave ancient soldiers.
For children and elders, the National Museum of China and the Chinese Art Museum are the representative places to go to avoid the cold weather.
After the feasting to your eyes, a hot spring trip with Beijing Hotpot and Peking Duck are what you cannot miss in winter.
Top tour in December:
December Events, Holidays & Festivals
Winter Solstice Festival
Winter Solstice Festival is also jokingly called the "Dumpling Festival" because the traditional of eating dumplings in northern China. The Winter Solstice Day has the shortest daytime and the longest night of the whole year. There is a more than 2500 years' history of this festival. Different regions in China have different customs during the Winter Solstice. Northern regions have the custom of slaughtering sheep, and eating dumplings and wontons, while southern regions have the custom of eating rice dumplings and long noodles during the Winter Solstice.
According to Beijing custom, having a bowl of dumplings or wontons (you even have a chance to make it by yourself) is a good way to participate in the festival. Our travel consultant can add dumpling making activity to your China tour.
More about Winter Solstice Festival and Dumplings.
Christmas & Christmas Eve
Christmas is the most important festival in many western countries. As an international metropolis, Beijing also celebrates Christmas. This festival has spawned a new custom in China – give apples as a gift on Christmas Eve. That's because the pronunciation of word "Ping An Ye (the Christmas Eve)" and "Ping Guo (apple)" are similar and "Ping An" means health and happiness in Chinese. Why not try to send apples to each other to celebrate a "Chinesization Christmas"?
See more on Christmas in China
Have a question?
OR
Are you eager to begin your Chinese cultural journey?
Drop us a line and we will promptly connect you with our leading China expert!