Beijing, the capital of the People's Republic of China, has a history of over 3,000 years. It has played a very important role in the development of Chinese history, economy and culture.
In old China, the emperors believed that Beijing city would bring good luck to their dynasties. Nowadays, Chinese people are proud of Beijing, especially when Beijing was selected in 2001 as the city to hold 2008 Olympic Games. More than people in any other country in the world, Chinese people consider reputation to be very important, even if they know the reputation will not bring them any actual benefit. If you travel to Beijing you will find countless local people who are trying to help you and introduce the city to you. The reason is simply because you are a foreigner. They think they can get a better reputation by helping foreigners. However, they are seldom so friendly to people who have the same nationality as them.
In order to understand the glamour of Beijing, you need to take at least three days to explore the city. You will find both royal families and common people in Beijing are fortunate, because they can live in such a colorful place.
The Best Time to Visit Beijing

April to October is the best time to visit Beijing, when the weather is nice and mild. Try to avoid the National Day holiday, from October 1st and 7th, as it will be crowded at all the popular attractions.
It is also suggested that fans of Chinese culture should travel to Beijing during the Spring Festival (January or February). The traditional festival temple fairs are the best places to celebrate the festival with local people. Besides, it is an amazing experience to visit the Great Wall during winter (December to February). The Great wall looks even more majestic when it is covered with snow.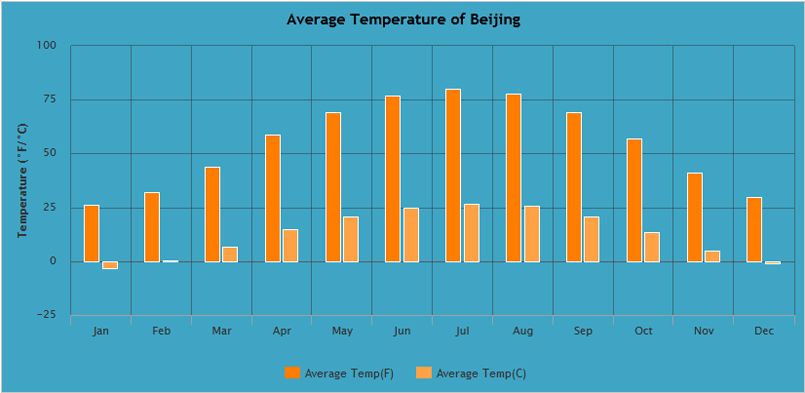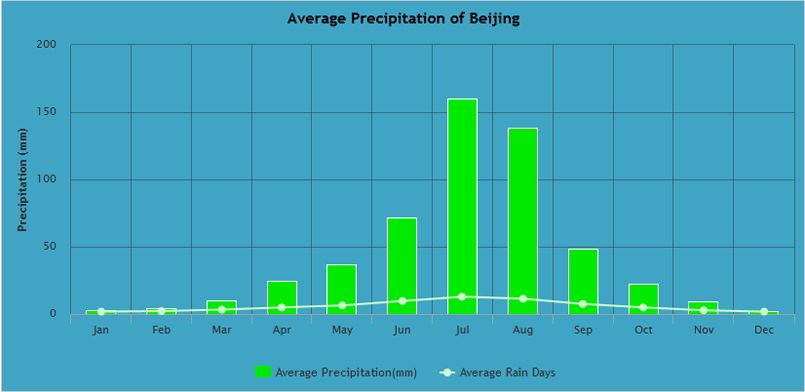 Must-Sees in Beijing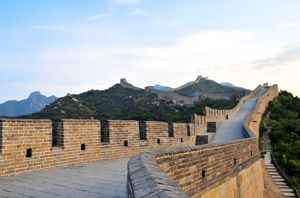 The Great Wall of China
The Great Wall– Nobody should miss out on seeing the Great Wall when traveling to Beijing. Actually, most tourists go to Beijing because of the Great Wall. Badaling and Mutianyu are the most popular Great Wall sections in Beijing. The Mutianyu section is less crowded and more scenic.
The Jinshanling, Simatai and Jiankou are hiking-lovers' favorites, but hiking these three sections requires more stamina. Several parts of the three Great Wall sections are not preserved as well as the Badaling and Mutianyu sections. Tourists have to climb but not hike on these three sections.
The Forbidden City– It is the best preserved royal palace in China. It was built in 1420. Over 24 emperors of the Ming and Qing Dynasties lived there. It is the best place to learn about royal history. Reading the introduction to the Forbidden City before traveling can make it an even better experience.
Historical Attractions
Natural Attractions
| | | |
| --- | --- | --- |
| Xiangshan Park | Huairou County | Yanxi Lake |
| Miyun Reservoir | Longqing Gorge | Qinglong Hill |
| Chaobai River | Ginkgo Avenue of Diaoyutai | Ancient Road of West Beijing |
| Kangxi Grassland | Flower Sea of Four Seasons | Pearl Lake |
Transportation to Beijing
Beijing Capital International Airport connects the city with almost every major city around the world.
From Foreign Cities to Beijing
| | | |
| --- | --- | --- |
| Cities | Distance from Beijing (km) | By Air to Beijing (hour) |
| New York | 11,000 | 13.6 |
| Los Angeles | 10,000 | 12 |
| Vancouver | 8,515 | 10.2 |
| Toronto | 13,000 | 12.7 |
| Frankfurt | 8,260 | 10.2 |
| London | 12,304 | 10.5 |
| Paris | 9,000 | 10.6 |
| Rome | 8,600 | 11.2 |
| Cairo | 7,000 | 23 (Stop in Dubai, Doha or Istanbul) |
| Casablanca | 100,073 | 20 (Stop in Dubai or Europe) |
| Cape Town | 12,900 | 30 (Stop in Europe) |
| Dubai | 6,500 | 8 |
| Doha | 61,500 | 9 |
| Tokyo | 2,100 | 3.3 |
| Seoul | 956 | 2 |
| Bangkok | 3,297 | 5 |
| Singapore | 4,479 | 6 |
| Kuala Lumpur | 4,346 | 6 |
| Sydney | 8,951 | 12 |
From Domestic Cities to Beijing
| | | | |
| --- | --- | --- | --- |
| Cities | Distance from Beijing (km) | By Air to Beijing (hour) | By High-Speed Railway to Beijing (hour) |
| Shanghai | 1,250 | 2 | 5 |
| Guangzhou | 2,200 | 3.1 | 9.5 |
| Shenzhen | 2,400 | 3.1 | 10 |
| Hangzhou | 1,329 | 2.2 | 5.5 |
| Nanjing | 1,065 | 2 | 4 |
| Hong Kong | 2,289 | 3.3 | transfer to Shenzhen |
| Xian | 1,159 | 2 | 5.5 |
| Wuhan | 1,200 | 2 | 5.5 |
What to Eat in Beijing
Beijing Food and Dessert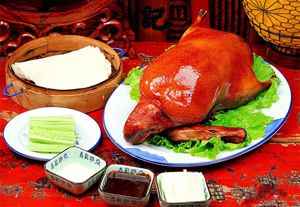 Beijing Roast Duck
Beijing Roast Duck
It would be a blunder to miss the Beijing Roast Duck for tourists in Beijing.
The Beijing Roast Duck has been well-known for over 800 years. An emperor in Jin Dynasty (1115-1234) hunted a white duck in the suburb of Beijing and found it was very delicious. From then on, roast duck became more and more popular in Beijing. Now, people eat roast duck with cucumbers, green onions or sweet sauce. In some duck restaurants in Beijing, cooks cut the skin of a roasted duck down piece by piece in front of guests, so that the skin, the best part of a roasted duck, keeps a proper temperature for eating. The inside part of a roasted duck can be cooked as soup.
The Quanjude Restaurant and Fangzhuang Restaurant are the best places to eat Beijing Roast Duck. They are both chain restaurants and can be found everywhere in Beijing.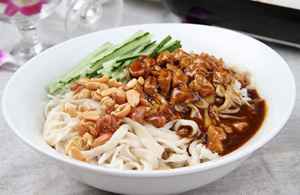 Soya Bean Paste Noodles
Soya Bean Paste Noodles
This is a "fast food" for Beijing natives. It can be breakfast, lunch and dinner. The paste is the most important element of Soya Bean Paste Noodles. Normally, people fry the soya bean paste with pork, cucumber, bean sprouts or green unions. The noodles just need to be boiled. Mixing the paste and noodles is the final step.
Soya Bean Paste Noodles can be found in almost every small restaurant in Beijing.
Soybean Flour Cake
This is a traditional snack in Beijing. The color can be yellow, white or red. Yellow rice flour, soy bean four, sugar, sesame oil, sweet osmanthus and melon seeds are the main ingredients of the cake. The cake is very soft and sweet, so it is one the favorite snacks for Beijing's children. Actually, the cake originated in Northeast China. When the Manchu people built the Qing Dynasty (1636-1912) and established their capital in Beijing, they also brought the snack to Beijing. The snack is also called Lvdagun, which means "donkey rolling", because when soya bean flour falls down from the outside of the snack, it looks like yellow dust raised by a rolling donkey.
Try to find the best Soybean Flour cakes from street vendors rather than well-decorated cake shops.
Renowned Beijing Restaurants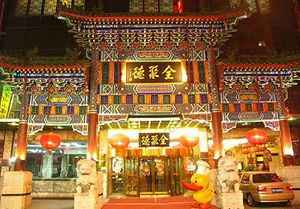 Beijing Quanjude
Quanjude
Beijing Roast Duck is a must-eat food in Beijing and Quanjude is a must-go restaurant for eating Beijing Roast Duck. The assistant chef in Quanjude will cut the roasted duck beside the customers' tables. There are over 30 Quanjudes in Beijing.
Xijiang Restaurant
Xijiang Restaurant is located on the NO.103 Betucheng West Road, Haidian District. The fish, chicken and soup are the most popular dishes in the restaurant. There are always customers waiting outside the restaurant for seats during lunch or dinner times.
Huguo Temple Dessert Restaurant
The Huguo Temple Dessert Restaurant is located on the NO. 180 Di'anmen Outside Avenue, Xicheng District. There are lots of local desserts in the restaurant, such as soybean flour cakes and fried cakes.
Shopping in Beijing
Cloth Shoes
With a history of over 3,000 years, cloth shoes can be found in almost every street or hutong in Beijing. The surface of cloth shoes is decorated with flowers, animals or renowned architectures of Beijing. The soles of cloth shoes are soft and can protect feet from being hurt by long-distance walking.
Flower Vases
There are lots of antique markets in Beijing, the one in Panjiayuan being the most well-known. Thousands of flower vases and other antiques are available to buy, but the prices are decided by the owners. Sometimes, they may ask for much more than the actual value. However, there are also cheap antiques. It is not bad to buy a flower vase or pot as a souvenir.
Masks for Beijing Opera
Beijing Opera is the essence of Beijing and China. The masks for Beijing Opera can be found in both small shops and shopping malls in China. It is a good feeling to put on a mask and imitate opera performers' voices. The most important thing is that a mask will not make a face dirty.
Nightlife in Beijing
Sanlintun and Houhai are the two most renowned bar streets in Beijing. Sanlitun is near the embassy area in Beijing. Lots of foreign people spend their weekend in the bars on Sanlitun Streets. Houhai is an historical site. It was a main canal in the Yuan Dynasty (1271-1368). There are only bars on the Sanlitun Bar Street, but on Houhai Bar Street, both western style bars and Chinese tea houses can be found. Lots of tourists like Houhai because of its combination of historical and modern styles.
Top 5 Bars in Houhai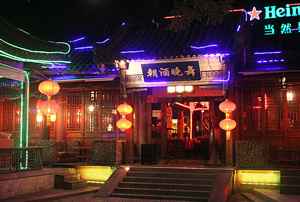 Bars on Houhai Street
Houhai NO.5
This is a traditional Beijing quadrangle. The roof of this bar is glass. Guests can see the beautiful sky decorated by stars on cloudless nights. It covers an area of 400 square meters. Over 200 guests can dance at the same time in the bar. Foods include Chinese and Thai dishes and buffets.
Houhai Paradise Slow Roll Bar
Everything is quiet there. Two big terraces enable guests to be immersed in the beautiful Houhai night. Red wine and slow music help guests to escape from their intense daily work. The 1,800 square meters' bar can offer almost every guest a seat even during national holidays.
East Bank Bar
This is all about Jazz here. There are Jazz bands in the bar, but they never refuse to let their audience perform with them. It is almost the best Jazz Bar in Beijing. Their audience will not leave even if they cannot find a seat. Standing on the terrace of the second floor, guests can see the peaceful Houhai Lake. Jazz, cocktail and lake view, what else can you expect on a clear night?
Lemeng Bar
This is a small pop bar. Almost every Chinese pop song can be heard here. The singers in the bar are not professionals, but most guests in the bar are attracted by their voices. Because the singers are singing songs that are very popular in China in the bar, every guest can sing along with the singers. When the singers' eyes meet guests' eyes, they communicate with a nod or a smile. Everyone seems to be the owner of the bar. Lemeng means "happy dream" in Chinese. The bar hopes every guest has a happy dream every night.
Transient Guest Bar
As its name tells guests, the theme of the bar is traveling. The owner of the bar talks to and drinks with guests every night. If guests are tourists in Beijing, they can get some latest travel news of Beijing in the Bar.
Top 5 Bars in Sanlitun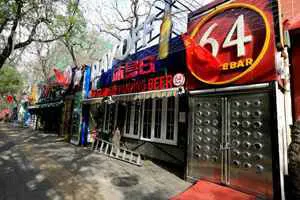 Sanlitun Bars Street
Yese Bar
Men and Ladies often want to make friends with each other in a bar, but there are always some kinds of dangers with making friends in a bar. In Yese Bar, guests do not need to talk to or drink with the ones they want to be acquainted with. They can write what they want to say on an electrical crane and send it to their targets. It is a traditional way to communicate for Chinese people.
Baby Face
Baby Face is a chain bar in China. There is a house hall and a hip hop hall in the Baby Face in Sanlitun. The big screen behind the DJ's table is the highlight of the bar. It is always colorful and shining. The boxes in the bar are good place for a birthday party.
Bar Blu
The bar was redecorated in 2011. Standing on the open air terrace, guests can enjoy the beautiful illumination around the bar. Both domestic and foreign dancers can be found in the bar, and both sexy and funny dances can be seen. Chicken wings are the most popular food in the bar.
D Lounge
This was an old factory, so every room in the bar has very high ceilings. The old films on the wall often make guests feel like they are playing a role in Charlie Chaplin's master works. Whisky is the best stimulus in the bar. Waiters and waitresses are considerate. Most of their guests said they would come back.
Glen Bar
The left part of the bar is actually a restaurant. Guests can avoid the embarrassment of a full house by eating on the left and drinking on the right. Their foods are really quite good. Its Japanese boss is good at both Chinese and English. Their Cocktail is renowned in Beijing.