Top things you need to know
Memories from the Beijing 2008 Olympics in Beijing remain indelibly etched in the minds of millions of people, who either attended the games or followed them closely on television.
Beijing will hold the Olympic Winter Games in 2022. That will make Beijing the first city ever to host both the summer and winter Olympic Games.
With advanced technologies in place, Beijing is prepared to host a smart and safe Winter Olympic Games despite the COVID-19 pandemic still casting a pall over the global sports scene.
For the first time in the history of the Olympic Games, Beijing will use carbon dioxide in ice-making procedures. Not using ozone layer-harming Freon as a refrigerant in ice making during the Games is expected to help reduce carbon emissions equivalent to that of 3,900 cars per year, and cut emissions from the activity to nearly zero. The Games will utilize numerous digital technologies, and provide a stage to showcase and apply the latest technologies. For instance, a large number of robots will provide support in moving goods, wiping floors and windows, disinfecting surfaces and presenting awards during the Games.
With just 8 months to go to the Olympic Winter Games Beijing 2022, the excitement is growing among winter sports athletes and fans from around the world. Here are the top things you need to know as we count down towards the next Winter Games.
#1 When are the Beijing Winter Olympics Games 2022?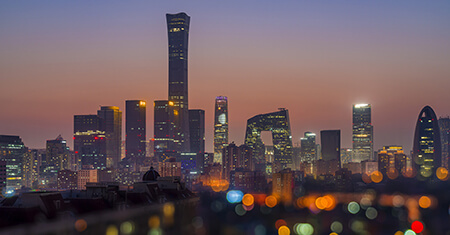 Feb 4 – 20
2022
The games are scheduled to take place February 4 – 20, 2022.
The Paralympics are scheduled to take place March 4 – 13, 2022.
The Opening Ceremony is scheduled to take place on 4 February 2022, with the closing ceremony on 20 February 2022.
Competition will begin two days before the Opening Ceremony with preliminaries in curling.
#2 How many medals to be awarded and what are the new events?
There are 109 sets of medals to be awarded, seven more than there were at Pyeong Chang 2018. There are seven new events at the 2022 Winter Games:
Aerials mixed team
Women's freestyle skiing big air
Men's freestyle skiing big air
Short track mixed team relay
Ski jumping mixed team
Snowboard cross mixed team
Women's mono-bobsleigh
#3 Why is Beijing hosting the Olympics again?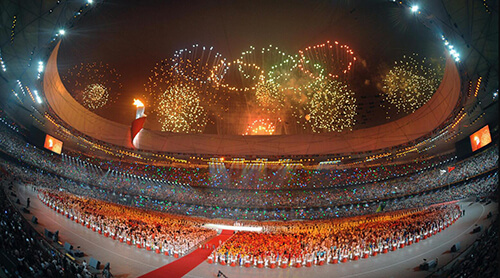 The opening ceremony of Beijing 2008 Olympics
Firstly, Beijing successfully hosted the 2008 Summer Games and they can reuse many of the venues from that earlier event, pushing down the cost of the games. For instance, the National Stadium, nicknamed the Bird's Nest for its unique architecture, will serve as the location of the Opening and Closing Ceremonies.
Secondly, hosting the 2022 Olympic Winter Games in Beijing will promote winter sports in China. The government hopes to encourage 300 million Chinese, particularly the country's young people, to participate in ice and snow sports.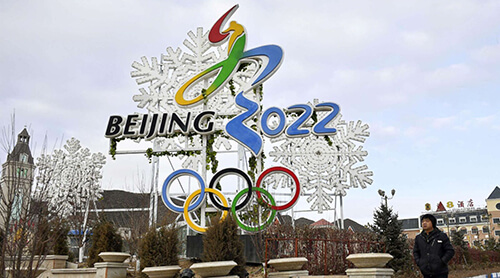 Beijing will host 2022 winter olympic games
Thirdly, the 2022 Winter Olympics will serve as a driving force for coordinated development in Beijing, Tianjin and Hebei province. Tianjin and Hebei province, which make up the region surrounding Beijing, are somewhat overshadowed by the capital. The Winter Olympics will benefit all the three areas. This is also in line with the International Olympic Committee's reform proposals in the Agenda 2020 plan, which aims to ensure the Olympic Games fit into the long-term development of relevant cities and regions.
#4 How will Beijing host the Winter Olympics during COVID-19?
"Safe" is also a keyword as the COVID-19 pandemic is still ongoing. To ensure everyone involved is safe and to provide the audience with the best possible watching experience, the organizers employed state-of-the-art technologies during the testing program.
All of the stadiums, venues and roads that connect different facilities of the Games are covered by 5G networks, which will provide better telecommunication support for broadcasting and online healthcare services. A cloud broadcast platform will enable journalists to interview athletes contactless through audio and video systems, and to edit, distribute and store all materials remotely on the cloud, and also live stream events with their program directors back in their own countries.
Beijing 2022 has established an epidemic prevention and control expert group, which has been meeting on a weekly basis to discuss the ever-evolving pandemic situation with the IOC and relevant international federations. Some of the latest payment methods are expected to be available at the upcoming Games. The Bank of China has designed ski gloves that contain digital yuan chip hardware to support digital payments. During the Games, athletes can wear the ski gloves and tap screens on vending machines to pay for certain items without the need to remove gloves, thus obviating the need to use mobile phones. In addition, automatic charging posts for electric vehicles that support digital yuan payments are expected to be put into use at all venues for the Winter Games. The charging posts are equipped with digital yuan billing systems and can calculate rates and charge automatically.
Smart watch-like intelligent thermometers with chips inside are employed in the Wukesong Sports Center to monitor personnel's real-time body temperature. They can achieve precision of 0.05 degree Celsius and users can check their body temperature with a tap on their phone. In the National Indoor Stadium, with the help of 40 cameras and a 3D reconstruction of the visual, "free visual angle" technology will allow spectators to choose their angle of watching matches.
#5 What are 2022 Winter Olympics Stadium Locations?
While Beijing will act as the host city of the Games, competition will actually take place in three different locations: one in Beijing itself, one in Yanqing to the northwest of the capital, and one in Zhangjiakou, around 200 km away from Beijing but reachable in an hour via high-speed train. The Opening Ceremony and Closing Ceremony will both take place at the National Stadium, also known as the Bird's Nest Stadium, which was the main Olympic stadium used for the Beijing 2008 Olympics.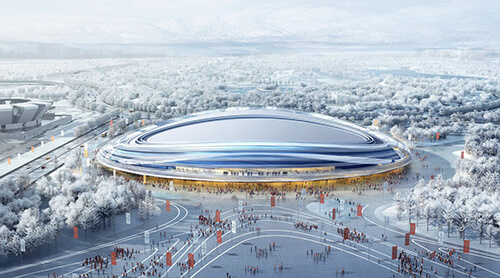 Beijing Competition Zone
Beijing Competition Zone:
Located in central Beijing, this cluster is expected to be home to 12 venues, including a number of existing structures from the 2008 Summer Games. All events on ice will be held in the Beijing Cluster, including 2008 venues like the National Aquatics Centre ('Water Cube') being repurposed for curling, the Capital Indoor Stadium for figure skating and short track, and the National Indoor Stadium and Wukesong Arena for ice hockey. Speed skating will take place at the newly-constructed National Speed Skating Oval (nicknamed Ice Ribbon), while big air competitions in snowboard and freeski will be held at a temporary venue just west of downtown Beijing.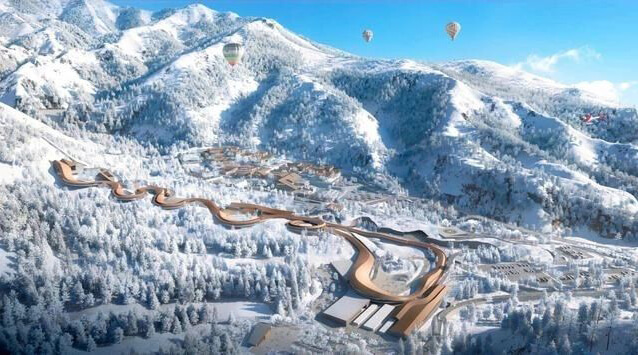 Yanqing Competition Zone
Yanqing Competition Zone:
Yanqing is a mountainous suburb of Beijing, located approximately 75 kilometers (46.8miles) northwest of the city center. It will host the alpine skiing events as well as the sliding events: bobsleigh, luge, and skeleton, in Yanqing's Xiaohaituo mountain area.
Zhangjiakou Competition Zone: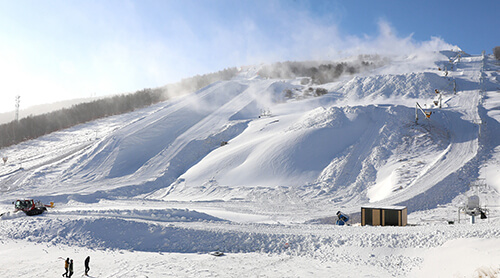 Zhangjiakou Competition Zone
Located in a burgeoning tourist area, Zhangjiakou is well known as a popular Chinese ski destination with plenty of other activities and cultural attractions for visitors to enjoy. Zhangjiakou is approximately 200 kilometers (125 miles) northwest of Beijing, but a newly constructed high-speed train route will transfer guests between the two cities in just 50 minutes. The train can run up to 350 km per hour without a driver. This is the world's first "smart" train. The Zhanjiakou Cluster will feature the majority of the ski and snowboard events at the 2022 Winter Games, including freestyle, cross country, ski jumping, Nordic combined, and biathlon.
#6 What Are the Mascots For Olympic Winter Games and Paralympic Winter Games?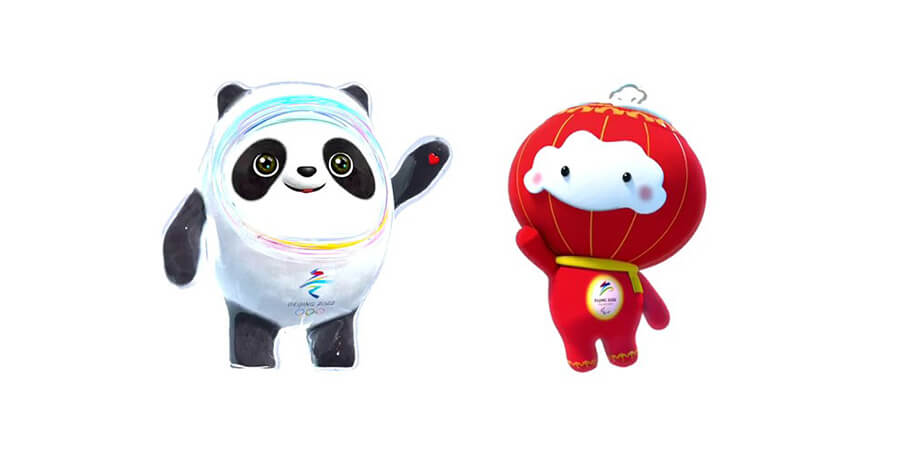 Bing Dwen Dwen (left) and Shuey Rhon Rhon (right)
"Bing Dwen Dwen" is the official mascot of the Beijing 2022 Olympic Winter Games. It was designed with the panda as its prototype. The mascot has two elements – ice and panda. The former symbolizes purity and perseverance, which is a feature of the Winter Olympics. The latter means honesty, health, liveliness, and loveliness in accordance with the image of the panda, which symbolizes the strong body and tough will of the Winter Olympics athletes and inspiring Olympic spirit.
"Shuey Rhon Rhon" is the mascot of Beijing 2022 Paralympic Winter Games. It was designed with lanterns as its prototype. As a world-recognized Chinese symbol for over 2,000 years, the lanterns represent harvest, celebration, warmth and light. Lanterns are dominated by "Chinese red", which conveys the atmosphere of the 2022 Chinese New Year. The mascots represent friendship, courage and strength, reflecting the fighting spirit of the Winter Paralympic athletes and the Winter Paralympics tenet – to inspire the world.
#7 What are the best places to visit during the Winter Games in Beijing?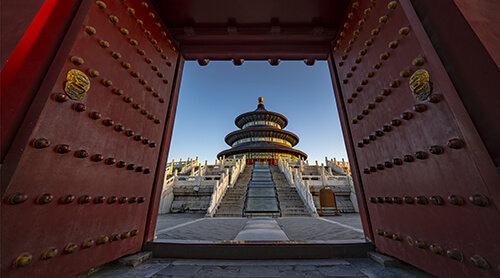 The Temple of Heaven
In addition to the excitement of the Winter Games, Beijing has a lot to offer for international visitors. For sightseeing, the top attractions are The Forbidden City, Great Walls, Temple of Heaven and Summer Palace.
For gourmets, Beijing holds all the flavors of China. The most popular dishes are Peking Roast Duck, Beijing-Style Hot Pot and Zhajiangmian (hand-pulled noodles full of pork smothered in rich sweet bean paste and combined with julienne carrots, cucumbers, and spring onions). Check out what best to eat in Beijing.
For night entertainments, there are varieties of evening shows - Acrobatics Show, Peking Opera Show, Legend of Kungfu Show - all great fun and easily accessible for tourists.
#8 Useful travel tips
Due to the coronavirus pandemic, personal protection is very important for international traveling. Here are some tips to make a safe and enjoyable trip for you:
Tip 1: Bring hand sanitizer.
Tip 2: Bring alcohol or anti-bacterial wipes along with you too.
Tip 3: Wear a mask.
Tip 4: Remember to wash your hands.
Tip 5: Download payment apps beforehand, In China, The most popular payment apps are WeChat Pay and Alipay. It helps people reduce contact with virus.
It is the coldest season in Beijing in January and February, with average temperature fluctuating between -5°C (23°F) and 5°C (41°F). Learn more about Beijing weather
Facebook, YouTube, Twitter, and Google are not accessible in mainland China. The best method to access those websites in China is via a Virtual Private Network, often called a "VPN". We recommend that you sign up your VPN before hitting the road.
Read more practicle China travel tips.
#9 Well Selected Beijing Tours
Beijing is an exciting mixture of historic sites, futuristic architecture, traditional cuisine, modern art, over 100 museums, and fantastic shopping, it can be tough to decide which things to do here. To make better use your time, you can contact one of our experienced travel specialists, so we can tailor-made a tour for you.