Beijing Cuisine
Beijing's rich historical culture is not only reflected in architecture and scenery, but also in its cuisine that embodies the cultural heritage and draws upon humanistic contents. In addition to the best-known culinary export, Peking Duck, let's explore other dishes.
1.Peking Duck (Běijīng kǎoyā)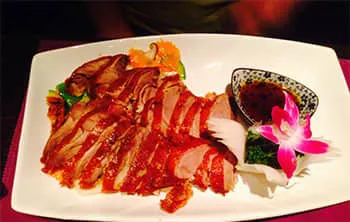 Beijing roast Duck is the epitome of Beijing cuisine. It is made with high-quality meat-duck which is roasted in an oven. The dish is mostly esteemed for the thin, crispy skin, with authentic versions of the dish serving mostly skin and little meat.
Characteristics:It is cooked using wood from fruit trees and the inner flame will bring special fragrance to the dish.
How to eat: A carved roast duck is enjoyed with accompaniments. There are usually three ways to eat.
1) Use chopsticks to pick up some sweet soybean sauce over the thin pancakes or baked sesame-seed cake, put on a few slices of duck meat, scallion, cucumber or turnip strips and roll them all to take a bit bite.
2) Mashed garlic and soy sauce, or turnip strips with roast duck will provide the spicy version of the dish.
3) Some people choose to eat the crispy duck skin with fine white sugar.
Recommendations: Quan Ju De:
Wangfujing Branch
Address: No. 9, Shuaifuyuan Hutong, Wangfujing Street, Dongcheng District, Beijing
Tian'anmen Branch
Address: No. 44, Dongjiaominxiang Hutong, Dongcheng District, Beijing (South of National Museum)
Beijing Da Dong Roast Duck Restaurant:
Address: 5F, Jinbao Place, No. 88, Jinbao Street, Dongcheng District, Beijing
2. Copper Hotpot (Tóng guō shuàn ròu)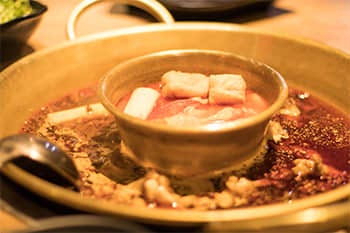 This old Beijing hotpot is also known as "boiled mutton". There is actually a default and proper sequence for cooking materials in the traditional clear boiling broth with cabbages and tofu (different from the renowned spicy broth in Sichuan Province, China). 1. Tripes; 2. Mutton; 3. Vegetables; 4. Noodles made of various grains. The hotpot is very simple to handle and it tastes good.
Characteristics: A ham shank from a wether (castrated sheep), where the lean and fat is separable, is selected. The mutton is well cooked in the pot in just 10 seconds.
How to eat: Broth for cooking (garlic, ginger, red dates and shiitake mushrooms, and no seasoning) and sesame paste (favored paste in Beijing) for applying to the cooked food.
Recommendations: Jubaoyuan, Niujie Branch
Address: No. 5-2, Niu Street, Xicheng District, Beijing
Dong Lai Shun, Tian'anmen Branch:
No. 44, Dongjiamin Lane, Dongcheng District, Beijing (300 m south of National Museum)
3. Beijing Fried Noodles (Zhá jiàng miàn)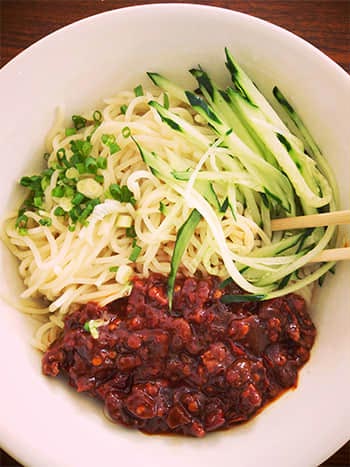 Beijing Fried Noodles is a unique local dish, made from stir-fried shredded vegetables, sauce and boiled noodles. Cut up cucumbers, Chinese toon leaves, well cooked bean sprouts, green beans and soy beans are all prepared for the shreds. Fry diced meat with onion and ginger in the oil and add soybean paste or sweet noodle sauce to make the proper sauce. Boil and take out the noodles and gently splash the shreds and sauce. That is how to make a bowl of Beijing Fried Noodles. Or, boil and take out the noodles and cool them in the cold water. Cover the noodles with the prepared shreds and sauce and the "water cooled noodles" (Guò shuǐmiàn) or the "cool noodles" (Liáng miàn) can be served.
Characteristics: The hand-made noodles are chewy. The authentic noodle sauce must be fried in a small bowl of dried oil to allow the integration of the material flavors. The dense sauce can maintain its shape when a chopstick divides it. The moisture, sweetness, and fragrance therein is well balanced.
Seasonal vegetables such as bean sprouts, turnip strips, sliced cucumber, shallot leaves, celery shreds and sliced cabbage can all be made as the raw material of the shreds.
Recommendation:
Haiwanju
Address: No. 11, Zengguang Road, Haidian District, Beijing (northwest of Ganjiakou Building)
4. Zhizi Barbecue (Zhì zi kǎoròu)
Zhizi barbecue is a traditional way to barbecue in Beijing. A large round oven with grates is made from a bar of cast iron. When the charcoal fire is vigorous, beef, mutton, shreded shallots and coriander are spread over the Zhizi. As they are quickly stirred with long chopsticks, the house is filled with wonderful aromas.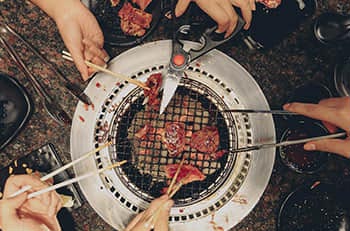 Characteristics: The grates in the iron Zhizi are flat and framed by a round iron belt. The gaps between the grates allow the escape of the grease and the effective grilling of the meat. The meat becomes really tender.
Recommendation:
Kaorou Wan,Yonghegong Branch
Address: No. 185, Yonghegong Street, Dongcheng District, Beijing (near the west exit of Gui Street)
Kaorou Wan
Address: No. 14, East Front of Qianhai, Di'anmenwai Avenue, Xicheng District, Beijing
5. Beijing sauce pork (Jīng jiàng ròu sī)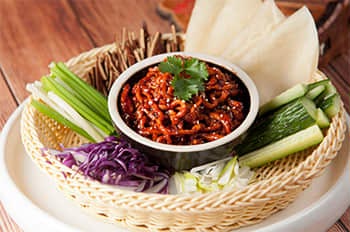 Beijing sauce pork is a well-known dish. The meat is tender, the sauce is rich, and the flavor is neither too salty nor too sweet.
Characteristics: It is made with sweet noodles sauce, shallot, ginger and other seasonings. The northern cooking approach contributes to a slightly salty and still sweet sauce.
How to eat: The dish is accompanied by sliced shallot, cucumber or any seasonal vegetables and wrapped in the tofu skin.
Recommendation:
Jin Bai Wan, Jinsong Branch
Address: Commercial Building, No.43, Songyuxili, Panjiayuan, Chaoyang District, Beijing
Beijing Da Dong Roast Duck Restaurant:
Address: 5F, Jinbao Place, No. 88, Jinbao Street, Dongcheng District, Beijing
6. Qingfeng Steamed Buns (Qìng fēng bāozi)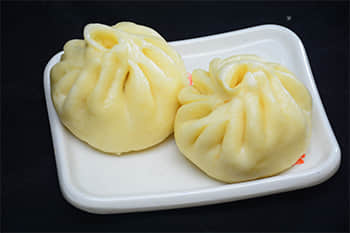 Qingfeng Steamed Buns restaurant was founded in 1948. It started no different than other restaurants. But its tasty steamed buns became its specialty in 1956 along with the official brand "Qingfeng Steamed Buns". The time honored bun shop is loved by local people. Its generous and delicious stuffing is known by all.
Recommendation:
Qingfeng Steamed Buns, Qianmenxi Street Branch
Address: No. 4, Zhengyang Market, Qianmenxi Avenue, Xicheng District, Beijing.
7. Lamb Spine (Yáng xiēzi)
Lamb Spine serves the complete lamb (Yáng) spin with tenderloin attached. As it resembles the shape of a scorpion (xiēzi), it is commonly known as Yáng xiēzi. The mutton attached on the bones is very tasty. It is often cooked in a hot pot and is a nice winter dish.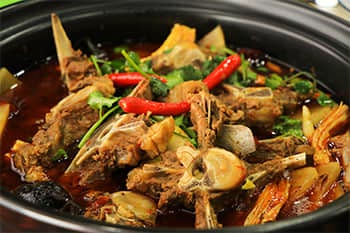 How to eat:
Disposable gloves are prepared for take down the mutton by hands, but not by chopsticks. The well stewed food is tender and juicy. The bone marrow and soup are also consider as precious nutrition. All raw materials can be cooked into the rich soup.
Recommendation:
Xie Wang Fu
Address: 1F, Building 5, Songjingbei Road, Chaoyang District, Beijing (Northeast side of Panjiayuan Bridge) Xiezi Li
Address: 1F, No. 7 Building, Xibianmen West Lane, Xicheng District, Beijing (Northwest Side Road at Tianning Bridge)
8. Quick Boiled Lamb Noodles (Yángròu cuān miàn)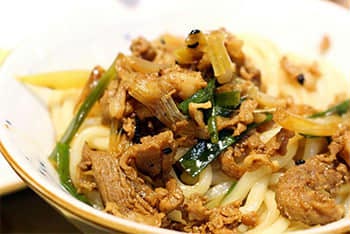 Quick Boiled Lamb Noodles is a home-cooked local Beijing cuisine. It is delicious and nutritious. Apply soy sauce, sesame oil and other seasoning over sliced mutton. When the noodles are almost cooked, spread the slices into the pot with chopsticks. When the meet turns gray, fish out all the noodles and mutton. Dress the dish with pepper to have a good meal.
Characteristics: Cuān requires fishing food out of the pot when it is just cooked. The time for the food in the already boiling water should be very short as mutton is so easy to cook.
Recommendation:
Xiaoyuezhai Qingzhen (Halal) Handmade Noodles
Address: No. 4, Yong'anmennei Avenue, Xicheng District (originally in Xuanwu District), Beijing (Opposite to Beijing Hui People Hospital)
Have a question?
OR
Are you eager to begin your Chinese cultural journey?
Drop us a line and we will promptly connect you with our leading China expert!