Beijing Hutongs
The rich legacy of the Beijing Hutongs reflects the history of Beijing and is the epitome of local life. The vitality of the Hutongs can only be sensed when people are touring in the alleyways. Walking in the connecting Hutongs and chatting with locals is really a journey of learning as you hear the legendary stories behind the bricks and bars. The folk-museum-like architecture is profoundly shaped by all of the activities.
What is a Hutong?
"Hutong" is a transliteration of the Mongolian language. It was an architectural style initiated in 1267, during the Yuan Dynasty. It has a history of more than 700 years. Beijing Hutongs (called Longtang in Shanghai), form the skeleton of the city, and are both the travelling roads and the living community for citizens. History and culture go on and off the grand stage from time to time. Wandering in scenic spots and historical sites, you can see that each tile and brick is one page of the Beijing encyclopedia whose content dates back centuries. Big and small courtyards in the hutongs are the high point of Bejingers' lifestyle, interests and neighborhood. Generations of Beijing residents have left their activities, thoughts and customs here. It serves as the platform of the citizens' life and conveys it to us.
Hutong culture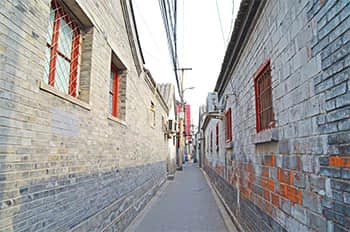 Hutong culture is a citizen culture. As Beijingers resided way too close to the palace of the Emperor, while the hierarchical system had far-ranging effect, the disparity between the rich and the poor, and the superior and the inferior was extensive. The noble officials in Beijing had very definite likes and dislikes and living habits, such as visiting quiet places with birds in cages, playing Chinese chess and strolling around streets, and all of these have more or less shaped the local life. Living in quiet and reclusive square hutongs, people all seek to lead a safe and sound life. Therefore, the Hutong culture is a mix of political, economic, folklore and architectural cultures that are intertwined. Citizens are hardwired for this lifestyle.
Hutongs around the Tian'anmen Square
Dongjiaominxiang Hutong - Beijing's Longest Hutong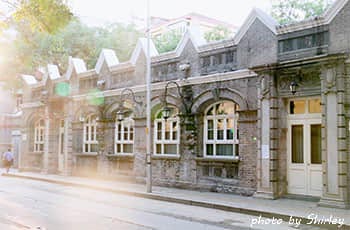 Dongjiaominxiang starts west from Tian'anmen Square and extends east to Chongwenmennei Street. It is the longest Hutong in Beijing. After the Second Opium War, Dongjiaominxiang was renamed Embassy Street as embassy buildings of many countries including Britain, France, Russia are set up here. The remaining western architecture on both sides of the road tell the stories of the past. Most of the buildings, now offices of state agencies are not open to the public. People can see the exterior.
Qianshi Hutong - Beijing's Narrowest Alley
Qianshi Hutong can be considered as the earliest financial market. It is the legacy of the official "money market" run in the Qing Dynasty. It is named after its function. The buildings of the developing financial companies, along with the the timber framed ceilings, were constructed during the Guangxu Emperor years (1871-1908). The narrowest place is only 0.4 meters wide. Two people have to squeeze together to pass through at the same time. It would be almost impossible to walk your a bicycle through it.
Address: West Side of Zhubaoshi Street, Xicheng District, Beijing
Bada Hutongs - the most stylish alleys
Bada Hutongs is actually the general name of at least 15 red-light alleys from the Qing Dynasty. It's a widely known place. Now people can take their time to stroll through the pleasant communities and stores. The style of the ancient years can still be felt from the old buildings and quadrangles (Siheyuan).
Address: West of Guanyin Temple, Qianmen Dashila, Xicheng District, Beijing
Nanluoguxiang - the most popular and stylish alley
Nanluoguxiang has become the most popular Hutong area in Beijing in recent years. People all find it a great pleasure as they shop around the stores, take bowls of Chinese cheese, visit home shops, and enjoy specialties in small restaurants. Nanluoguxiang is an alley that is 800 meters long. The Hutong area centered around is the best kept alley structure from the Yuan Dynasty, two dynasties earlier than the Qing Dynasty. Those deep courtyards are all the silent witness to the historical events and stories. Nanluoguxiang is only one block away from the imperial city walls. Hutongs, Siheyuans and green trees and nearby red-walled and gold-tiled royal halls are the separate embodiments of two cultures. Many pubs appear along the old alley. But their charges may be extremely high. It enjoys popularity just like Sanlitun and Shichahai Bar Streets.
Address: Nanluoguxiang Hutong, Dongcheng District, Beijing
Maoer Hutong - a place of history and culture
Maoer Hutong starts east from Nanluoguxiang and extends west to Di'anmenwai Avenue. The north end of Maoer Hutong is connected with Doujiao Hutong, and its south is connected with Dongbuyaqiao Hutong. In the Qing Dynasty, this Hutong was renamed as Maoer (hats) Hutong for the hat workshop set up here during the Qing Dynasty. The old Beijing courtyard houses and former aristocrats' mansions are well kept along the Hutong, usually two or three-stories high. Along the pathway, there are many old Beijing restaurants and stores for local delicacies and snacks.
Address: Northwest of Dongcheng District, Beijing
You may also like: