Shichahai Scenic Area covers Shichahai (also known as Qianhai Lakes), Back Lakes (Houhai Lakes), Xi Lakes (Jishuitan), and neighboring areas, with the total water area standing at 336,000 sqm and sharing the same source with waters in Zhongnanhai. As the only open water area in Beijing, it boasts the largest area and is the best preserved historical block in Beijing City. Former residences of celebrities, Hutongs, royal palaces, as well as local snacks can all be found here. Houhai Bar Street is the best choice to experience the night life in Beijing.
Quick Facts
Chinese Name: 什刹海风景区 Shí Chà Hǎi Fēng Jǐng Qū
Duration: 2-3 hours
Entrance fee: Free
Opening hours: All day
Address: 23 Yangfang Hutong, Xicheng District, Beijing City
Best time to visit: All year round
How to get there: Take Bus 13, 42, 107, 111, 118, 701, 810, 823 or 850, and get off at North Gate of Beihai Park
Highlights of Shichahai Scenic Area
1. Hutong tour with Rickshaw ride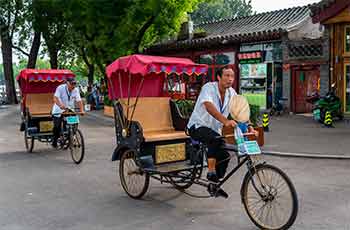 Hutong tour with Rickshaw ride
Hutongs in Shichahai are the best sightseeing value among all Hutongs. There are several kinds of Hutongs here, such as Ya'er Hutong, Baimi Bypass (Hutong of strange shape), Dajinsi Hutong, Sanbulao Hutong, Mianhua Hutong, Huazhi Hutong, Mao'er Hutong, Yandai Bypass, South Luogu Lane, Baihuashenchu Hutong, and Huxingtian Hutong, etc.. You cannot miss these Hutongs if you want to experience Old Beijing style and Hutong culture.
2. Royal Palaces and Former Residences of Celebrities
Ancient buildings around Shichahai keep the style of Old Beijing. Prestigious sites include Huitong Ancestral Temple, Deshengmen Embrasured Watchtower, Former Residence of Mei Lanfang, Former Residence of Song Qingling, Former Residence of Guo Moruo, Royal Palace of Prince Chun, Guanghua Temple, Yinding Bridge, and Bell and Tower Bridge, etc. Royal Palace of Prince Gong is the most popular, with over 100,000 characters of "福" (blessing) and the Stele of 福 written by Emperor Kangxi inside.
You can visit the Chinese Imperial Post on the Yandai Bypass, which marks the birth of modern China Post, if you are interested. Here postcards can be bought and stamped with postmarks, then taken as souvenirs or gifts to send to friends.
3. Ride a Sculling Boat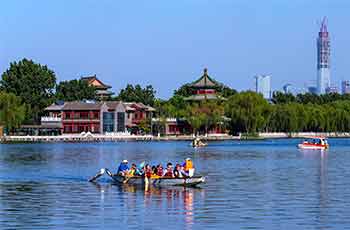 ride a sculling boat
It is suggested that you take a sculling boat and enjoy the view in summer when it is cool around the lake. With the lotus in full blossom, Shichahai Scenic Resort is really a good place to avoid the summer heat. You can choose pedal boats, rowing boats or sightseeing sculling boats, with the latter being recommended. Sightseeing by sculling boats takes about one hour and the boatmen would elaborate on attractions in Shichahai, including the renowned Yinding Bridge. You can share a boat with other passengers so as to share the fee. The price ranges from 50 to 100 yuan, depending on the boat type. Wharfs along the shores of the lakes include Haomeng Jiangnan Wharf and Hehua Market Wharf (Sculling boats are available here) of Qianhai Lakes, as well as Yeyadao Wharf and Liuyinzendu Wharf of Houhai Lakes. Sightseeing boats are all available here. The birthday of lotus, known as the Lotus Festival, falls on June 24 of the lunar calendar. It will be quite crowded during this time.
4. Skate on the Lakes in Winter
Lakes ice up in winter. Shichahai Skating Rink will open for business when the ice is thick enough. Entrance fee is 20 yuan per person. You can also rent skating boots and ice bikes, which require a deposit of about 100 to 200 yuan.
5. Siheyuan (Quadrangle Courtyard) Culture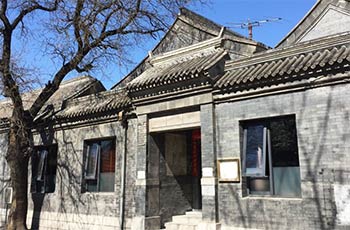 Siheyuan (Quadrangle Courtyard)
There are about 1,000 Siheyuan in Shichahai, such as Lejia Courtyard, Caojia Courtyard, Qijia Courtyard, Duanjia Courtyard, Former Residence of Jiaoda, Zaolin Courtyard, Shifeng Courtyard, a Courtyard shaped as the Chinese character "回" , Shuijing Courtyard, North Building of Xihai Lakes near Yinding Bridge, Mushi Building, Mahua Courtyard, and Tingfeng Building, etc., most of which are either mansions, religious buildings or bridges. To pay a visit here will help deepen understanding of the history and culture of Shichahai.
6. Taste Local Snacks
There are various local snacks available near Shichahai. You can visit the Jiumen Snack Store in the west of the Former Residence of Song Qingling. Over ten time-honored brands of Beijing can be found in this old-fashioned quadrangle courtyard, such as sauced beef, fried wheaten pancake with meat and sea cucumber fillings, mutton slices cooked in hotpot, and bean curd jelly. Huguosi Snack Street in the west of Mei Lanfang Memorial Museum is another choice for Hutong snacks, including broiled chicken nuts of Guanshi, Gongting cheese, fried wheaten pancake with meat fillings in the shape of a shoe sole. Peking Quanjude Roasted Duck Restaurant can be found in Hehua Market.
7. Shichahai Bar Street
Shichahai Bar Street attracts bars with best artistic ambience in Beijing. Bars are either located along Shichahai under the shade of trees or in old-fashioned Beijing quadrangle courtyards. Bars here are quieter compared with those in the Beijing Workers' Sports Complex and Sanlitun. Many excellent local resident singers work in either public houses or music bars. Stories about people who work and live in Beijing without registered residence are also shared here. Popular ones are Hutong Bar, Bar of Fire and Wood, Alpha Omega Club, and Heaven on Earth Bar, etc..