Beijing Weather in October
The temperature fluctuates in October. It may reach 20℃ in the daytime, but drops to below 10℃ at night. The change of weather seems random.
| | | | | |
| --- | --- | --- | --- | --- |
| | Average Maximum | Average Minimum | Highest Maximum | Lowest Minimum |
| ℃ | 19 | 12 | 27 | 8 |
| ℉ | 57.2 | 78.8 | 96.8 | 46.4 |
Sunny Days: 13 Days
Cloudy Days: 13 Days
Rainy Days: 5 Days
In early October:
Knits or jackets that can be put on and taken off easily help protect against the rapidly changing conditions. The extreme temperature changes can cause a variety of maladies, such as colds or respiratory diseases. It may be wise to carry familiar remedies.
Tips (Weather during National Day )
It is generally quite warm during National Day and the temperature generally stays between 8℃ and 19℃. The temperature tends to fluctuate in October and so thick clothes such as woolen pullovers and windbreakers might help to keep you warm outdoors in the evening.
In mid-October:
Thin hoodies and shirts are good for keeping warm and for exercising. Layered clothing can also be fashionable, and so t-shirts with jackets are convenient for a change of clothes during the tour.
In late October:
The winter for Beijing starts in late October. Sometimes the temperature drops to below 10℃. Please put on woolen sweaters or thick outfits to protect against the chill. Dry weather can dry out your skin, so it's a good idea to apply moisturizing cream after a bath.
Historical Beijing Weather in October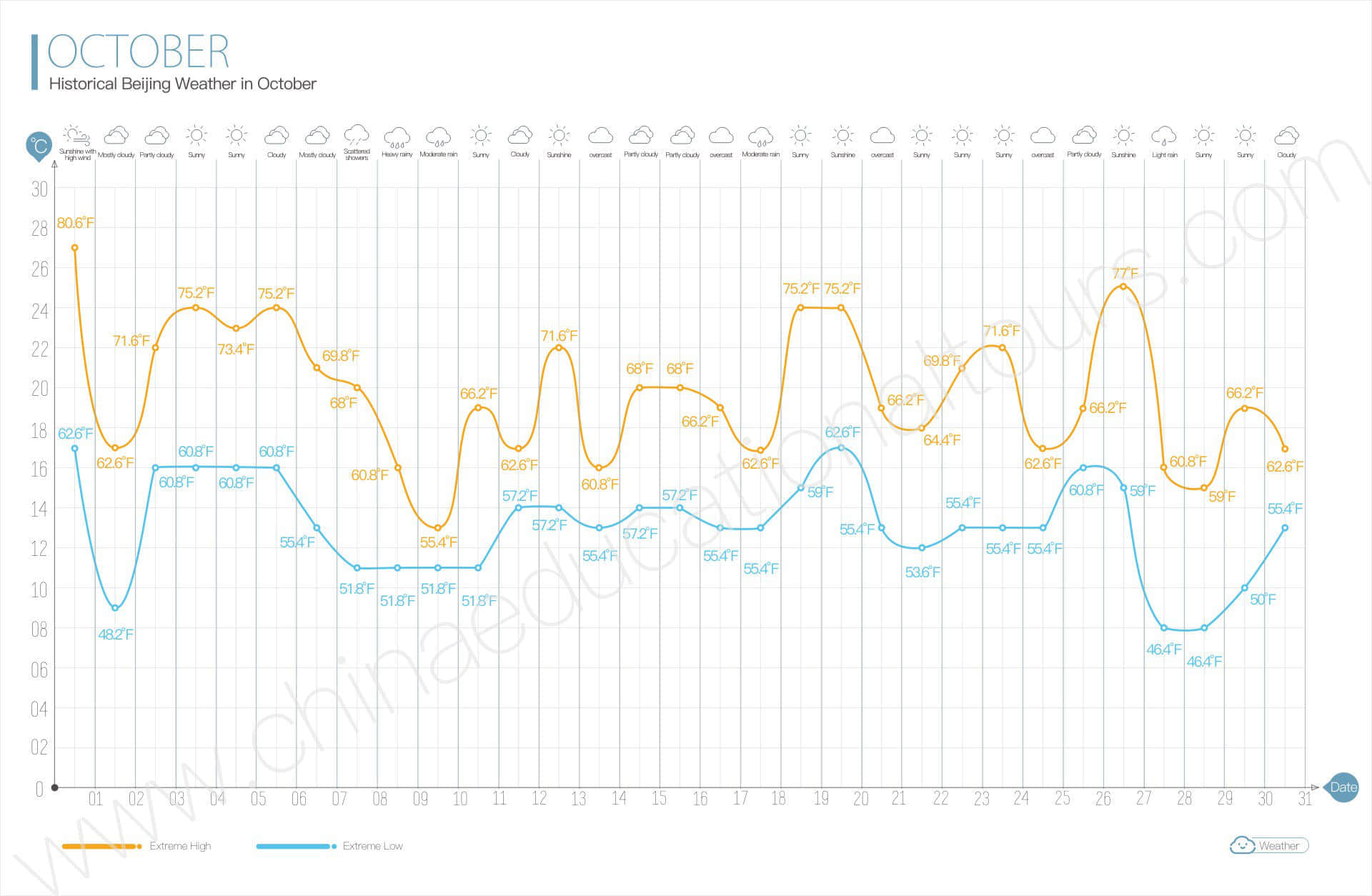 click here to enlarge
Beijing AQI(Air Quality Index) in October
According to the historical Beijing AQI data in 2018
The average AQI for Beijing in October is 67.5, which is considered good. 17 days were evaluated as 'excellent', 7 days were 'good', and 7 days were 'lightly polluted'. So generally speaking, Beijing AQI in October is very suitable for an outing.

Where to Go and Travel Tips
It is a good time to enjoy the autumn colors and fragrance in Beijing. October is a prime time for travel in Beijing, and it's also a crowded time, because of the National Day holiday of China from October 1 to 7. The National Day holiday of China is a one-week long holiday for most jobs so that the market in the whole of China will be active as well as tourism. Avoiding the holiday week can make your travel experience more personal and comfortable.
In this golden season of tourism, the classic Beijing tour route is the top recommendation. The Forbidden City, the Hutongs, the Great Wall, the Summer Palace and the temple of heaven, these famous scenic spots show their most charming side in autumn. People say that autumn is a season that takes great photos without any technique.
Tour Recommended:

4-Day Beijing Royal Highlights with Great Wall Popular

Discover the essence of Beijing, this classic tour route is always popular among tourists. Find the real Beijing by enjoying the short tour.
October Events, Holidays & Festivals
National Day
This is the most important day for marking the anniversary of the founding of the People's Republic of China in 1949. Whenever it is National Day, large flower beds called "bless the motherland" will be placed in the center of Tiananmen Square. The portrait of Chairman MAO hanging on the Tiananmen Gate Tower will be replaced with a new one. The city is decorated with the Chinese national flag, full of happiness and patriotism.
Double Ninth Festival
The Double Ninth Festival, also referred to as the Chongyang Festival, is held on the ninth day of the ninth lunar month. This festival has been designated as the Senior's Festival since 1989, to express respect for elders. People climb mountains, admire chrysanthemums, drink chrysanthemum wine, wear cornus officinalis flowers and eat chongyang cakes during the festival.
Have a question?
OR
Are you eager to begin your Chinese cultural journey?
Drop us a line and we will promptly connect you with our leading China expert!