Beijing Weather in June
June is hot and dry, with temperatures that range widely, and gentle breezes. Although it does not rain much, there are thundershowers from time to time. In general, it is a good month for tourism.
| | | | | |
| --- | --- | --- | --- | --- |
| | Average Maximum | Average Minimum | Highest Maximum | Lowest Minimum |
| ℃ | 30 | 38 | 36 | 13 |
| ℉ | 66.2 | 86 | 100 | 55.4 |
Sunny Days: 14 Days
Cloudy Days: 7 Days
Rainy Days: 9 Days
What to wear and bring?
In early June: Cotton, linen and chiffon shirts, long thin dresses and t-shirts that offer ventilation and keep you cool are appropriate for June. Long sleeved clothing might be needed in the evening.
In mid-June:
Lighter colored materials and pastels such as light blue, yellow or white may feel cooler.
Tips:(Weather during the Dragon Boat Festival)
The Dragon Boat Festival usually falls between late May and mid-June with an average temperature between 15℃ and 27℃. The weather in Beijing is very agreeable. The rainfall in the dry season is relatively low. Cotton and linen shirts, long dresses, etc. that offer ventilation and keep you cool are appropriate.
In late June:
Thundershowers may appear in late June. Please be prepared with rain gear.
Historical Beijing Weather in June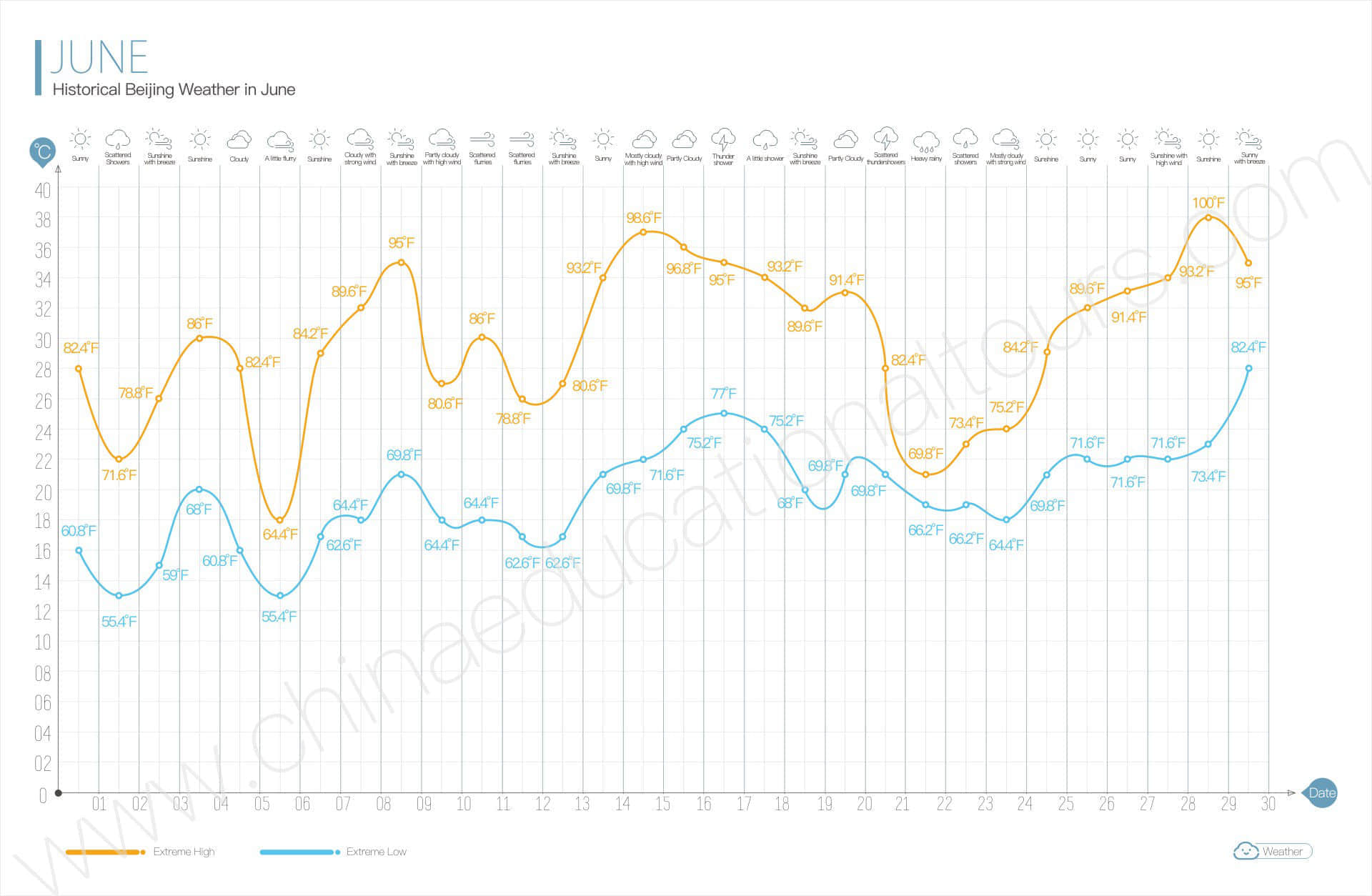 click here to enlarge
Beijing AQI(Air Quality Index) in June
According to the historical Beijing AQI data in 2018
The average AQI for Beijing in June is 93.6, which is considered good. 1 day was evaluated as 'excellent', 17 days were 'good', and 12 days were 'lightly polluted'. It is suitable for outdoor activities.

Where to Go and Travel Tips
June is a slack season for tourism as it is the month before the summer vacation of Chinese schools. The temperature in early summer allows you to travel light without suffering from the high temperature. Having less people around makes it a perfect time to enjoy some in-depth travel.
The Forbidden City, Tiananmen Square, the Temple of Heaven, the Summer Palace, the Great Wall and the Hutongs are all good places to visit. The presence of fewer tourists allows you to experience the real Beijing.
The lotuses will begin to bloom in late June, especially in the Kunming Lake in the Summer Palace. Beihai Park is another ideal place to appreciate the beautiful summer flowers.
Tour Recommended:

7-Day Tour to Learn Beijing's Rich Cultures

Visit Beijing from a cultural perspective. Experience China's long history and rich culture by learning language and calligraphy, anticipating tea ceremony, practicing Taichi and making dumplings.
June Events, Holidays and Festivals
Dragon Boat Festival
>
The Dragon Boat Festival is known as one of China's four traditional festivals (the other three are Qingming, Mid-Autumn and Spring Festival). The culture of the Dragon Boat Festival has a wide influence in the world, as some countries and regions in the world also celebrate the Dragon Boat Festival. Plenty of celebrations are held in Beijing for the Festival, traditional activities can be experienced.
International Children's Day
Chinese children are no exception, as International Children's Day is the favorite festival for children all around the world. On this day, the whole city celebrates the festival for children, especially the amusement park. Beijing has a few great amusement parks. Take your children to have a good time.
Have a question?
OR
Are you eager to begin your Chinese cultural journey?
Drop us a line and we will promptly connect you with our leading China expert!