Beijing Weather in May
Spring in Beijing is short. The temperature picks up quickly and there is a big differences between the day and night temperatures. The ambient temperature is moderate.
| | | | | |
| --- | --- | --- | --- | --- |
| | Average Maximum | Average Minimum | Highest Maximum | Lowest Minimum |
| ℃ | 14 | 26 | 36 | 8 |
| ℉ | 57.2 | 78.8 | 96.8 | 46.4 |
Sunny Days: 17 Days
Cloudy Days: 10 Days
Rainy Days: 4 Days
What to wear and bring?
In early May:
Cotton and linen shirts, long dresses and t-shirts that offer ventilation and coolness are appropriate for May. A top or light jacket would be enough for coping with the cold morning or evening, or shopping in malls or subways where air conditioning is provided.
Tips: (Weather on Labor Day)
The average temperature on Labor Day stays around 10℃-25℃. Short sleeved t-shirts and long sleeved jackets are good for an easy change of clothes.
In mid-May:
People would find it very easy to choose clothing. Stylish t-shirts and long sleeved jackets are a flexible combination for the heat at noon or the high temperatures. A sunhat is both fashionable and useful.
In late May:
The temperature is likely to reach 30 ℃ during the day time. The proper summer only allows for very thin tops. Please take care to avoid sunstroke.
Historical Beijing Weather in May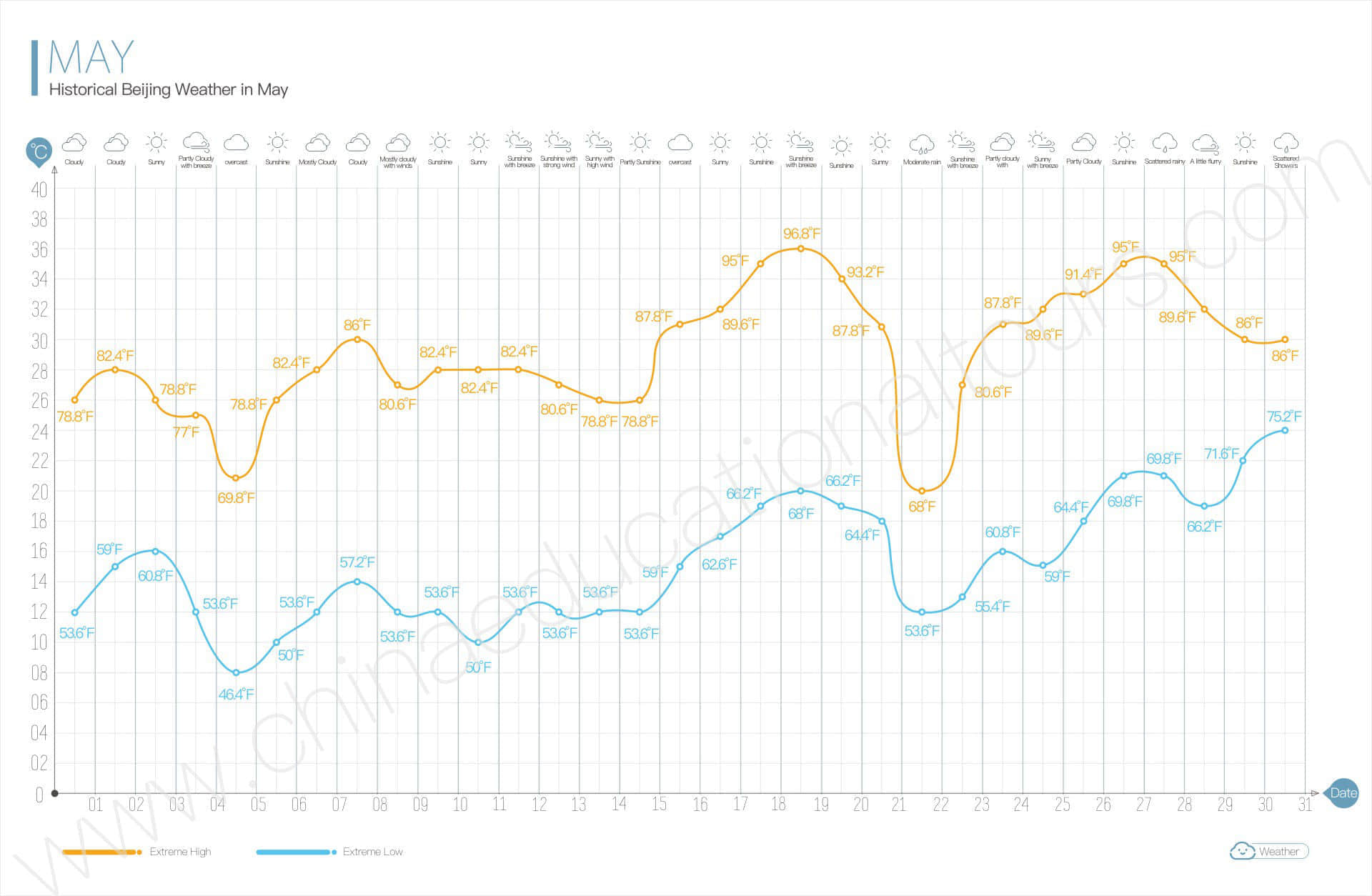 click here to enlarge
Beijing AQI(Air Quality Index) in May
According to the historical Beijing AQI data in 2018
The average AQI for Beijing in May is 102.7, which is a normal level in Beijing. 3 days were evaluated as 'excellent', 13 days were 'good', and 15 days were 'lightly polluted'. Don't worry too much about air quality this month. It's basically harmless and suitable for outdoor activities.

Where to Go and Travel Tips
May is one of the best months to visit Beijing, with a pleasant climate for outdoor activities. May Day is a legal holiday in China. There will be a lot of people traveling around on the holiday and this may cause traffic jams. If you don't want to see large numbers of people in scenic spots, you'd better avoid coming to Beijing in early May.
May is the season for artistic life in Beijing, when plenty of international standard performances are on in Beijing. If you are interested in artistic performances and exhibitions, you can get relevant information and buy tickets in advance before coming to Beijing.
Tour Recommended:

Hiking the Original Great Wall Sections in Beijing Adventure

Visiting the Great Wall of China is on everybody's traveling list. Our hiking trip on the unrestored sections of the Great Wall presents the original Wall with its rich historical background. Less crowded Great Wall sites let you focus on the beauty of this ancient relic.
May Events, Holidays & Festivals
May Day
May Day, also known as International Labor Day, is a legal holiday in China. Like most countries in the world, May Day in China began with the labor strike in the American city of Chicago. To commemorate the great workers' movement, the second international congress of 1889 announced that May 1st would be the annual international Labor Day. The Chinese government honors outstanding model workers on this holiday. It is the peak time for tourism as most people get a short holiday.
China's Youth Day
The China's Youth Day originated from the "May 4th Movement" which was from China's anti-imperialist and patriotic demonstration in 1919. The main force in this demonstration was students and workers and it was the beginning of China's new democratic revolution. Young people will focus on various social volunteer and social practice activities to celebrate the day. Adult ceremonies will be held in some places during Youth Day. Visiting a museum or famous university can help you understand this history.
Mother's Day
Mother's Day, which first appeared in ancient Greece, is a festival to thank the Mothers. Mothers usually receive cards and carnations as gifts. As in most parts of the world, shopping malls and attractions often have Mother's Day themed promotions. A China tour may a great gift for your mum during the festival.
Have a question?
OR
Are you eager to begin your Chinese cultural journey?
Drop us a line and we will promptly connect you with our leading China expert!