Beijing Weather in January
The sever winter begins in January in Beijing, featuring little rainy, a lot of sunny days, and a light snow. But the air is very dry.
| | | | | |
| --- | --- | --- | --- | --- |
| | Average Maximum | Average Minimum | Highest Maximum | Lowest Minimum |
| ℃ | 3 | -5 | 8 | -10 |
| ℉ | 37.4 | 23 | 46.4 | 14 |
Sunny Days: 19 days
Cloudy Days: 10 days
Snow Days: 3 days
What to wear and bring?
In early January
The average temperature during the day is between 0℃ to 4℃. A woolen sweater is suitable indoor, for the heating in Beijing are supplied. But the outside is very cold, it is necessary to wear a warm coat.
In mid-January
Mid-January is the coldest period in the whole year. Temperature is about 0℃. Thick coats, down jacket and woolen sweaters, thermals and winter pants need to be prepared. As the dry weather, it is advised you to bring some water and water spray.
In late January
The weather in late January is similar to that in mid-January, a scarf, a hat, gloves, a down jacket are basically require.
Historical Beijing Weather in January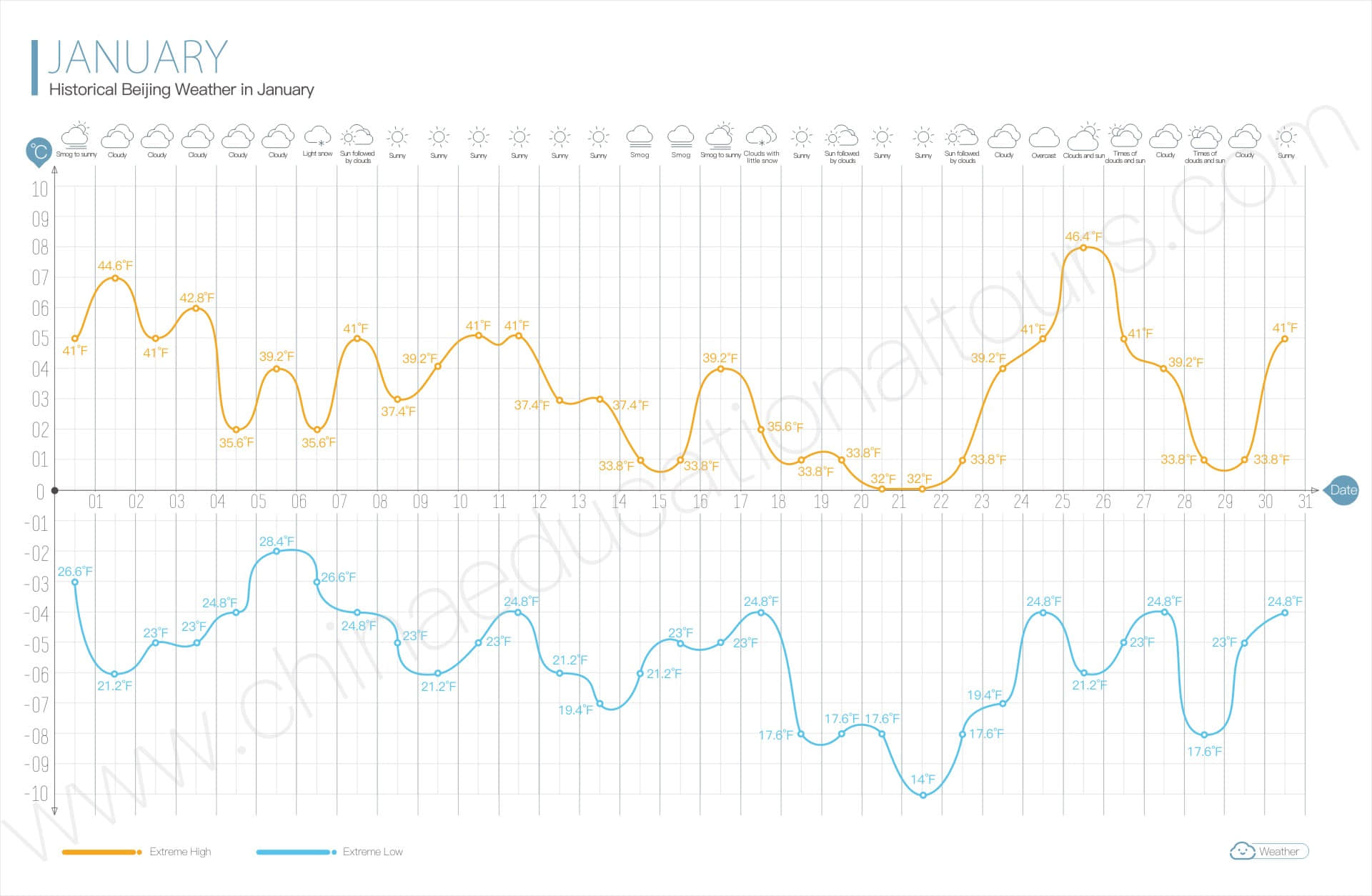 click here to enlarge
Beijing AQI(Air Quality Index) in January
According to the historical Beijing AQI data in 2018
The average AQI for Beijing in January is 60.4, which is considered good. 14 days were evaluated as 'excellent', 12 days were 'good', and 5 days were 'lightly polluted'. So, generally speaking, Beijing AQI in January is very suitable for an outing.
AQI≤50 Excellent. No health implications. Enjoy your usual outdoor activities.
50<AQI≤100 Good. The requirements of air quality in residential, commercial, cultural, industrial and rural areas.
100<AQI≤200 Lightly Polluted. Slight irritations may occur. Children, elders and people with heart or breathing problems should reduce strenuous outdoor activities.
200<AQI≤300 Moderately Polluted. Patients with heart and lung disease have significantly increased symptoms and reduced exercise tolerance. Healthy people generally feel discomfort.
300<AQI Heavily Polluted. Healthy people have reduced exercise tolerance, obvious symptoms and some diseases.
Where to Go and Travel Tips
January is the beginning of the year in western countries, and China also celebrates New Year's Day. The countdown in the square and the New Year's fireworks, all of these are things you can experience in Beijing.
As this is snow season, skiing is one of the top recommended outdoor activities. Nanshan Ski Resort, Badaling Ski Resort, and Yuyang Ski Resort are good choices. A visit to the Great Wall is another excellent outdoor activity. You'll be amazed by the snow views on the Great Wall in winter.
Late January is usually the time of the Spring Festival travel rush in China. It's a good idea to avoid too much intercity traffic during busy hours in this city. If you have a train journey to somewhere from Beijing in your itinerary, you can get a taste of China's Spring Festival travel rush. (It's not recommended!)
Top tour in January:

1-Day Mutianyu Great Wall and Ming Tombs Tour Popular

The snow on Mutianyu Great Wall is highly recommended in winter. The tour is on the outskirts of Beijing and can be followed by visiting some nice ski resorts.
January Events, Holidays & Festivals
New Year's Day
New Year's day is an important holiday in China and it is also an official holiday in China. Shopping malls, scenic spots and streets will be decorated with New Year theme decorations. Plenty of activities and celebrated programs will be held in Beijing. For Chinese people, they pay more attention to "lunar New Year" which is also called the Spring Festival, so New Year's day doesn't have so many traditional programs as in western countries.
Yanqing snow and ice tourism festival
Yanqing ice and snow tourism festival is a winter tourism festival with great influence in northern China. It is famous for its rich and wonderful ice and snow landscape, winter activities, and unique folk customs. The main programs in the festival are Longqingxia ice lanterns, alpine skiing, snowmobiling, ski resort hot spring, ice and snow temple fair and so on.
Location: Shi Jing Long Ski Resort, Longqingxia
Have a question?
OR
Are you eager to begin your Chinese cultural journey?
Drop us a line and we will promptly connect you with our leading China expert!