Beijing Weather in March
The average temperature in March stays between 0℃ and 12℃. Temperature differences can be great between day and night when the "late spring coldness" occurs. Sunny and cloudy days are dominant. But there are showers of rain from time to time.
| | | | | |
| --- | --- | --- | --- | --- |
| | Average Maximum | Average Minimum | Highest Maximum | Lowest Minimum |
| ℃ | 14 | 3 | 20 | -3 |
| ℉ | 57.2 | 37.4 | 68 | 26.6 |
Sunny Days: 10 days
Cloudy Days: 16 days
Rainy Days: 4 days
What to wear and bring?
In early March:
Even when the weather warms up, padded coats can be needed when the temperature drops. Wear face masks when smog occasionally appears in spring.
In middle March:
Wearing windbreakers with a fleece layer for outdoor activities is usually enough,but put on thick footwear such as winter boots or winter walking shoes. Local central heating service ends in mid-March. People generally wear thick outfits, thick jackets, pullovers, thermal underwear, pants and jumpers.
In late March:
The "late spring coldness" tends to visit and the temperature fluctuations between day and night cannot be ignored. Coats, woolen pullovers, scarfs and woolen caps are both stylish and practical.
Historical Beijing Weather in March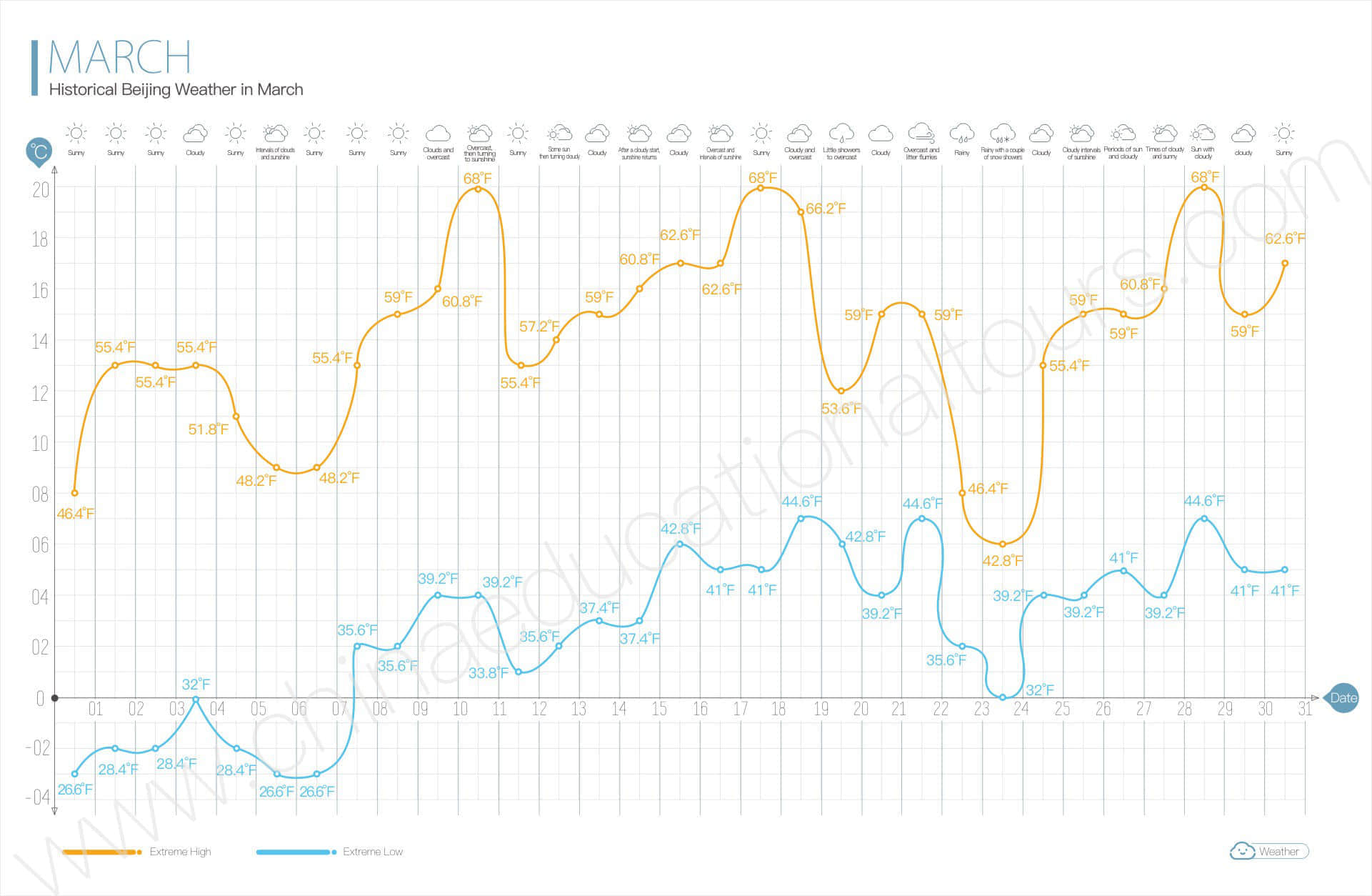 click here to enlarge
Beijing AQI(Air Quality Index) in March
According to the historical Beijing AQI data in 2018
The average AQI for Beijing in March is 130.5, which is not very good. 2 days were evaluated as 'excellent', 12 days were 'good', 12 days were 'lightly polluted', 4 days were 'moderately polluted', and 1 day was 'heavily polluted'. If you are sensitive to the air, have heart and lung disease or have respiratory problems, it is recommended to prepare some protective measures such as masks when you travel to Beijing.

Where to Go and Travel Tips
March is the beginning of spring, and flower appreciation is the most recommended activity in this season. The beginning of March is time for wintersweet. The Fragrant Hills Park is the best place to find wintersweet in Beijing. There are hundreds of wintersweet in the park, many of them are more than ten years old. With spring greeting, forsythia, mountain peach and xibu begonia blooming in succession, visiting the Summer Palace at any time during March is a wise choice for flower appreciation.
If you are allergic to pollen, please take precautions to protect yourself. Wear a mask and talk to your guide about the situation. The guide will help you to avoid places with lots of flowers.
Recommended:

The best-preserved imperial resort, it is known as the Museum of the Imperial Garden and is a national key scenic spot. This is one of the best places for flower appreciation in Beijing.
March Events, Holidays & Festivals
International Working Women's Day
As an international metropolis, Beijing also has celebrations on Women's Day, such as discounts in shopping malls and preferential ticket prices in scenic spots for working women. Some companies will give women staff one day off for celebrating.
Chinese Arbor Day
Like Arbor Day in other countries around the world, the festival is to advocate for people planting trees and protecting the environment. The weather in March is perfect for growing plants, which is why the date was chosen. On this day, you may meet groups of people in parks or in the countryside planting trees. It is a good idea to join them and plant your own tree in China!
Have a question?
OR
Are you eager to begin your Chinese cultural journey?
Drop us a line and we will promptly connect you with our leading China expert!