Top 5 Destinations for Graduation Trips to China

Are you graduating from school in the near future? How about going for a graduation trip to China as a reward for your years of hard work in school? A graduation trip will certainly refresh you, inspire you, and be good for your personal growth. China has almost every kind of tour destination that you could possibly need. We have some recommended destinations in China for your reference.

1. Shanghai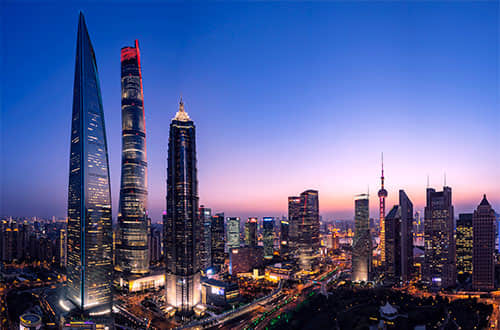 Location: East Coast of China
Best time to visit: All seasons
Recommended Attractions: The Bund, Huangpu River Cruise, Take in a bird's eye view of Shanghai from a skyscraper
If you are planning to travel to China, Shanghai is one of the must-see destinations. It is one of the most developed cities in China, and you will see evidence of the great improvement in the city's construction and economic development.
Walking along the Bund beside Huangpu River in Shanghai, you will see the difference between the 'old' Shanghai and modern Shanghai from both sides of the River. 52 historical buildings have witnessed the development of Shanghai. They are well protected by the government.
Taking a night cruise along the Huangpu River will always be a great idea. You will see a stunning night view when both sides of the river are brilliantly illuminated.
After a visit to the Bund, and taking the cruise, you can observe lots of skyscrapers in the Lujiazui financial district. Enjoying a bird's eye view from the top of one of the skyscrapers, you will see the beauty of Shanghai from a different angle. There are lots of choices such as the Oriental Pearl Tower, Shanghai Tower, Shanghai World Financial Center and Jin Mao Tower.
Tips: Taking the metro between attractions will be a good idea to better experience the local life in Shanghai. It's more convenient and cheaper than taking a taxi or a public bus.
Read more about Trip Ideas in Shanghai
2. Sanya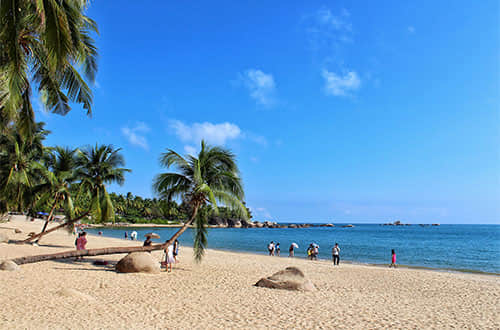 Location: Hainan Province, Southern China
Best time to visit: October to June
Recommended Attractions: Yalong Bay, Wuzhizhou Island, Nanshan Temple
This is a great chance to relax and enjoy sunbathing at a wonderful beach in Sanya after your school studies. Sanya is located at the southernmost point of Hainan Island, faces the South China Sea, and has the most beautiful beaches in China.
There are lots of beaches in Sanya. Yalong Bay is reputed to be "the best bay in China". You could go on the beach or just book into a hotel at Yalong bay. Sanya Bay is well-known and closer to downtown Sanya city. There are not too many people at the beach when the sun is really strong because most Chinese people dislike getting a tan.
If you want some more fun activities, take a day trip to Wuzhizhou Island. The seawater is pollution free and crystal clear. It's a wonderful coastal natural resource for parasailing, diving, boating or jet skiing, etc. You will be released from the stress of the study and city life.
The 108meter (354ft) tall statue of Guanyin (Goddess of Mercy) should not be missed near Nanshan Temple. You can even see this giant statue from the plane before you land at the airport of Sanya. It's even higher than the Statue of Liberty in New York City. It's one of the twelve tallest statues in the world.
Tips:
There are lots of apartment hotels near Sanya Bay. You can go to the local market, buy seafood, and cook it at your apartment!
It's Typhoon season from July to September in Hainan province. So check the weather for Sanya before you go during this period.
3. Lhasa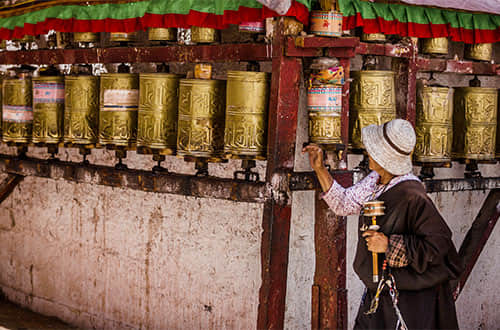 Location: Tibetan Autonomous Region, Southwest of China
Best time to visit: March to October
Recommended Attractions:Potala Palace, Jokhang Temple, Barkhor Street, Yamdrok Lake
Want to spend some time in a quiet, peaceful place? Pack your bags and take your camera, as Lhasa is the place that fits your needs. This is the center of the Tibetan Buddhist world. As the highest region on earth, Tibet holds the blue sky, sunshine, snow-capped mountains, crystal lakes, and culture of the mysterious religion. It's a perfect destination to experience the rebirth of your soul.
Potala Palace should not be missed once you arrive in Lhasa. As a World Heritage Site, Potala Palace was the political and religious center of Tibet. It has been a museum since 1959, and is the best place for you to learn about Tibetan history, culture and religion.
Jokhang Temple is the most important Tibetan Buddhist Temple and is reputed to be the "Holy Temple". The temple was built during the reign of King Songtsen Gampo about 1300 years ago. The area surrounding Jokhang Temple is called Barkhor Street. It is a popular devotional circumambulation for pilgrims and locals. Walking around Barkhor Street, you will see the old style architecture and learn about real life in Lhasa.
Driving out of Lhasa to the south for about 2 hours, you come to Yamdrok Lake. It is one of three holy lakes in Tibet. Located at the highest plateau on the earth, the scenery around Yamdrok Lake gathers the blue sky, snow-capped mountains, and crystal clear lake water. It's the perfect place to relax and relieve stress.
Tips: A Tibet Travel Permit will be requested from China government before you take the train or flight to Lhasa. Foreigners' trips to Tibet should be organized by travel agencies in China, no matter whether it's a group tour or a private tour. Travel agencies will apply for the Tibet travel Permit for foreign travelers about one month before you arrive in Tibet.
Tour Recommendation: Lhasa 4-Day Essence Tour
4. Harbin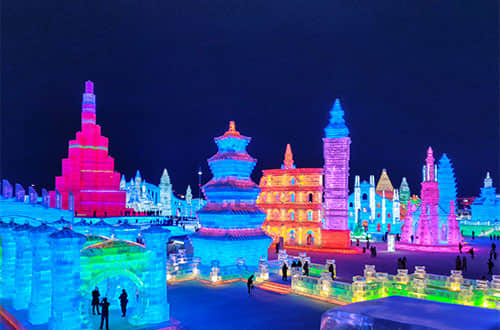 Location: Heilongjiang Province, Northeastern China
Best time to visit: November to March
Recommended Attractions: Harbin Ice and Snow World, Skiing, Saint Sophia Cathedral
Located in the northeast of China, Harbin and its surrounding area is a paradise for ice and snow lovers. Many people travel to Harbin in winter and participate in a variety of winter activities.
Harbin's annual "Ice and Snow Festival" is always the highlight of winter. In Harbin "Ice and Snow World", you will be surprised by the many spectacular ice and snow sculptures, castles and slides. With the light show in this park, it looks like a colorful ice city. As the biggest event of this type in the world, it's absolutely worth it to visit at least once in your life!
There are lots of ski resorts around Harbin. The most famous one is called Yabuli Ski Resort. It's the largest and best ski training base in China. No matter whether you are a professional or an amateur, you will definitely enjoy the fun of winter sports there.
You may also go to Sunac Land Snow World in downtown Harbin . It's a super-sized indoor ski resort. There are 6 skiing trails down different degree-slopes, and 3000 people can ski at the same time. This place will be the best option for you in summer or bad weather.
There was a deep historical connection between Harbin and Russia about 100 years ago. Therefore, examples of Russian style architecture are all over the city. Saint Sophia Cathedral is just one of the landmarks of Harbin. It's the largest Orthodox Church in the far east. With the protection of the Chinese government, it is open to the public as Harbin Architectural Art Gallery.
Tips: Most of the activities in Harbin are in Winter. So please bundle up! It's around -20°C (-4°F) during winter time in Harbin. If this doesn't bother you, you can have a great experience in Harbin during the winter months.
Tour Recommendation: 4-Day Winter Experience in Harbin
5. Zhangjiajie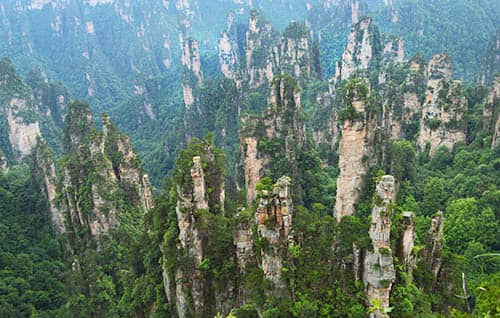 Location: Hunan Province, China
Best time to visit: All seasons
Recommended Attractions: Tianmen Mountain, Zhangjiajie National Forest Park, Glass Bridge at Zhangjiajie Grand Canyon
If you want some breath-taking scenery and exciting activities, go for a visit to Zhangjiajie! Zhangjiajie is located in the southwest hinterland of China. Many world-class extreme sports competitions have been held in Zhangjiajie. It has become well-known in the world.
When you arrive in Zhangjiajie, you must visit Tianmen Mountain to experience the world longest cable car trip (7455meters/4.6miles long). You will be amazed by the miraculous power of nature after you have been to the Heaven's Gate Cave and trodden the glass walkway in Tianmen Mountain scenic area.
You probably still have a deep impression of the floating mountains in the movie "Avatar". James Cameron was inspired by the solitary natural stone peaks in Zhangjiajie National Forest Park, and from that he designed the floating mountains in the movie. You will be stunned by the more than 3000 stone peaks which are around 200meters (656ft.) high. Zhangjiajie National Forest Park is quite a big area, so you will want to spend at least one full day to explore this unique place.
Zhangjiajie Grand Canyon has become even more popular than other attractions in Zhangjiajie, because of the glass bridge in the Grand Canyon scenic area. It's the longest (536m/1758ft) and highest (280m/918ft) transparent glass bridge in the world. You really need to be brave to step onto the glass bridge. If you think you are a tough character and have a big heart, you can go bungee jumping at the middle part of the glass bridge! It's very likely that nothing will be able to stop you in your future career after you have learnt to overcome your fear here.
Tips: Due to the exciting activities and zigzagging mountain roads in Zhangjiajie, people having heart disease, high blood pressure and acrophobia (fear of heights) are not suitable to visit the attractions and activities above.
Overall, we have listed a number of destinations with totally different style and characters. Of course, China is big. You may choose the right destination or region to visit as a graduation trip. There are plenty of surprises to explore in China!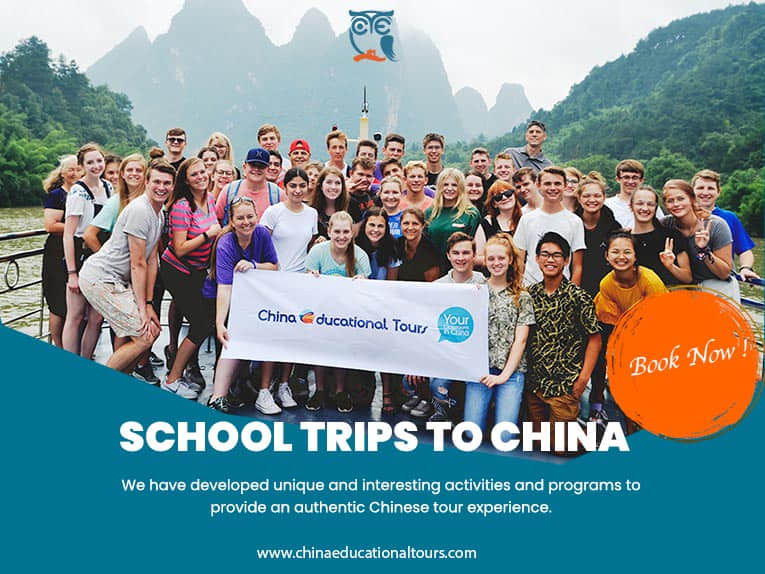 Have a question?
OR
Are you eager to begin your Chinese cultural journey?
Drop us a line and we will promptly connect you with our leading China expert!