Zhangjiajie National Forest Park is divided into Huangshizhai, Golden Whip Brook, Yuanjiajie, Yangjiajie, and Tianzi Mountain. There are strangely-shaped peaks everywhere. When strolling around, you can see green plants, plunging waterfalls and rivers. It is also the shooting location of the floating Hallelujah Mountain in the movie Avatar. It is known for its unique quartz sandstone peak forest landforms, integrating grandeur, fantasy, serenity, wildness and magnificence. Three thousand stone peaks spring up with distinctive shapes, among which are a deep and tranquil canyon and flowing rivers. In Spring, flowers bloom all over the mountains with strong fragrance; in summer, with a cool breeze blowing, it is the best summer resort; in autumn, maple leaves turn red and fruits hang on the branches; in winter, the mountains are all covered with snow. With pleasant weather and distinctive scenery in the park, it is the ideal destination for travel, vacation, and leisure.
Quick Facts
Chinese Name: 张家界国家森林公园 Zhāng Jiā Jiè Guó Jiā Sēn Lín Gōng Yuán
Building time: In 1982
Duration: 3 day
Entrance fee: RMB245 for 3 days valid
Opening hours: Peak season (April-October): 8:00-18:00 Slack season (November-March): 8 : 30-17 : 30
Address: Jinbian Road, Wulingyuan District, Zhangjiajie City
Best time to visit: All year round
Bus lines: At the bus stop located at the intersection of the city center of Zhanjiajie City, Huilong Road and Renmin Road, many buses directly head for National Forest Park every day. The bus runs every 10 min and charges RMB 11 per person, which takes nearly 40 min in the whole journey of 32 km.
Highlights of Zhangjiajie National Forest Park: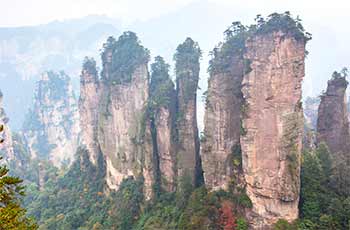 Yuanjiajie
Yuanjiajie:
Located at the northern part of the National Forest Park, Yuanjiajie is a scenic spot in the Zhangjiajie Park and is known as the mysterious world of Pandora. Here you can explore the magical world of floating mountains in Avatar. When there is light rain falling, or it has just rained, you can enjoy the beauty of the misty mountains and peaks. The famous Mount Hallelujah, majestic Mihuntai Platform and the No.1 Bridge in the World are all popular scenic spots.
Yuanjiajie has beautiful landscape and regular passageways, thus attracting many tourist groups. Tourists in pairs are recommended to tour around in a reverse direction to avoid other groups and find good places for taking photos.
Yangjiajie: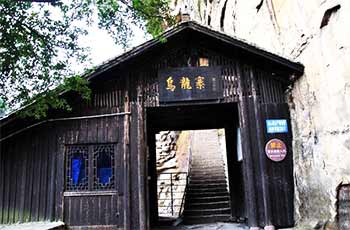 Wulongzhai
Yangjiajie is located in the northwest of Wulingyuan and adjacent to Tianzi Mountain in the north. The area encompasses Xiangzhi River, Longquan Canyon and Baihou Valley. Xiangzhi River is located in the eastern part of Yangjiazhai. Along the banks of the meandering river are towering peaks. In the Longquan Canyon, stone peaks, clear rivers, deep pools and plunging waterfalls blend into one harmonious whole. Baihou Valley is the home of the macaque and egret. Groups of macaque appear among cliffs and ravines while flocks of egret live close to green forests. A visit to Yangjiazhai enables you to enjoy unique scenery progressively. You can also visit Wulongzhai, Tianbo Mansion and other famous scenic spots, whose enchanting landscape will give you a deeper understanding of Xiangxi's folk customs. There are also over 200 scenic spots including Yibudengtian and the skywalk.
Huangshizhai:
Huangshizhai is also called Yellow Lion Village because the whole mountain, with an elevation of over 1,200 meters, looks like an intrepid male lion. With precipices surrounding and green trees clustering, it is a relatively larger observation deck for overlooking the landscape of quartz sandstone and peak forest, and the best place for watching the sunrise. The stone peaks of different shapes will demonstrate distinctive images when seen from different angles.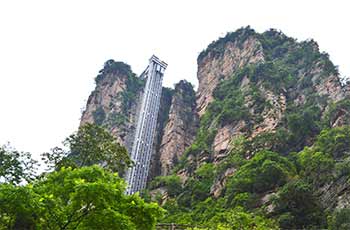 Bailong Elevator
Bailong Elevator:
Bailong Elevator is 335 meters high. When standing in the two-layered glass observation elevator, it seems like you are in a fairyland, where you can appreciate a great wonder of Zhangjiajie through the glass: 48 independent stone peaks gather into "the general array", directly facing the Bailong Sky Ladder. Bailong Sky Ladder is listed into Guinness World Records because it is "the highest and fastest elevator with the largest loading capacity in the world".
Golden Whip Brook:
Golden Whip Brook is a naturally-shaped beautiful river, getting its name because it flows through Jinbian Stone. It is called "gallery of mountains and rivers" and "fairyland on earth" for its flourishing vegetation and clear rivers. Due to the fresh and clean air, hiking for one or two hours is highly recommended.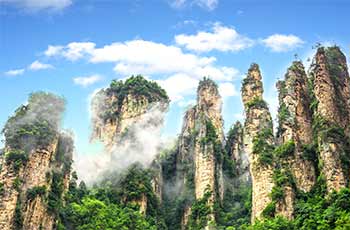 Tianzi Mountain
Tianzi Mountain:
The scenery of Tianzi Mountain can be summarized as "primitive landscape with natural beauty". The scenic spots here are all created by nature without artificial carving. You have the chance to appreciate the four wonders of mist, moonlit night, rosy clouds and winter snow. Tianzi Mountain has leagues of primitive forests filled with rare flowers and plants, and precious birds and beasts, with distinctive scenery all year round on the mountain. In addition to strange mountains and clear waters, there are also simple folk conditions, unique folk customs and distinctive ethnic food waiting for you.
Recommended Tour:
It is recommended to take 2 days to visit all the scenic spots in the Zhangjiajia National Forest Park.
Day 1: Visit Yangjiajie Scenic Area (including Natural Great Wall and Mihuntai Platform)
and Golden Whip Brook. You can enjoy the sunrise and sunset if you stay overnight inside the park, or you will stay outside the park at Wulingyuan District

Day 2: Visit Tianzi Mountain, Yuanjiajie Scenic Area (including No.1 Bridge in World and Mount Hallelujah), and experience a ride on Bailong Elevator