Top 10 Cool Activities For School Trips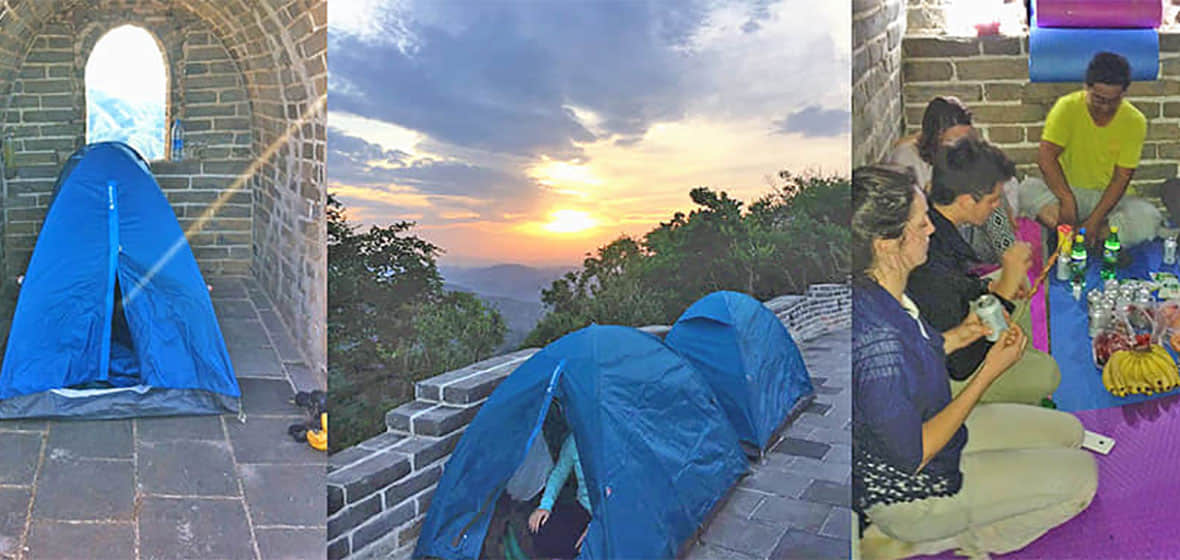 China is full of cool stuff for school trips. In addition to seeing all the popular highlights in China, you can also choose to include some of these cool activities for a very unique trip. We strongly believe that an exciting, memorable tour should be both educational and fun-filled. We also believe that a mind-blowing, authentic travel experience goes beyond visiting the must-see attractions and enables you to genuinely connect with people, customs, and the culture of the place you are visiting.
1. Going on a Treasure Hunt in the Forbidden City, Beijing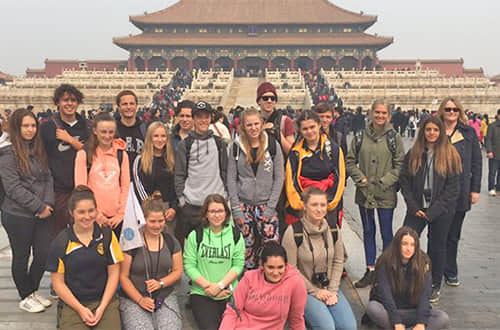 The Forbidden City served as China's imperial palace from 1420 to 1911 AD. This massive complex sits on the northern edge of Tiananmen Square at the center of Beijing. Beyond its towering fortifications, you'll find an intricate labyrinth of squares, halls, gates, pavilions, sleeping quarters, and temples. It is one of the most iconic sites to visit in China.
Most visitors either casually walk through the complex on their own, or with a guide for a more in-depth, educational experience. At CET, we not only provide a guide, but we make the visit much more interesting and interactive. As you're strolling through the complex with your guide, make sure to pay close attention to what your guide says as he or she will be dropping clues regarding the stories, history, and legends of the city. You'll need to gather these clues to complete the treasure hunt. Near the end of the tour, you'll be divided into teams for the final treasure hunt task and the winning team will receive a prize.
2. Camping on the Great Wall, Beijing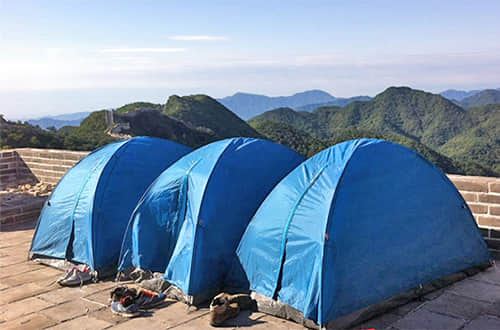 The Great Wall is without a doubt one of the most iconic symbols of China, if not the entire world. To visit the Wall is a dream for many travelers. An exciting, once-in-a-lifetime experience includes not just visiting and hiking along the wall (usually a restored section), but instead spending the night camping in an original, unrestored section. You'll hike the unrestored section from Jinshanling to Gubeikou, then set up camp on the Gubeikou section for one night. We'll arrange an experienced guide to lead the excursion and explain little-known stories and Wall history along the way. At night, your guide will assist setting up the tents and making dinner and breakfast.
3. Work as a Panda Keeper for one day in Chengdu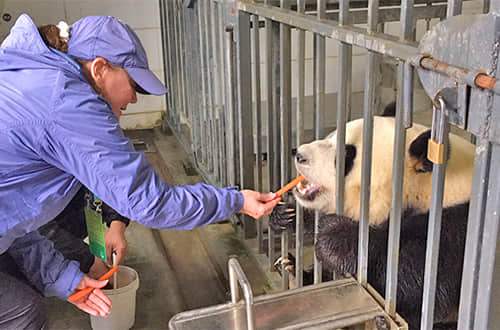 Chengdu is home to the Giant Panda and the only place in the world to see pandas in high concentrations at reputable panda centers (with barely more than 1800 pandas living in the wild, it is nearly impossible to see wild Giant Pandas). The panda centers in Chengdu offer visitors the hands-down best way to see pandas in their natural habitat and contribute to panda conservation efforts. Plus, they're one of the world's few places to see young and baby pandas. For the most intimate experience with the gentle giants, consider working as a Panda Keeper for a day. You'll prepare food, feed pandas, see them up-close, help clean enclosures, and assist the full-time keepers with various other tasks. Upon completion of the day, you'll receive a certificate documenting your efforts. You can choose from two panda centers: Dujiangyan Panda Center, about a 1-hour drive from Chengdu, or Wolong Panda Center, about 3 hours from Chengdu. (insert web links of these two places)
4. Learn Sichuan opera and watch a "Face changing" show in Chengdu
In addition to seeing dozens of pandas, another highlight of Chengdu is catching a traditional and mind-blowing "Face Changing" show of Sichuan. Becoming somewhat more popular on various TV talent show competitions, these shows feature performers changing multiple face masks or wardrobes so quickly that it feels like you're watching a magic show. We can arrange a workshop for you to learn more about this fun, unique, and traditional cultural art form. During the workshop, you'll learn to apply facial makeup to masks and how to properly wear and change the costume. You'll also learn a few lines of Sichuan opera from a master opera teacher and afterwards, you'll enjoy a "face changing show" in the theatre.
5. Rock climbing in Yangshuo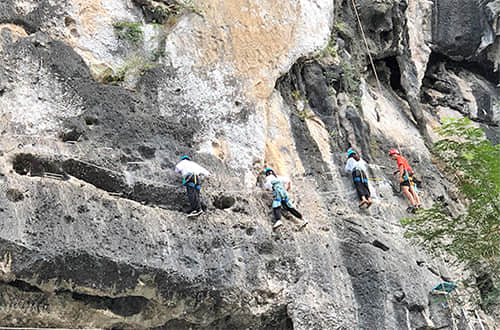 Yangshuo, in the south of China near Guilin, is China's mecca for outdoor activities, especially rock climbing. The region is famous for its abundant limestone cliffs and subtropical weather, allowing climbers nearly year-round access. It has over 400 climbing routes of various difficulty ranging from 5.6 to 5.14. Views and pics from the top of these routes are awe-inspiring. We'll provide all necessary equipment and an experienced guide to make sure your trip is safe and fun.
6. Kayaking in Yangshuo
The Li River in the Guilin area is one of the most beautiful rivers in China and the limestone peaks surrounding it have inspired generations of Chinese painters. Kayaking is a great way to experience the phenomenal Li River scenery. While floating down the river, you'll get a front row seat to the area's rural lifestyle with water buffaloes standing in rice fields, traditional fisherman, and local farmers tending crops.
7. Help to build a pigpen for local villagers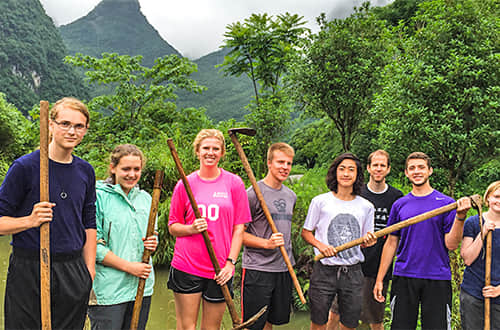 Pig farming is the main economic activity for villagers in south central Guizhou. Local villagers plant corn and collect vegetation from nearby mountains to feed their livestock. To make more money, they need to raise more pigs, and for that they need to build more pigpens. You can volunteer to help them out. You'll work alongside local villagers, with our guide/translator, and get unprecedented access to real-life, village farmers from whom you'll learn more about their perspective on their life, the world, and briefly experience what village life is truly like.
8. Hiking from Xidi village to Hongcun village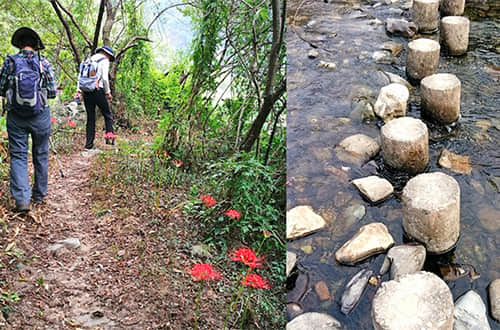 The two UNESCO villages of Xiding and Hongcun are connected by a 5.1 mile (8.2 km) hiking trail. It was a popular trading route for local merchants 1000 years ago when most people chose business and trade as a career rather than farming because there was limited arable land. They were called "Hui Merchants", who were famous for their commercial acumen and integrity. You'll learn true stories of how Hui merchants became so well-known and respected all across China.
9. Glass-Bottom Bridge over the Zhangjiajie Grand Canyon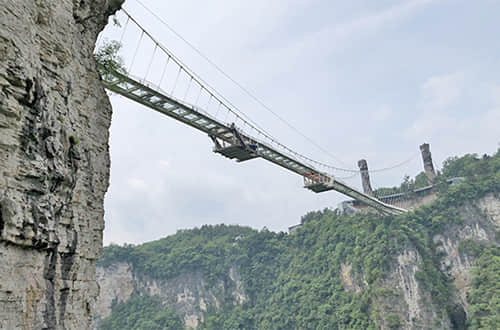 For those who love mind-blowing scenery combined with a bit of adrenaline, all from a safe, modern, and unique overlook, this is the activity for you. Recently built, the glass-bottom bridge over the 900-foot (300-meter) deep canyon stretching between two cliffs in the stunning Zhangjiajie Park is the world's highest glass-bottomed bridge. Zhangjiajie Park is famous for its stunning scenery, especially its cloud-shrouded mountains that make them seem like they're floating - a spectacle that inspired the floating mountains of Avatar. It's 20-feet (6-meters) wide and is currently the world's highest bungee jump (another heart-thumping activity you can do here) and has served as a fashion show runway. Even a simple stroll on the bridge is an unforgettable experience.
10. Gobsmacking, heart-pumping Changkong Plank Road on Mt. Hua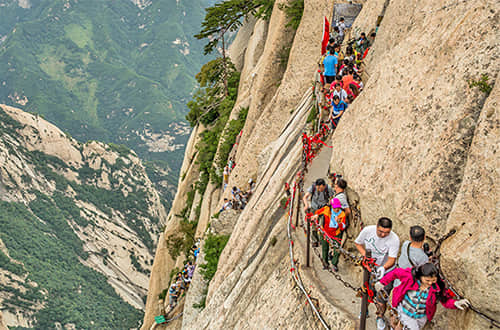 Mt. Hua (or Huashan), located in central Huayin county, some 70 miles (120 km) east of Xi'an , has one of the most death-defying, gob smacking wooden walkways in the world that clings precariously to the side of a sheer 1,000 ft (350mt) cliff. This (optional, off-the-beaten-path) walkway, named the Changkong Plank Road, is truly one of the most adrenaline pumping, mind-numbing wooden paths in the world. The planks are only about 1 foot wide (30 cm) wide and thus requires visitors to cross slowly and carefully. Safety ropes and harnesses are available and recommended. The rest of the mountain boasts hundreds of enjoyable (normal) hiking paths, hidden Taoist temples, and amazing views.
We have various tour packages for schools, with each package having a specific theme like music, sports, business, and more! Please check out our Educational Student Tours.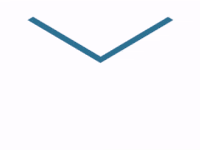 Have a question? Or can't wait to immerse yourself in the engaging journey of Chinese culture? Send us a message! Our top China specialist is ready to assist and connect with you without delay!