Tibet - Spiritual Land of Buddhism
The Tibetan Plateau, with an altitude of more than 4000 meters, is sometimes called the "roof of the world". With holy monasteries, glacial lakes and the world's highest mountain range, the Himalayas, any one of these could be the perfect reason to make a trip to the wonderland of Tibet.
The Best Time to Go
The best time to go to Tibet is from June to September when it is warmer. However, it is also fine if you travel during winter. Traveling in winter not only saves dollars on hotels and flights, but also avoids the possible crowds at popular sites. While up in the highlands, the daily sunshine hours are long, and it is usually warm by day and chilly by night. Wearing layers with sweater inside and a waterproof jacket outside works great against the highland cold and windy weather in Tibet, and don't forget your sunglasses and sun screen at all times!
Note: Considering bad weather might occur and safety concerns, Tibet has closed to overseas travelers from Jan. 31 to Mar. 31 annually since 2008.
Jan
Feb
Mar
Apr
May
Jun
Jul
Aug
Sep
Oct
Nov
Dec
Mean Maximum
°C
6.9
9
12
16
19
23
22
21
20
16
11
7.7
Temperature
ºF
44
48
54
60
67
73
72
70
67
61
52
46
Mean Minimum
°C
-10
-7
-3
0.9
5
9.3
10
9.4
7.5
1.3
-5
-9
Temperature
ºF
14
20
27
34
41
49
50
49
46
34
23
16
Rainfall Amount
mm
0.5
0.7
2
5.2
27
72
119
123
58
10
1.7
1
Days with Rain*
days
0.2
0.2
0.5
1.3
5.3
9.6
15
15
10
2.3
0.4
0.2
Mean Daily Sunshine
hrs
8.3
8.1
7.9
8.3
9
8.7
7.3
7.3
7.9
9.1
8.9
8.5
Duration
* denotes number of days with at least 1.0 mm of rainfall
What to See
Potala Palace: Being built on the mountain, Potala Palace is by far the highest architecture in the world as a grand combination of a palace, a castle and a monastery. The Palace consists of the red palace and the white palace with a total of 2000 rooms. It is about 200 meters high, with 13 stories accessed from the outside and 9 more stories accessed from the inside. It was built when the Tibetan King Songtsam Gambo married Princess Wencheng and Chizun in the Tang Dynasty. PotalaPalace was later used as Dalai Lama's winter palace, andit was also the center for holding big religious events and political ceremonies. Tibetans come daily to pay their respect by circling the palace and adding ghee to the lamps.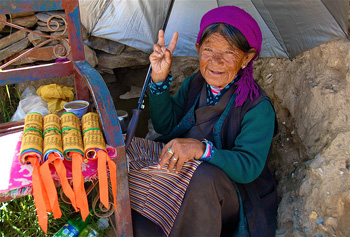 Jokhang Temple: It is believed by Tibetan people that Jokhang Temple comes before Lhasa city, which shows the fact that Jokhang Temple is not only geographically in the center of the city, but also spirituallyimportant in every part of Tibetan's lives. The ancient Temple was firstly built for displaying a life-sized statue of Sakyamuni at the age of eight. Today many pilgrims from home and abroadcan be seen in front of the Temple, kneeling down on the pavement, or prostrating themselves in honor of their religion.
Barkhor Street: Located in the heart of old Lhasa, it isthe oldest streetand alsothe busiest business center. After Jokhang Temple was built in the 7th century, Tibetan Buddhists came hereand turned the prayer wheels clockwise around Temple to pay their homage, gradually forming this circular, one-way route. It serves as a great place to buy Tibetan souvenirs.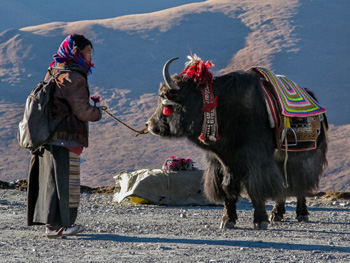 Sera Monastery: Sera Monastery was built on the north of Lhasa. The name Sera comes from the many wild jujube trees in the mountain. The Monastery was constructed by Jamchen Chojey, student of the founder of Ganden, thus the Monastery is one of the six greatest Ganden monasteries. More than 10,000 Buddha statues could be seen along with other treasures like the first Buddhist writings in the Tibetan language, and jewels from emperors of the Ming dynasty.
Yamdrok Yumtso Lake: Nicknamed as Swan Lake, Yamdrok is regarded as one of the threesacredlakes in Tibet,it is also the biggest fresh water lake in Southern Tibet. The lake is surrounded by snow-cappedmountainsmirrored on thecrystal clear blue water, offering a great photo opportunity.
How to get there
| Cities | Distance to Lhasa (km) | By Air to Lhasa | By High-Speed Railway to Lhasa |
| --- | --- | --- | --- |
| Beijing | 3761 | 3.5hrs | No direct High-Speed train. Traditional train about 40 hours. |
| Xi'an | 2864 | 3hrs | No direct High-Speed train. Traditional train about 33 hours |
| Shanghai | 4373 | 6hrs | No direct High-Speed train. Traditional train about 48.5 hours |
| Chengdu | 3360 | 2hrs 20m | No direct train |
| Guangzhou | 4976 | 6 hours with one stopover at Chongqing | No direct High-Speed train. Traditional train about 52.5 hours |
| Kunming | 4456 | 4hrs | No direct train |
| Kathmandu,Nepal | 604 | 1.5hrs | No direct train |
Recommended Hotels
Category
Hotel Name
Hotel Class
Why Recommend
Ranking on Trip Advisor
International Chain
Shangri-La Hotel, Lhasa
5-star

Oxygen lounge open 24 hours
Attentive and friendly staff
Excellent breakfast and dinner buffet with a wide choice of food

1
St. Regis Lhasa Resort
5-star

Spacious room with luxurious bathroom
Spectacular view of the Potala Palace at night
Catering to different food requirements

3
InterContinental Lhasa Paradise
5-star

Spacious rooms with comfortable bed
Friendly and helpful staff
New Hotel, opened in 2014

8
Best Value
Tashitakge Hotel
4-star

Central located
Nice staff to talk with
Amazing city view from roof top patio

5
Tibet Gorkha Hotel
4-star

Good location, city center
Large and clean rooms
Serene and peaceful at night

9
Yak Hotel (Boutique)
3-star

Walking distance to restaurants
Five-minute drive to Potala Palace
Clean rooms

6