ST-04:

A China Trip as a Graduation Gift

Graduation symbolizes the end of one important stage in your life and the beginning of another. It is a time for celebration and adventure along with your friends or your family. China is an ideal country for a graduation trip, not only for students but also perfect for parents who want to enjoy celebrating these moments in their child's life. In this exotic destination, you will explore historic cities, climb dramatic mountains, participate in challenging activities, taste unfamiliar foods, enjoy local nightlife, even speak a new language, and experience the delightful life of a Chinese person. Every day is an adventure filled with surprise and excitement.
Trip Highlights
Tour like royalty in the Forbidden City
Learn Chinese history by visiting 3 cities with architecture in ancient and modern styles
Experience a unique picnic at a watchtower on the Mutianyu Great Wall
Discovery of mouthwatering food in Xi'an
Find the secret of Chinese food in a cooking class
Challenge rock climbing to explore Yangshuo karst
Enjoy a panoramic view of Shanghai through a 259-meter high glass floor
Stroll in Yuyuan Bazaar like a Chinese local
Suitable For: Graduates, Family, School
Full itinerary for China Graduation Trip
Day 1
Day 1: Beijing Arrival
Welcome to Beijing, a famous ancient capital and modern metropolis. Your tour guide and driver will wait for you at the arrival hall of Beijing Capital Airport and transfer you to your hotel. Have a good rest.
Day 2
Beijing: Explore the Forbidden City, and mask painting in Hutong (breakfast & lunch)
Morning
Your tour guide will meet you at the hotel lobby after breakfast. A city map and mineral water are prepared for you. The exciting graduation trip gets off to a start. You can get up early to watch the flag-raising ceremony at Tian'anmen Square or have a good rest for jet lag.
Walk through Tian'anmen Square, and then you will enter the Palace Museum, also known as the Forbidden City. This ancient architectural complex is well-preserved from the Ming and Qing Dynasty. Apart from majestic wooden buildings, there are a great many precious collections including antique paintings, calligraphy, porcelain, and clocks and watches. Also there are lots of interesting historical stories and amusing anecdotes behind the items you explore.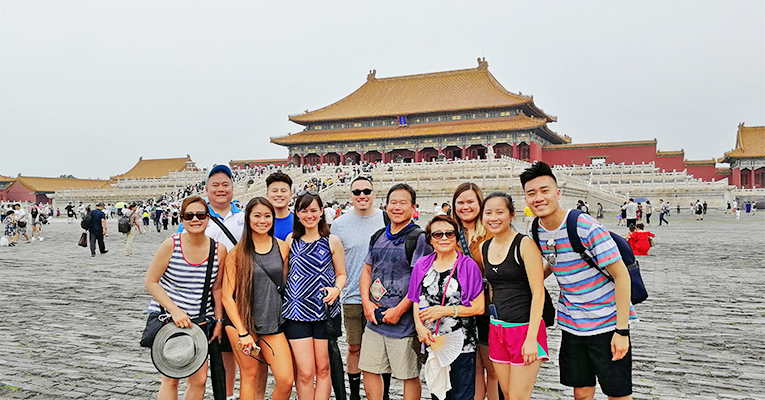 Take a photo at the Palace Museum
Afternoon
After tasting local dishes, we come to the Hutongs. Hutongs are the winding, narrow alleys formed by courtyards that are the habitats of Beijing locals. Here you will have a visit and learn how to paint a Beijing opera mask, introduced by a professional. The blank facial model, ink brush and color are prepared. You can also be quite creative if you choose.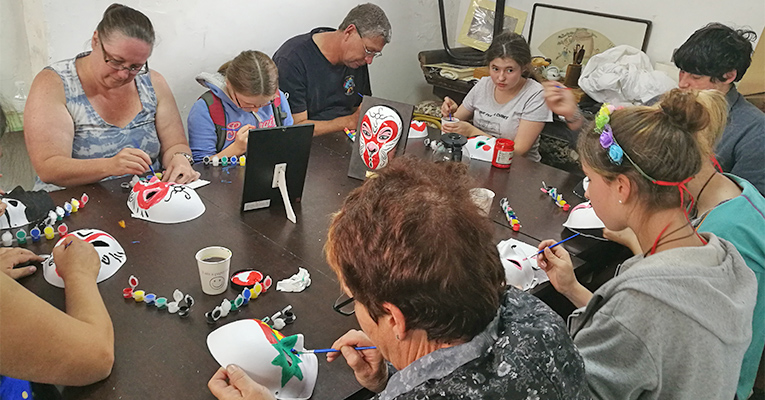 Visitors painting Bejing opera mask
Evening
Recommended activity:
1. The Legend of Kungfu premiered in 2004. In contrast to the traditional Kungfu show, it demonstrates Kungfu through dramatic stories. The group also tours abroad and has a good reputation.
2. Acrobatics at Chaoyang Theater was founded in 1984. Their performances have won more than 30 awards at home and abroad. "Blue And White Porcelain" (balancing a stack of bowls on the head), which is one of them, was on the stage of the Spring Festival Gala in 2015.
3. Peking Opera is one of five major operas in China and the quintessence of Chinese culture with a history of near 200 years. It was only entertainment for the court in the beginning and then slowly opened to common people as well.
Day 3
The Temple of Heaven and the Mutianyu Great Wall (breakfast & lunch)
Morning
On this morning, you will get early up to go to the Temple of Heaven after breakfast. You will meet a Tai Chi master to learn basic Tai Chi moves for half an hour, and then transfer to the Mutianyu Great Wall.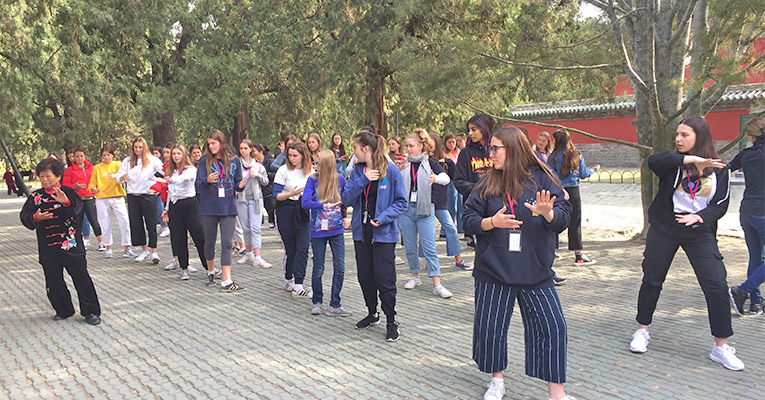 Students learning Tai Chi with a master guide
Afternoon
Mutianyu Great Wall is a favorite for travelers of all ages because this section is less crowded than other scenic sections of the Wall. It will be an exclusive experience to have a gourmet picnic on an ancient watch tower while learning the history of Great Wall. Immerse yourself in appreciation of the dense watchtowers and great views on this interesting hike. You will be back to your hotel at about 17:30.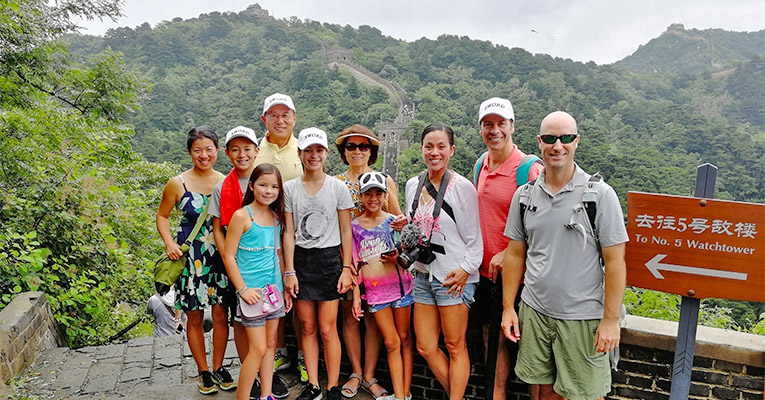 Visitors ready to climb the great wall
Day 4
Beijing – Xi'an by Bullet Train: The Summer Palace (breakfast & lunch)
Morning
After breakfast, visit the best preserved imperial garden, the Summer Palace. It has a vast area of lakes, classical gardens, and palaces that mark it as a masterpiece of Chinese landscape and garden design.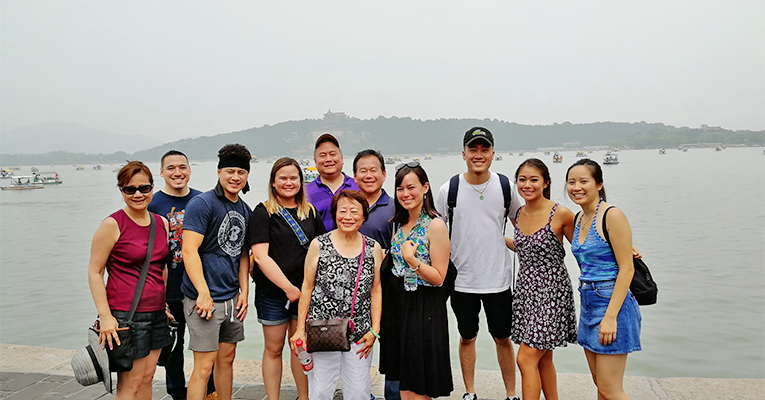 The Summer Palace visiting
Afternoon
Get ready to transfer to Xi'an. Our tour guide and driver will escort you to the railway station to catch the bullet train to Xi'an. It takes about 4.5 hours to arrive. You can prepare some instant food and snacks in advance, in case you get hungry.
Evening
You will arrive in Xi'an in the evening, where your tour guide and driver will you pick up at the railway station and then take you to your hotel. Have a good rest.
Day 5
Xi'an: Discovery Historic Sites (breakfast & lunch)
Morning
After breakfast, the Terracotta Warriors and Horses is a must-see on your first trip to Xi'an. It is a part of Emperor Qinshihuang's tomb and a museum built on the relic. This museum has collected thousands of life-size clay soldiers with unique facial expressions and positioned according to rank, along with horse-drawn chariots, and weapons. Finish visiting the museum, then taste Xi'an gourmet food for lunch.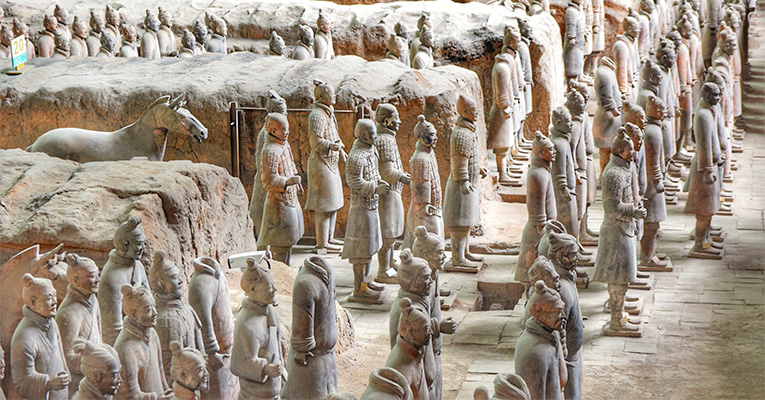 Afternoon
Next, we will go to the Xi'an Muslim Quarter to find mouthwatering food. Do you want to try a Chinese Hamburger and watch hand-pulled noodles being prepared? It is definitely a paradise for food lovers. This area is said to date back to 100 years ago, and it is the most colorful and bustling scene, and a real kaleidoscope of local life which will be a feast for your senses.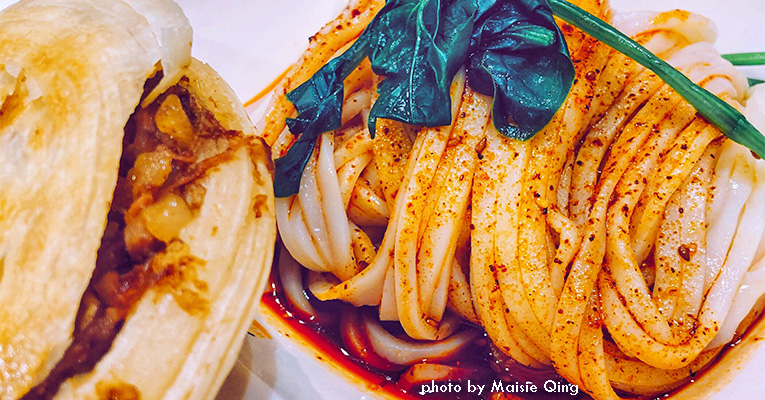 A Chinese Hamburger and a cold noodle dish
Going through the Muslim Quarter, we come to the City Wall. It is the biggest and best-preserved city wall in the country. You can have a short ride on the ancient wall, or explore the interesting streets and shops beyond the wall.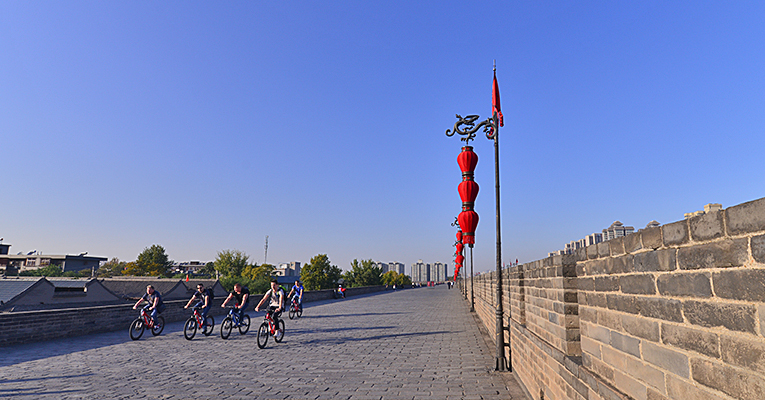 Riding on the City Wall
Evening
Recommended activity:
1.The music fountain at the north square of the Big Wild Goose Pagoda is free to the public. You can stroll around it after dinner to experience local life.
2. 'Tang-Dynasty Palace Music and Dances' is a performance that was re-created by many famous artists in Shaanxi province, displaying the essence of music, rhythm, and dance art in the Tang Dynasty.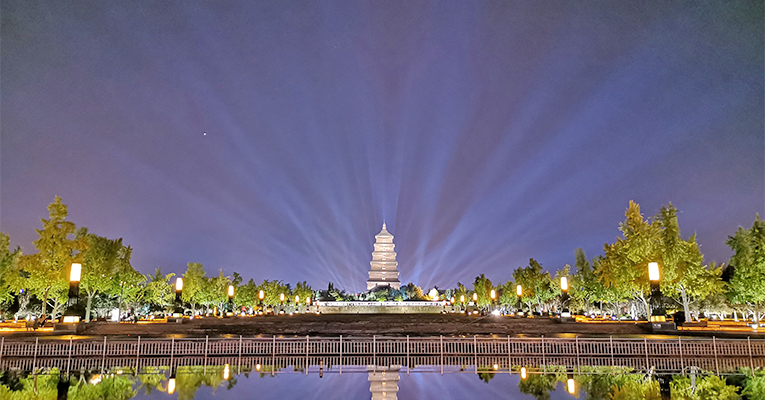 The Big Wild Goose Pagoda
Day 6
Guilin by Plane (breakfast)
Morning
After breakfast, you will take a plane for about 2 hours from Xi'an to Guilin. On arrival, you will meet your tour guide and driver at Guilin Liangjiang International Airport, and transfer to your hotel.
Afternoon
Have a brief lunch; we will drive to Ping'an Village of Longsheng Rice Terraces. Life in Ping'an Village, enjoy a marvelous view of rice terraced fields and wooden architecture created by ethnic minorities.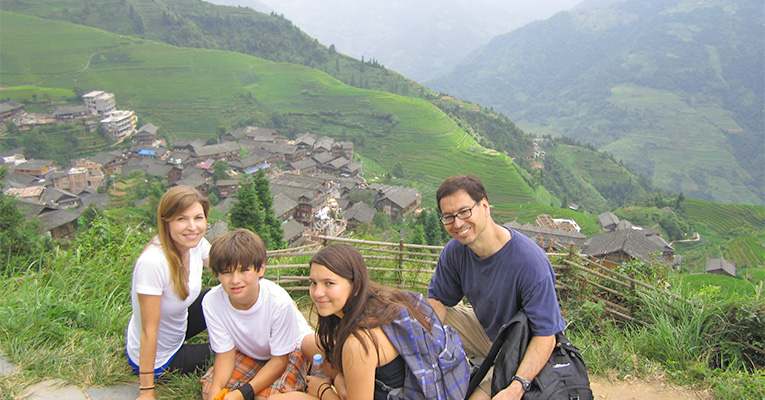 A Family visit Ping'an village of Longsheng Rice Terraces
Day 7
Guilin: Explore Dramatic Landscapes (breakfast & lunch)
Morning
Enjoy your breakfast, and take a 1.5-hour bus to the Reed Flute Cave . This is a 240 meter long natural limestone cave, featuring karst topography, stalactites, stalagmites, stone pillars, stone curtains, all decorated with colorful lights. Wander in the cave just like in a fantastic fairyland.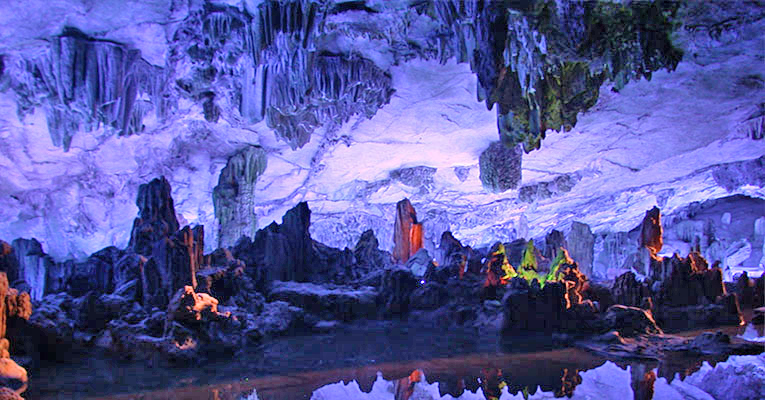 Inside of the Reed Flute Cave
Afternoon
Try tasting some Guilin local food, and visit Elephant Trunk Hill. It has been a landmark of Guilin since the Tang Dynasty. This hill's shape vividly explains its name. It will be fun taking some creative photos with nature's masterpiece.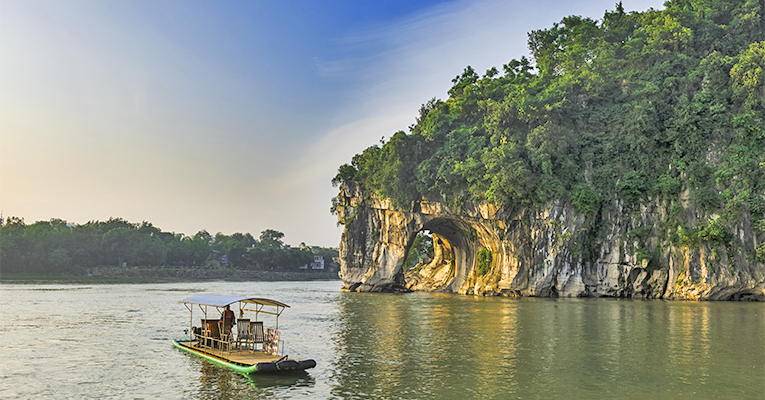 Evening
Recommended activity:
1. Stroll along the pedestrian street of East-west Alley, mixing history and modern life. There are boutiques on the underground, coffee bars, milk tea shops, and various restaurants providing Chinese and western food. It is a good place for your leisure time at night.
2. Have a night view in the center of Guilin. You can wander in Zhengyang Street and Binjiang Street to admire the night view of Jiefang Bridge and Xiaoyao Tower. If you have enough time, you can go to see the Sun and Moon Pagoda at Shanhu Lake.
Day 8
Guilin - Yangshuo: Li River Cruise and Explore Original Village (breakfast & lunch)
Morning
Today, we will take half-hour drive to get to a 3-star cruise to Yangshuo in the early morning. Li River Cruise selects the best parts in a 4.5-hour visit. Li River sights are changeable in different weather. It will look like an ink-painting landscape in the damp and misty weather, and a graceful water color with rugged green mountains on sunny days.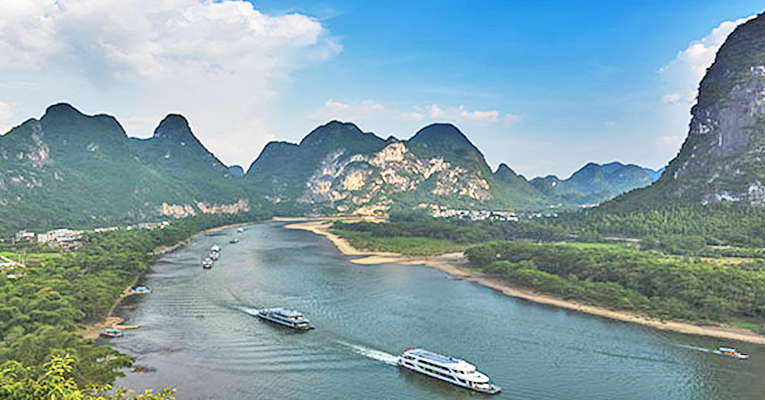 Afternoon
After having an easy lunch on the boat, we will explore the original village of Yangshuo by bike. It is famous for the stunning karst scenery. Cycling in the countryside, you will see buffaloes wandering the fields, and ducks leisurely swimming in the river. Afterward, we have a rare opportunity to visit a local villager's house. Everything in the village makes you feel refreshed.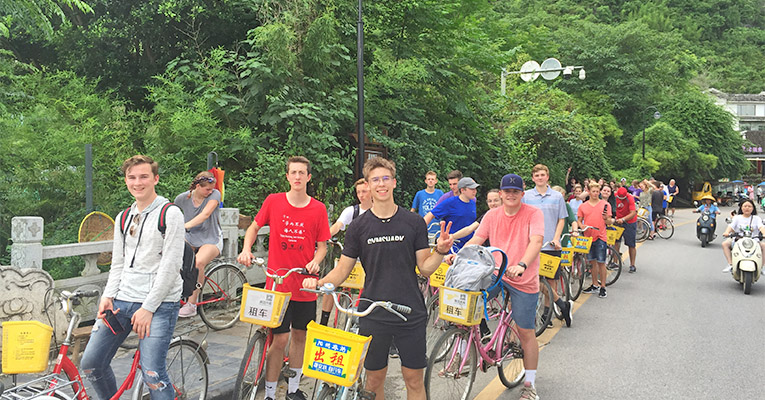 Students Cycling in the countryside
Evening
Traveling West Street in the evening will be your relaxation and leisure time. You can have dinner early to avoid the crowd. Bring your appetite to taste local specialties, such as Beer Fish, rice noodles, and Chinese rice cakes. Coffee shops, western food and night bars are available there.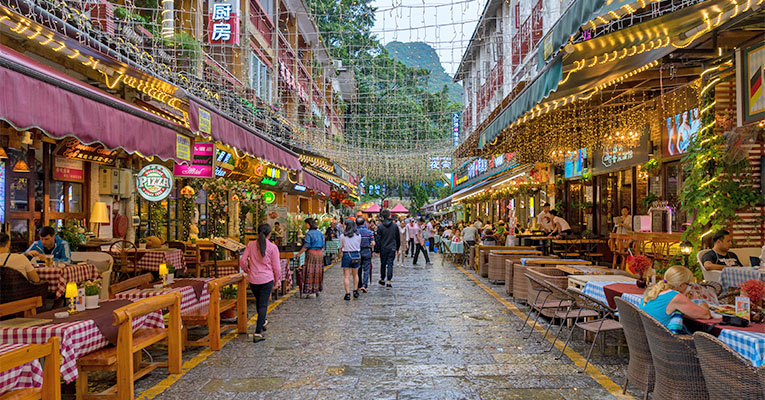 Day 9
Yangshuo: Cooking and Rock Climbing (breakfast & lunch)
Morning
This morning we are going to a local restaurant to explore its kitchen. Let's learn Chinese cooking methods, then cook Chinese dishes yourself and find the secret of Chinese food. Lastly, enjoy the fruits of your labors.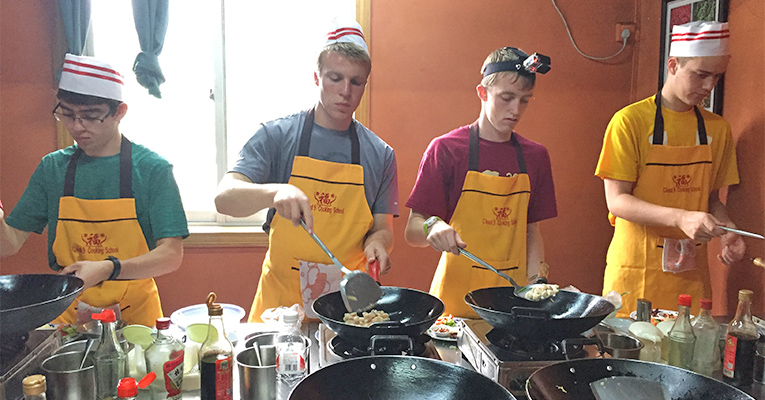 Students learning cook Chinese dishes
Afternoon
Yangshuo is not only suited for sightseeing, but also an ideal destination for rock climbing. We will have a professional climbing guide to teach and keep you safe.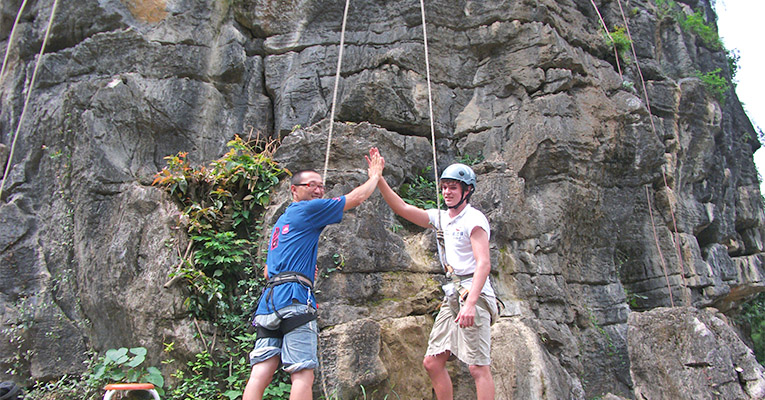 A visitor ready to rock climbing
Day 10
Yangshuo – Guilin – Shanghai (breakfast)
Morning
Today, have a relaxing morning and enjoy your free time.
Afternoon
Our guide and driver will wait for you at your hotel and transfer you to the Guilin Railway Station. You will experience an overnight train from Guilin to Shanghai.
Day 11
Shanghai: Discovery Different Styles Buildings (lunch)
Morning
A tour guide will meet you at the Shanghai Railway Station and escort you to your hotel. Have a short break.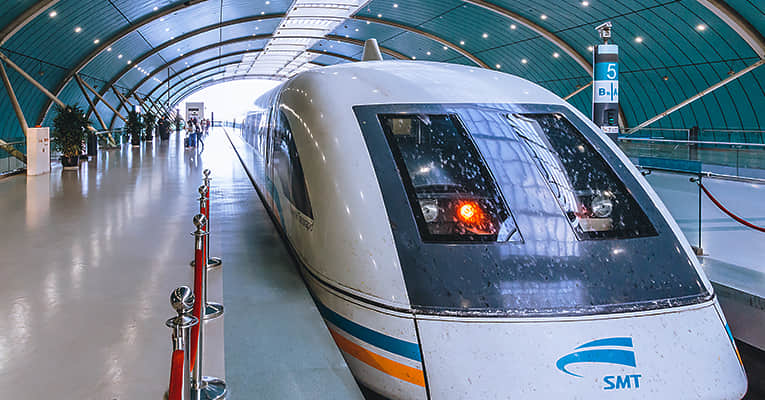 Afternoon
We will experience a short city walk. You can explore Shanghai both new and old by seeing skyscrapers, catching a bird's view of the city at Shanghai World Financial Center, as well as roaming among the Chinese and Western styles of architecture complex at the Bund.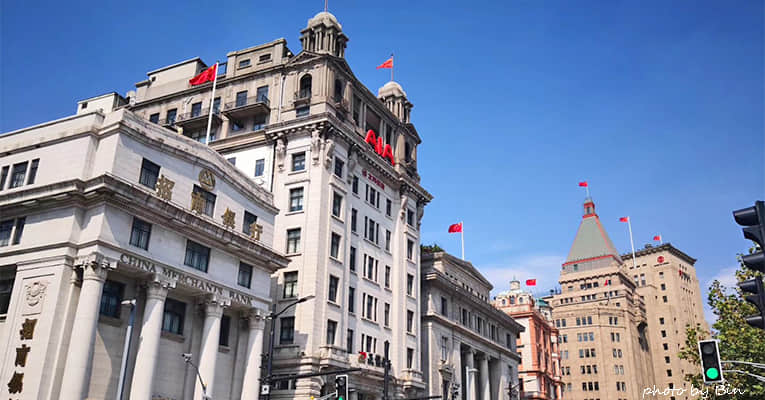 The Bund
Evening
Recommended activity:
1. 'A live acrobatic show' by Shanghai Acrobatic Troupe, or another one called 'ERA, Intersection of Time'.
2. Night cruise along Huangpu River to see the beautiful city lights on both sides.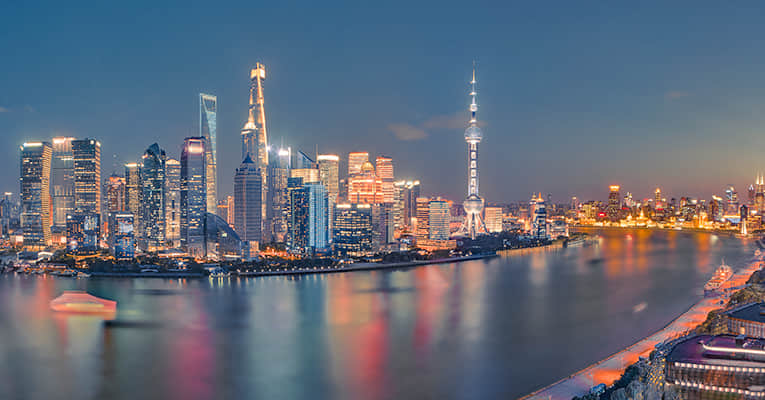 Night cruise along Huangpu River
Day 12
Shanghai: Yu Garden and Old French Concession (breakfast & lunch)
Our Guide will lead you to Yu Garden. It was a private garden in the Ming Dynasty. In the maze of gardens, pavilions, and traditional buildings, you can indulge in the charm of Chinese classical architecture. Yuyuan Bazaar is next to the Yu Garden, and in this bustling street with vendors selling a variety of products, you will see real local life. After that, continue to the Old French Concession. Different from the modern and busy center, this is a unique and beautiful place with lots of European style buildings, and you will feel peaceful and relaxed while you are rambling.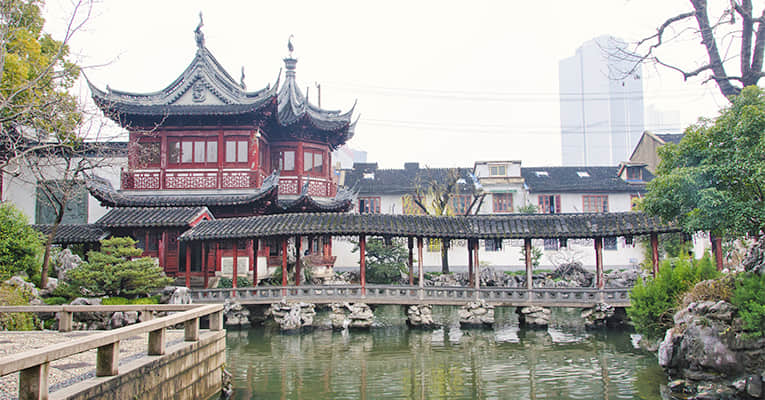 Yu Garden: a Classical Garden in China
Day 13
Shanghai Departure (breakfast)
Enjoy your leisurely breakfast and pack up your luggage, your guide will escort you to the airport or train station for departure. Farewell and look forward to meeting again.
Featured Hotel
| | Comfortable | Deluxe |
| --- | --- | --- |
| Beijing | Penta Hotel Beijing | Regent Beijing |
| Xi'an | Grand Noble Hotel Xi'an | Wyndham Grand Xi'an South |
| Guilin | Guilin Bravo Hotel | Sheraton Guilin Hotel |
| Yangshuo | Green Lotus Hotel in Yangshuo | Yangshuo Resort Hotel |
| Shanghai | Narada Boutique Hotel Shanghai Bund | Radisson Blu Hotel Shanghai New World |
What's Included
Entrance fee to the attractions listed in the itinerary
Meals mentioned in the itinerar
All meals and street eats as listed
Private land transfer with licensed drivers
Private local tour guide service throughout the tour
Hotel accommodation with breakfast
Transportation listed in the itinerary in China
Package of Li River Cruise