Top World Heritage Sites in China

China is an immense and intriguing country which is still largely unexplored by so many potential tourists from western countries. So what is there for tourists to see in China?
Year by year since 1987 more sites around China have been listed by UNESCO as World Heritage sites, and at this stage (2022) there are nearly 55 sites. Some of these sites (37) are of World Cultural Heritage, some (14) are World Natural Heritage, and the others (4) are inscribed as mixed Natural and Cultural Heritage.
Cultural (38)
Ancient Building Complex in the Wudang Mountains (1994)
Ancient City of Ping Yao (1997)
Ancient Villages in Southern Anhui – Xidi and Hongcun (2000)
Archaeological Ruins of Liangzhu City (2019)
Capital Cities and Tombs of the Ancient Koguryo Kingdom (2004)
Classical Gardens of Suzhou (1997,2000)
Cultural Landscape of Honghe Hani Rice Terraces (2013)
Dazu Rock Carvings (1999)
Fujian Tulou (2008)
Historic Centre of Macao (2005)
Historic Ensemble of the Potala Palace, Lhasa (1994,2000, 2001)
Historic Monuments of Dengfeng in "The Centre of Heaven and Earth" (2010)
Imperial Palaces of the Ming and Qing Dynasties in Beijing and Shenyang (1987,2004)
Imperial Tombs of the Ming and Qing Dynasties (2000,2003, 2004)
Kaiping Diaolou and Villages (2007)
Kulangsu, a Historic International Settlement (2017)
Longmen Grottoes (2000)
Lushan National Park (1996)
Quanzhou: Emporium of the World in Song-Yuan China (2021)
Mausoleum of the First Qin Emperor (1987)
Mogao Caves (1987)
Mount Qingcheng and the Dujiangyan Irrigation System (2000)
Mount Wutai (2009)
Mountain Resort and its Outlying Temples, Chengde (1994)
Old Town of Lijiang (1997)
Peking Man Site at Zhoukoudian (1987)
Silk Roads: the Routes Network of Chang'an-Tianshan Corridor (2014)
Site of Xanadu (2012)
Summer Palace, an Imperial Garden in Beijing (1998)
Temple and Cemetery of Confucius and the Kong Family Mansion in Qufu (1994)
Temple of Heaven: an Imperial Sacrificial Altar in Beijing (1998)
The Grand Canal (2014)
The Great Wall (1987)
Tusi Sites (2015)
West Lake Cultural Landscape of Hangzhou (2011)
Yin Xu (2006)
Yungang Grottoes (2001)
Zuojiang Huashan Rock Art Cultural Landscape (2016)
Natural (14)
Chengjiang Fossil Site (2012)
China Danxia (2010)
Fanjingshan (2018)
Huanglong Scenic and Historic Interest Area (1992)
Migratory Bird Sanctuaries along the Coast of Yellow Sea-Bohai Gulf of China (Phase I) (2019)
Hubei Shennongjia (2016)
Jiuzhaigou Valley Scenic and Historic Interest Area (1992)
Mount Sanqingshan National Park (2008)
Qinghai Hoh Xil (2017)
Sichuan Giant Panda Sanctuaries - Wolong, Mt Siguniang and Jiajin Mountains (2006)
South China Karst (2007,2014)
Three Parallel Rivers of Yunnan Protected Areas (2003)
Wulingyuan Scenic and Historic Interest Area (1992)
Xinjiang Tianshan (2013)
Mixed (4)
Mount Emei Scenic Area, including Leshan Giant Buddha Scenic Area (1996)
Mount Huangshan (1990)
Mount Taishan (1987)
Mount Wuyi (1999)
How are the sites selected?
Ten criteria are applied by the Committee accepting nominations for the World Heritage list. The process is extensive and gives careful consideration to all nominated sites. To be included each site under consideration must display at least one of the criteria, and many exhibit more than one.
The list of criteria includes notions such as 'a masterpiece of human creative genius', and 'unique or at least exceptional testimony to a cultural tradition', and 'superlative natural phenomena or areas of exceptional natural beauty and aesthetic importance', and so on.
Obviously these are the modern Wonders of the World, and places that everyone should try to visit if they get the chance.
How to choose which sites to visit?
Obviously, not everyone will be equally excited about each of these sites, or the other 39. Some of them have more of a cultural and historical interest, and others are more about natural beauty. Your choice may depend on whether you have children traveling with you, and what they would be interested in. There is also the question of convenience, and fitting in with seeing as much as you can while you are in China. Hopefully you will be so charmed that you will come for a return trip at a later time.
What are the Top Sites in China?
With so many wonderful choices, it might be hard to know where to start. So here are just some suggestions for a possible Top Ten. The Top Three no doubt will be on the list of your first China trip.
1. The Great Wall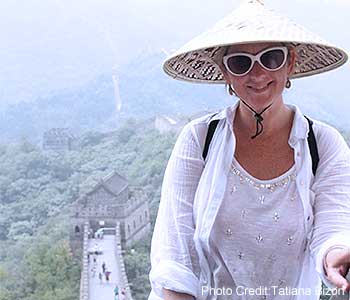 The Great Wall of China
Of course you have heard of the Great Wall of China. After your visit to China, your friends will ask about whether you climbed the Wall.
Even though the story about the Great Wall being the only man-made structure on earth visible from space has been discredited, the structure is still a mind-boggling example of construction and bears exceptional testimony to the civilizations of ancient China.
Despite its renown, very few people are actually aware of its extraordinary dimensions, with a total length of 20,000 km, nor do people grasp the diversity of construction styles and varied functions of its numerous sections. It is not merely a wall, but it actually incorporates various walls, horse tracks, watch towers, shelters, fortresses, and passes. Loaded with stories from history, a visit to The Great Wall is one of the most authentic experiences available in China.
There are also many opportunities for outdoorsy physical adventures on various parts of the wall, such as hiking and climbing and even tobogganing on or near the wall itself. To read more about The Great Wall of China, Great Facts, Top 10 Great Wall Sections
2. The Forbidden City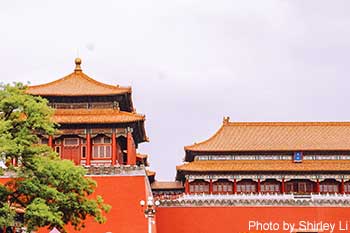 The Forbidden City
Many of us are fascinated by time travel, and we enjoy the idea of trying to envision life in other times. Visiting the Forbidden City is an opportunity to see the civilization and life of the Chinese Emperors over a period of five hundred years. The buildings with 9,999 rooms containing furniture and works of art, as well as the landscaped gardens, are all meticulously preserved. The stories that you can enjoy are endless.
Everyone has heard of the Forbidden City, and many have enjoyed watching movies which feature it. Visitors to China who don't visit this World Heritage wonder are missing out on an amazing experience. Check what we can offer with a tour to Beijing.
3. Mausoleum of the First Qin Emperor
The Terracotta Warriors
Although the creation of the Terracotta Warriors dates back to 246 BCE, the mausoleum was forgotten about and only rediscovered by a farmer and unearthed in 1974. The site is extensive, with three pits revealing more than 8,000 clay figures. Each figure is unique, remarkably lifelike, weighing 3-400lb (160kg) and standing 6' (1.8m) tall.
Visitors are awed by the scale of the ancient project as they examine the figures at quite close quarters and pay attention to the uniqueness and drama in each stern face. There are many historical stories to hear in order to understand the background to this spectacle. It is staggering to realize the human cost of creating and burying the warriors to protect the Emperor in his afterlife. All sightseers will want to visit this site. Explore this great historical site with us in Xi'an.
4. Mogao Caves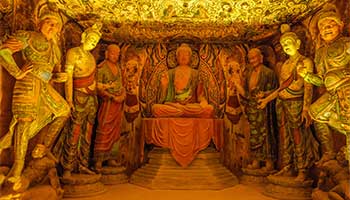 Mogao Caves
The fascinating Mogao Caves, also known as Thousand Buddha Grottoes, are carved into cliffs above the Dachuan River. Constructed over a period of roughly a thousand years, the caves include 492 cells and cave sanctuaries which are famous for the Buddhist artwork housed within. There are about 45,000 square meters of murals, as well as more than 2,000 painted sculptures. The stunning artwork vividly depicts aspects of medieval politics, economics, culture, arts, religion, ethnic relations, and daily dress in western China. A visit to this site offers a fascinating insight into Chinese history and life along the Silk Road.
5. Mount Huangshan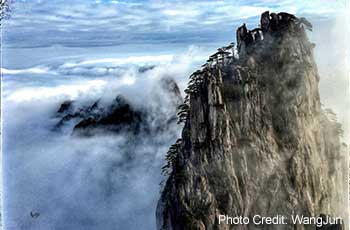 Yellow Mountain
Mount Huangshan, or 'Yellow Mountains' got its name from Huang Di, the 'Yellow Emperor', rather than the color of the mountain. Visitors are undoubtedly delighted by its beauty, bestowing the nickname 'the loveliest mountain in China', and it has continued to be irresistible to poets, painters and photographers.
Tourists find themselves mesmerized by the masses of magnificent granite peaks and rocks which look like they are materializing out of a perpetual sea of clouds. A visit to Mount Huangshan is an opportunity to be enchanted by magnificent scenery, and be inspired in photography or some other art.
This is a sight that you won't want to miss out on, and capture some photos to share with your friends.
You might like 3-Day Yellow Mountain Tour from Shanghai
6. Wulingyuan Scenic and Historic Interest Area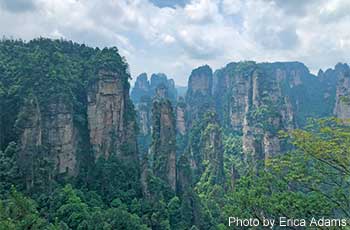 Avatar Mountains
Ravines and gorges with streams, pools and waterfalls, as even caves and natural bridges lie between more than 3,000 natural sandstone pillars in this spectacular scenic area. Some of the pillars are more than 200m high, and a number of endangered plants and animals have their homes within this area.
There is even one area where tourists can enjoy seeing vivid pictures formed by the peaks. It is unlikely that you will ever have a chance to see anything like this in your home country.
There are also several Chinese minority groups whose unique cultures can be observed here, with their houses and farms, and their dancing and singing adding a cultural aspect to the enjoyment of natural beauty.
See How to Plan a Tour of Zhangjiajie
7. Potala Palace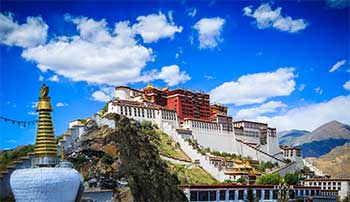 Potala Palace, Lhasa
Tibet has always had a special fascination for tourists worldwide, and Potala Palace itself is the symbol of Tibet and of course must not be missed.
As the highest palace in the world, this huge, beautiful building boasts spectacular architectural style. Situated on the Red Hill by the Lhasa River, it is a treasure house of precious art and opportunities to learn about Tibetan history and culture. Climbing to the top of the palace presents you with splendid views of Lhasa city as well as the beautiful plateau landscape.
If you get a chance to visit Tibet, you will not want to miss Potala Palace.
8. Classical Gardens of Suzhou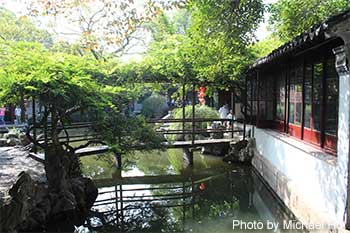 Suzhou Liuyuan
The Classical Gardens of Suzhou are very special and unusual gardens to be included in the UNESCO World Heritage list. These gardens "represent the development of Chinese landscape garden design over more than two thousand years".
The nine gardens include more than a little fish pond and a few pretty flowers, they are a demonstration of the harmony between man and nature. Dating back to the sixth century these beautifully manicured gardens have been faithfully and meticulously maintained across the years. Modern day visitors can wander and enjoy many sights including pavilions, ponds, bridges, rockeries, stones and fragrant flowers. For those who want to look past the simple beauty, the artistic layout combines perfectly with Chinese philosophy and ideology, something to study, think about and talk about long after your visit. There is pleasure for all ages and level of cleverness. And maybe some small aspect can be incorporated into your garden back home.
9. Yungang Grottoes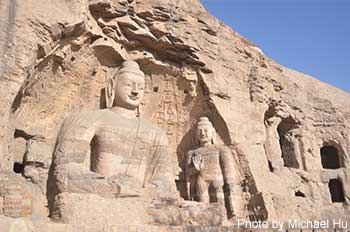 Yungang Grottoes
The Yungang grottoes date back to the 5th and 6th centuries, and include some 51,000 statues in 252 caves and niches, spread over about 18,000 square meters of cliff wall.
The statues have been carefully preserved over the centuries, and are masterpieces of early Chinese Buddhist cave art. The largest cave is 20 m high, and the statues vary from 17m tall to a tiny 2cm. The statues show Buddha in many different positions, with the most common being the young seated Buddha. Other statues of past emperors express the theme that the emperor is Buddha.
The presence of a local guide can help you understand better what you are seeing, and get the most out of visiting such a special site.
Learn more about Explore the Yungang Grottoes and discover the timeless beauty of the Buddha's smile.
10. Fujian Tulou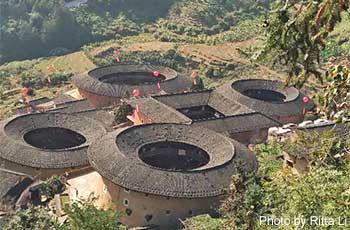 Nanjing Tulou
You have never seen anything like these ancient, round, earthen buildings, or "tulou". There are some 20,000 tulou of varying construction types in Southern Fujian, but the particular 3,000 'Fujian Tulou' are a bit special, with a unique shape, large scale, and ingenious structure.
The structures, built by the minority Hakka people, are usually round, hollow in the center, constructed using clay, sandy soil, and tiles, reinforced with bamboo rather than steel, and different to any architectural styles seen elsewhere in China or overseas.
The walls are a massive 1-10m thick, and able to withstand earthquakes, fires, and attack. The huge buildings are 10-20m tall, 30-80m in diameter, with a hollow center which is 15-30m in diameter. They were designed for communal living, as well as defense, with each circular building of 2-4 stories holding one complete clan.
Learn more about Fujian Hakka Earth Buildings:Culture,Functions,Layout...
This is a World Heritage site that you want to see and experience, to try to imagine life in those days.
Have a question?
OR
Are you eager to begin your Chinese cultural journey?
Drop us a line and we will promptly connect you with our leading China expert!