Helpful Info for American Travelers
Flights
An average of around three million Americans have visited China each year since 2015. With such a high demand, there are now more than 300 flights between the two countries each week and the top 10 departure cities from the U.S. are: San Francisco, Los Angeles, Seattle, Chicago, Boston, Washington D.C., Detroit, New York, and Houston.
Here are the flight times and flight availability from several USA cities to various destinations in China.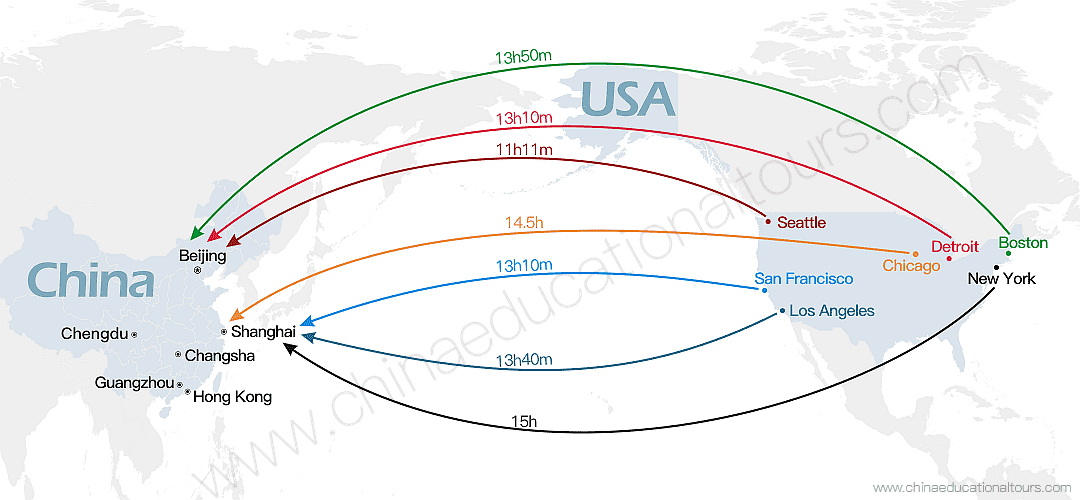 Departure City
Arrival City
Flying time
Seattle
Beijing
11hrs 11mins
Shanghai
11hrs 26mins
Hong Kong
12hrs 05mins
San Francisco
Beijing
12hrs 05mins
Shanghai
13hrs 10mins
Chengdu
14hrs
Guangzhou
14hrs 20mins
Hong Kong
14hrs 40mins
Los Angeles
Beijing
12hrs 40mins
Shanghai
13hrs 40mins
Chengdu
14hrs 20mins
Changsha
14hrs 10mins
Guangzhou / Shenzhen
14hrs 50mins
Hong Kong
15hrs 05mins
Chicago
Shanghai
14hr 30mins
Beijing
13hr 35mins
New York
Shanghai
15hrs
Guangzhou
15hrs 45mins
Beijing
13hr 40mins
Detroit
Shanghai
14hrs 20mins
Beijing
13hrs 10mins
Boston
Shanghai
14hrs 40mins
Beijing
13hrs 50mins
* The information above is for reference only. The actual flight time is based on the specific flight schedule on the travel date.
Tips on how to get a good deal on international flights
The best prices are often found 2 to 6 months before departure.
Generally, the earlier you book, the better the deal you can get. However, sometimes, there are attractive last-minute deals (within 30 days of departure) but it can be risky to wait as prices can also go up within 30 days of departure.
Check out each airline's official website (Delta, American, United, etc.) instead of relying on "discount sites" like Travelocity, Orbitz, Cheapflights, etc. as they often have better prices.
A great discount site (often overlooked in the U.S.) is Skyscanner.
Check out the webpages for airlines based in China, Hong Kong, and Taiwan for great prices, fantastic service, great schedules, and safety records as good as all major global airlines: Air China, China Eastern Airlines, China Southern Airlines, Cathay Pacific (American Airlines affiliate), China Airlines.
Make sure you check the FULL online price including baggage fees, departure taxes, etc. - not just the "TICKET price".
Visas for China
American citizens nearly always need a pre-arranged visa to visit China's mainland (HK and Macau offer visa-on-arrival). There are special circumstances where Americans can get limited stay, visa-free entry into mainland China. Click here for more information.
Americans will need to apply for an L type visa (a regular tourist visa) and the duration of each stay is 30 days. You can check out this page to apply online China Visa Application Service Center or this page http://au.china-embassy.org/eng/ls/vfc/ for information.
China currently maintains one Embassy in Washington D.C., but also maintains 5 consulates-general in the following U.S. cities: New York, Chicago, San Francisco, Los Angeles, and Houston.
Note: When applying for a visa for China, passports are usually mailed (via the U.S. mail) to the processing consulate and then returned by mail as well.
Processing Times
Regular service: 4 business days (add 7-10 days for mail service)
Express service: 2-3 business days (add 7-10 days for mail service)
Rush service: 1 business day (add 7-10 days for mail service)
Notes: The above processing times are on average and for reference only. Some applications may require longer processing times. "Rush service" is available only for emergencies and subject to approval by the consular officer.
Visa Fees for Regular Service
| Number of Entry | U.S. Citizen | Non-U.S. Citizen* |
| --- | --- | --- |
| Single Entry | $140 | $30 |
| Double Entry | $140 | $45 |
| Multiple Entries for 6 Months | $140 | $60 |
| Multiple Entries for 12 Months or more | $140 | $90 |
*The visa fee for non-U.S. citizens may vary from the list above. Please check with a visa office for specific prices.
Express service: additional $25/visa
Rush service: additional $37/visa
For more information on other, shorter duration visas, click here: 144-hour and 72-hour visa-free transit.
Sample Costs for Traveling in China
| | | | | |
| --- | --- | --- | --- | --- |
| Meal for 1 person – inexpensive restaurant | Meal for 2 people - mid-range restaurant | McDonalds (per person) | Domestic Beer (16oz) | Imported Beer (16oz) |
| $2-$6 USD | $15-$40 USD | $5-$8 USD | $1-$2 USD | $3-$5 USD |
| Bottled water (16oz) | Fresh Milk (1 gallon) | Banana (1 pound) | Apple (1 pound) | Flag-Down fare for taxis |
| $0.3-$5 USD | $7-$10 USD | $4-$6 USD | $0.75-$1.5 USD | $2-$3 USD |