China Packing Tips: What to Bring when Travel to China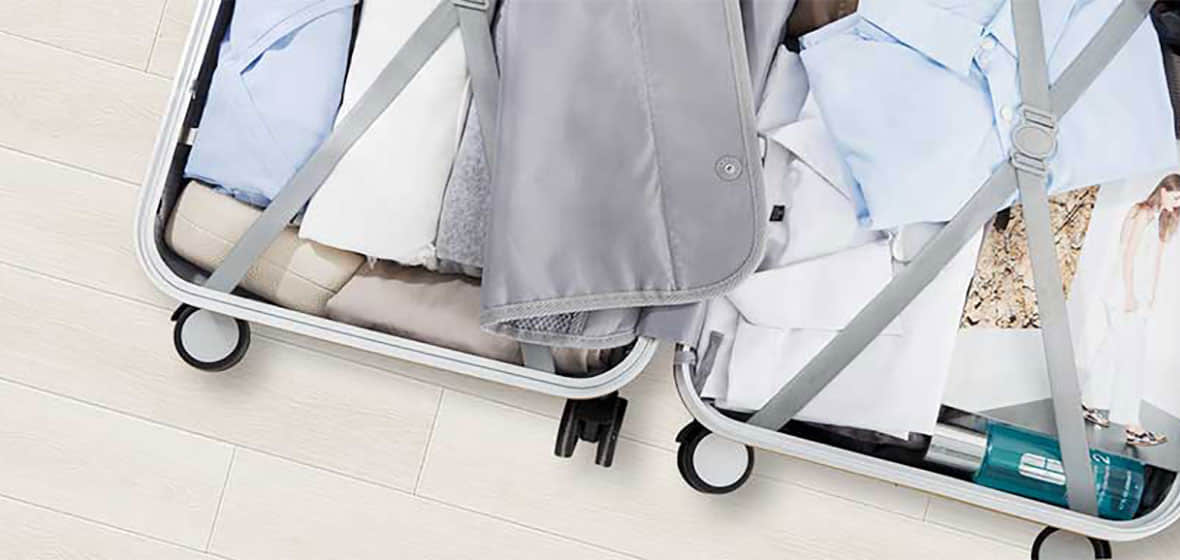 Carry On Luggage
All unchecked baggage must fit under the seat in front of the passenger or in the overhead compartment.
Economy Class passengers are allowed one piece of carry-on baggage that does not exceed 5kg in weight and dimensions of 55cm*40cm*23cm in size. These dimensions include wheels, handles and side pockets.
On a long flight it is useful to carry some basic toiletries in carry-on luggage.
All carry-on liquids, gels, must be packed in a transparent, re-sealable bag-a zip lock sandwich size bag meets the requirements or you can buy special travel bags in health/personal care aisle of your supermarket. No aerosols are allowed. Containers must be 100ml or less. This requirement covers items including mascara, lip gloss/balm and perfumes. The transparent bag must be removed from carry-on luggage and shown to security personnel at the screening checkpoint.
No sharp items such as scissors, pocket knives or other items that could potentially be used as weapons may be carried in carry-on luggage. They will be confiscated (and not returned) at the security checkpoints.

Carry-on Luggage
Checklist – Have I bought or packed ...
Bought
Packed
Travel Documents e.g. passport & visa, copy of itinerary/ confirmation letter, voucher, etc.
Money Belt/Wallet/Purse
Prescription medication & doctors letter authorizing it
Cash ($US, HK$, RMB etc) &Credit cards
Basic Toiletries for long flight/train journey (under 100ml each)
Camera (+batteries&charger)
Day pack – carry your water bottle, snacks, tissues, umbrella
Ear plugs – in case it maybe too noisy
A change of underwear & socks
Shower proof jacket- in case it is raining on arrival
Tissues
Book or reading material
Main Luggage
Each adult or child passenger is allowed to check in up to 20kg (44 lbs) of baggage for free
All check baggage must be properly packaged, able to sustain a certain pressure and able to be safely loaded and transported under normal operations.
The name, full address and contact number of the passenger must be clearly mark both inside and outside of the baggage.
Items that should not be placed in checked baggage: cash, securities, jewelry, precious metals and articles, antiques, scripts and painting, computers, personal electronic items, samples and other valuable objects, fragile or delicate items, perishable goods, lithium batteries, important documents or materials, travel documents and personal medication.
Write your destination hotel on A4 paper in large letters in your check in bag. Chinese domestic flights often only attach the check-in luggage label, not bothering with those small bar code stickers. This piece of paper will help your luggage being found a lot sooner.

Main Luggage
Checklist – Have I bought or packed ...
Bought
Packed
Underwear & socks
T-shirts/Jeans/casual pants/skirts/shorts/dresses
Jumper/cardigans/light jackets
Pajamas-modest; some nights may be cold
A set of good clothes
Sun hat, sunscreen & sunglasses
Warm beanie/hat
Electrical adaptors – check the voltage
Personal First Aid (hydration sachets etc)
Good Comfortable Footwear
Gifts
Eyewear / Contact lens gear
Insect repellent (containing DEET- N, N-diethy1-meta-toluamide for malaria prevention)
Medications
Padlocks (for locking your bags)
Pen – always have a pen handy for filling in forms
Slippers / thongs / sandals / flip flops
Toiletries- toothbrush& paste, soap/gel, face washer, shampoo/conditioner, hairbrush/comb, deodorant, hand sanitizer etc
Torch / Flashlight (small)
Towel (small)
Travel insurance full details, including T&C
Wet wipes / tissues / hand gel (including multiple soft packets of tissues for use as toilet paper)
Spare plastic bags-for laundry, wet shoes
Spare memory cars for your camera
A display folder-for photocopies of itinerary, passport & other travel documents and spare passport photos. It can also be used to store other memorabilia of the trip.
Have a question?
OR
Are you eager to begin your Chinese cultural journey?
Drop us a line and we will promptly connect you with our leading China expert!