CET-08:

11 Days Beijing - Xi'an - Zhangjiajie - Shanghai Tour

You are going to travel through the most historically, culturally and naturally valuable and stylish parts of China. In Beijing and Xi'an, you will visit the World Cultural Heritage sites such as the Forbidden City, the Mutianyu Great Wall, the Temple of Heaven, the Terracotta Army and Big Wild Goose Pagoda. There are abundant natural resources in Zhangjiajie National Forest Park, where the views in the film "Avatar" were mainly shot. A great variety of plants, weird stones, and high peaks give you an opportunity to enjoy the fresh air and feast your eyes on interesting sights. The last stop is Shanghai, where you will see the ancient buildings and skyscrapers in contrast to private gardens and temples.
Trip Highlights
Explore the Forbidden City to learn about royal life
Learn Tai Chi with the master in the Temple of Heaven
Be stunned by Emperor Qinshihuang's Terracotta Army
Collect local handcrafts in the Muslim Quarter
Soak up the Avatar-like natural views in Zhangjiajie
Experience the thrill of the Zhangjiajie Grand Canyon glass bridge
Suitable For: School, Family or Friends, Solo, 1st Time Trip
Map of this Trip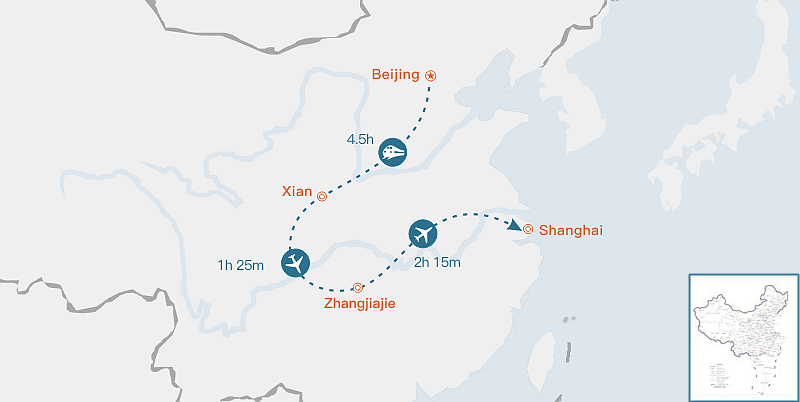 Click to enlarge
Full itinerary for Explore China's Essential Cities and Avatar
Day 1
Beijing Arrival
Your tour guide is holding your name sign and waiting for you at the luggage claim area of the Beijing Capital International Airport (PEK). After you meet each other, you will be transferred to your hotel by private car.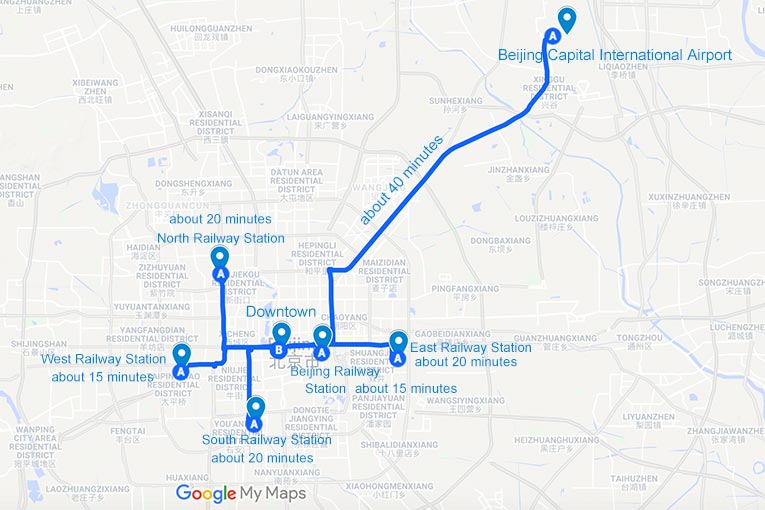 Day 2
Beijing: City Tour (breakfast & lunch)
Morning
After breakfast, your tour guide will accompany you to the Forbidden City, which was the royal palace of emperors in the ancient Ming (1368-1644) and Qing (1644-1912) Dynasties. It was inhabited by 24 emperors over time. And then we continue on to the expansive Tiananmen Square, where a photo of Chairman Mao is hanging. He proclaimed the foundation of the People's Republic of China on a tower adjacent to the square in 1949. Have lunch at a local restaurant.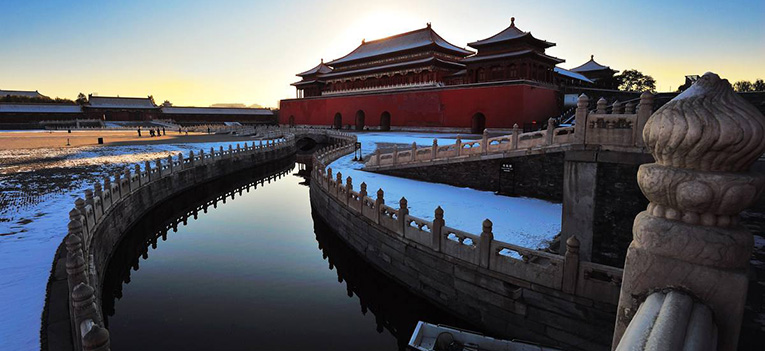 The Forbidden City in Winter
Afternoon
We will go to the place where old Beijingers live, called a Hutong. It is the essence of Chinese life which the capital of China can offer you. Linger in the maze-like locale to get a feel for the history and culture of Beijing.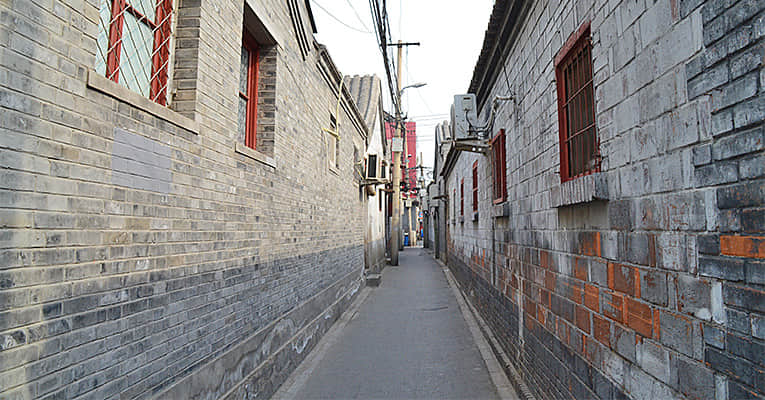 The Narrow Alley
Next, we will visit Jingshan Park, which was an important place for the Ming and Qing Emperors to worship and remember their ancestors.
A Bird's Eye View of the Forbidden City from Jingshan Park
Evening
Recommended activity:
1. 'The Legend of Kungfu' premiered in 2004. In contrast to the traditional Kungfu show, it demonstrates Kungfu through dramatic stories. The group also tours abroad and has a good reputation.
2. 'Acrobatics at Chaoyang Theatre' was founded in 1984. Their performances have won more than 30 awards at home and abroad. "Blue And White Porcelain" (balancing a stack of bowls on the head), which is one of them, was on the stage of the Spring Festival Gala in 2015.
3. Peking Opera is one of five major operas in China and the quintessence of Chinese culture with a history of nearly 200 years. It was only entertainment for the court in the beginning and then slowly opened to common people as well.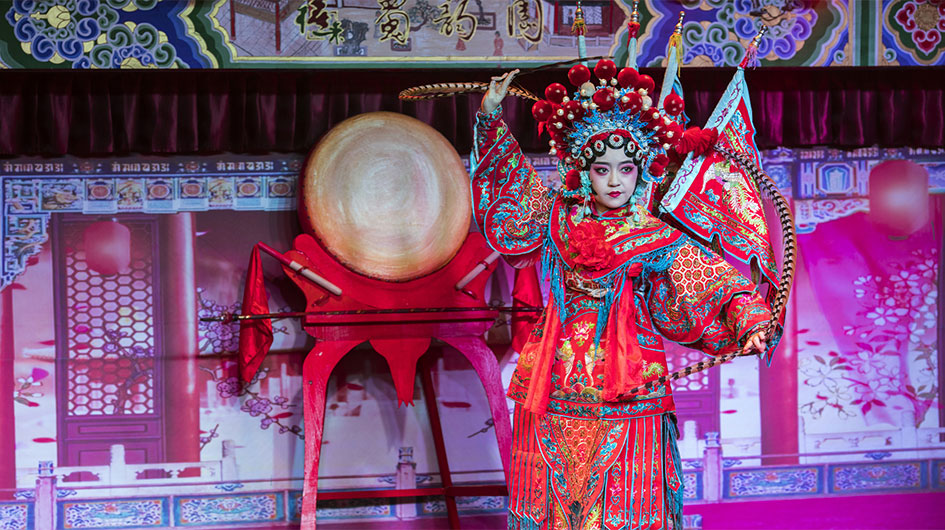 Beijing Opera: Farewell My Concubine
Day 3
Beijing: The Temple of Heaven and The Mutianyu Great Wall (breakfast & lunch)
Morning
After breakfast, we are going to the Temple of Heaven, which is a World Cultural Heritage site listed by UNESCO, and was a royal site for sacrificial ceremonies. It is now a park, where local people do morning exercises. You will have a chance to learn Tai Chi for 30 minutes there. After that, we will drive you to visit another UNESCO-listed site – the Mutianyu Great Wall – to appreciate one of the most renowned ancient relics in China. Have lunch on the way at a farmyard.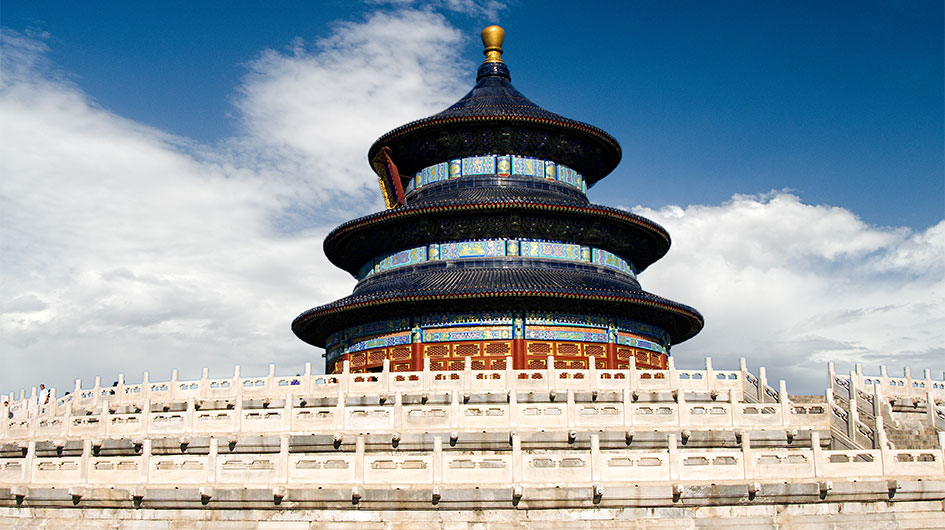 Temple of Heaven
Afternoon
Touring around Mutianyu Great Wall. You will be back to your hotel at around 17:30.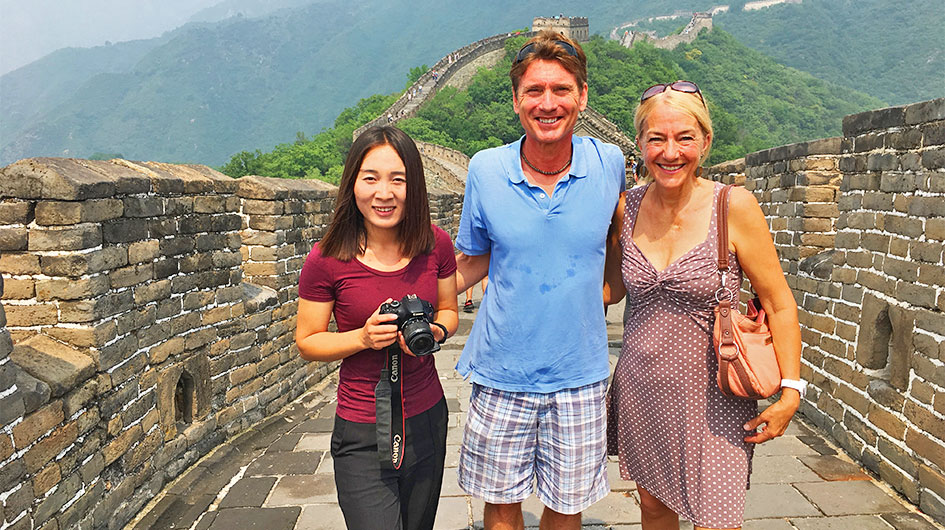 Our Customers Stephen and Sarah at Mutianyu Great Wall in Summer
Day 4
Beijing - Xi'an by Speed Train: The Summer Palace (breakfast & lunch)
Morning
After breakfast, you start today's sightseeing with the Summer Palace, a royal resort built in 1888. The resort was designed according to the style of ancient gardens in the South Yangtze River Area. Lunch is served at a local restaurant.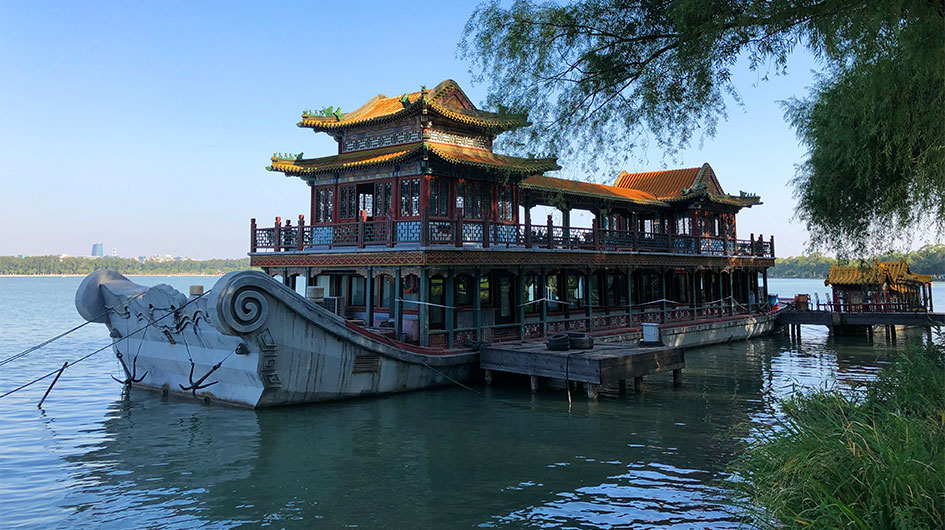 The Summer Palace
Afternoon
You will be transferred to the railway station for your speed train to Xi'an, one of the ancient capital cities in China.
Evening
On arrival at Xi'an north railway station, you will meet our guide who will take you to your hotel for checking in. Have a good night.
Day 5
Xi'an: The Terracotta Army and Ancient City Wall Biking (breakfast & lunch)
Morning
A full morning tour to visit the Terracotta Army Museum and a Cave dwelling. The emperor Qinshihuang's underground army is ready for your inspection, during which time knowledge about the ancient science of war will seep into your mind. Cave dwelling is an ancient form of habitation on the loess plateau in northwestern China. It features a harmonious coexistence between humans and nature, as well as being warm in winter and cool in summer. Have lunch nearby.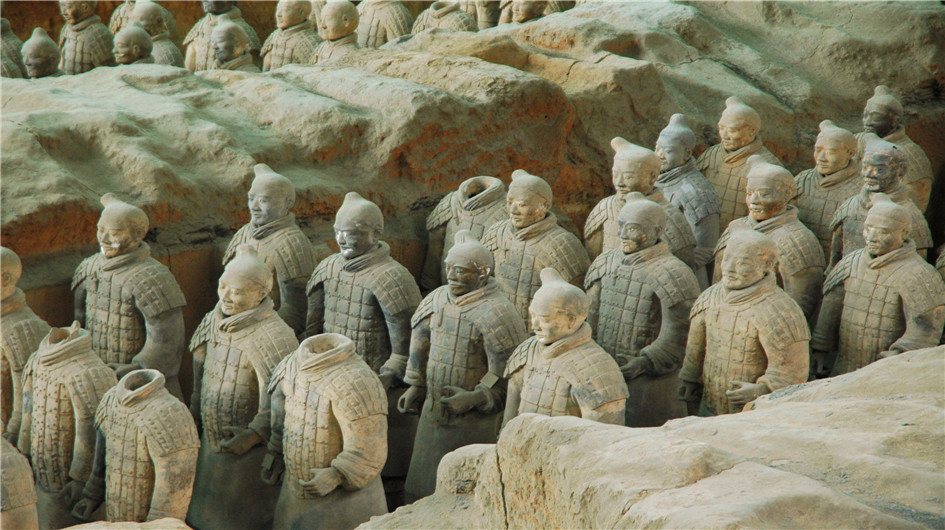 The Terra-Cotta Warriors and Horses Museum
Afternoon
You will be back to downtown Xi'an to visit the Ancient City Wall, which has been guarding the city of Xi'an for over 600 years. Cycling on the spacious city wall is the best way to learn about both the historical and modern parts of Xi'an.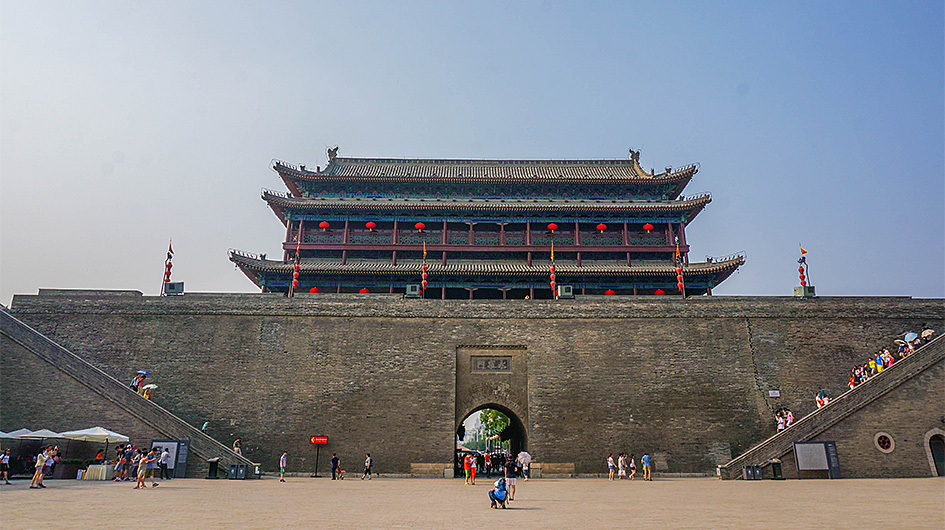 A Part of Xi'an City Wall
Evening
Recommended activity:
1. The music fountain at the north square of Big Wild Goose Pagoda is free to the public. You can stroll around it after dinner to experience local life.
2. 'Tang-Dynasty Palace Music and Dances' is a performance that was re-created by many famous artists in Shaanxi province, displaying the essence of music, rhythm, and dance art in the Tang Dynasty.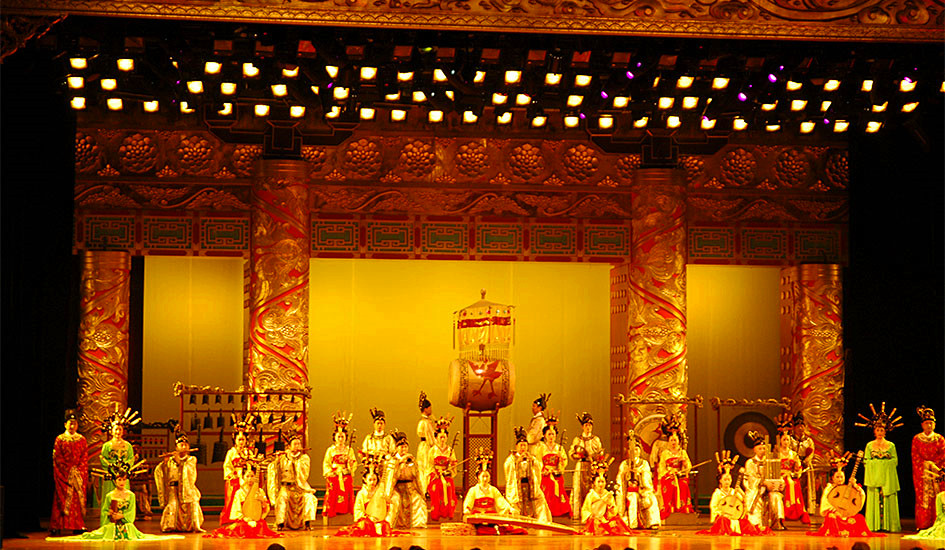 Tang-Dynasty Show
Day 6
Xi'an - Zhangjiajie by Plane: City Tour (breakfast & lunch)
Morning
After breakfast, you will visit the Small Wild Goose Pagoda. It is the same architecture style with the Big Wild Goose Pagoda, but much quieter with less tourists. It is a typical work of the square Miyan style brick pagoda in early China and is Buddhist architectural art heritage of the Tang Dynasty. You can learn how Buddhism was introduced into the Central Plains and integrated into the Han culture. And then you will have a chance to watch a Shadow Puppets Show, which is a kind of folk drama. It tells stories in silhouettes of characters made of animal skins or cardboard.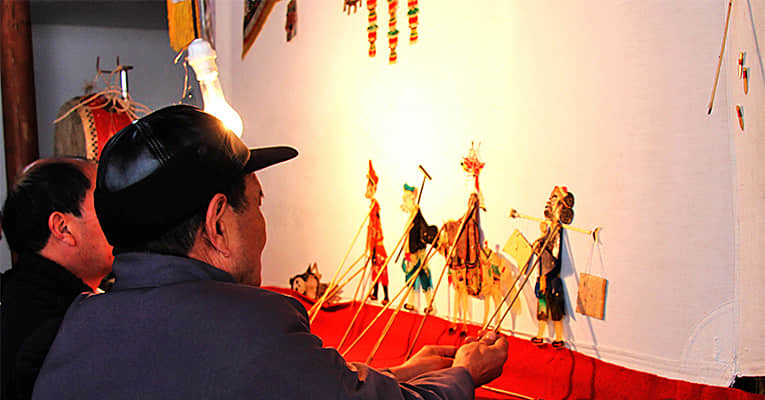 Shadow Puppets Show about Journey to the West
Afternoon
We head to the Great Mosque, which covers an area of 12,300 square meters. The mosque is an Islamic architecture influenced by Chinese culture. It is a great pleasure to admire this kind of combination. Then it is a short journey to the Muslim Quarter, where you can take a stroll and buy some exquisite souvenirs or try the local snacks. Alcoholic beverages are forbidden in the Islamic restaurants.
The Great Mosque
Evening
Say goodbye to Xi'an, you will go to Xi'an Xiangyang Airport by comfortable private car for your flight to Zhangjiajie. On arrival, our guide will meet you at the airport and take you to your hotel located in Wulingyuan district of Zhangjiajie.
Day 7
Zhangjiajie: National Forest Park (breakfast & lunch)
Morning
After being fully refreshed at your hotel, you'll first take the Bailong elevator up to explore the Real Pandora World – Yuanjiajie. Yuanjiajie is famous all over the world as the mountains which inspired the floating mountains in the Hollywood movie 'AVATAR'. You can see the prototype of Hallelujah Mountain in the movie and the First Bridge under Heaven. Stand on the Bridge Viewing Terrace to shoot some great pictures of the First Bridge under Heaven, and other amazing lesser peaks and grotesque rocks standing in the valley. Have lunch at the top of Yuanjiajie.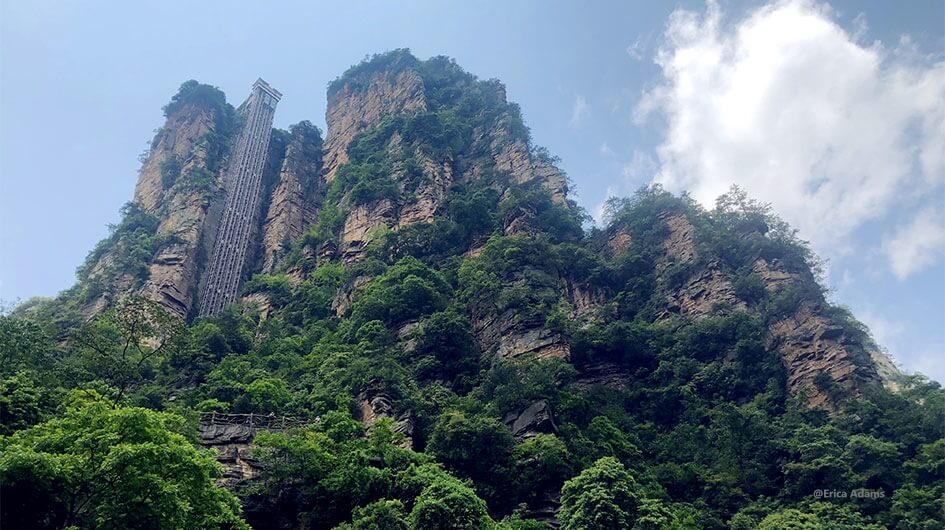 Bailong Elevator: Would You Dare Ride This Outdoor Lift :-p
Afternoon
Take a sightseeing bus to the lower cable station of Yangjiajie and then take a cable car up to Yangjiajie, which is a relatively new part of the Zhangjiajie National Forest Park, but just as beautiful as Yuanjiajie and Tianzi Mountain. You will visit the main attractions such as Tianbo Mansion, Oolong Village, Natural Great Wall, Corridor the Cliffs, and capture the sunset in One Step Under Heaven.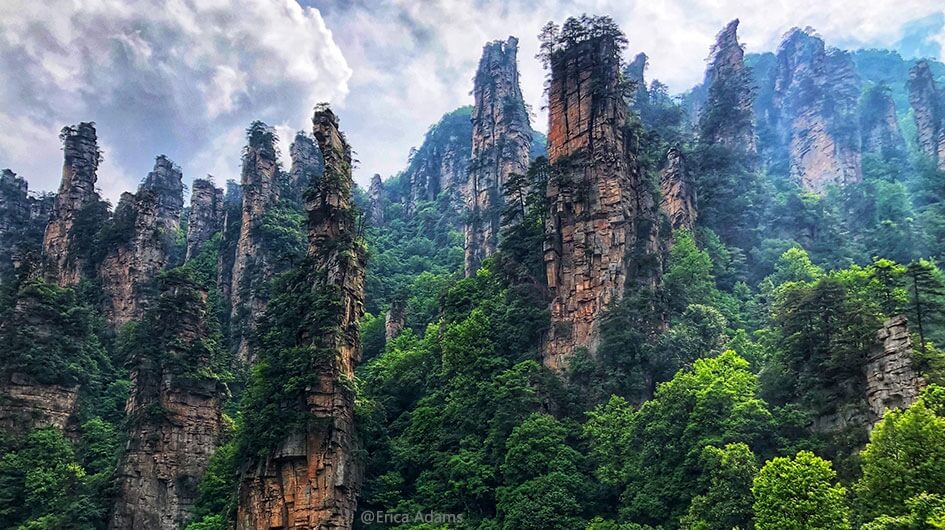 the Avatar Mountains
Evening
Recommended activity:
'Charming Xiangxi' is a stage performance displaying the local folk customs of western Hunan. They also invite folk artisans to represent their culture and art which are hidden in the mountains and endangered.
Day 8
Zhangjiajie: Golden Whip Brook and Grand Canyon (breakfast & lunch)
Morning
Today's action-packed tour starts with the 7.5-kilometer-long Golden Whip Brook hike for around 2.5 hours. Hike along the brook and enjoy the breathtaking flora, fauna, geology and breathe the natural oxygen. The footpath along the brook is wet, so a walking stick and a pair of comfortable waterproof shoes are necessary.
Have lunch at a local restaurant.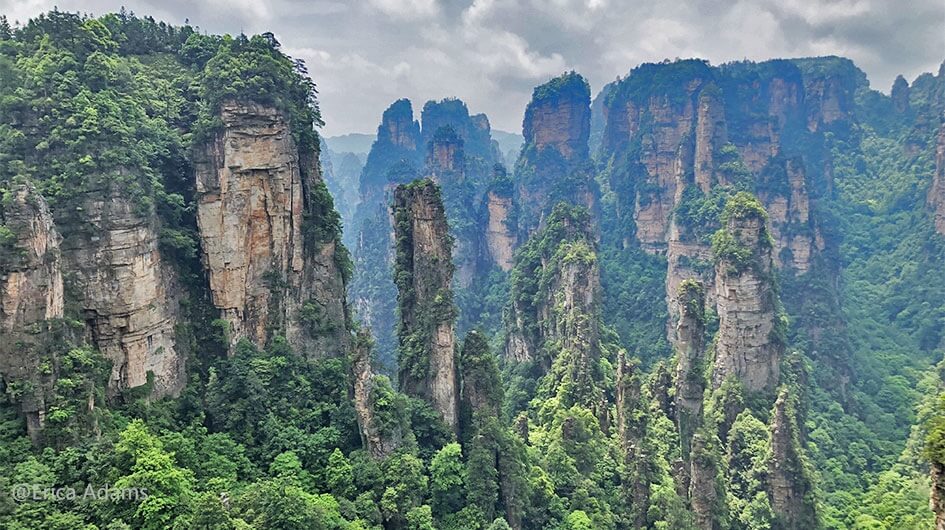 Amazing Views
Afternoon
We will drive you for around 1.5 hours to the Tourist Center at Zhangjiajie Glass Bridge to walk on the highest and longest glass bridge in the world. After that, be charmed by the sight of running waters, flying waterfalls, lush vegetation and other scenery at the Rainbow Square, Yilian Youmeng, Momo Cave, the Holy Spring Lake and other beautiful attractions in Zhangjiajie Grand Canyon.
We will be back to your hotel in Yongding district of Zhangjiajie City.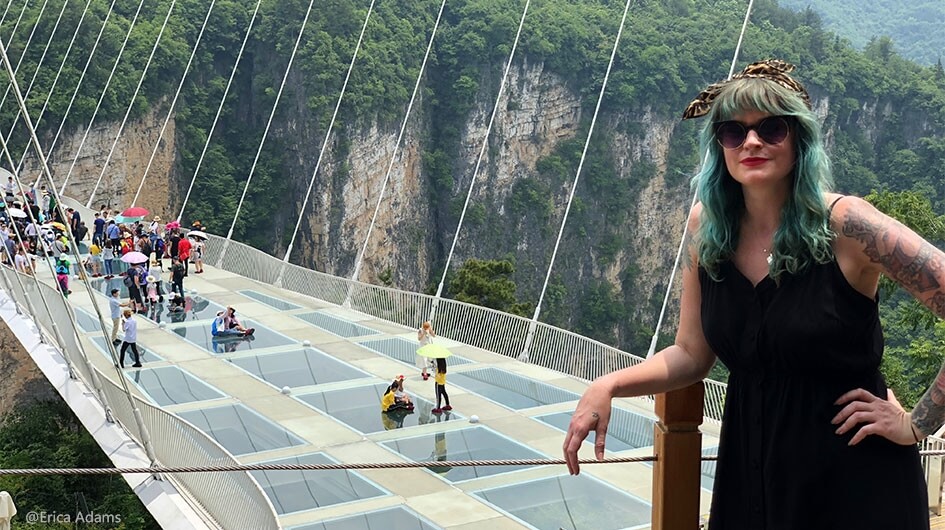 Zhangjiajie Grand Canyon Glass Bridge
Evening
Recommended activity:
'The Fontanel Fox Spirit' is a magic musical and super-shocking landscape performance. The stage is set in the canyon at the bottom of Tianmen Mountain, which is the background. The story line is adapted from a popular folk love story in Hunan province.
Day 9
Zhangjiajie – Shanghai by Plane: Tianmen Mountain (breakfast & lunch)
Morning
After breakfast, your guide and driver will pick you up at your hotel. On this day, you'll first take a trip to Tianmen Mountain. Referred to as the "Soul of culture and spirit of Zhangjiajie", Tianmen Mountain stands 1,500 meters above sea level, and boasts miraculous and unique geographic landforms, unparalleled natural landscapes, and profound cultural connotations.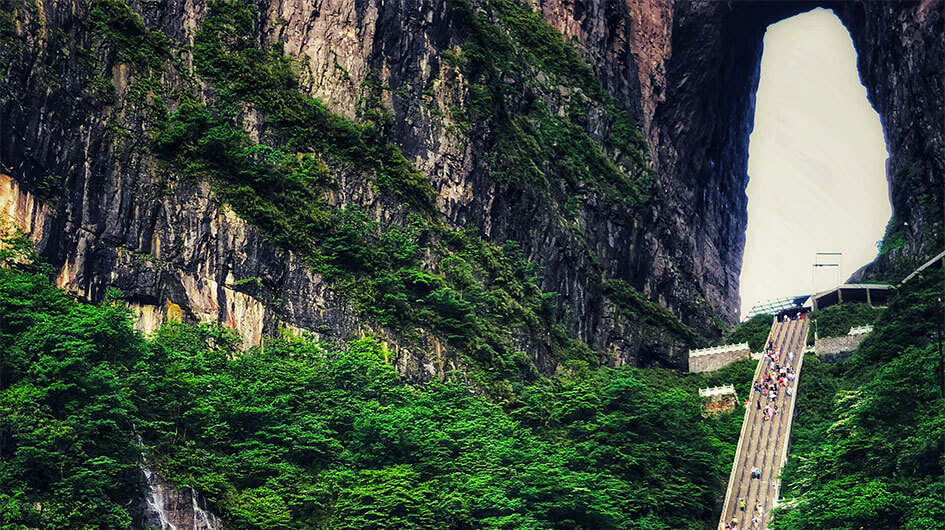 Tianmen Mountain: Heaven's Door
Experience the longest cableway in Asia with a length of 7200 meters, take photos of the Avenue toward Heaven with 99 turns from a cable car. On the top of Tianmen Mountain, enjoy the Cliff-Hanging Walkway and avoid the crowds to take some photos; hold your breath and experience the thrilling Glass Sky Walk. Then, visit the natural mountain-penetrating Karst cave – Tianmen Cave. The foot of the cave is wonderful photo opportunity with the hole in the mountain as the background. It is worth waiting for the sunlight to shine through the hole with mist or smoke illuminating the way. (Note: you can prepare some snacks on this day for a late lunch in the afternoon.)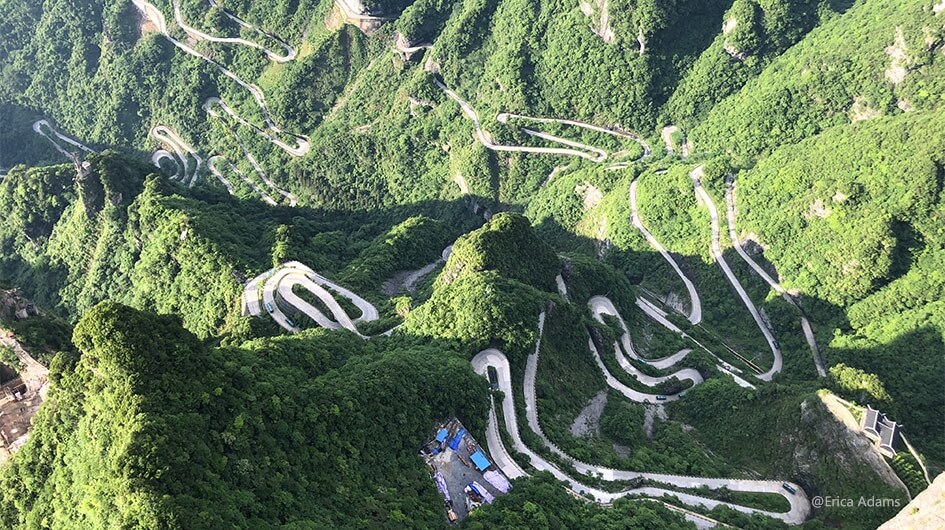 99 Turns
Afternoon
We will be back to the city for lunch. You can take a break to go shopping before taking an evening flight to Shanghai.
Evening
We will transfer you to the Zhangjiajie airport and help you board your flight to Shanghai. On arrival at Shanghai airport, our tour guide will welcome you at the exit and escort you to your hotel for checking in.
Day 10
Shanghai: City Tour (breakfast & lunch)
Morning
After breakfast, you will enjoy a walking tour in Yu Garden, an outstanding garden in the South Yangtze River area. The exquisite lakes, pavilions, bridges, rockeries and courtyards are indispensable features of the luxury ancient private garden. And then we will go to Pudong New Area where the 474-meter high sightseeing terrace of the Shanghai World Financial Center enables you to take in a panoramic view of Shanghai City. It is one of the highest city sightseeing terraces in the world.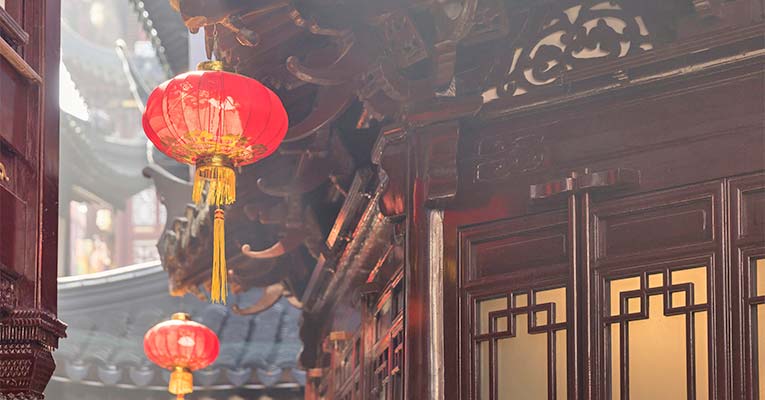 Lanterns light up Yuyuan Garden for Spring Festival
Across Huangpu River, you will arrive at the Bund, where the multinational classic buildings complex is. Have lunch at a local restaurant.
Afternoon
Escape from the hustle and bustle of the city and relax yourself in the peaceful Jade Buddha Temple. Lots of people who live in the busy city of Shanghai come to the temple to relieve the troubled part of their personalities. Finally, you will go to the French Concession, established in 1849 and closed in 1943, which was the most extravagant residential area in Shanghai for almost a century. Most of the buildings in European style are very well preserved nowadays.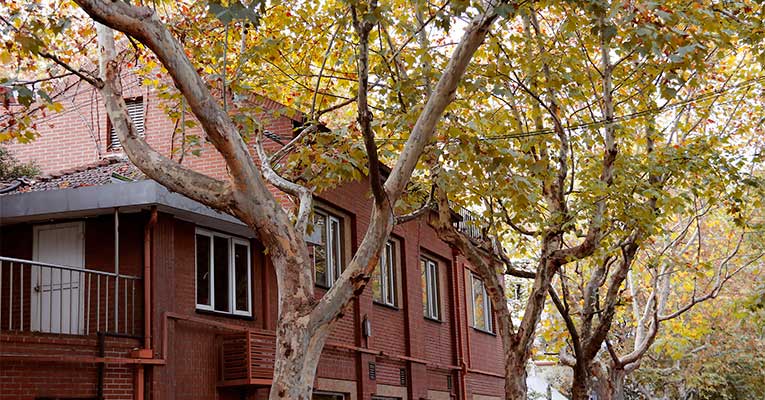 The Old French Concession
Evening
Recommended activity:
1. A live acrobatic show by Shanghai Acrobatic Troupe or another one called 'ERA, Intersection of Time'.
2. Night cruise along Huangpu River to see the beautiful city lights on both sides.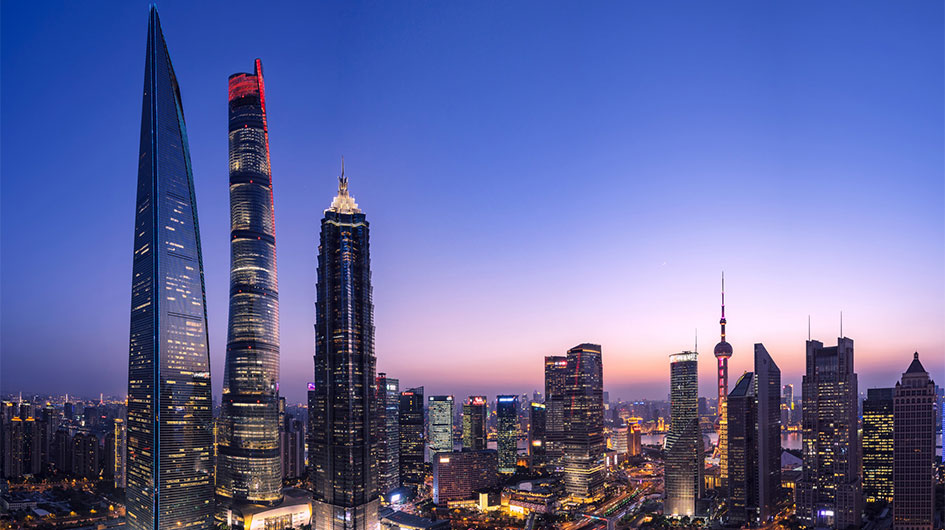 Day 11
Shanghai - Home by Plane (breakfast)
Morning
Your tour guide will help you board your plane flying back home after breakfast at your hotel. We hope you enjoyed your time with us, and have a good trip.
Featured Hotel
| City | Comfortable Accommodation | Deluxe Accommodation |
| --- | --- | --- |
| Beijing | Penta Hotel Beijing | Regent Beijing |
| Xi'an | Grand Noble Hotel Xi'an | Wyndham Grand Xian South |
| Zhangjiajie City | Santo Domingo International Hotel Zhangjiajie Wulingyuan District or Zhangjiajie International Hotel Yongding District | Zhangjiajie Wulingyuan District or Sunshine Hotel & Resort Zhangjiajie Yongding District |
| Shanghai | Narada Boutique Hotel Shanghai Bund | Radisson Blu Hotel Shanghai New World |
What's Included
Entrance fees to scenic spots listed
Meals mentioned in itinerary
Private transfers between the airport, attractions, and hotels
Hotel accommodation with breakfast
Experienced tour guide and driver service throughout the trip
Speed train ticket from Beijing to Xi'an
Flight ticket from Xian to Zhangjiajie to Shanghai
Can I get some reference from your previous customers?
We have been working in tourist industry for years. You can find our repeat customers from all over the world. If you need a referral from your fellowman, please contact your travel specialist. You can find the reviews from part of our previous customers. Furthermore, we are a registered company on Trip Advisor. Please follow the link below to find more reviews on our Trip Advisor Page