CET-02:

11 Days Beijing - Xi'an - Chongqing - Yangtze - Yichang - Shanghai Tour

Cultural Beijing, historical Xi'an, marvelous Three Gorges of Yangtze River, and modern Shanghai, which make a perfect combination of everything in one trip. You are going to see the big difference in culture between the north and south of China. As capitals of ancient China, Beijing and Xi'an, both located in the north, share a lot in common like Xi'an City Wall and the Great Wall. In the south, on the contrary, you mainly focus on the natural landscape along Yangtze River and a very comprehensive Shanghai.
CET Advantages
Walk on the most beautiful section of the Great Wall
Admire the ornate Forbidden City
Salute the ancient Terracotta Warriors
Learn Chinese martial arts - Tai Chi in the Temple of Heaven
Take a 4 days / 3 nights cruise touring the Three Gorges
Marvel at the perfect blend of colonial buildings and skyscrapers in Shanghai
Quality
No Shopping Traps
Tour Focus
Cruise, History, Culture
Best Season
Spring, Summer, Autumn, Winter
Suitable For: Family or Friends, Solo
Map of My Trip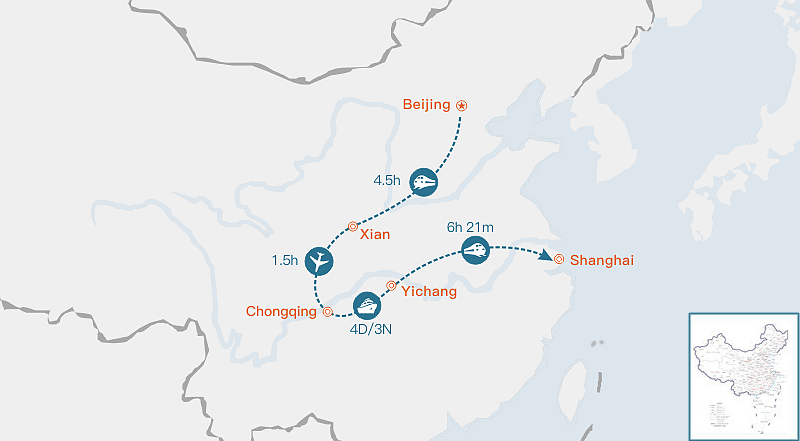 Click to enlarge
Full Itinerary
Day 1
Beijing Arrival
Your exciting tour begins when your airplane lands at Beijing International Airport (PEK) with a warm greeting from your personal guide. Your guide and driver will escort you to your hotel and assist with check-in.
Day 2
Beijing: City Tour (breakfast&lunch)
Morning
A late start is suggested for you to recover from jet-lag. Today's highlight is to visit the most famous Forbidden City (also known as the Palace Museum, or Imperial Palace). Walking through the Palace, you will be fascinated by the imperial architecture and beautiful stories. Your guide brings everything to life and you will feel like you are back six centuries ago. Before entering the Palace, you will walk around the largest city square on earth, Tiananmen Square. À La Cart lunch at Courtyard 7 gives you an authentic experience for your first Chinese meal.
Afternoon
We will visit the Hutongs. Chinese Yo-Yo Play draws you closer to the neighborhoods of the Hutongs and happily ends your day. The Hutongs are a reminder of ancient China while visiting a very modern city.
Evening
Recommended activity:
1. The legend of kung fu premiered in 2004. In contrast to the traditional Kungfu show, it demonstrates Kungfu through dramatic stories. The group also tours abroad and has a good reputation.
2. Acrobatics at Chaoyang Theatre was founded in 1984. Their performances have won more than 30 awards at home and abroad. "Blue And White Porcelain" (balancing a stack of bowls on the head), which is one of them, was on the stage of the Spring Festival Gala in 2015.
3. Peking Opera is one of five major operas in China and the quintessence of Chinese culture with a history of near 200 years. It was entertainment only for the court in the beginning, and then slowly opened to common people as well.
Day 3
Beijing: The Temple of Heaven And Mutianyu Great Wall (breakfast&lunch)
Morning
Visit the Temple of Heaven in the morning and see local people doing their morning exercises among the old trees. The temple was built for the emperors to pray to the gods of heaven for a good harvest back in the Ming and Qing dynasties. You can learn Tai Chi for around half an hour following the master. And then we will drive you to one of the greatest world heritage sites – the Mutianyu Great Wall. Lunch today will be served at a traditional garden restaurant, owned by local farmers. You will have some organic food that has been grown nearby.
Afternoon
The Mutianyu Great Wall is a less crowded and more scenic section of the Wall. A cable car (at your own expense) takes you up to the 15th Watch Tower. It is recommended that you hike along the oldest rocks for some hours. You will be back to your hotel at around 17:30.
Day 4
Beijing - Xi'an by Bullet Train: The Summer Palace(breakfast&lunch)
Morning
After breakfast, you will spend half of day in the Summer Palace, a large park with pavilions and beautifully painted corridors, lakes and rockeries. Have lunch at a local restaurant.
Afternoon
After lunch, you will board the speed train to Xi'an.
Evening
On arrival at Xi'an north railway station, our guide will wait for you at the exit and accompany you to your hotel. Have sweet dreams.
Day 5
Xi'an: Explore The Ancient Ruins(breakfast&lunch)
Morning
After breakfast, you will go to visit the magnificent Terracotta Warriors and Horses. They've been standing there for over 2200 years and the site was honored as "the eighth wonder of the world" in 1987. Its large scale and superior craft are impressive. After that, you will visit a Cave Dwelling near there. You will see how ancient Chinese learned to improve their accommodation conditions with limited natural resources. Have lunch at a local restaurant.
Afternoon
After lunch, you will visit the Small Wild Goose Pagoda. It is the same architecture style with the Big Wild Goose Pagoda, but much quieter with less tourists. It is a typical work of the square Miyan style brick pagoda in early China and is Buddhist architectural art heritage of the Tang Dynasty. You can learn how Buddhism was introduced into the Central Plains and integrated into the Han culture. And then you will have a chance to watch a Shadow Puppets Show, which is a kind of folk drama. It tells stories in silhouettes of characters made of animal skins or cardboard.
the Small Wild Goose Pagoda in Autumn Day
Evening
Recommended activity: Tang-Dynasty Palace Music and Dances is a performance that was re-created by many famous artists in Shaanxi province, displaying the essence of music, rhythm, and dance art in the Tang Dynasty.
Day 6
Xi'an - Chongqing by Plane: City Tour (breakfast&lunch)
Morning
After breakfast, you will visit the ancient City Wall where you could either have a leisurely walk or rent a bike to ride on the wall.
Today's lunch will be served at one of the local homes. Your host will show you how to make Chinese dumplings. You could try to make your own dumplings and taste them. A homemade meal and pleasant conversation with local people in the Far East make for a special experience.
Afternoon
Take a late afternoon flight to Chongqing. Your guide and driver will meet you at the airport and transfer you to the cruise terminal. The boarding time is from 18:00 to 20:30 and your cruise departs at 21:00. There will be a safety briefing later.
(Tips: you need to prepare your own dinner before you board the ship and can ask the tour guide for some advices. The itinerary below is subject to change based on different cruise company. )
Day 7
Yangtze River: on Cruise(breakfast, lunch&dinner)
Morning
There will be early bird coffee and tea served and Tai Chi practice during 06:30–07:00. After breakfast, you will have a shore excursion to Fengdu "Jade Emperor". The whole scenic area strives to interpret the religious beliefs of Confucianism, Buddhism and Taoism from the perspective of cognitive civilization. And then you will be back to your cruise for a buffet lunch.
Afternoon
Enjoy your free time onboard. There will be a captain's welcome reception starting at 17:15.
Evening
Buffet dinner is served from 18:00 to 20:00.
Day 8
Yangtze River: on Cruise (breakfast, lunch&dinner)
Morning
You still have a choice of a Tai Chi lesson on the sun deck in the early morning. At around 10:45-11:00, the cruise will sail through Qutang Gorge and then Wu Gorge. Get your camera ready for the scenery. Have a buffet lunch at noon.
Afternoon
You will board a small boat to tour the Goddess Stream.
Evening
You will have a captain's farewell banquet and enjoy a minorities and dynasty crew cabaret.
Day 9
Yichang – Shanghai by Bullet Train: Three Gorges Dam (breakfast, lunch&dinner)
Morning
Have an early buffet breakfast, then you will have a shore excursion to the Three Gorges Dam, which is the largest hydropower project in the world. After that, you will take a shuttle bus to Yichang Three Gorges Center Cruise Terminal where our guide will wait for you.
Afternoon
Have lunch at a local restaurant. And then, your guide and driver will transfer you to the railway station for your train to Shanghai.
Evening
Our guide will meet you at the station in Shanghai and escort you to your hotel. Good night.
Day 10
Day 10: Shanghai: City Tour (breakfast&lunch)
Morning
Today start your trip from the old French Concession, which was downtown in Shanghai between 1849 and 1943. The French-styled buildings witnessed the development of Shanghai in the early 20th century. Then continue your historical tour in Xintiandi, an ideal area for a walk. Most shops, restaurants and bars in this area are open in buildings with a history of 100 years. They are all amazing combinations of old fashioned and modernized. Have lunch at a local restaurant.
Afternoon
You will be whisked to the Bund from the historical tour. The skyscrapers on the Bund were all built after China opened its doors to the world in 1978. Admire the buildings and feel the pulse of modern Shanghai. The Jade Buddha Temple is your last stop of today's tour. See how the local people relax in the 120-year old Buddhist temple.
Evening
Recommended activity:
1. A live acrobatic show by Shanghai Acrobatic Troupe or another one called 'ERA, Intersection of Time'.
2. Night cruise along Huangpu to see the beautiful city lights on both sides.
Day 11
Shanghai Departure(breakfast)
Be packed and prepared for your flight home. Your personal guide and driver are ready to take you to the international airport. Take away great memories of history, culture, people and the natural landscape back home. However there is a lot more to see and discover, so we hope you will come again.
(Note: you can go shopping at Asia Pacific Plaza which is the biggest market for buying 'fake' goods in Pudong if you have free time in the morning.)
Featured Hotel
| | Comfortable | Deluxe |
| --- | --- | --- |
| Beijing | Penta Hotel Beijing | Regent Beijing |
| Xi'an | Grand Noble Hotel Xi'an | Wyndham Grand Xian South |
| Chong Qing | Yangtze River Cruise of The President or Victoria Fleet | Yangtze River Cruise of Century Fleet |
| Shanghai | Narada Boutique Hotel Shanghai Bund | Radisson Blu Hotel Shanghai New World |
What's Included
Entrance fee to the attractions listed in the itinerary
Meals mentioned in the itinerary
Private land transfer with licensed driver
Private local tour guide service throughout the tour (except on the Yangtze River Cruise) Hotel accommodation with breakfast
Flight tickets from Xi'an to Chongqing
Bullet train ticket from Beijing to Xi'an; from Yichang to Shanghai
Package of Yangtze River Cruise for 4 days and 3 nights
What Our Customers Say On This Tour
-Diane Trower
-Kristi Sundberg