CET-07:

12 Days Beijing - Xian - Chengdu - Yangtze River - Shanghai

The Great Wall, the Terracotta Warriors and the Giant Pandas are the three pictures that come to mind when people think of China. This tour includes all of those highlights in Beijing, Xi'an and Chengdu; and alsocombines with the natural beauty along the Yangtze River. Meet all kinds of people at a local tea house, which is a good way to connect with daily life in Chengdu. Shanghai is your last stop, from where you can experience the rush of life nowadays.All of this will fill your memories after the journey ends.
Trip Highlights
Have a chance to ride a toboggan down the Great Wall
Visit the Lama Temple which was the house of the Emperor Yong Zheng
Be amazed by the 7,000+ Terracotta Warriors
Get up close with the Giant Pandas
Marvel at the Three Gorges Dam
Take speed bullet-trains traveling inside of the country
Suitable For: Family or Friends, Solo
Full itinerary for Panda Country & Yangtze River Cruise
Day 1
Beijing Arrival
Our guide will be holding your name sign and waiting for you at the arrival hall of Beijing Capital International Airport (PEK). Please follow the guide to meet your private driver at the parking lot. They will accompany you to your hotel and the guide will assist you to check in. You will be free for the rest of the day.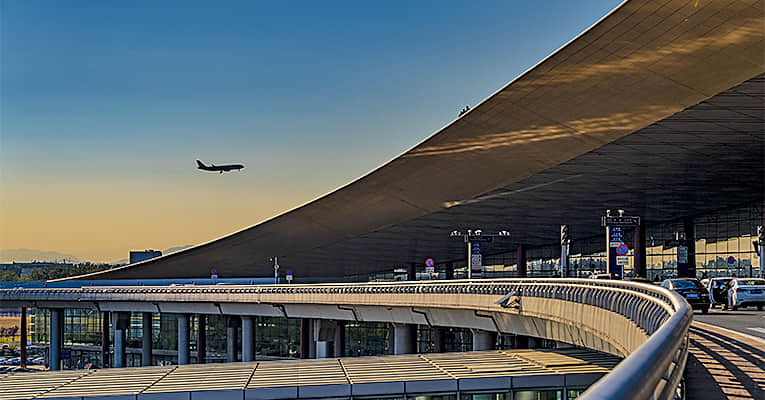 Hello Beijing
Day 2
Beijing: Royal Life VS Courtyard life (breakfast & lunch)
Morning
Beijing has been the capital city of China since the Ming Dynasty, about 600 years ago. After breakfast, you will walk through the Forbidden City and experience the emperors' royal life. There have been 24 emperors who lived here and more than 9,000 rooms can be found in this imperial palace. Pay a visit to the Clock Collections Hall and see the 1,000+ separate clocks from all around the world. Walk out through the Meridian Gate and you will find that Tiananmen Square is just in front of you. Stroll across the biggest square on earth and listen to the stories. Today's lunch will be served at a local restaurant.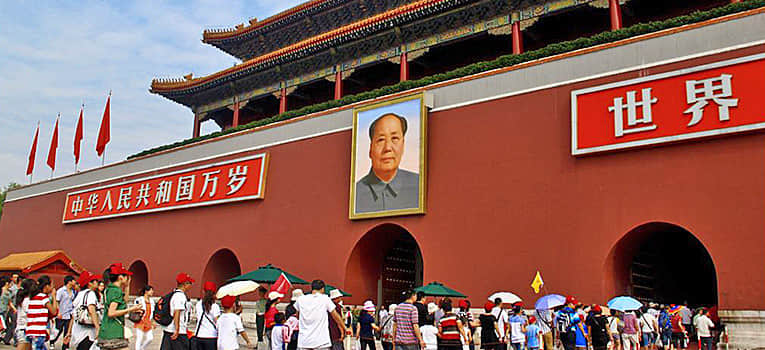 Tiananmen Square: Landmark in Beijing
Afternoon
There are many Hutongs which are the local neighborhoods located around the Forbidden City. Although it is only about 1 mile from the Forbidden City, ordinary people never have a chance to enter into the imperial palace in their whole lives. Be a guest in some local people's house and get an insight into the local courtyard daily life.After that, it's about a 30 minute drive to the Lama Temple. As it is the largest Tibetan Buddhist temple in Beijing, there are many worshipers present. Lots of people come here to give offerings and incense, and pray to the Buddhas.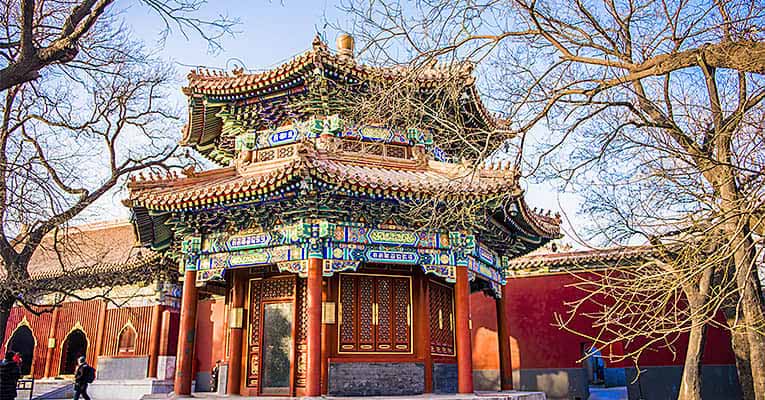 The Lama Temple, Yonghe Temple, the residence of Emperor Yongzheng when he was just a prince.
Evening
Recommended activity:
1. The Legend of Kungfu premiered in 2004. In contrast to the traditional Kungfu show, it demonstrates Kungfu through dramatic stories. The group also tours abroad and has a good reputation.
2. Acrobatics at Chaoyang Theatre was founded in 1984. Their performances have won more than 30 awards at home and abroad. "Blue And White Porcelain" (balancing a stack of bowls on the head), which is one of them, was on the stage of the Spring Festival Gala in 2015.
3. Peking Opera is one of five major operas in China and the quintessence of Chinese culture with a history of nearly 200 years. In the beginning it was seen as entertainment only for the court and then slowly opened to common people as well.
Day 3
Beijing: Two World Cultural Heritage Sites(breakfast & lunch)
Morning
After breakfast,we will drive to the Temple of Heaven in the city center. It consists of a group of religious buildings in a park. The best known is the three-story pagoda, called the Hall of Prayer for Bountiful Harvests. This was the place where the emperors prayed. But now it has become a social center for local people singing, dancing, practicing Tai Chi, playing cards, or just chatting every day. You can learn Tai Chi for around 30 minutes with a master.And then we will go to the Great Wall; enjoy your lunch at a farm on the way.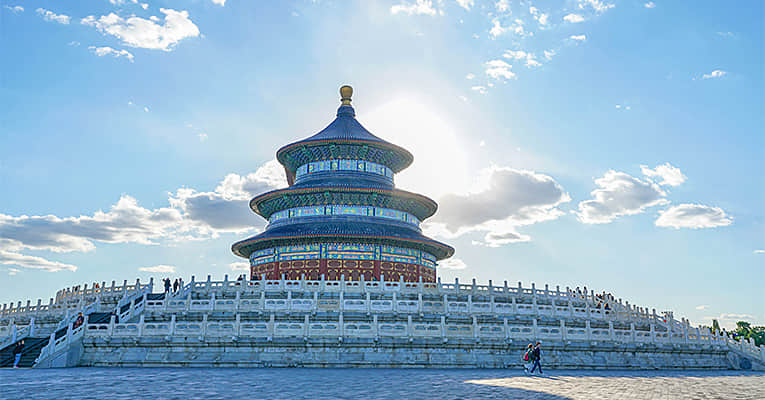 The Temple of Heaven is the centre of imperial ritual ceremony for Ming and Qing Dynasties
Afternoon
We are going to visit the Mutianyu Section of the Wall. There are many sections of the Great Wall near Beijing, but this one remains intact and is less crowded. You can either climb to the top of the Wall,or take the cable car up,and then ride a toboggan back down. Walk through the watch towers and see how the wall twists and turns on the top of the mountains. The background stories will help you to know more about Chinese history. Wearing a pair of comfortable sneakers will be necessary if you would like to walk through the 20 watch towers.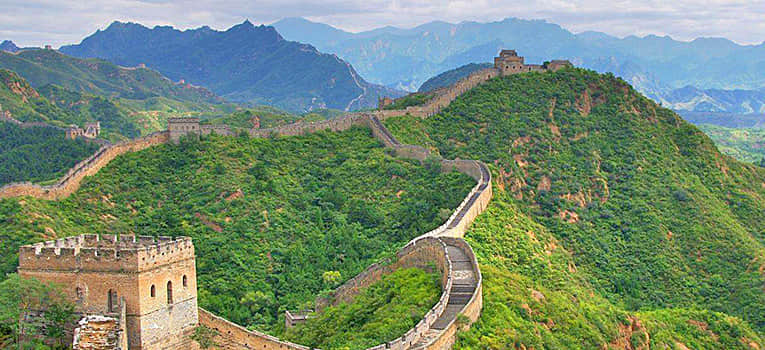 The Mutianyu Great Wall in Spring
Day 4
Beijing – Xi'an by Speed Train: The Summer Palace(breakfast & lunch)
Morning
There are many stories to hear about the Empress Cixi when you visit the Summer Palace. Most of the stories are about how she was responsible for rebuilding the Summer Palace after it burned down. Also how she became the most powerful lady at the end of the Qing Dynasty. There are many impressive buildings which are connected to this lady in this park: the Opera Stage, the Tower of Buddhist Incense, the Long Corridor, and Suzhou Street.A nice lunch is prepared for you at a classic Chinese restaurant.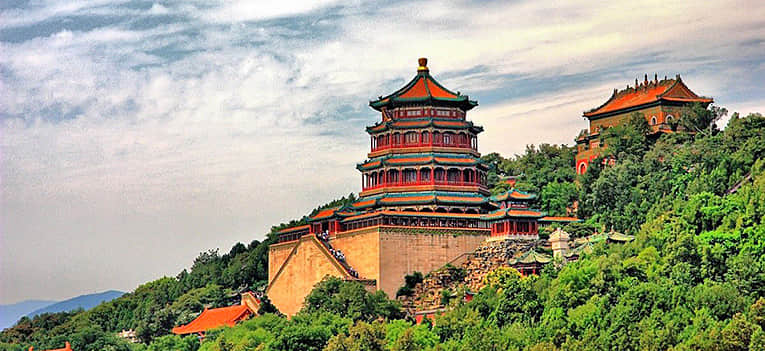 The Summer Palace: an Imperial Garden in Beijing
Afternoon
It is time to say goodbye to Beijing and take a high speed bullet train to Xi'an. The trip takes about 4.5 hours.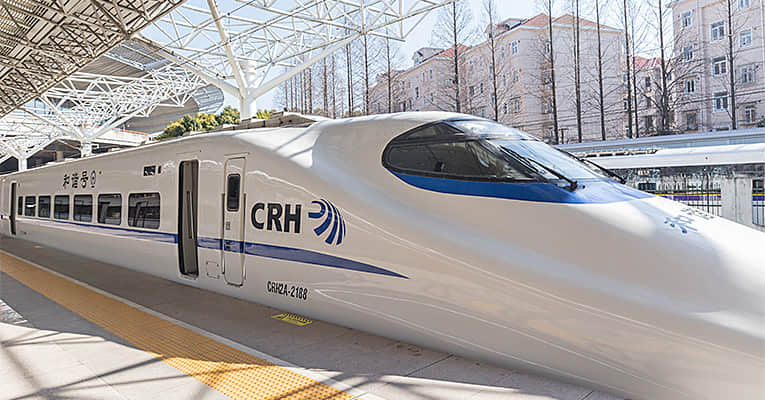 G trains: the fastest and most comfortable trains in China
Evening
Your Xi'an tour guide will welcome you at the exit of the railway station. Transfer you to your hotel and help you check in.
Day 5
Xi'an - Chengdu by Speed Train: World Wonders(breakfast & lunch)
Morning
We hit the road for the Terra-cotta Warriors and Horses. It will take you about 1 hour from the city. It is one of the Wonders of the World; be prepared to be amazed by the 7,000+ pottery soldiers and horses. You will have lunch nearby before heading back to the city center.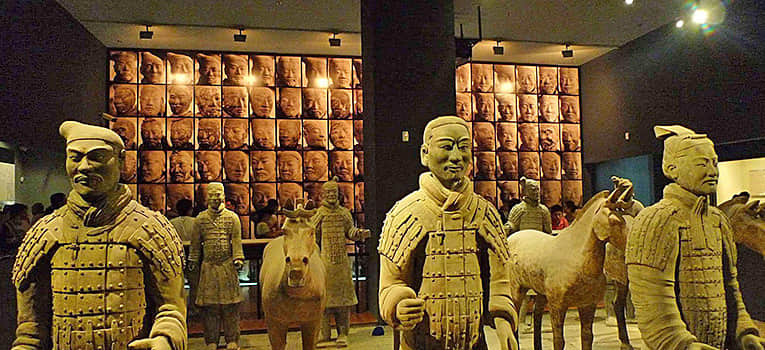 The Terracotta Warriors and Horses: Must see in Xi'an
Afternoon
We will transfer you back to the city for the Ancient City Wall which has a history of more than 600 years. Jump onto a bike and cycle around it to soak up the views, particularly the massive apartment buildings outside the city center. After that, leave Xi'an behind and board your late afternoon train to Chengdu.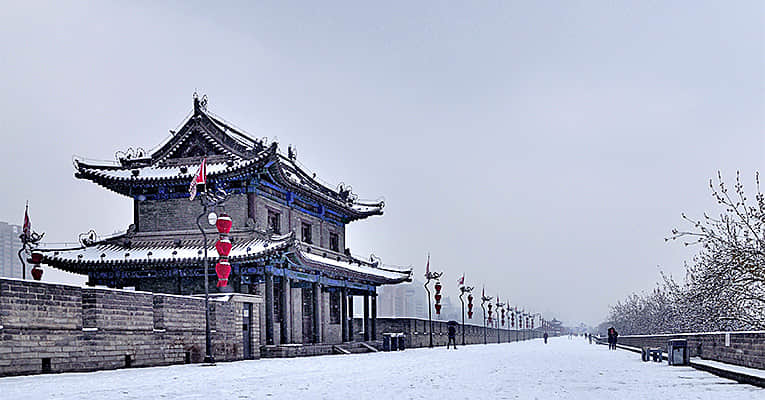 Ancient City Wall in Winter
Evening
Your Chengdu tour guide will welcome you at the exit of the train station with your name sign. After you arrive at the hotel, the guide will help you to check in your hotel.
Day 6
Chengdu: Hello Giant Panda(breakfast & lunch)
Morning
See the Giant Pandas as they are more active in the morning. We will drive you for about 30 minutes to the Giant Panda Breeding Research Base. The pandas are playing, rolling around, sitting in water, and eating bamboo. You may also get the chance to see the red pandas and baby pandas.After that, we will be back to city for lunch.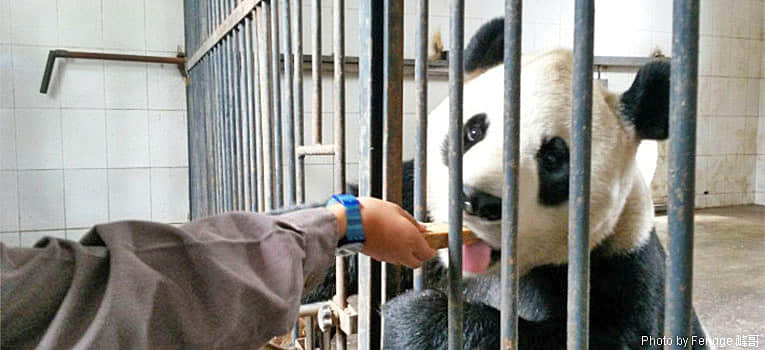 If you prefer to do a Panda Keeper Program, please feel free to contact your travel specialist.
Afternoon
You will stroll around the Kuanzhai Ancient Street of the Qing Dynasty. There are lots of things you can explore: ancient architecture, local crafts, souvenir shops, ear cleaning service, local desserts and Sichuan Opera Shows. And then pay a visit to the Wuhou Memorial Temple nearby and try to learn some Chinese history stories.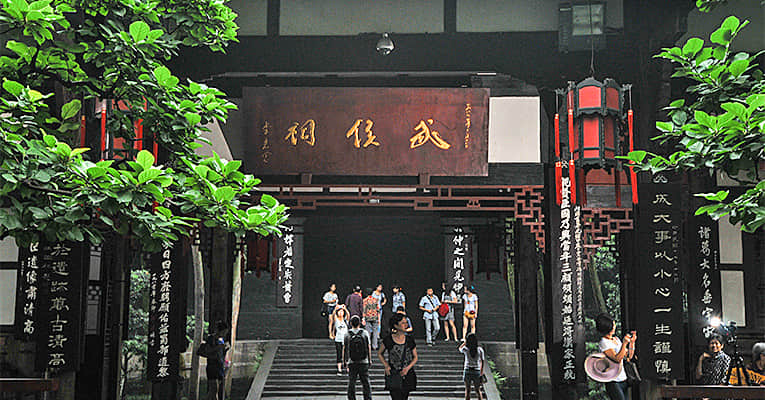 Wuhou Memorial Temple: cultural relics museum of Three Kingdoms
Evening
Recommended activity:
Shu Feng Ya Yun Sichuan Opera presents the wondrous authentic west Sichuan folk classical opera, presented in a large-scale multi-functional Liyuan theater which integrates traditional Chinese art performance, unique folk performance, opera and drama supplies.The programs are Sichuan opera, stick-puppet shows, hand shadow plays, Chinese Acrobatics and face changing shows.
Day 7
Chengdu – Chongqing by Speed Train: Experience Local Life(breakfast & lunch)
Morning
Tea Houses are very popular in Chengdu. Local people enjoy taking time out of their routine in these places, they just drink tea and talk. Walk into one of them, talk to local people and experience their daily life.
Later, we will drive you for about 30 minutes to the Jinsha Site Museum. This archeological site represents an important part of Chinese history and dates back more than 3200 years. The exhibits will explain to you clearly the significance of the finds and how they are linked with the rest of ancient China. Have lunch at a hot pot restaurant.
Tea House in Chengdu
Afternoon
Board your high speed bullet train and leave for Chongqing. The trip takes about 2 hours. Meet your Chongqing tour guide at the exit of the railway station, transfer to the port and check-in for your voyage on the ship.The boarding time is from 18:00 to 20:30 and your cruise departs at 21:00. There will be a safety briefing later.
(Tips: you need to prepare your own dinner before you board the ship and can ask the tour guide for some advice. The itinerary below is subject to change based on different cruise companies. )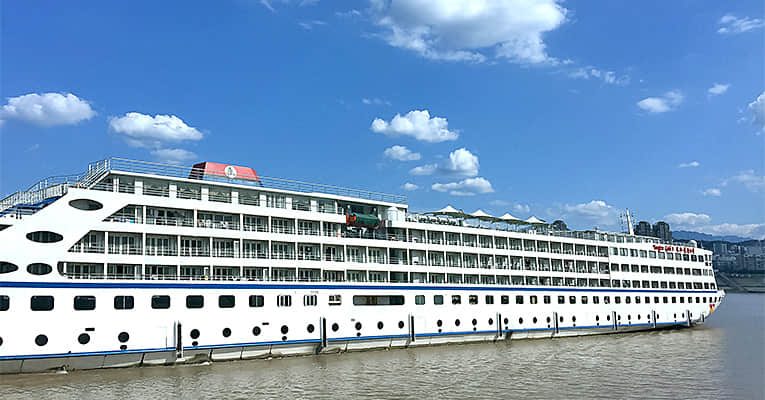 Yangtze Ship
Day 8
Yangtze River: on Cruise (breakfast, lunch& dinner)
Morning
Some Tai Chi exercise and an early bird coffee will refresh you for the whole day. Enjoy the magnificent scenery along the riverbank. Buffet breakfast is served during 07:00-08:00. And then you have the whole morning at your disposal.Enjoy a buffet lunch at noon.
Afternoon
A shore excursion to Shibaozhai Temple is arranged for you. There is a 12-meter red pavilion, which was originally built in the Ming Dynasty, built against the side of the hill. You will admire the ancient architectural style of this wooden structure.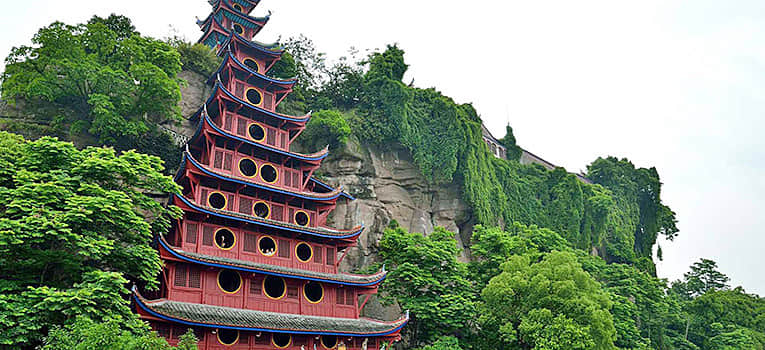 Shibaozhai Pagoda: 18th century temple, built without nails
Evening
You will not feel bored on the river as there is a Captain's welcome banquet.You can enjoy the crew's performance. Have a good night.
Day 9
Yangtze River: on Cruise (breakfast, lunch& dinner)
Morning
You can either get up early to have early bird coffee and Tai Chi practice, or just have breakfast at 07:00. You can be free on your own but do not miss seeing Qutang Gorge at around 11:00 when the cruise ship is passing through slowly.Have a buffet lunch at 12:00.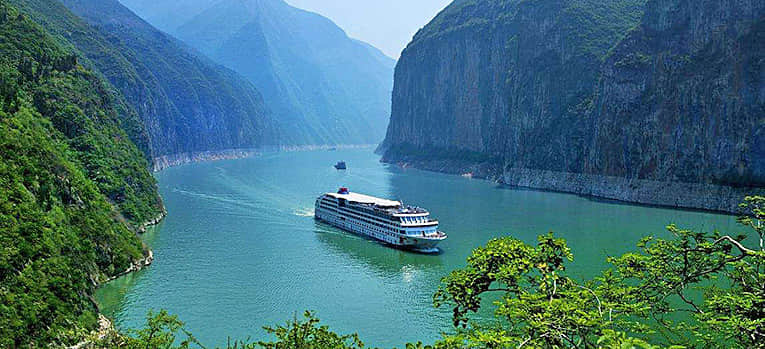 Qutang Gorge on Yangtze River
Afternoon
The cruise ship is passing by Wu Gorge. Just sit on the balcony or the open deck of the cruise to enjoy the picturesque view.Next we will change to a small boat to go along Shennong Stream. It takes you to tranquil waterfalls and an ancient plank path.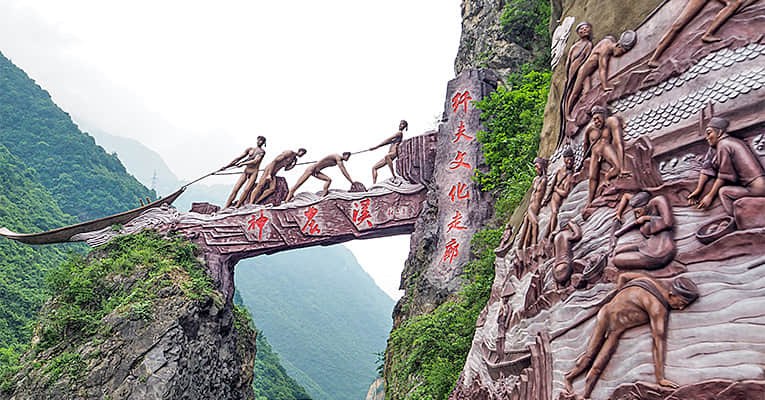 Shennong Stream is a shore excursion for you
Evening
You will have a Captain's farewell dinner and a gathering party with the crew on your last night on the Yangtze River.
Day 10
Yichang – Shanghai by Bullet Train: Three Gorges Dam(breakfast & lunch)
Morning
There are still early bird coffee and Tai Chi practice as a option. Have a buffet breakfast at 07:00.Enjoy a shore excursion to the Three Gorges Dam Site to observe one of the greatest water projects in the world. The project includes the ship locks and the wall itself, which is over 2 kilometers long. This huge structure contains 26 turbines and another 6 to be installed in order to generate electricity for many parts of China. After that, you will disembark at Yichang and take a bus to the Three Gorges Tourist Center. Your tour guide will wait for you there and take you to have lunch at a local restaurant.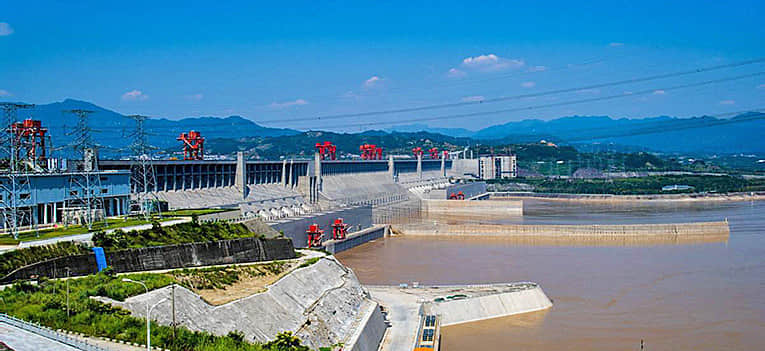 The Three Gorges Dam: the world's largest power station
Afternoon
It is time to take your bullet train to Shanghai.
Evening
Our guide will meet you at the exit with your name on a welcome board after you arrive at the railway station in Shanghai. The guide will assist you to check-in at your hotel.
Day 11
Shanghai: City Tour (breakfast & lunch)
Morning
The tour starts from Shanghai Museum, one of the greatest museums in China. It has a vast collection of antiques, paintings, porcelains and Bronze Ware. Your next stop is Yu Garden, which is a classic Chinese garden with traditional houses, corridors, ponds and hills, and a beautiful get away. Yu Market is right out of the garden. You will find many interesting things there, like souvenirs, snacks, and street artists. You can try xiaolongbao – Shanghai dumplings – for lunch.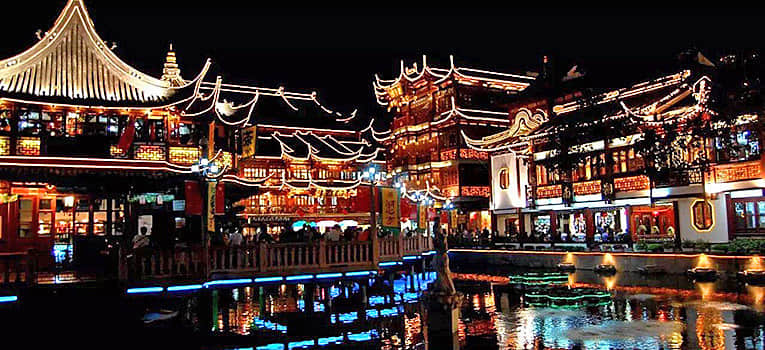 Yu Garden: classical Chinese garden architecture
Afternoon
To the top of one of the highest buildings in the world, Shanghai World Financial Center, where you will have a bird's eye view of this metropolis: the incredible city of Shanghai stretches out in every direction. Walk on the highest observation deck in the world and see the bustling city way below your feet. Later today, walk along the Old French Concession and experience the old Shanghai.
Shanghai World Financial Center: a supertall skyscraper in Shanghai
Evening
Recommended activity:
1. A live acrobatic show by Shanghai Acrobatic Troupe or another one called 'ERA, Intersection of Time'.
2. Night cruise along Huangpu River to see the beautiful city lights on both sides.
Day 12
Shanghai Departure (breakfast)
Your tour guide will be waiting for you at the hotel lobby and transfer you to the airport based on the flight schedule. Hopefully you would have a great time with us.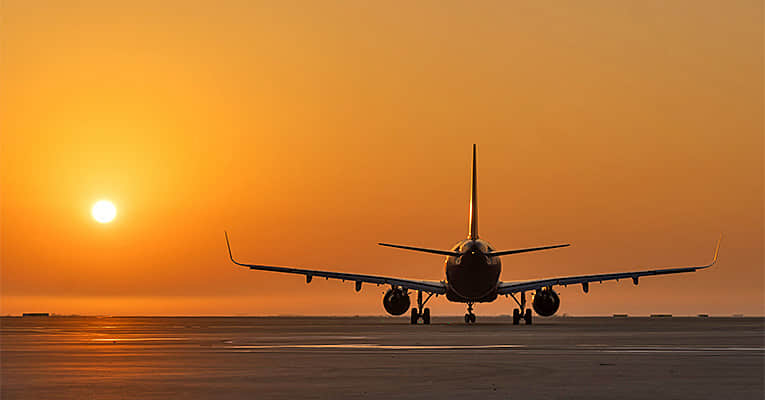 Bye Bye Shanghai, See you next time.
Featured Hotel
| | Comfortable | Deluxe |
| --- | --- | --- |
| Beijing | Penta Hotel Beijing | Regent Beijing |
| Xi'an | Grand Noble Hotel Xi'an | Wyndham Grand Xian South |
| Chengdu | Tianfu Sunshine Hotel | The Ritz-Carlton,Chengdu |
| Yangtze River Cruise | The President or Victoria Fleet | Century Fleet |
| Shanghai | Narada Boutique Hotel Shanghai Bund | Radisson Blu Hotel Shanghai New World |
What's Included
Bullet train tickets: Beijing - Xi'an - Chengdu - Chongqing, Yichang - Shanghai
4 days / 3 nights cruise package on Yangtze River
Centrally located hotel accommodation
All meals as listed in the itinerary
Entrance to listed attractions
Overland transfer with private licensed driver
Excellent English speaking tour guide
FAQs
Is this tour recommended for traveling with young kids?
The Giant Pandas are cute as you can imagine and your kids will love to see them playing, eating and sleeping. You will have a very leisurely time on the cruise of Yangtze River. The shore excursions are good opportunities to learn more about Chinese culture and natural landscape. This combination is a perfect choice for traveling with kids.