CET-15:

14 Days Beijing - Kaifeng - Xi'an - Chengdu - Guilin - Shanghai Tour

This journey starts from the capital of China - Beijing. The Forbidden City and the Great Wall are on the list. Next you will visit Nanjiaojing Lane in Kaifeng city which is the ancient capital of eight dynasties, and you will have a chance to meet up with Jewish descendants. Not to be missed is Xi'an, another ancient capital, where you can see the spectacular terracotta warriors. Chengdu is your next stop. You can see pandas, Leshan, and Mount Emei there. And then you will head to Guilin for its beautiful landscape. Lastly, you will arrive in Shanghai where the Jewish refugees museum is located. Pack everything you can into these two weeks, and fly back home from cosmopolitan Shanghai.
Trip Highlights
Take a cable ride on the Great Wall
Visit the exhibition about Jews in Kaifeng Museum
Get to know about the living situation of Jewish descendants
Place yourself in the Riverside Scenes at Qingming Festival
Experience a local bamboo lunch in a Minority village
Appreciate nature's beauty on both sides of the Li River on a boat
Taste traditional snacks in Yuyuan Bazaar
Stroll along the Bund
Suitable For: School, Family, Friends
Full itinerary for China Jewish Tour
Day 1
Beijing Arrival
You will meet your guide at the airport on your arrival and be escorted to your hotel. The guide can help you with hotel check-in. You are at your leisure for the rest of the day.
Day 2
Beijing: Ancient Palace And Garden (breakfast & lunch)
Morning
After breakfast, your trip starts with a visit to Tian'anmen Square. If you are interested, you can get up earlier to attend the flag rising ceremony there at around 05:00 am. Stroll around in Tian'anmen Square and make sure that you notice the Heavenly Gate (the entrance to the Forbidden City), National Museums of China, People's Great Hall and Chairman Mao's Mausoleum. And then you will enter the Forbidden City, which features the great square, and halls and gates contrast with intricate halls, gardens, courtyards and quarters. As well as being listed by UNESCO, it looks both solemn and majestic. Have lunch at a local restaurant.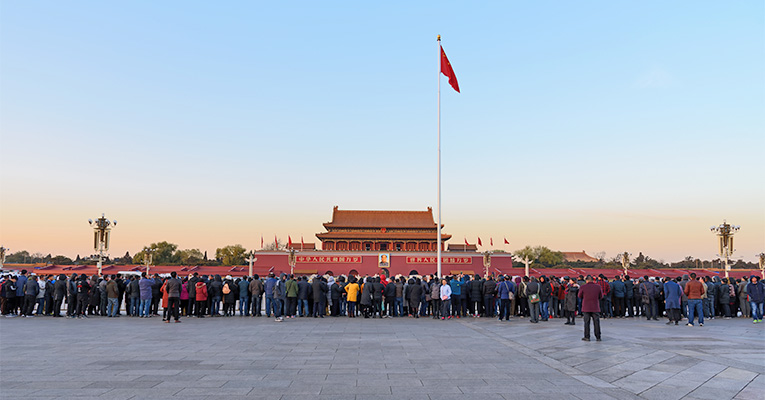 Tian'anmen Square
Afternoon
We will visit the Summer Palace. With its perfect layout, magnificent buildings and enchanting landscape, it is also reputed to be the most splendid classical garden in China.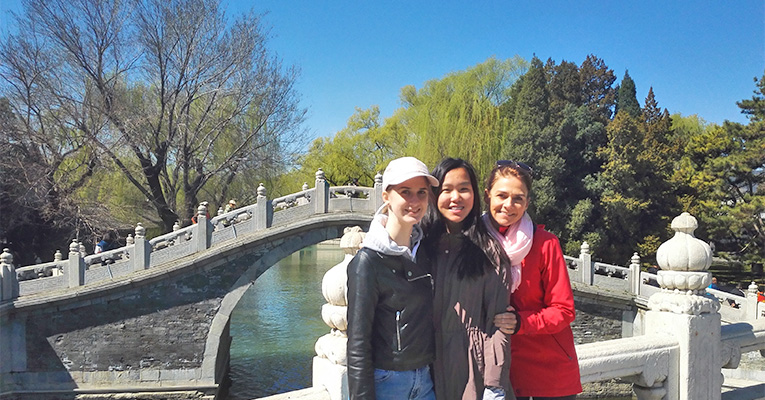 Summer Palace
Evening
Recommended activity:
1. 'The legend of kung fu' premiered in 2004. In contrast to the traditional kung fu show, it demonstrates kung fu by dramatic stories. They also tour abroad and have a good reputation.
2. 'Acrobatics at Chaoyang Theatre' was founded in 1984. Their performances have won more than 30 awards at home and abroad; "Blue And White Porcelain" (balancing a stack of bowls on the head) which is one of them, was on the stage of the Spring Festival Gala in 2015.
3. Peking Opera is one of five major operas in China and the quintessence of Chinese culture with a history of nearly 200 years. It was an entertainment only for the court in the beginning and then slowly opened to common people too.
Day 3
Beijing: The World Heritage Sites (breakfast & lunch)
Morning
After breakfast, you are going to visit the Temple of Heaven, which is a complex of Taoist buildings. Chinese emperors held the Heaven Worship Ceremony and prayed for a good harvest here in the Ming and Qing Dynasty. It is a public park now. Local residents spend lots of their spare time here doing exercises. After that, we will drive you to Mutianyu Great Wall. Lunch will be served at a farmyard on the way.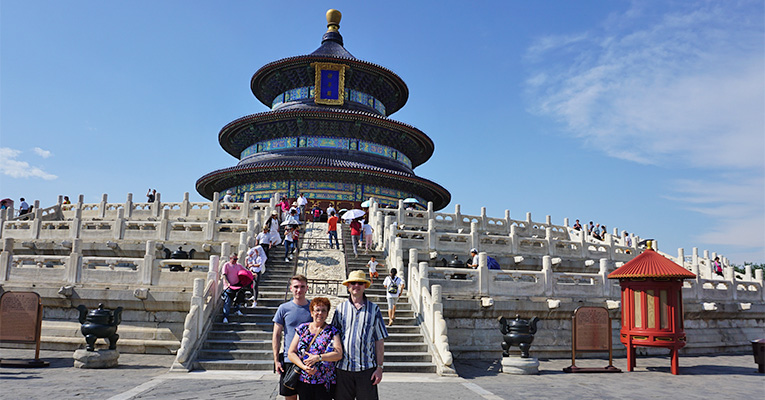 the Temple of Heaven
Afternoon
Located in Huairou County, this less-crowded section of the Great Wall is about 2.5 hours' drive from downtown Beijing. A cable-car takes you up to a good section to avoid a steep climb. From there, you can walk along the wall, through the watch towers, and enjoy the superb view as it winds 1.4 miles through lofty mountains and high ridges. Good walking shoes are highly recommended.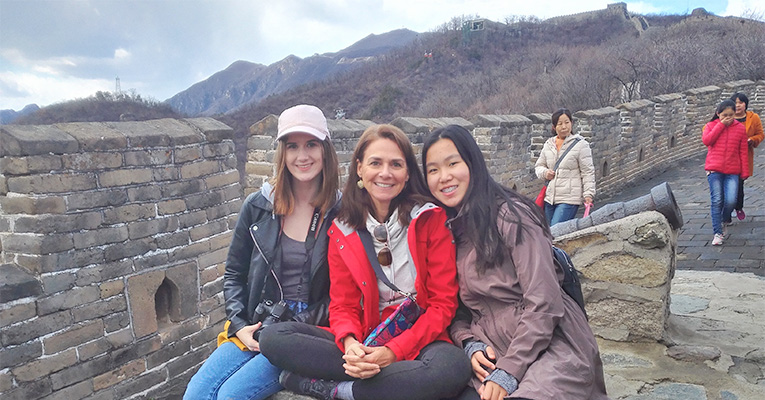 Mutianyu Great Wall
Day 4
Beijing – Kaifeng by Speed Train: Jewish Exploration (breakfast & lunch)
Morning
After breakfast, our guide and driver will take you to the railway station to board a speed train to Kaifeng. You will get there at noon.
Afternoon
On arrival, our guide will wait for you at the exit and take you to have lunch at a local restaurant. After lunch, you will visit Kaifeng Museum. It houses the three stone stelae of the historical Kaifeng Jewish community. And then you will go to Nanjiaojing Lane where the Jewish Quarter was. Many Jewish descendants are still living there now. If you like, you can talk with one of them and get to know about their life.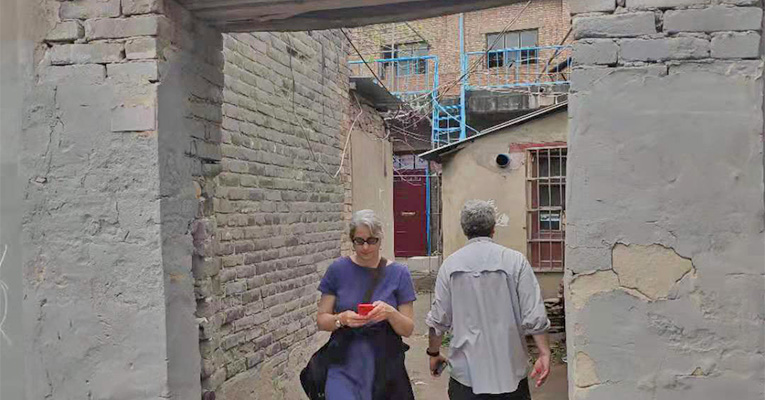 Nanjiaojing Lane
Day 5
Kaifeng – Xi'an by Speed Train: Kaifeng City Tour (breakfast & lunch)
Morning
After breakfast, firstly you will go to Millennium City Park. It is a large-scale historical cultural theme park in accordance with the proportion of one-to-one with the masterpiece 'Riverside Scenes at Qingming Festival'. You can attend the opening ceremony held there at nine o 'clock every day and witness the entertainment places and the prosperous scene from the ancient capital for thousands of years. Next you will head to Xiangguo Temple. During the Northern Song Dynasty, it was the largest temple in the capital and the national center for Buddhist activities. Enjoy your lunch at a local restaurant.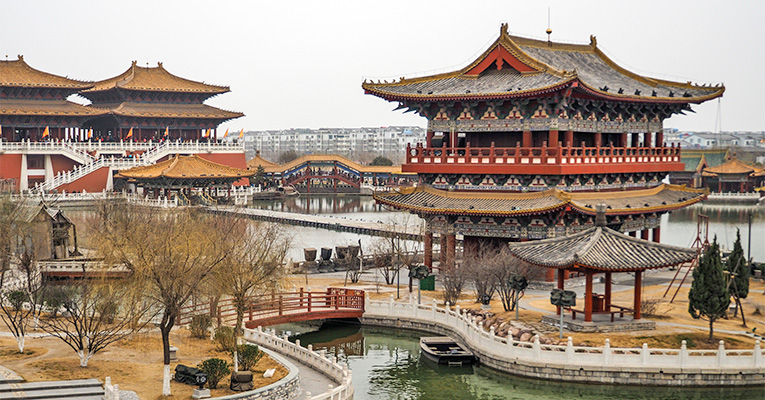 Millennium City Park
Afternoon
You will visit the Iron Pagoda before taking your speed train to Xi'an. Actually it is not made of iron, but its color resembles that of iron. It is a brick pagoda tower and has survived 37 earthquakes, 18 strong winds, and 15 floods over more than 900 years. Boarding a late afternoon train to Xi'an, you will spend around 3 hours on it.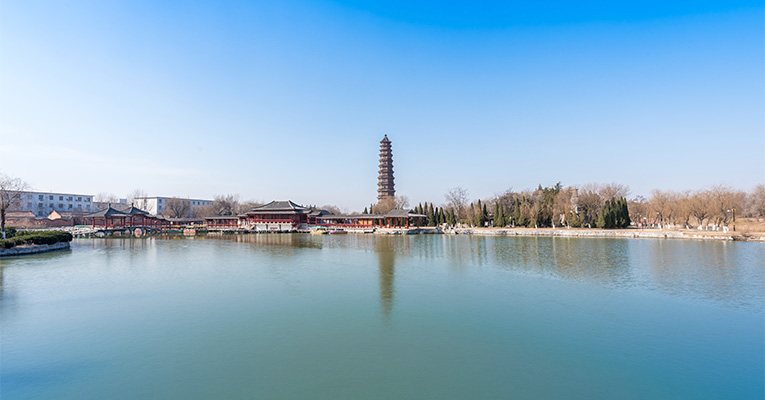 Iron Pagoda
Evening
Your guide will welcome you at the station on your arrival and escort you to your hotel.
Recommended activity:
1. The music fountain at the north square of Big Wild Goose Pagoda is free to the public. You can stroll around it after dinner to experience local life.
2. Tang-Dynasty Palace Music and Dances is a performance that was re-created by many famous artists in Shaanxi province, displaying the essence of music, rhythm, and dance art in the Tang Dynasty.
Day 6
Xi'an – Chengdu by Speed Train: Historical Sites (breakfast & lunch)
Morning
The most appealing attraction in Xi'an is the Terracotta Warriors and Horses. You will be amazed by the stunning sight. This museum is considered to be one of the most priceless ancient tombs in the world. There are three pits containing Warriors and Horses, bronze weapons and chariots. The huge underground army unfolds in front of you. Have lunch nearby.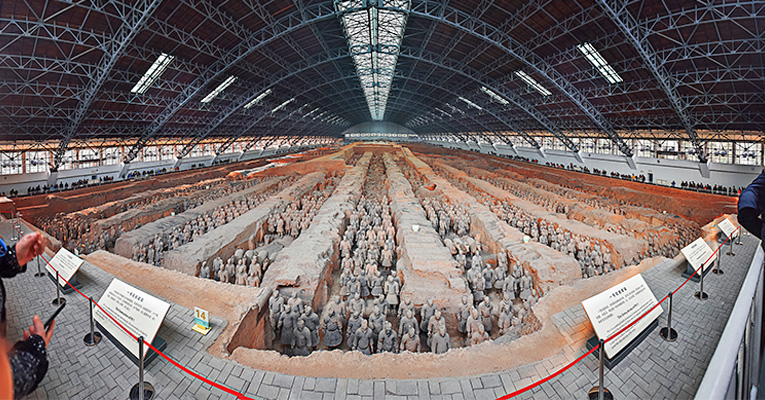 the Terracotta Warriors and Horses
Afternoon
Afterwards, you will continue to explore Xi'an City Wall. The complete city wall was an effective defense. On top of the city wall is a wide, flat road; you can not only walk along the road, but also ride a bicycle to enjoy the splendid scenery. If there is enough time, you can stop over at the Muslim Quarter where you can enjoy a feast both for your eyes and your mouth. A lot of food lovers are lured to the bustling street with its long history. It is time to take an evening speed train to Chengdu.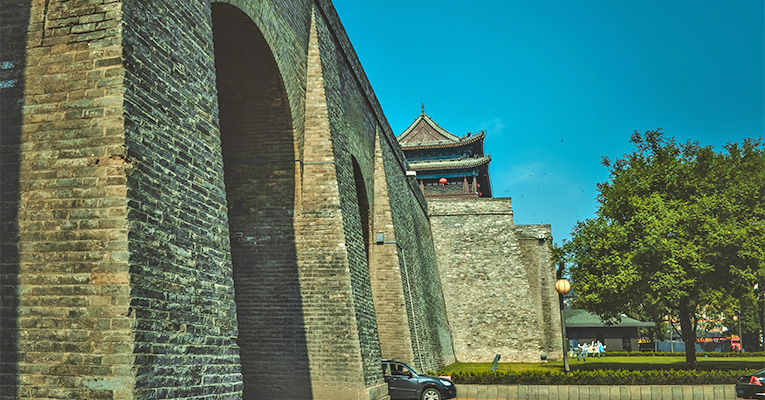 Xi'an City Wall
Evening
On arrival, you will meet your Chengdu guide and be transferred to your hotel. Hotel check in with your passport and take a good rest tonight.
Day 7
Chengdu: Panda Base And Leshan Giant Buddha (breakfast & lunch)
Morning
Today you are going to the Giant Panda Breeding Research Base which is about 30 minutes' drive from the city center. Housing more than 30 pandas, this base is one of the largest panda breeding facilities in the world. There is a nice bamboo park in which you can see pandas of all ages and they are quite active. Have lunch at the base.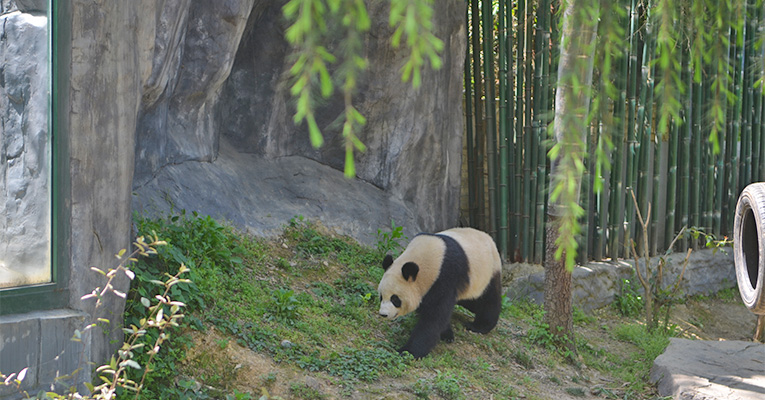 Lovely Panda
Afternoon
After lunch, you will continue on to see the Leshan Giant Buddha. It takes around 2.5 hours by road. To calm the troubled flow of three rivers, an Emperor in the Tang Dynasty ordered workers to construct a sitting Maitreya statue against the Wuyousi Mountain. Today's highlight is taking a boat ride to view the Leshan Buddha Statue. It's only a short ride to the Buddha and each boat takes its turn directly in front of the Buddha, so get your camera ready. The Buddha is awesome and it's actually only from the water that you can really appreciate how HUGE it is. We will drive you to Mountain Emei after the tour ends.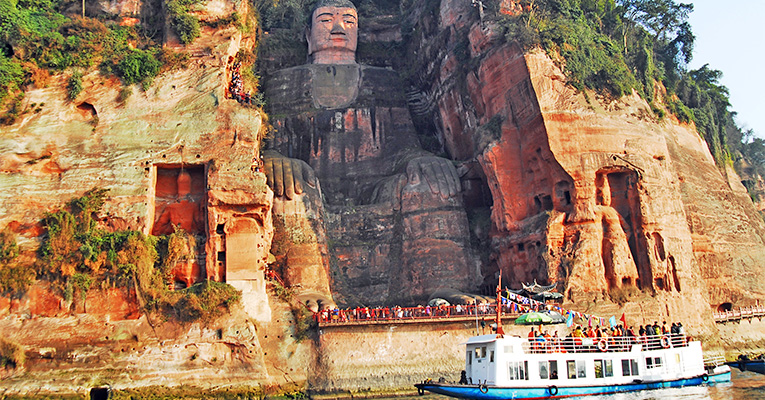 Leshan Giant Buddha
Day 8
Mountain Emei/Chengdu: Mountain Emei (breakfast & lunch)
Morning
Today is a full day tour in Mountain Emei. This mountain is one of the four saint Buddhist Mountains in China. There are 33 monasteries and it is 3000 meters above sea level. It is a place of tranquility and peace. You can experience both the wonderful mountain scenery and Buddhist culture.
First you will head to the passenger transportation center at the foot of Mountain Emei, where you can take a scenic spots bus to Wannian Temple parking lot. And then continue to take a cable car up to Wannian Temple, which is a place of serene atmosphere. There is a statue of a golden Buddha on a white marble elephant. In front of this statue people bow, kneel and pray. Next you will walk down along the mountain trails to reach Qingyin Pavillion for lunch. You can have the best view of the mountain by walking along this route.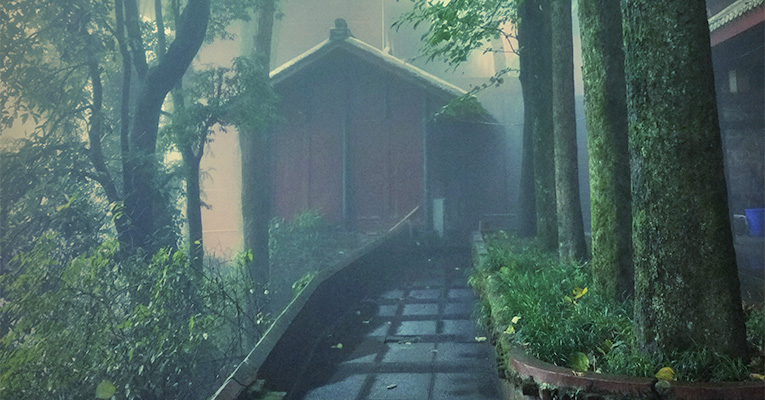 Wannian Temple
Afternoon
After lunch, you will go on hiking down to Wuxiangang parking lot to take a shuttle bus to Baoguo Temple which is nestled against the foot of this great mountain. It is the gateway into the mountain and many people start touring Mountain Emei from there. Its various prayer halls rest quietly behind the temple's entrance. After all this, you will be transferred back to Chengdu late in the afternoon.
Evening
Recommended activity:
Shu Feng Ya Yun Sichuan Opera presents the wondrous authentic west Sichuan folk classical opera, staged in a large-scale multi-functional Liyuan theater which integrates traditional Chinese art performance, unique folk performance, opera and drama supplies. The programs are Sichuan opera, stick-puppet shows, hand shadow plays, Chinese Acrobatics, and face changing shows.
Day 9
Chengdu– Guilin by Plane: Guilin City Tour (breakfast & lunch)
Morning
You will take a morning flight to Guilin. On arrival, you will be picked up by our guide from Guilin Liangjiang International Airport and transferred to a local restaurant for lunch. You can get some rest before touring later.
Afternoon
The city tour starts with visiting Reed Flute Cave. This is a well preserved cave with lots of caverns and large limestone formations. You need to use your imagination and be able to visualize the story behind the formations. After that, you will go to visit Yaoshan Mountain, which is the tallest mountain in the Guilin area. You can enjoy an amazing view from both sides of the cable car when climbing up to the top. It will take your breath away if you enjoy natural scenery. Coming down from the mountain, you will reach the Guilin Tea Research Institute. The staff there will show you around tea plantations in order to learn more about growing, producing and preparing various teas.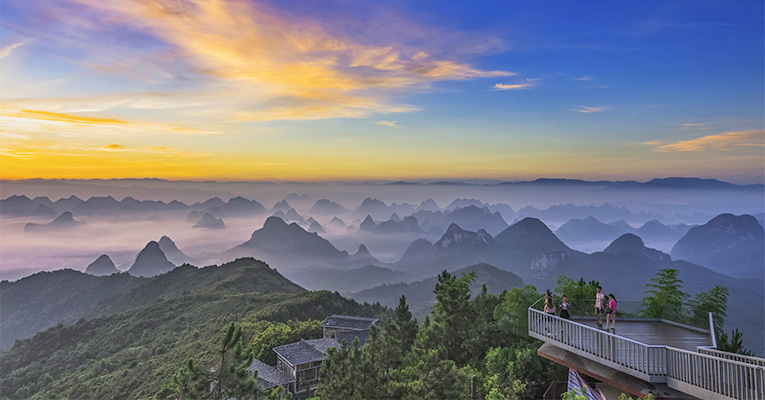 Yaoshan Mountain in the Early Morning
Day 10
Guilin: Longji Rice Terraces (breakfast & lunch)
Morning
About 2.5 hours' drive from downtown Guilin, you will reach a vast region of rice terraces which stretches layer upon layer, coiling around from the base of Longji (the dragon's backbone) Mountain to its summit. Ping'an village of Zhuang Nationality is half way up the mountain. Hiking from the parking lot up to the village and all the way to the top is a great experience to appreciate the terraces in different seasons. Comfortable shoes are essential for this day.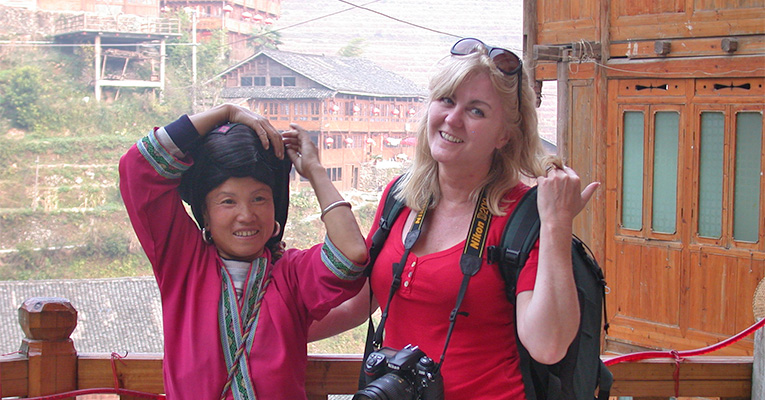 Yao Woman
Afternoon
The local residents use bamboo to make chopsticks, clothes hangers, bamboo rafts, toothpicks, and even cook rice with it. You will cut a piece of bamboo by yourself and cook your own rice with it. The host will prepare rice and some ingredients and you need to stuff it into the hollow of the bamboo tubes, and finally put these bamboo tubes on the ready stove. You will enjoy the picturesque view of the Rice Terrace, breathe fresh air and taste the fruit of your own labor for lunch. After that, you can discover this village or hike to the mountain top where two viewing platforms called Qixingbanyue (20 minutes hiking) and Jiulongwuhu (30 minutes hiking) allow you to look out over the panorama of Ping'an Village. Finally we will drive you back to Guilin.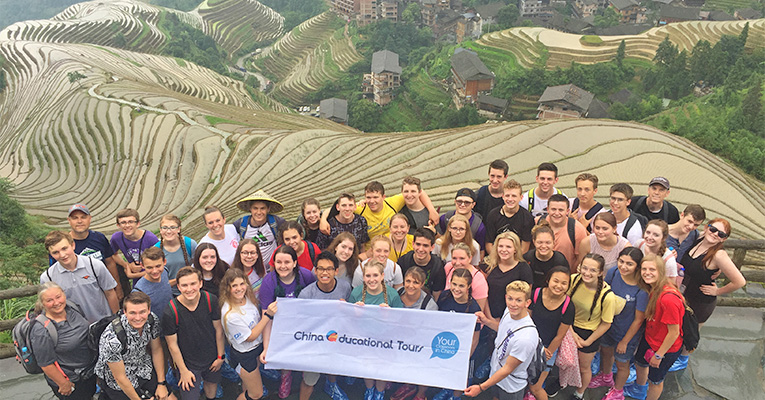 Rice Terraces
Day 11
Guilin/Yangshuo: Li River (breakfast & lunch)
Morning
After breakfast, you will embark on the boat at the wharf which is about 45 minutes' drive from your hotel. The Li River boat from Guilin to Yangshuo is the centerpiece of any trip to this region. Gorgeous Karst peaks surprise you at each bend of the limpid river under the blue sky. Water buffalo patrol the fields, peasants reap rice paddies, school kids and fishermen float by on bamboo rafts. There is a simple lunch served on the boat.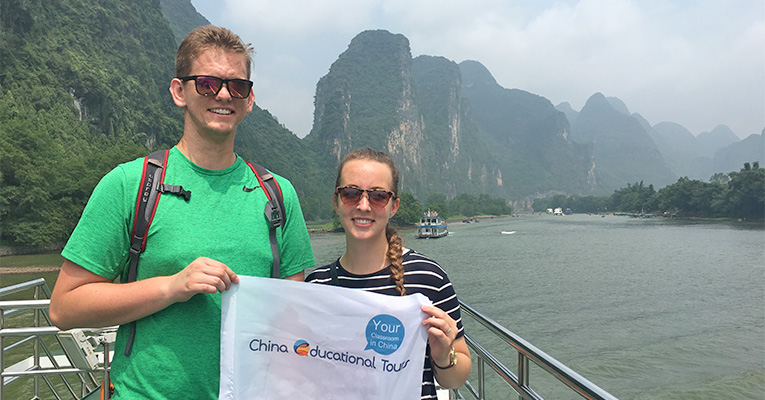 Li River
Afternoon
After lunch, you will disembark at Yangshuo and have a countryside tour which gives you a fascinating insight into life in rural China. You will have a chance to visit a local family on the way and talk with them to learn more about their daily life. Driving on the country roads with distinctive and beautiful Karst mountains all around is a wonderful experience. Check in at your hotel after you finish the trip.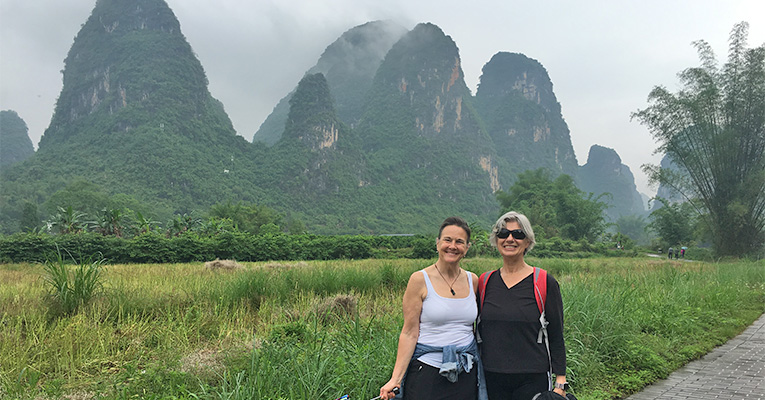 Yangshuo Countryside
Evening
Recommended activity:
1. 'Impression Sanjie Liu Show' uses the Li River as the stage and the mountains as the background to give audiences a visual feast performed by more than 600 actors.
2. Yangshuo West Street is the oldest street, with a history of more than 1,400 years, which is attractive to a lot of foreigners. It comes alive with pubs and clubs open at night.
Day 12
Yangshuo/Guilin – Shanghai by Plane: Fuli Ancient Town (breakfast & lunch)
Morning
It will take around half an hour to get to Fuli Ancient Town. In this 700 year old town, you will see friendly locals at the morning market and have the opportunity to learn the famed Chinese art of fan making and calligraphy. Have lunch in town.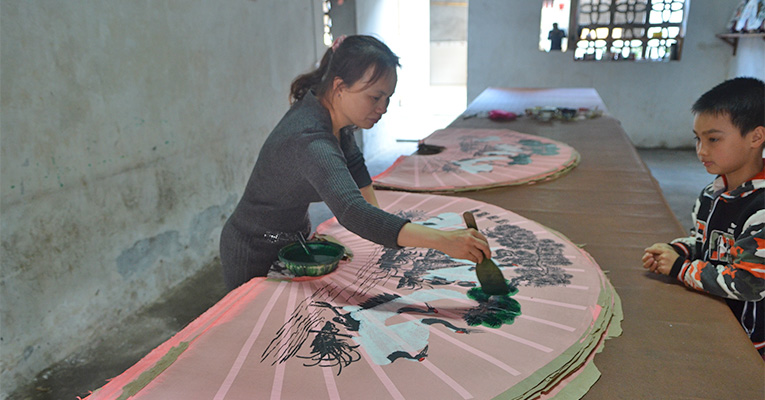 Painting Fan
Afternoon
After lunch, get everything ready and get to Guilin airport for your flight to Shanghai.
Evening
Your guide and driver will meet you at Shanghai airport. Go to your hotel for checking in.
Day 13
Shanghai: City Tour (breakfast & lunch)
Morning
After breakfast, you will first arrive at Yu Garden which was a private garden in the southern classical style built in the Ming Dynasty and represented the advanced architectural style about 450 years ago. The Yuyuan Bazaar is located outside of Yu Garden. You can find clothing, snacks, souvenirs, jewelry, gold and also lots of restaurants with tasty offerings. This is your chance to really have fun practicing your bargaining skills. Taste traditional snacks for your lunch.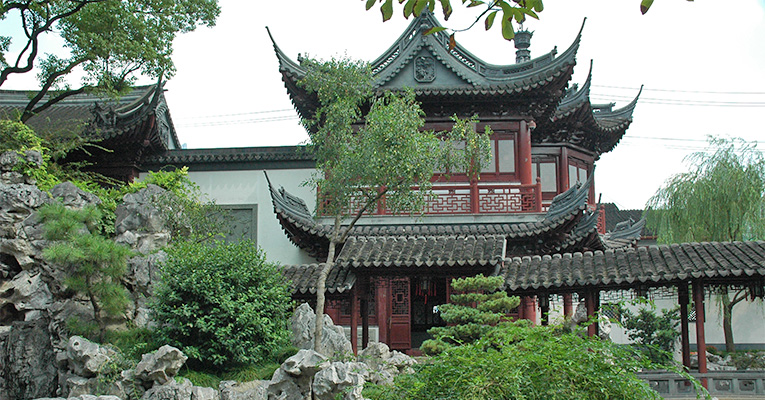 Yu Garden
Afternoon
We will take you to visit Shanghai Jewish Refugees Museum. It is an important component of the "Tilanqiao Historic Area" and serves as a witness commemorating the phase of history when the Jewish refugees lived in Shanghai. Next you are going to Nanjing Road. Along this street you will find top end shopping, a range of types of restaurants both in expense and cuisine as well as a number of important heritage buildings. It is walking distance to The Bund. As a walkway along the Huangpu River and the best place to see the skyscrapers in Pudong and historical buildings in Puxi, it has become a must see in Shanghai.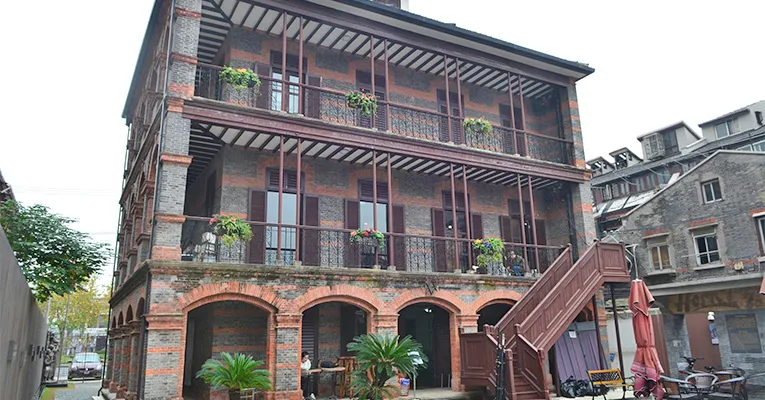 Shanghai Jewish Refugees Museum
Evening
Recommended activity:
1. A live acrobatic show by Shanghai Acrobatic Troupe or another one called 'ERA, Intersection of Time'
2. Night cruise along Huangpu River to see the beautiful city lights on both sides
Day 14
Shanghai Departure (breakfast)
Your guide and driver will transport you to the airport on time. We wish you a nice journey home.
Featured Hotel
| | Comfortable | Deluxe |
| --- | --- | --- |
| Beijing | Penta Hotel Beijing | Regent Beijing |
| Kaifeng | Henan Jinyuan Hotel Kaifeng | New Century Grand Hotel Kaifeng |
| Xi'an | Grand Noble Hotel Xi'an | Wyndham Grand Xian South |
| Chengdu | Chengdu Tianfu Sunshine Hotel | The Ritz-Carlton Chengdu |
| Guilin | Guilin Bravo Hotel | Sheraton Guilin Hotel |
| Yangshuo | Yangshuo Green Lotus Hotel | Yangshuo Green Lotus Hotel |
| Shanghai | Narada Boutique Hotel Shanghai Bund | Radisson Blu Hotel Shanghai New World |
What's Included
Experienced tour guides
Entrance fee to all spots listed in the itinerary
Well selected hotel accommodation
Meals mentioned in the itinerary
Expert drivers and comfortable vehicles with air-conditioning
Speed train tickets from Beijing to Kaifeng; from Kaifeng to Xi'an; from Xi'an to Chengdu
Flight tickets from Chengdu to Guilin; from Guilin to Shanghai